Two Queen's Park teams left spectators wondering if their club gave the biggest football ground in Port-of-Spain its name as action in the North Zone of the Republic Bank National Youth League continued on Saturday 27 May. The Under-13s and Under-15s looked very much at home at the Queen's Park Savannah, putting on a show to triumph in convincing fashion in two of their encounters—5-1 over Eastern United and 3-0 over Northern Stars FC respectively.
Not to be outdone, St Ann's Rangers, routed their opponents RSSR in an Under-19 encounter. Rangers attacker Isaiah Lopez was the star of the match, bagging a brace to lead his side to an embarrassing 7-1 victory over their hapless opponents.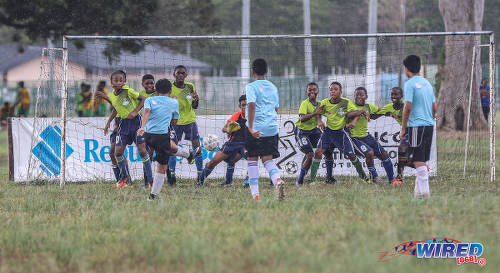 For the younger Queen's Park side, 13-year-old Nathan Achim stole the show with an impressive display of dribbling and passing. He notched one goal and set up another to help his team coast to a victory by a comfortable four-goal margin.
Queen's Park started brightly but their opening goal only came in the 29th minute when Achim scored. Shortly afterwards in the space of six minutes, Queen's Park scored three more goals through Aidan De Gannes, Niall Maingot and David Rodriguez in the 32nd, 35th and 38th.
Striker Ocean Lindsey sealed the victory with a goal in the second half. Jahsima Duncan headed in Eastern United's lone goal in the 55th minute from a perfectly delivered free kick.

In the Under-15 match-up, Queen's Park maintained their undefeated record as they got past Northern Stars FC with a resounding 3-0 win. Scoring two early goals in the 8th and 16th minute of the game, the "home" side were cruising at the interval. After adding a third insurance item in the 50th minute, they saw the game out with ease.
With the win, the Under-15s contrived to keep their unbeaten record intact but they still sit only in second place on the table with 15 points behind Trendsetters United, who now have 18 points following their 2-0 victory against Central FC.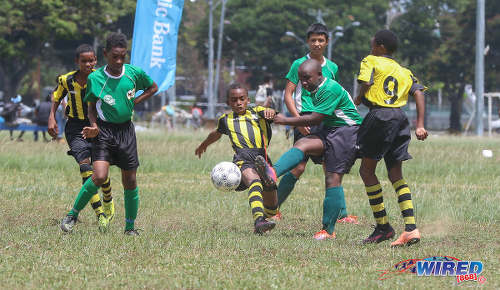 Pleased with the performance of his charges, Queen's Park coach Christian Urich was high in praise of what the tournament is doing for football in the country. He told Wired868 that he believes that this tournament is a great opportunity for the young players to develop their skills and he wants more to be done to further develop all the teams in the league.
"This tournament is all about development," Urich said, "and we're seeing a lot more of that when we play these games. Perhaps we could even consider starting a regional league as well."
"Our aim here is for the players to develop a passion for football," he continued. "I believe it would really help develop young players if a regional tournament similar to this is introduced, allowing not just T&T youths to develop but youths around the region as well."
In Under-19 action, St Ann's Rangers took control of their game early and found themselves 2-0 up within the first 20 minutes. Not daunted, RSSR pulled one back in the 21st minute, Sued Dampey beating the Rangers keeper from the penalty spot after he was brought down in the area by Daniel Rahaman.
However, Rangers fired in two more goals in the 35th and 40th minutes to be sitting comfortable at 4-1 by halftime. In the second half, RSSR seemed to lose their taste for the battle and Rangers took advantage, scoring a further three goals through Lopez, Kriston Spence and Krishon Alexander in the 50th, 54th and 78th minutes respectively.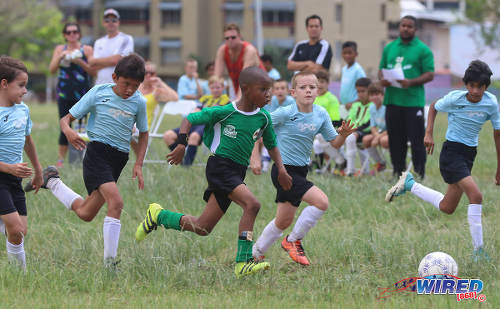 In more Under-19 action, Jeremiah St Cyr and Jehiel Cole notched a brace each as Belmont United hammered Harvard 7-0. Following a good start, Belmont took the lead in the ninth minute. The scoreline remained unchanged until just before halftime as Belmont seemed content with their slim lead. But Aaron Linton added a second in the 45th minute.
It was a different story in the second half. Smelling blood, Belmont went for the jugular and contrived to score a further five goals to seal a comprehensive victory. The second half five included a gem of a strike by Aaron Linton, whose 30-yard thunderbolt flew past the surprised custodian almost before he realised what was happening.
Watching yesterday's proceedings was tournament director Anthony Harford of All Sport Promotions, who founded this event some two decades ago. Harford expressed pride at the longevity of the tournament and praised the sponsors, Republic Bank, for their unstinting support over the years.
He echoed the Queen's Park coach's conviction about development as well as his desire to see the League grow. However, he lamented that more funding is not available.
"This tournament is for the kids," he told Wired868. "It's always been about the kids and their development. Allowing them to improve on their ability and increasing their passion for the sport has always been our goal."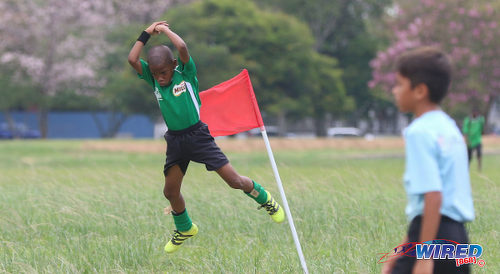 "We truly want this league to grow," the former radio and television personality added, "but it is not easy. Funding has always been a problem for this league.
"It's easy for someone to ask why the League hasn't grown by leaps and bounds during the period but funding remains the main issue."
That, fortunately, has not stopped some youngsters like Achim and Lopez from catching the eye.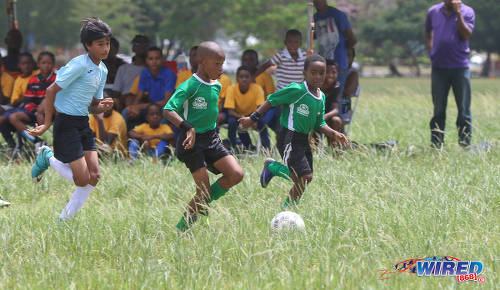 RBNYL May 27 results
North Zone, Queen's Park Savannah
(Under-11 division)
Trendsetters Hawks 'A' 3, Central FC 0
Trendsetters Hawks 'B' 0, Football Factory 0
(Under-13 division)
QPCC 'A' 5, Eastern United 1
QPCC 'B' 0, Santa Cruz SA 3
Harvard 1 (Marshall 25), RSSR 3 (J Worrall 15, J O'Brien 20, 35)
Central FC 1, Trendsetter Hawks 0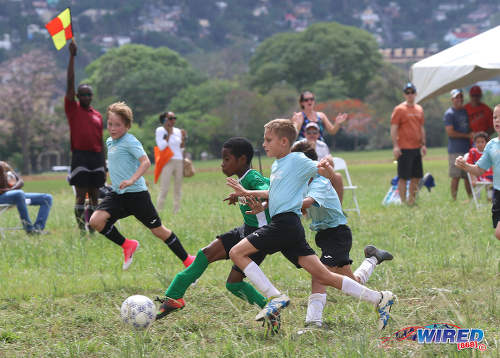 (Under-15 division)
QPCC 3, North Coast 0
Belmont Secondary 3, Laventille United 2
Football Factory 1, Carenage 0
(Under-19 division)
St Ann Rangers 7, RSSR 1
Belmont Secondary 7, Harvard 0