Well, that was interesting. Trinidad and Tobago Pro League teams, Central FC and San Juan Jabloteh, had their own way for the opening double header of the Caribbean Club Championship's final group stage on Sunday night.
But Jamaica's Portmore United and the Dominican Republic's Cibao FC did just enough to ensure that they will not be taken for granted at the Hasely Crawford Stadium, Port of Spain tomorrow night when they square off against the host teams with a CONCACAF Champions League spot at stake.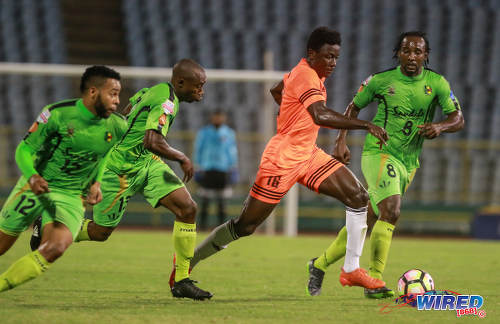 Last night, Portmore eliminated Haiti's Racing Club FC while Cibao were held 2-2 by Antigua's Grenades FC in a see-saw affair. It means that Central, the defending regional champions, and Jabloteh can both advance to the 2017 Caribbean finals with draws tomorrow.
Jabloteh face Portmore from 5.30pm at the Hasely Crawford Stadium while Central and Cibao clash from 8pm at the same venue.
A 17th minute item from winger Ricardo Morris was all that differentiated Portmore and Racing yesterday. Portmore players were appealing for a free kick when Cleon Pryce was tripped at the edge of the opposing box, as Morris swooped on the loose ball. Turks and Caicos Island referee Gianni Ascani shrewdly allowed the advantage and the Jamaican drove the ball into the roof of the Racing net for the opener.

It might easily have become 2-0 in the 44th minute as Portmore striker Javon East met a right side Henrico Ricketts cross with a firm header that crashed against the Racing bar.
In the end, though, Portmore were grateful to their own custodian, Shaven-Sean Paul, as he clawed away a header from Racing right back Ernso Senatus in the 83rd minute, as the Jamaican team held on for the win.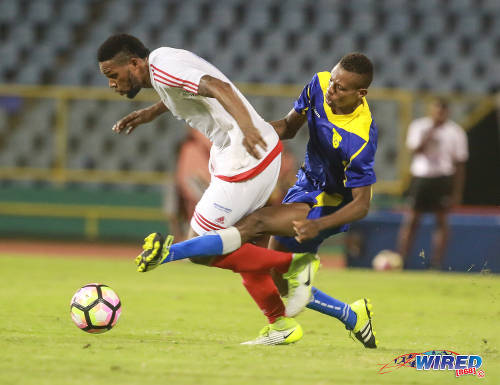 The result meant that Portmore, along with Jabloteh, will at least advance to the CONCACAF League, which is CONCACAF's answer to the Europa League and is a rung below the Champions League.
The CONCACAF League comprises of 16 teams, which are the second, third and fourth placed clubs from Honduras, Panama, El Salvador and the Caribbean respectively along with the first and second placed Nicaragua teams, the third and fourth placed Costa Rica teams and the Belize champions.
Only the CONCACAF League winner will advance to the CONCACAF Champions League.
It means that the most realistic chance of a Caribbean club getting to the Champions League is by winning the regional tournament outright.
Portmore, like Racing and Grenades, looked short of the match tempo necessary to stretch Pro League opposition let alone opponents from North or Central America.
Team captain Ewan Grandison made his presence felt in the centre of the Portmore midfield while East was a willing runner upfront and Morris and playmaker Sue-Lae McCalla were also decent in possession.
But Jabloteh, rugged and compact in defence, should be able to cope with the Jamaicans' offence while the locals  play at a tempo that would discomfort Portmore—albeit intermittently.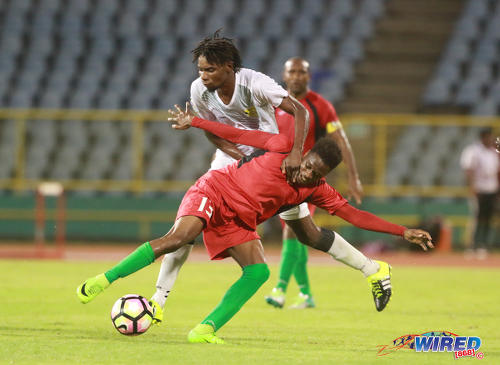 So unless coach Linval Dixon can pull a rabbit out of the hat on Thursday, Jabloteh start as favourites.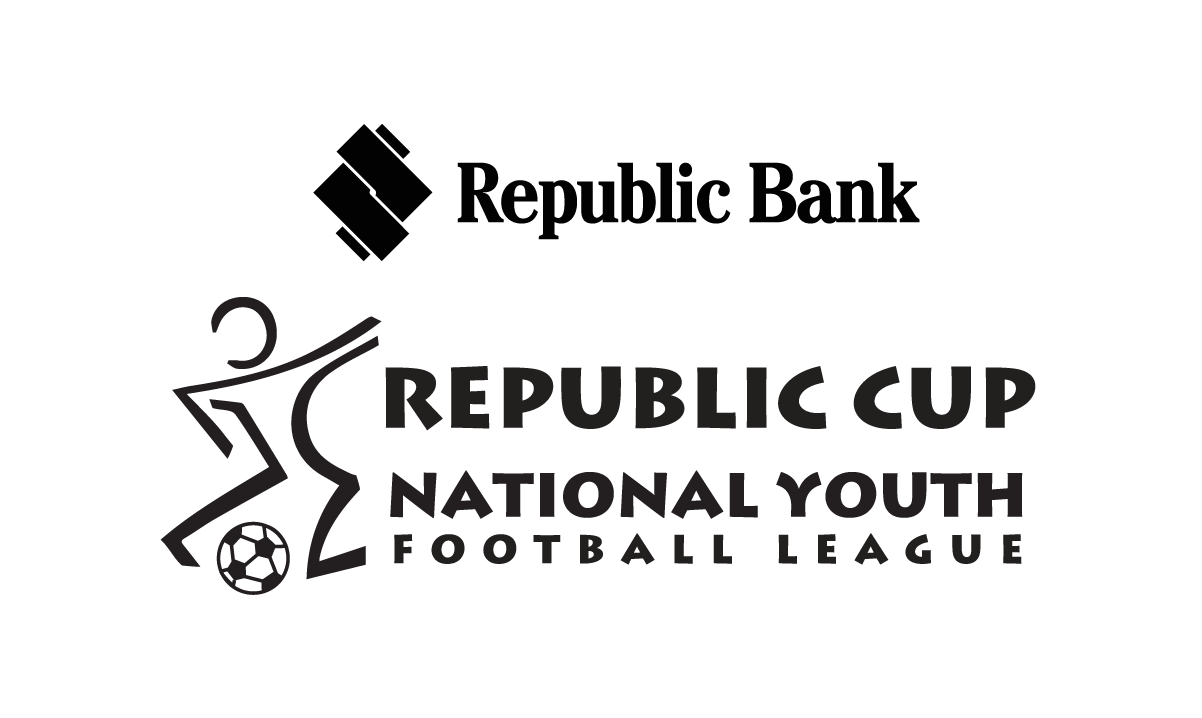 Cibao are a far more interesting prospect. In Haitian playmaker Charles Herold Jr, the Dominican Republic club arguably possess the finest conductor in the competition. While inverted wingers Patrick Soko and Woodensky "Babalito" Cherenfant, who are from Cameroon and Haiti respectively, have the pace, strength and single-minded ambition to unnerve defenders.
On Tuesday night, though, their finishing was on par with a fete match team.
True, Grenades goalkeeper Prince Walter made a couple fine stops. But it was almost farcical that the Dominican Republic team were not four goals ahead by the interval.
Goals were inevitable though and Babalito finally soothed frayed nerves with a quick-fire double in the 53rd and 56th minutes, as he finished off a threaded pass from Herold before doubling their advantage off a Rafael Flores assist.
Herold missed the chance to stretch the lead to three goals when he struck the post in the 78th minute.
Cibao were coasting to the finish line when, five minutes from the final whistle, Grenades snatched a goal out of nothing as Tevaughn Harriette prodded home from close range after trading passes—straight through the centre of the opposing defence—with teammate Steve Smith.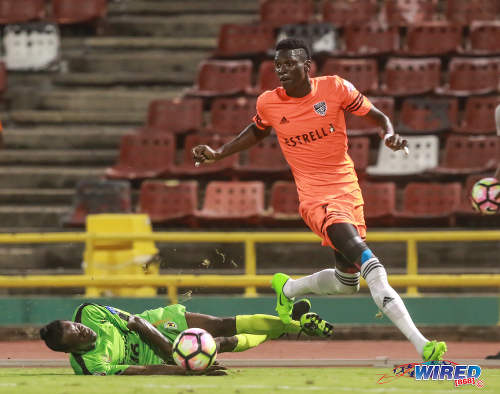 The Cibao outfit might have still been wondering what to make of the sudden show of defiance by the Antiguan club when, within seconds, Grenades struck again as Smith found space in the opposing area and his cross was inadvertently turned in by lunging defender Cesar "Danco" Garcia for an own goal and equaliser.
The game finished 2-2 and, if Central defeat Cibao by more than two clear goals, Grenades can still sneak into the CONCACAF League.
If Cibao play like they did for the first hour, though, it is the "Couva Sharks" who might find themselves fighting to advance to the Caribbean final on Sunday evening.
The possibilities should make for an interesting double header tomorrow.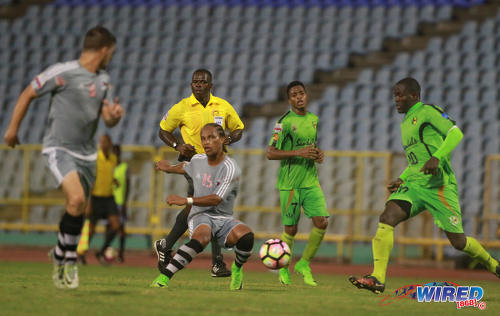 2017 Caribbean Club Championship results
(Tuesday 16 May)
Portmore United 1 (Ricardo Morris 17), Racing FC 0, Group B, Hasely Crawford Stadium;
Cibao FC 2 (Woodensky "Babalito" Cherenfant 53, 56), Grenades FC 2 (Tevaughn Harriette 85, Cesar "Danco" Garcia OG 86), Group A, Hasely Crawford Stadium.
(Sunday 14 May)
San Juan Jabloteh 2 (Nathan Lewis 50, Mitchelson Joseph OG 73), Racing FC 0, Group B, Hasely Crawford Stadium;
Central FC 3 (Jason Marcano 38, Carlos Edwards 44, Nathaniel Garcia 85), Grenades FC 1 (Tevaughn Harriette 6), Group A, Hasely Crawford Stadium;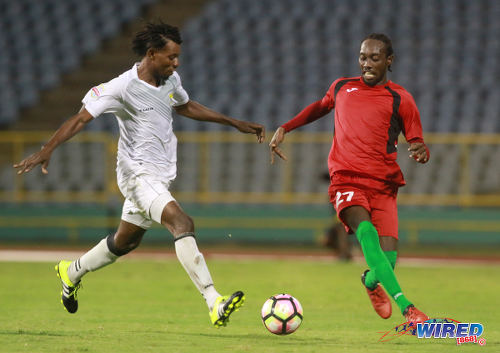 Upcoming fixtures
(Thursday 18 May)
San Juan Jabloteh vs Portmore United FC, Group B, 5:30pm, Hasely Crawford Stadium;
Central FC vs Cibao FC, Group A, 8pm, Hasely Crawford Stadium;
(Sunday 21 May)
Group A runner-up vs Group B runner-up, CFU third place play off, 5pm, Hasely Crawford Stadium;
Group A winner v Group B winner, CFU finals, 8pm, Hasely Crawford Stadium.