"It was clearly onside from what I saw… I think we were a bit unlucky."
Trinidad and Tobago head coach Dennis Lawrence cut a disappointed figure as he lamented falling 1-0 to Mexico at the Hasely Crawford Stadium last night in a 2018 World Cup Qualifying match that was filled with moments of controversy.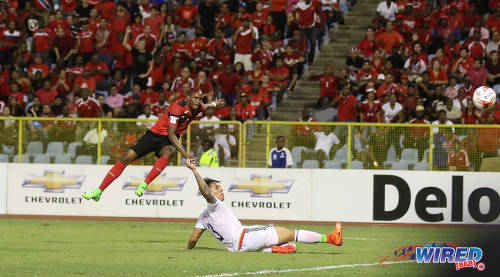 It could have been a completely different outcome had Jamaican assistant Richard Washington not waved away what appeared to be a perfectly good goal scored by Joevin Jones in the 32nd minute.
But Lady Luck, Lawrence conceded, simply was not on the Warriors' side last night. And his players failed, he seemed to be suggesting, to make their own luck.
"Sometimes we need to believe how good we can be," the rookie head coach told the media, at the post-match news conference. "We got into the game and we allowed the Mexican team to get too much control of the game. It was just a shame that they had to wait until we went 1-0 down to then believe."

It was his first loss as head coach after recording back-to-back wins against Barbados and Panama. But he felt that, although his team perhaps did not deserve to take all three points, they more than deserved a share of them.
"It was difficult to break us down in open play but we didn't do enough to take the game," offered Lawrence. "I'm disappointed for the boys because I didn't think we deserved that. But that's football."
This is T&T's latest defeat after opening round losses to Costa Rica and Honduras in the Hex. Mexico, however, are now unbeaten in 2018 World Cup qualification.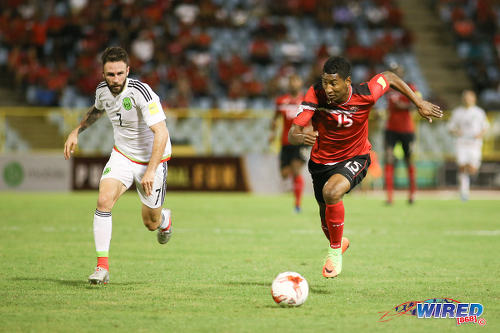 But the game was determined by fine margins, with both teams enjoying crucial moments that could have swung the contest in either direction. Mexico head coach Juan Carlos Osorio was quick to acknowledge the strengths of his opponents and was obviously extremely pleased to be leaving Port-of-Spain with all three points in the bag.
"Fortunately, we scored on a set play and we are very, very pleased with the result and the performance," a relieved Osorio told the media in English. "Trinidad and Tobago is different [to Panama]. [They] are very good in the air, very strong and physical. Today was different and we are very pleased with the result."
In the pre-match build-up, coach Lawrence had continuously emphasized the need for the Soca Warriors to focus on their own strengths and on what they are good at rather than on the potential potency and tactical flexibility of the Mexicans.
It seems that coach Osorio was reading from the same hymn book.
The Colombia-born coach, whose side has now solidified their hold on the top-of-the-table spot in the Concacaf Hex with 10 points, revealed that Mexico had come to match Trinidad and Tobago at their own game.
"In the past, the tactical strategy was different," the articulate Hispanophone explained in fluent English. "It was to play talent against physical ability. Today we matched their physical ability.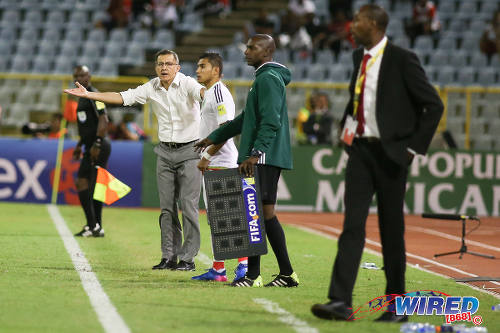 "We were humble enough to say we are going to compete. […] We respected [Trinidad and Tobago]."
Osorio's tactical revelations may have to be taken with more than a pinch of salt, though. He made five changes to the side that had sauntered to a 2-0 victory over Costa Rica on Friday, with only one of those changes being enforced through injury.
Two of Friday night's stars, Oribe Peralta and Carlos Vela, were left on the bench in Port-of-Spain. Osorio commented that it was all a matter of tactics.
"Today we needed the strong players because Trinidad and Tobago are very physical—very tall and strong—and the idea was for us to always have eight players good in the air. [….] We decided to put in Raúl Jiménez because of his aerial game."
He continued: "We need to take more in consideration what you do the best and I think what you do the best is the aerial game and the physical game."
Elated Mexico captain Hector Moreno echoed his coach's sentiments and said his team had "played smart."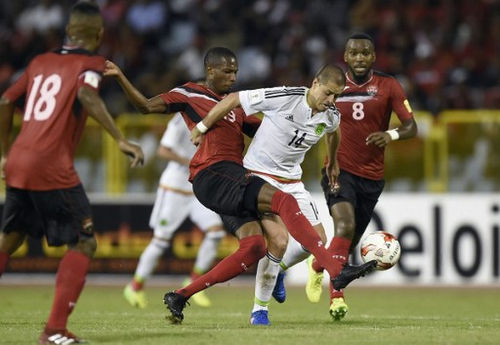 "We want to play attacking, nice football," said Moreno, in a post-match interview, "but sometimes it's difficult [because] everything is complicated with these kind of away games."
Both coaches seemed focused on tactics that took account of the strengths of the T&T players but Lawrence was keen to point out that the defining moment of the game was not so much the controversially disallowed 32nd minute goal his team scored but Diego Reyes' 57th minute header.
"If you keep your concentration and you do your job defensively on the set piece, sometimes those are the things that win you or lose you games."
Mexico have now scored a set piece in each of their last four matches in the Hex and it is something that seems to be a clear game plan employed by Osorio ever since he took charge in late 2015.
It is also an aspect that Osorio was keen to fix in the defensive side of Mexico's game, especially after the most recent 3-3 and 4-4 draws with T&T.
"[First objective was to] keep a clean sheet. There were two games where the score was 3-3 and 4-4 (…) Too many goals! Couple goals from set pieces. […] We needed to control the direct football that they [T&T] play and play very well."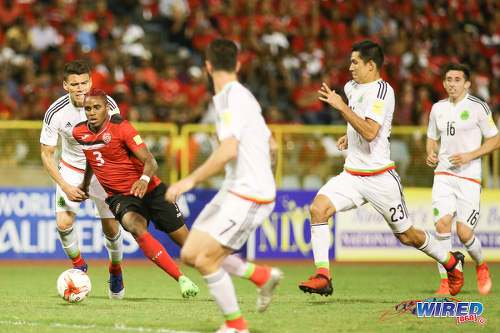 The loss leaves the Warriors in a precarious position as the men in "red, white and black" have now dropped to the foot of the six-team Hex table after results elsewhere in the Hex competition. Costa Rica and USA both battled back to claim 1-1 away draws against Honduras and Panama respectively.
Lawrence and his team are, however, trying to put this latest defeat quickly behind them and focus on the next round of matches in June. T&T will face two very difficult away ties to a resurgent USA and an always dangerous Costa Rica.
"The focus needs to remain the same. The belief has to remain the same," Lawrence told the media.  "We have to believe that it can still be done. It's just for the boys to start believing in themselves and understand that they are capable of doing it."
Elaborating on his immediate plans, he commented, "I'm gonna be here. The moment that the [local] players are available, we will be working with the local players again because the work has to continue."
T&T captain Kenwyne Jones was also upbeat about the road ahead and reiterated the same concern about the focus that his former teammate and now coach is demanding.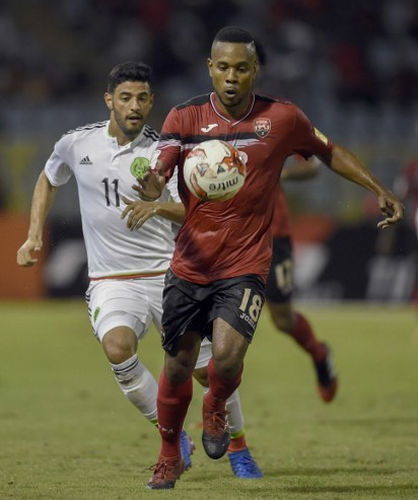 "We are only going to get stronger," he said. "Two tough away games coming up but we are going to get prepared and go out there to get the points."
"We just have to buckle down," he ended, "and prepare for that game."