A pinpoint low strike from Trinidad and Tobago attacking midfielder Kevin Molino breathed fresh life into the Soca Warriors' Russia 2018 World Cup campaign tonight as they edged Panama 1-0 at the Hasely Crawford Stadium in Port of Spain.
It also marked a triumphant debut for former World Cup 2006 defender Dennis Lawrence who made his first outing as a head coach tonight.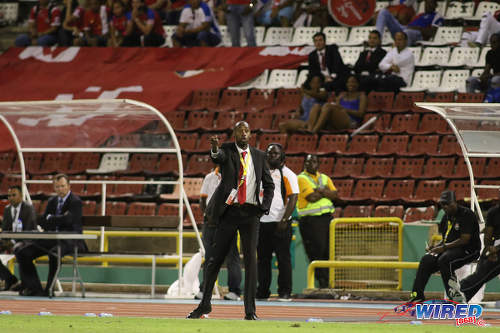 There was the odd flutter at the back but, largely, it was a serene outing for Trinidad and Tobago who defended resolutely and never looked in danger of a third successive CONCACAF Hex defeat.
Trinidad and Tobago Football Association (TTFA) president David John-Williams targeted four points from his team's two home matches against Panama tonight and Mexico on Tuesday—but few thought it was a realistic ask. That might be about to change though.
There were roughly 6,000 spectators at the Hasely Crawford Stadium at kick-off and, by halftime, there were barely 10,000 patrons in a venue built for 23,000. It was a huge drop off in attendance that should prompt some soul-searching within the local football body.

But, more importantly, the Warriors showed up.
On paper, Lawrence had a crisis at centre-back with Radanfah Abu Bakr and Carlyle Mitchell injured and Sheldon Bateau suspended. In their places, he started two Pro League players, Daneil Cyrus and Curtis Gonzales. The latter defender was making his first appearance of the World Cup campaign while the former's calamitous form was partly responsible for Trinidad and Tobago's woeful start in the Hex.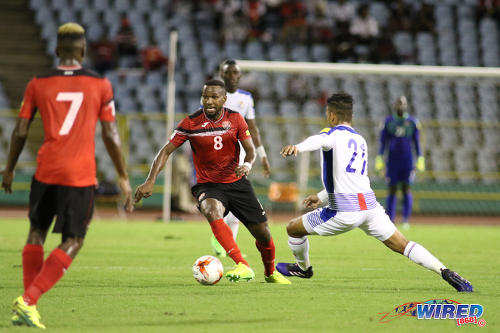 It would be a stretch to say the pair were flawless tonight. But it was close enough. In truth, their jobs were made easier by a solid defensive shape that offered little space to their Central American opponents down the middle while full-backs Carlos Edwards and Mekeil Williams held their own on either flank.
In their last seven outings, Panama managed just five goals—and that included home matches against Belize, Nicaragua and El Salvador—and their lack of offensive presence haunted them again in Port-of-Spain.
Joevin Jones gave early warning that the hosts meant business with a dipping shot from 25 yards in the 13th minute, which needed to be helped over by opposing goalkeeper Jaime Penedo. Yet, it still seemed to be a pleasant surprise when Molino opened the scoring with a sweet, precise low effort from just outside the penalty area in the 37th minute.
It was Molino's first appearance of the Hex after a two-match internal suspension for twice breaking the team's curfew to party. Tonight, the dancehall king set the Hasely Crawford Stadium dancing.
Incidentally, Panama central defender Roman Torres was off the field attending to his footwear at the time. It was a costly wardrobe malfunction.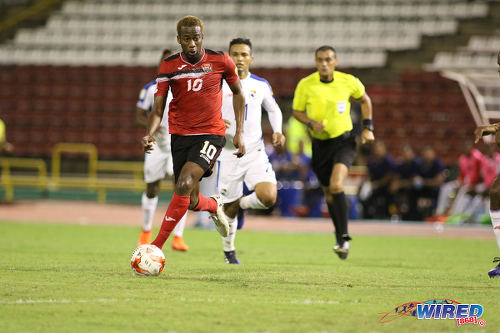 Alongside Molino, Kenwyne Jones rolled back the years with an energetic, bustling performance that stretched the opposing backline and created space for his namesake, Joevin, and the scorer to operate.
In the first half alone, Kenwyne probably made more sprints that he had in the last two games combined. It was always likely that the giant forward had more to contribute to his country's cause once he returned to full fitness.
It was not a particular fluent performance yet from the Warriors—and Lawrence met most of his players for the first time just this week. But the hosts looked more dangerous for much of the game.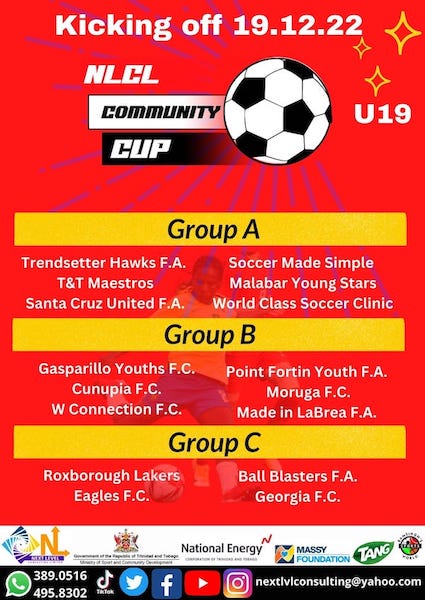 Molino ran on to a Kenwyne flick on in the 61st minute and Torres looked a fraction late with his shoulder challenge, as defender and attacker fell to the ground in a heap.
Penalties have been awarded for less. But Honduran referee Orlando Matamoros waved play on.
Then in the 67th minute came what might have been the play of the match.
Kenwyne chased a ball over the top and surprised opposing defender Felipe Baloy with his turn of pace. The sphere was about to roll across the goal line when the Atlanta United forward caught up to it and Baloy lunged in to block the expected cross.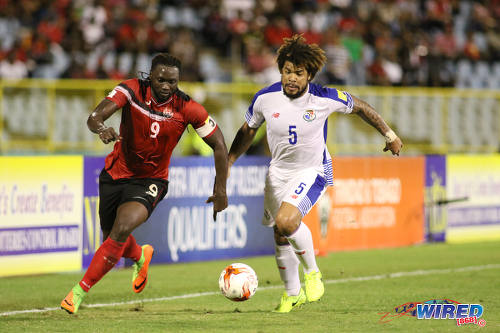 Instead, Kenwyne chopped the ball inside of his opponent and Baloy went flying so far off the field that he might have needed a taxi to get back to the ground.
But then, with three Trinidad and Tobago attackers outnumbering the two Panamanian defenders in the area, Kenwyne tried to surprise the goalkeeper at his near post and hooked the ball disappointingly wide with his left foot.
Joevin and substitute Levi Garcia, who were waiting for the cross, were not impressed. For Kenwyne's critics, it was the fuel they had been looking for.
However, the more knowledgeable football fans surely could not help but notice that Trinidad and Tobago are a far more dangerous team when the big number nine is playing well, even when he is not scoring.
The lineman's flag denied Panama substitute Luis Tejada, who drove the ball between the legs of Trinidad and Tobago goalkeeper Jan-Michael Williams in the 75th minute. And opposing midfielder Anibal Godoy had two decent looks in the last 15 minutes but failed to take either while Cyrus put hearts in mouth with a slash in his own box in the dying seconds of the game.
The last 10 minutes apart, though, Trinidad and Tobago deserved the win.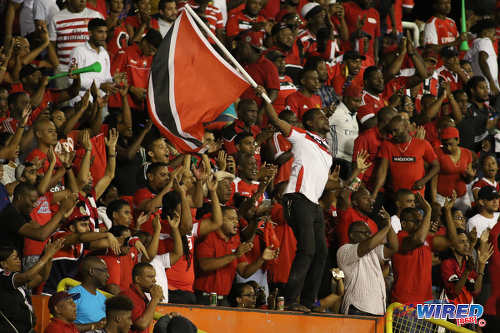 The Warriors remain second from bottom with three points but trail fourth-placed United States by just goal difference. And fourth is good enough for the FIFA Play-offs.
Mexico lead the group with seven points while Costa Rica are second with six. But only one point separates third-placed Panama (four points) and table-proppers Honduras (three points).
A draw against Mexico on Tuesday can keep the Warriors close to the pack, even as United States surge up the standings. A win over Mexico could move Trinidad and Tobago to fourth.
Only three of the 14 players used by Lawrence tonight are playing regular competitive football at present while eight of them are in either post-season or pre-season. It will be hard for them to maintain tonight's energy levels in four days' time.
Bateau is available again and Lawrence might consider making another change or two to freshen his team up. The six-foot-seven coach did little wrong tonight and he will no doubt relish the challenge.
(Teams)
Trinidad and Tobago (4-2-3-1): 21.Jan-Michael Williams (GK); 11.Carlos Edwards, 25.Curtis Gonzales, 5.Daneil Cyrus, 17.Mekeil Williams; 19.Kevan George, 8.Khaleem Hyland; 7.Cordell Cato (16.Levi Garcia 64), 10.Kevin Molino (13.Hughtun Hector 79), 3.Joevin Jones; 9.Kenwyne Jones (captain) (20.Jamille Boatswain 83).
Unused substitutes: 1.Marvin Phillip (GK), 22.Glenroy Samuel (GK), 2.Aubrey David, 12.Hashim Arcia, 14.Andre Boucaud, 18.Tristan Hodge, 23.Leston Paul, 26.Willis Plaza, 27.Nathan Lewis.
Coach: Dennis Lawrence
Panama (4-1-4-1): 1.Jaime Penedo (GK); 13.Adolfo Machado (2.Michael Amir 74), 23.Felipe Baloy (captain), 5.Roman Torres, 17.Luis Ovalle; 21.Amilcar Henriquez; 8.Edgar Barcenas (9.Gabriel Torres 63), 11.Armando Cooper, 20.Anibal Godoy, 19.Alberto Quintero (18.Luis Tejada 57); 22.Abdiel Arroyo.
Unused substitutes: 12.Jose Calderon (GK), 3.Jan Carlos, 4.Roderick Miller, 7.Oscar Villarreal, 10.Alejandro Taylor, 14.Miguel Camargo, 16.Josiel Nunez, 15.Eric Davis.
Coach: Hernan Gomez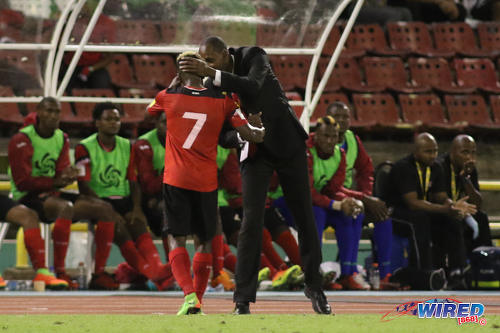 World Cup qualifiers
(Friday 24 March 2017)
Trinidad and Tobago 1 (Kevin Molino 37), Panama 0 at the Hasely Crawford Stadium, Port of Spain.
Mexico 2 (Javier Hernandez 5, Nester Araujo 45), Costa Rica 0 at the Estadio Azteca, Mexico City;
United States 6 (Sebastian LLetget 5, Michael Bradley 27, Clint Dempsey 32, 49, 54, Christian Pulisic 46), Honduras 0 at the Avaya Stadium, California.
CONCACAF Hex Standings
(Tabulated as Played-Won-Drawn-Lost-Goals For-Goals Against-Points)
Mexico              3-2-1-0-4-1-7
Costa Rica       3-2-0-1-6-2-6
Panama            3-1-1-1-1-1-4
United States 3-1-0-2-7-6-3
T&T                    3-1-0-2-2-5-3
Honduras       3-1-0-2-3-8-3