The Trinidad and Tobago National Senior Team began life under new coach Dennis Lawrence with a 2-0 win over Barbados tonight, after a double by substitute Jamille Boatswain at the Ato Boldon Stadium in Couva.
The result snapped a run of three successive defeats on home soil by the Soca Warriors, who lost 2-0 to Costa Rica in World Cup qualifying action last November under Stephen Hart and then suffered back-to-back losses to Suriname and Haiti in the Caribbean Cup in January.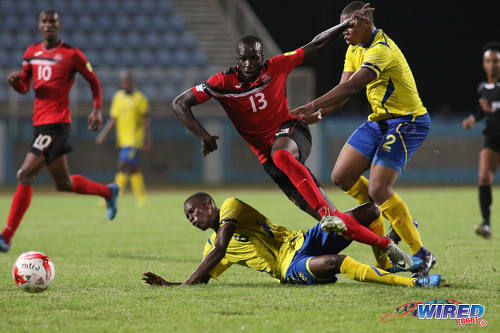 Boatswain, a Defence Force striker, was the biggest winner on the night although he ended with a rare statistical anomaly. He came off the bench to score twice before he was also replaced, midway through the second half.
Since he did not remain on the field as a substitute, FIFA rules do not credit him with a cap. So, he might be the only player in international football with two goals to his name despite not being credited with a single appearance!
Lawrence explained afterwards that he decided on sharing the 90 minutes evenly between Jameel Perry, Boatswain and Roach. So the shortened run-outs for the trio were not an indictment of the performance of any of them.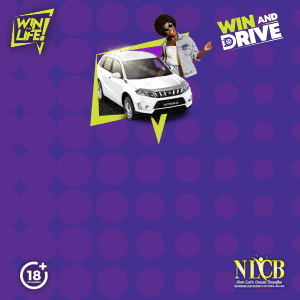 If this unnecessarily complicated the matter of Boatswain's first international outing, there was little else to worry the rookie Trinidad and Tobago head coach.
The "Bajan Tridents" are ranked 156th in the world by FIFA—some 72 places lower than Trinidad and Tobago. They hustled and gave as good a showing as could be expected. But Warriors goalkeeper Marvin Phillip, who wore the captain's armband, had just one save to make over the 90 minutes and it was a regulation catch.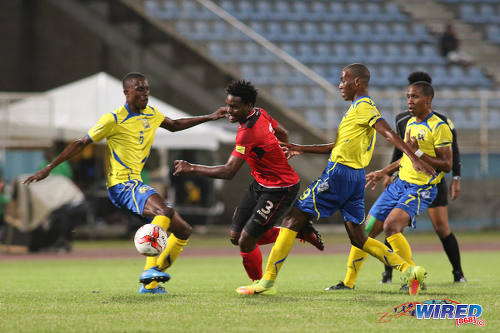 Almost certainly, tonight's workout would barely register as a test for a backline that faces Panama and Mexico next in World Cup qualifying action on 24 and 28 March respectively.
Still, there were encouraging signs for football fans as Lawrence's team gave an early indication of their ethos with their efforts to keep the ball and attack in numbers, which was chalk and cheese from the timid, reactionary approach of his predecessor, Tom Saintfiet.
The Warriors played a 4-2-3-1 formation, which saw the full backs hug the touchline and the central defenders play as wide as the width of the penalty area while either of two holding central midfielders dropped into the space on occasion.
It was a near replication of W Connection's system and certainly made sense of Lawrence's decision to name Stuart Charles-Fevrier among his assistants. It was hard, though, to spot Fevrier on the bench, which could not hold the 11 technical staff members plus players—and there were five additional chairs for the spillover.
"Like Lawrence need to buy a bigger bench, boi!" shouted one member of the crowd.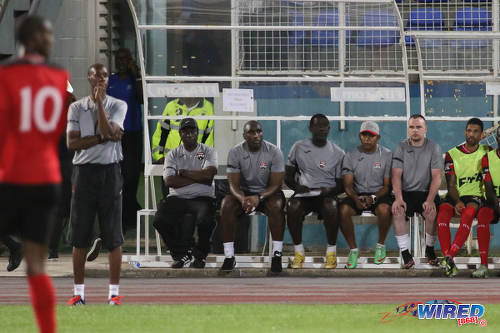 Gone are the days when former head coach Stephen Hart had to choose between a masseuse and a team manager for overseas trips. And Lawrence's bench was not even at full strength as an assistant coach, Stern John, was given the night off after the untimely death of his 19-year-old daughter, Nikela, roughly 24 hours earlier.
There was a moment's silence for Nikela before the opening whistle.
On the field, the shackles appeared to be off as the Warriors were far more adventurous in their approach. And Lawrence certainly asked a lot of his full backs who were expected to be as comfortable on the ball as wingers.
Apart from Boatswain, midfield maestro Hughtun Hector and versatile defender Triston Hodge—who switched from left back to central defender without skipping a beat—looked the most comfortable with their new job descriptions.
Elsewhere, there was plenty of application and a few flashes of endeavour as the likes of Hashim Arcia, Darren Mitchell and Sean De Silva battled manfully.
Time will tell if having a midfielder drop between his two central defenders to collect the ball is a feasible plan under a typical Mexican full press. But  against Barbados, there was little cause for concern.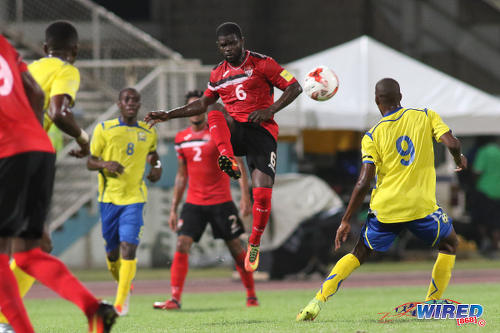 By the 10th minute, the Warriors were already in control and it was a surprise that they had to wait as long as the 36th minute for the opening goal.
Off a De Silva corner kick, Daneil Cyrus, restored to his favored role in central defence, almost got the first item in the 22nd minute with a header that clipped the top of the bar. And then Perry missed the first clear opportunity as he hit agonisingly wide after being sent clear by Arcia.
It spoiled a decent debut for Perry, who got around the pitch and held up the ball fairly well.
Boatswain is a more natural goalscorer, though, and boy did he prove it. Within seconds of his introduction, the bustling forward ran on to a diagonal ball from Mitchell, stepped inside off the left flank, stumbled and recovered his poise to blast into the far corner off the underside of the bar.
It was a replay of his sensational Pro Bowl strike against Central FC just last month.
As if that was not enough, Boatswain gave an encore in the first-half stoppage time. This time, Arcia released him down the other channel.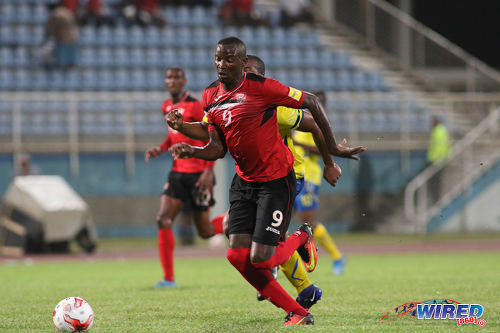 Bang! He spanked the ball low across the body of the Barbadian goalkeeper and into the far corner off the inside of the post.
At halftime, the crowd rose to its feet to offer a standing ovation to the striker whose knack of scoring goals earned him promotion from table-proppers Point Fortin Civic to the Warriors—via Defence Force—in a matter of two and a half months.
Leston Paul gave a decent showing off the bench in the second half while De Silva struck an upright and Jomoul Francois nearly got a late debut goal. But it was job done for the Warriors at the final whistle.
A two-goal win over Barbados might be two or three items under par. And the jury is still out on whether Trinidad and Tobago have the players with the necessary technique to implement Lawrence's tactics against more accomplished opponents.
But, for the 3,000 supporters who turned out, it was the most fun they have had at a Warriors game in some time.
(Teams)
Trinidad and Tobago (4-2-3-1): 1.Marvin Phillip (GK) (captain); 2.Alvin Jones, 5.Daneil Cyrus (16.Jesus Perez 51), 4.Curtis Gonzales, 3.Tristan Hodge, 8.Jared London (12.Leston Paul 46), 6.Hughtun Hector, 11.Darren Mitchell (17.Jomoul Francois 83), 10.Hashim Arcia (15.Keron Cummings 71), 7.Sean De Silva (20.Carlos Edwards 76), 9.Jameel Perry (13.Jamille Boatswain 33 [14.Akeem Roach 62).
Unused substitutes: 21.Glenroy Samuel (GK), 18.Maurice Ford, 19.Taryk Sampson.
Coach: Dennis Lawrence
Barbados (4-2-2-2): 22.Dario Weir (GK) (1.Kishmar Primus 75); 4.Akeene Browne, 2.Ranaldo Bailey, 3.Teriq Highland, 5.Alvin Chapman; 6.Mario Williams (14.Sheran Hoyte 75), 9.Omani Leacock (15.Raheim Sarjaent 46); 7.Haydan Holligan (13.Darico King 78), 11.Shaquille Boyce (16.Jomo Harris 46), 8.Romario Harewood (12.Armando Lashley 65), 10.Arantees Lawrence (captain).
Unused substitute: 17.Akeene Hill.
Coach: Collin Harewood
Referee: Crystal Sobers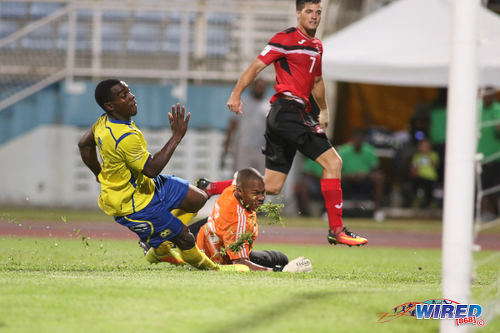 International friendly
(Friday 10 March 2017)
Trinidad and Tobago 2 (Jamille Boatswain 36, 45), Barbados 0 at the Ato Boldon Stadium, Couva.