The Trinidad and Tobago National Under-20 Team were left staring at 2017 World Cup elimination after a 1-0 loss to Costa Rica tonight in their Group C encounter at the Estadio Nacional in San Jose.
The defeat left Trinidad and Tobago with only a mathematical chance of getting out of their group. First, coach Brian Williams' troops must defeat group leaders El Salvador when they meet from 3.30pm at the same venue on Saturday. And that's the easy part.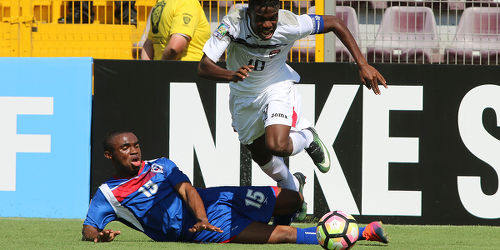 The young Soca Warriors then need Bermuda, who were whipped 3-1 today by El Salvador, to beat hosts Costa Rica in the later game—but not too well so as to overtake the two island republic on goal differential.
At this stage, it is not a particularly realistic prospect.
In truth, the Warriors are paying the price for their failure to defeat Bermuda on Sunday when the two nations played to a 1-1 draw. Tonight, they did not do much wrong in San Jose. Certainly the teenagers did not lack heart and application.

Arguably, Trinidad and Tobago striker Nicholas Dillon, who recently completed a move from Central FC to Belgium second tier club K Patro Maasmechelen, was the best individual player on the field.
Often isolated upfront, Dillon was always a willing runner while his hold up play was solid and he was never shy to take on an opponent. At the back, Trinidad and Tobago's central defensive pair of Taryk Sampson and Shane Sandy also did themselves justice.
Right winger Kathon St Hillaire looked lively in possession before he ran out of puff while, on the opposite flank, Noah Powder delivered some testing set pieces and almost scored with a cracking left foot effort.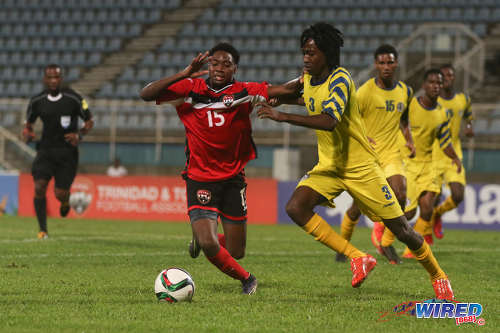 Otherwise, despite their bravery and application, Trinidad and Tobago just could not execute in possession and had no answer once Costa Rica went ahead in the 53rd minute.
If it is any consolation, Costa Rica's lone goal of the competition was good enough to settle any contest.
After a Sampson foul on opposing forward Andy Reyes, Costa Rican playmaker Randall Leal stepped up and beat opposing goalkeeper Montel Joseph with a brilliant curling free kick over a static Trinidad and Tobago wall from 20 yards.
Joseph, incidentally, did not start the contest, as he lost his place after a blunder against Bermuda that led to their equalising goal. But his replacement, Denzil Smith, lasted just 11 minutes before he had to make way with a dislocated shoulder after a collision with Leal led to an awkward fall.
Far from rattled, Trinidad and Tobago went on to have their best passage of play immediately after the change.
Left back Kori Cupid forced Costa Rica goalkeeper Mario Sequira into a sharp low save to his right with a header off a Powder free kick in the 14th minute. And, within seconds, Sequira was diving to his left to execute another brilliant stop off a Powder drive.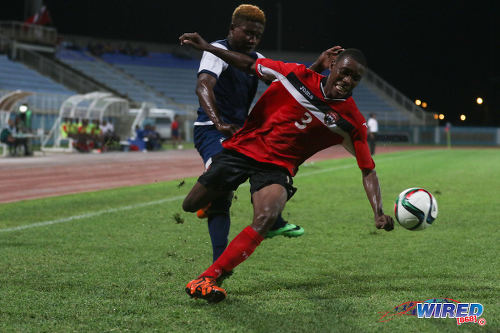 Sandy nearly conjured up something special in the 18th minute with a perceptive long range free kick that almost embarrassed Sequira, who had crept away from his goal line.
By then, the pattern of the game had been established with Costa Rica, who employed a 3-5-2 formation, hogging the ball without necessarily threatening while Trinidad and Tobago passed poorly but did create a few scares with a far more direct approach.
At the half, Costa Rica had 66 percent of the ball possession. Yet, Trinidad and Tobago outshot them by seven to five.
Nobody in a red shirt could produce a shot to match Leal's free kick though. Stunned, Trinidad and Tobago momentarily dropped their intensity and Sampson and Joseph were forced into some fine defensive blocks to keep the Central Americans at bay during a frantic spell of sustained pressure.
The Warriors fought back though and even pinned Costa Rica in their end of the field for the final five minutes. Dillon, unsurprisingly, was the most menacing Trinidad and Tobago player and nearly grabbed an equaliser with a crisp low drive from 18 yards that just flashed past the far post.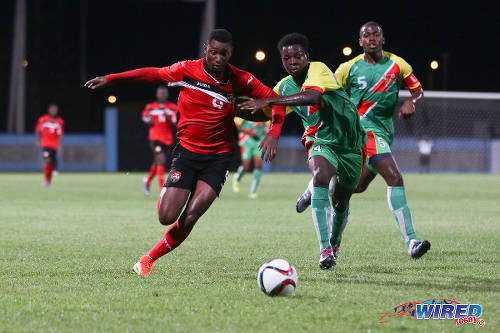 But Trinidad and Tobago could not do enough to grab a result. And, ultimately, it looks set to cost them a place in the next round.
Captain Jabari Mitchell needs to lead his teenaged band to their first win against group leaders El Salvador on Saturday. Then they must sit down and hope for a Bermudan miracle.
Acting Police Commissioner Stephen Williams is not the only Trini with little more than a prayer to hang on to at the moment.
(Teams)
Trinidad and Tobago (4-2-3-1): 1.Denzil Smith (GK) (20.Montel Joseph 12); 2.Isaiah Garcia, 5.Taryk Sampson, 4.Shane Sandy, 8.Kierron Mason; 3.Kori Cupid, 13.Micah Lansiquot; 15.Kathon St Hillaire (19.Taofik Lucas Walker 72), 10.Jabari Mitchell (captain), 11.Noah Powder (14.Josh Toussaint 68); 9.Nicholas Dillon.
Unused substitutes: 6.Simeon Bailey, 7.Morgan Bruce De Rouche, 12.Joshua Sitney, 16.Rushawn Murphy, 17.Stephon Marcano, 18.Joshua Leach.
Coach: Brian Williams
Costa Rica (3-1-4-2): 1.Mario Sequira (GK); 19.Yostin Salinas (2.Diego Mesen 41), 3.Pablo Arboine, 13.Esteban Sibanja; 20.Eduardo Juarez; 4.Ian Smith, 11.Randall Leal (16.Marvin Loria 73), 14.Roberto Cordoba (10.Jonathan Martinez 79), 6.Luis Hernandez (captain); 8.Jimmy Marin, 9.Andy Reyes,
Unused substitutes: 18.Alejandro Barrientos, 7.Kevin Masis, 12.Juan Arguedas, 15.Bernald Alfaro, 17.Jostin Daly,
Coach: Marcelo Herrera
Referee: Kevin Morrison (Jamaica)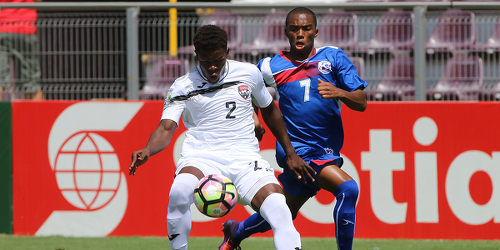 2017 Under-20 World Cup qualifiers
Group C
(Wednesday 22 February)
El Salvador 3 (Roberto Dominguez 21, Fernando Castillo 65, Josue Rivera 67), Bermuda 1 (Mazhye Burchall 75) at the Estadio Nacional, Costa Rica;
Costa Rica 1 (Randall Leal 53), Trinidad and Tobago 0 at the Estadio Nacional, Costa Rica;
(Sunday 19 February)
Trinidad and Tobago 1 (Kathon St Hillaire 23), Bermuda 1 (Oneko Lowe 69) at the Estadio Ricardo Saprissa, Costa Rica;
Costa Rica 0, El Salvador 1 (Roberto Dominguez 65) at the Estadio Ricardo Saprissa, Costa Rica;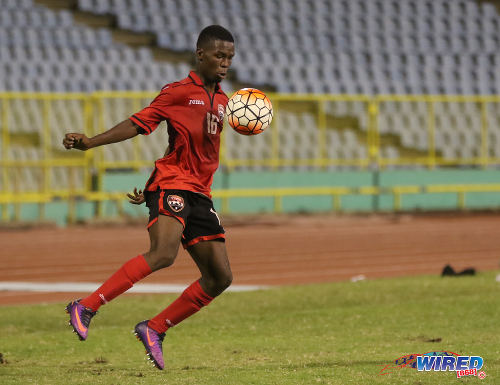 Upcoming fixtures
(Saturday 25 February)
Trinidad and Tobago v El Salvador, 3.30pm, Estadio Nacional, Costa Rica;
Costa Rica v Bermuda, 6pm, Estadio Nacional, Costa Rica.