Former World Cup 2006 attacker Cornell Glen looks set to return to the international stage after a three-year absence from the Trinidad and Tobago National Senior Team.
The 36-year-old Glen, who now plays professionally in India for Ozone FC Bengaluru, last wore the red, white and black strip on 15 July 2013 when the Soca Warriors were edged 1-0 by Mexico in the quarterfinal round of the CONCACAF Gold Cup.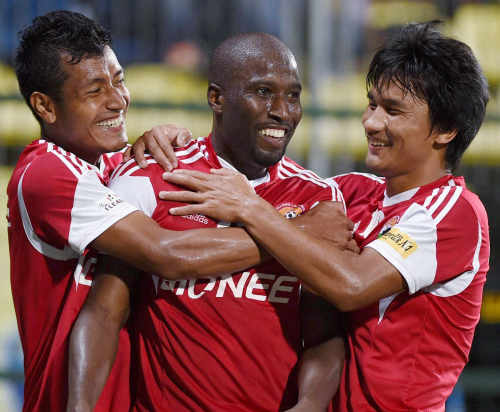 Glen left Pro League outfit, North East Stars, for Shillong Lajong FC in the I-League—immediately after the regional competition—and was never selected to represent Trinidad and Tobago since.
However, Wired868 understands that Glen could be set for a surprise recall to the national side and might join the squad in Nicaragua.
Glen is joint fifth on Trinidad and Tobago's all-time scoring charts alongside former National Senior Team captain Kenwyne Jones, who was omitted by Saintfiet. Both forwards have 23 international goals although Glen's 67 caps are 20 shy of Jones' tally.

Former World Cup 2006 striker Stern John is in a class of his own with 70 international goals followed by fellow retirees Angus Eve (34), Russell Latapy (29) and Arnold Dwarika (28). Ex-World Cup 2006 captain and Manchester United star Dwight Yorke, according to the RSSSF statistics, is ninth with 19 goals for his country.
National Senior Team coach Tom Saintfiet refused to confirm or deny Glen's possible recall until the Trinidad and Tobago Football Association (TTFA) officially names the travelling team tomorrow.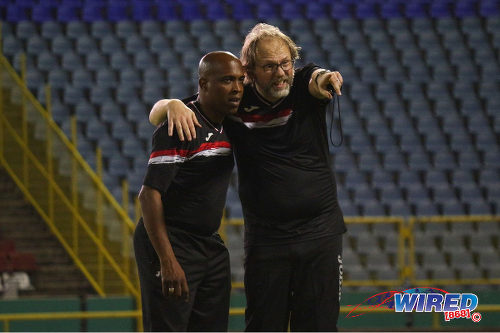 But Saintfiet admitted that are there vacancies within his squad for the Nicaragua outings on 27 and 30 December, due to the sudden unavailability of several members of his initial 29-man squad.
San Juan Jabloteh striker Willis Plaza leaves this week for a trial in Dubai while Orlando City midfield ace Kevin Molino and San Jose Earthquakes winger Cordell Cato have business with their clubs. Attacker Joevin Jones, who won the MLS Cup with Seattle Sounders three weeks ago, also asked for additional time off to recover from his long season.
It means Saintfiet may be forced to summon additional Pro League players, which could open the door for the likes of Jabloteh wingers Nathan Lewis and Tyrone Charles, Defence Force midfielder Jerwyn Balthazar and Morvant Caledonia United utility player Jameel Neptune or the Police FC pair of Christon Thomas and Kareem Freitas.
Defence Force striker Devorn Jorsling and Jabloteh frontman Jamal Gay—based on the coach's explanation for excluding Kenwyne—might be unsuitable to Saintfiet's plans.
Two players who definitely will not figure in Saintfiet's contingent for Nicaragua are goalkeeper Jan-Michael Williams and midfielder Nathaniel Garcia, after the national coach failed to reach a compromise with their employer, Central FC, who are chasing a hattrick of Pro League titles.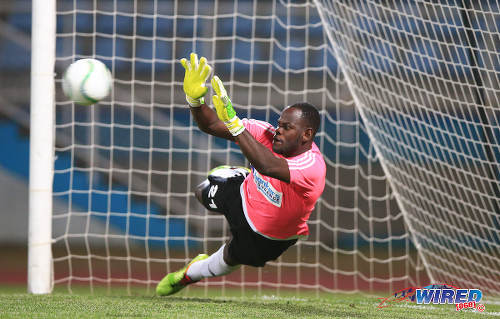 Saintfiet initially called up both players, along with midfielder Sean De Silva, but was infuriated when the "Couva Sharks" insisted on deciding when they could train and refused to accept a directive that they skip Pro League matches on Tuesday and Friday night.
FIFA rules mean that clubs are not obliged to release players outside of the international match window, although Central were the only local team to take that hardline.
Ironically, both club and country will miss out on playmaker Sean De Silva after the two-time World Youth Cup midfielder injured his groin at national practice and will now spend two weeks on the sidelines.
At the height of Saintfiet's disagreement with Central FC, he unfavourably compared their managing director, Brent Sancho, to his last employer in Bangladesh—he did not accuse Sancho of a third world mentality, as initially suggested by his assistant coach Jamaal Shabazz and Sancho himself.
Saintfiet still accused Central of reneging on a gentleman's agreement to release players to the national team whenever deemed necessary. But the Warriors coach promised to consider the pair for next month's Gold Cup play off fixtures against Suriname and Haiti on 4 and 8 January respectively.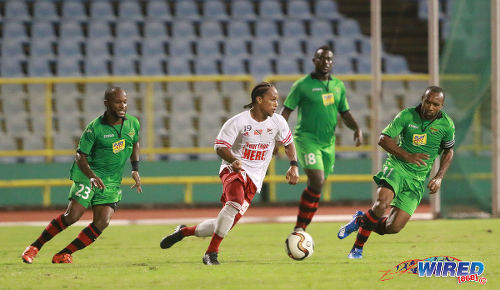 "I don't want to [create problems for] my players," Saintfiet told Wired868. "They [are] split in two directions; they want to respect the club and the owner and they want to play for their country…
"I need time to work with my players and see how they implement my technical ideas and it is always best to have [time to work with your] players. But I never close doors or have any problem with players.
"It is a decision from their club and I will not punish players who are forced into a situation [like that]. I will analyse [our training sessions in] the coming week and our friendlies against Nicaragua and reassess the [need for Williams and Garcia]."
Central operations director Kevin Harrison insisted that the club are light on numbers at present, due to injuries and suspension, and cannot do without Williams and Garcia.
At present, they do not have the services of injured defenders Robert Primus and Kaydion Gabriel while midfielder Leston Paul is suspended and forward Kenwyne Jones—who is on loan from MLS team Atlanta United—has headed to Atlanta on business. De Silva has now joined the injury list.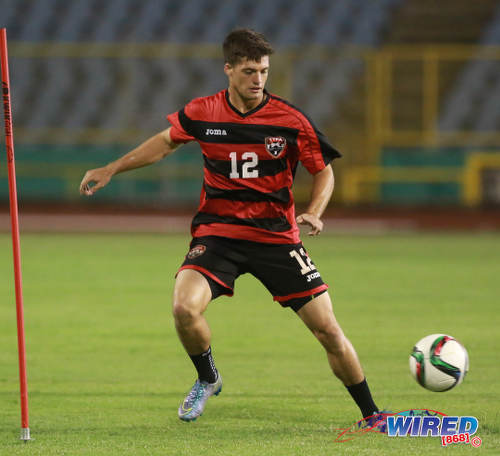 Harrison said there were no hard feelings over De Silva's injury, although he alleged that his club have often paid to rehab players injured on international duty such as Trinidad and Tobago National Under-20 forward Nicholas Dillon.
He insisted that all Central wanted was compromise.
"We definitely don't want to effect the players' careers by trying to prove a point to the coach, which certainly seems to be his intention towards the club," Harrison told Wired868. "However, we have to consider the club's position first… We are the players' employers and we do pay their salaries and we feel that should be respected.
"Nathaniel Garcia is very keen to play [for Trinidad and Tobago] and Jan wants to reassert himself in the national team. Sean probably [got injured in national team training because he] over-exerted himself, as he was so keen to impress.
"We don't want conflict with our players because we don't want to release them. We talked to them and they understand [our] position and we understand their position."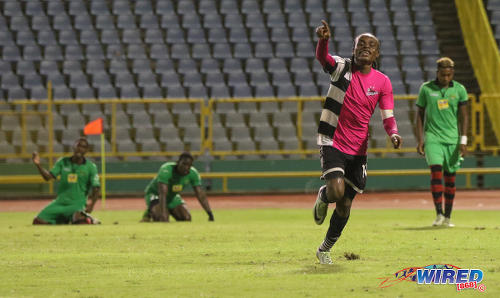 The Sharks, who are four points clear at the top of the table, face second from bottom Morvant Caledonia on Tuesday night and then sixth placed Defence Force on Friday. And Williams and Garcia will have to make do with those less exotic challenges.
For Saintfiet and his team, Christmas is cancelled as they prepare for life after ex-head coach Stephen Hart.
Apart from Glen, combative midfielder Kevan George also looks set to join the team in Nicaragua, although he will miss their first fixture.
Despite losing several key players for various reasons—and Eredivise winger Levi Garcia is the latest player to be ruled out of next month's Gold Cup play offs—Saintfiet was satisfied with his first week on the job and, from all reports, the players have responded positively to his training sessions.
"I don't want to think too much about [the players who] we do not have," said Saintfiet. "We have to construct a team with the players who are available. We want to go to Nicaragua and see how good we are with who we have."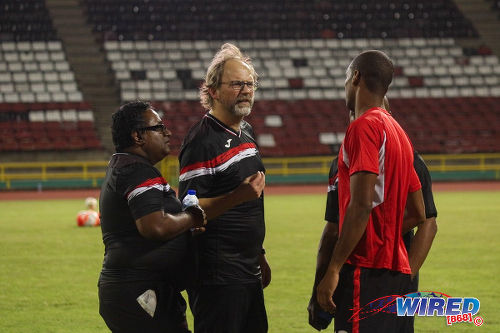 (Trinidad and Tobago training squad)
Goalkeepers: Glenroy Samuel (Ma Pau Stars), Marvin Phillip (Morvant Caledonia United), Adrian Foncette (Police FC);
Defenders: Carlos Edwards (Ma Pau Stars), Daneil Cyrus, Maurice Ford (both W Connection), Carlyle Mitchell (Seoul E-Land FC—Korea Republic), Radanfah Abu Bakr (Sillamae Kallen—Estonia), Mekeil Williams (Colorado Rapids—USA), Triston Hodge (W Connection), Aubrey David (Dallas FC—USA);
Midfielders: Curtis Gonzales (Defence Force), Alvin Jones, Hughtun Hector (both W Connection), Elton John (Ma Pau Stars);
Attacking midfielders: Aikim Andrews (W Connection), Hashim Arcia (Defence Force), Jomal Williams (Murcielagos FC—Mexico), Jomoul Francois (St Ann's Rangers);
Forwards: Shahdon Winchester (Murcielagos FC—Mexico), Trevin Caesar (Orange County Blues—USA);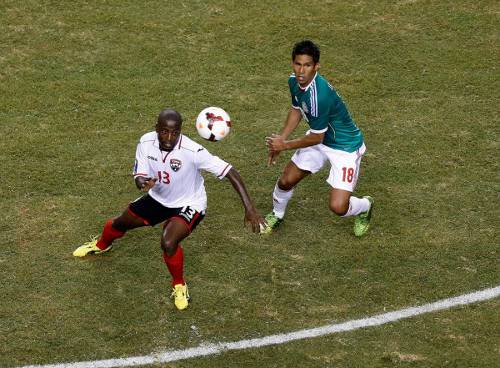 Out: Jan Michael Williams (Central FC), Sheldon Bateau (Krylia Sovetov Samara—Russia), Nathaniel Garcia (Central FC), Joevin Jones (Seattle Sounders—USA), Sean De Silva (Central FC), Cordell Cato (San Jose Earthquakes—USA), Kevin Molino (Orlando City—USA), Willis Plaza (San Juan Jabloteh),
Possible Additions: Kevan George (Jackson Armada FC—USA), Cornell Glen (Ozone FC Bengaluru—India).