They came, they saw and they conquered.
Costa Rica's performance last night against Trinidad and Tobago was not scintillating or jaw-breaking. But the Central Americans were measured and patient in their execution at the Hasely Crawford Stadium, and now they sit atop of CONCACAF'S Hex; albeit after one game.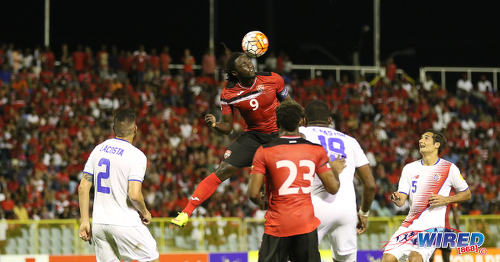 "Los Ticos" cannot afford to rest on their laurels either, as a visit from the United States, who suffered a 2-1 home loss to Mexico yesterday, awaits them in three days time.
Last night, the visitors and their small posse were able to shrug off the combative Khaleem Hyland and the tricky Joevin Jones to leave this country's capital smiling from ear to ear.
Substitute Joel Campbell had no small part to play in Costa Rica's win and the visiting coach alluded to his impact in the post-match conference.

"Our game is a combination game. And that's what we did. We tried to take advantage of [Trinidad and Tobago] being tired in the second half," said coach Oscar Ramirez, through his translator. "And Campbell was introduced to help [our] combination play."
Prior to Campbell's introduction, the hosts appeared to be going toe-to-toe with Los Ticos—or at least holding them at arm's length—as Hyland worked overtime to close down Christian Bolanos and Bryan Ruiz in the midfield while Kevan George intercepted would-be through passes at will.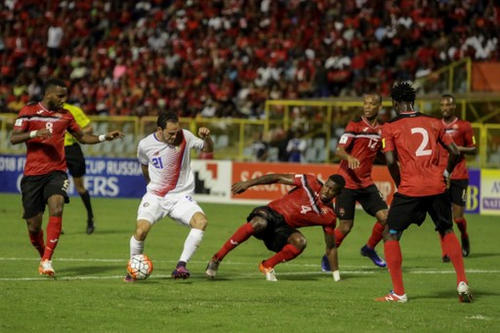 However, Trinidad and Tobago's approach was nothing short of what Ramirez expected.
"The game was [just] what I had expected [it to be]," said Ramirez. "Trinidad and Tobago had very good transition but one of the [main] things for Costa Rica was to disrupt the ball and counter Trinidad and Tobago's strengths."
And after long periods of sideways passing and an apparent inside game of 'cat and mouse' with the hosts, Ramirez decided that it was time to go for the jugular.
"We waited for the right time to score and this was key to changing the pace of the game… In the second half, I felt as though I could change things to be more aggressive. Marcos [Ureña] is a more a forward who runs through spaces while Joel [Campbell] is more of a pivot centre forward and that made a big difference late in the game."
Los Ticos had lulled their opponents into a false state of comfort. And all it took was an incisive Campbell pass and some sleeping down the Trinidad and Tobago left flank to break the deadlock in the 64th minute.
One week ago, Trinidad and Tobago coach Stephen Hart stressed that his team must be mindful of lapses in concentration—which he calculated to account for 60 to 70 percent of their goals conceded—against the "most balanced" team in CONCACAF.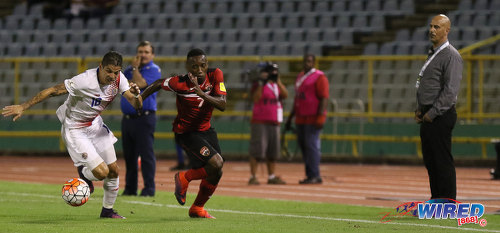 So how would the National Senior Team coach respond the 2-0 defeat?
Though disappointed with his team's concession of two second half goals, Hart stated that he saw an all-round decent team performance and he pointed to what worked for the boys in "Red, White and Black" on the night.
"I thought we did well," said Hart. "What we did was we took away the pockets that they wanted to receive the ball in, which was [Bolanos] and [Ruiz]. And [we tried to] make them play the ball wide first before we [went] to press it.
"And I thought we were doing okay with that and then they tried to get [Azofeifa] on the ball off of the three centre backs. And he ended up the playmaker. And both Kenwyne and Jomal contained him quite well. But as I said, I am disappointed."
With playmaker Kevin Molino serving a two-game internal suspension for a breach of team discipline and John Bostock still to make his Trinidad and Tobago debut, Hart was forced to look for a new 'number 10' option. And he went for the diminutive  Mexico-based attacking midfielder Jomal Williams.
Although Hart pointed to Williams' good defensive work, his play on the attacking end left a lot to be desired, apart from his spectacular volleyed attempt in the 32nd minute.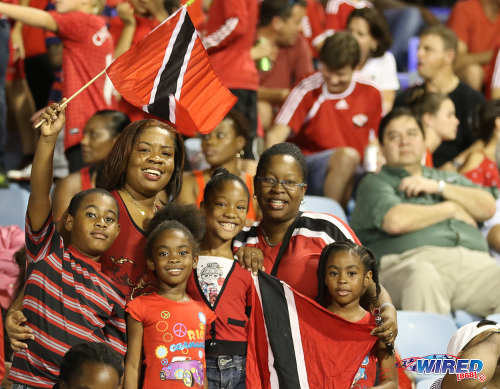 But Hart was sympathetic with the former W Connection player, who usually thrives on the left flank.
"[Jomal] worked very, very hard. And unfortunately, in that position you have the least amount of space in a football field. So if you play in that position the objective is to try and get turned or try and get the ball facing the opposition goal and then make the final pass or try and get a shot.
"Costa Rica did two things very well. They took away the space which he operates in, so he was always in a tight situation [where he was] bouncing the ball back [to a teammate]. And they contained Joevin Jones coming inside with two men. So they did their homework on him."
Hart suggested Williams was given the nod in the 'number 10' role to aid Joevin and Cordell Cato with dribbling penetration in the final third. But on a few occasions last night, it appeared as though Joevin had to try and break down the five-man Costa Rican defence all on his own.
Hart acknowledged the individual ability of the Seattle Sounders utility player, but he also touched on his tendency to slack off on the defensive end.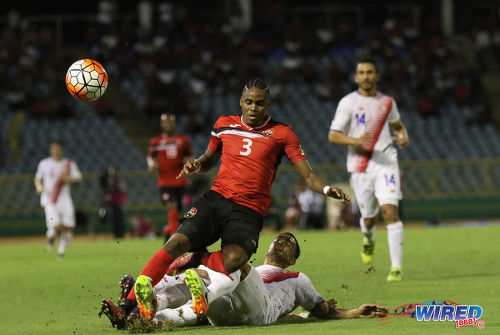 "I think Joevin Jones is a fantastic player when he gets the ball [but] in the first half he put us under a lot of pressure by not doing any defensive work at all. And then I had a little go at him in the dressing room because he has a lot of quality. But you only get to play with a football for three minutes out of the ninety and it was only a matter of adjusting his positioning and he did very well in the second half…"
But what about the lack of support for Joevin, who was often faced with two and three players in white shirts?
Were the fullbacks instructed to stay at home more often than not?
"No, no [the fullbacks weren't instructed to be less attacking] but we talk a lot about getting our distances right and sometimes when Joevin gets the ball he doesn't recognise his position when he receives the ball on the field and he just wants to go; Levi [Garcia] does it as well," Hart said. "So it's up to the fullbacks to get on and support them. You do those things in practices but when the game starts and [the opposition] pin you back like that and you are worried about running and having to come back…"
Trinidad and Tobago only managed one shot on goal, which came from defender Carlyle Mitchell and was dramatically stopped by goalkeeper Keylor Navas in any case. But Hart chose to see the glass as half full.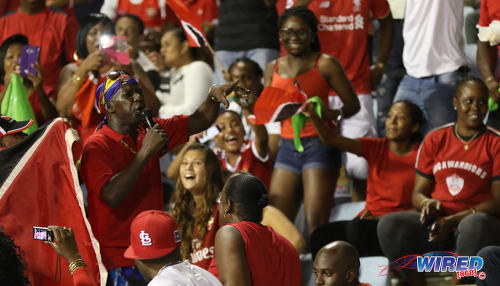 "If you look at how the goal scored it's not like we were not in control of the game. We had long periods where we were in control of the game and we got chances. And they were probing and trying to make something happen…
"We look [back] at some of our games and we didn't move the ball well or we didn't possess the ball well. And then we come into this game—I have to watch the video again—but from my naked eye I thought we were doing quite well. And we were moving the ball and getting into dangerous parts of the field.
"And when Boucaud came on it became even more effective because Khaleem was playing a little higher up and we were getting into some good positions."
For many, the second half insertion of Campbell, who is on loan at Sporting Lisbon from English giants Arsenal, was the game's altering act. But Hart saw Navas' low, diving save to deny Mitchell in the 69th minute as the real defining moment.
At the time, Trinidad and Tobago were trailing to Bolanos' item and Hart felt the game would have been totally different if Navas did not stop the net from bulging.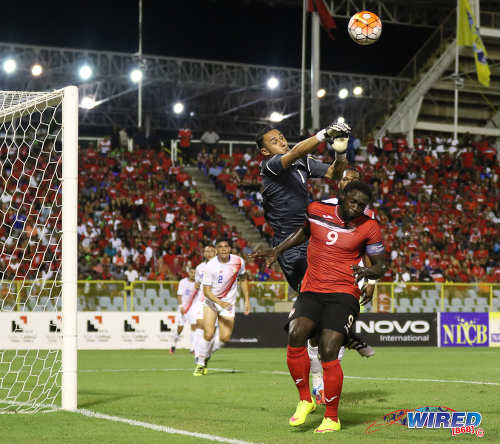 But this is the Hex, and last night the hosts were not too good at turning water into wine. "Los Ticos" helped themselves to some 'Presidential wine' however, as Ronald Matarrita's stoppage time item sealed a deserved 2-0 win.
Hart and his charges will need a pick-me-up quickly, as they jet off to Honduras for a match which already feels like a must-win.