Trinity College East and Malick Secondary meet each other from 3.3pm in Trincity today with a 2017 SSFL Premier Division berth on the line in the final round of the Championship Division Play Off.
Carapichaima East Secondary are already through after three straight wins helped them to an unsssailable nine points. Carapichaima host third placed Speyside High School, who are third with four points but trail second placed Trinity East only on goal difference.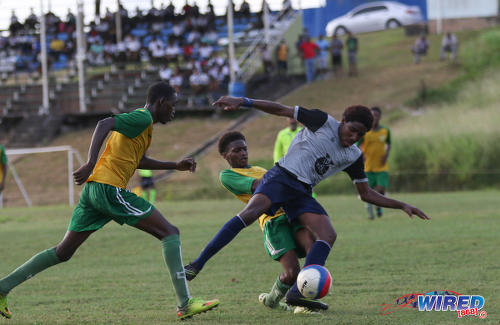 Malick and Princes Town West Secondary both have three points but the former school is fourth due to goal difference. However, only three teams will advance to the Secondary Schools Football League's marquee division for next season.
On Friday evening, Princes Town's dreams of the limelight were extinguished at home against a Trinity outfit led by Trinidad and Tobago National Under-17 Team star Kishon Hackshaw and an extravagantly named substitute, Dwight Yorke.
Not that veteran Trinity coach Michael Grayson, a serial champion with Arima Senior Comprehensive and St Augustine Secondary, was satisfied.

Three-nil up and with the match official signalling only two minutes stoppage time in the second half, Grayson was still urging his squad forward.
"I'm not happy!" Grayson yelled, despite the look of contentment on his young players' faces.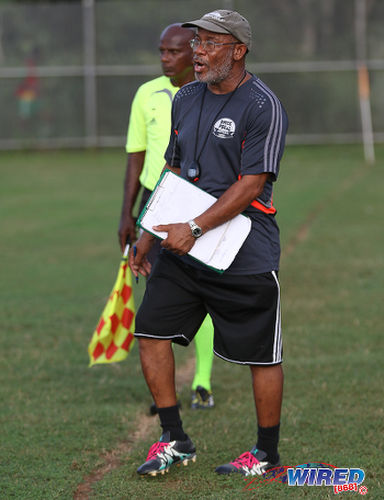 From start to finish, tensions were high in a nail-biting contest as spectators, coaches and managers urged the teams to work harder and harder still.
"Stop standing up and waiting for the ball to come to you!" shouted Princes Town West coach Jeffery Seecharan, who seemed to have enough vigour for his entire team. "Your energy levels looking low right now."
On the field, tackles flew and profanity was exchanged with Trinity's Romario Williams getting a ticking off from his own coach for salty language.
"It's not worth it, Romario," said Grayson.
In contrast to the passion on the field or at the sidelines, the students in the stands were almost passive.
At halftime, a Hackshaw goal separated the two schools. Seecharan gave his team a vivacious half-time pep talk but Trinity were too ruthless.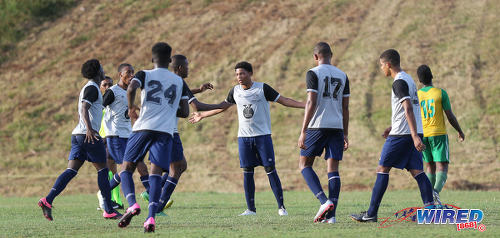 "Drop the axe on them," said Grayson, as his team continued to enjoy greater ball possession.
Trinity players Rakim Cabie, Marli Greaves and Winston Guiseppi all tested the opposing goalkeeper. But it was Yorke, a second half substitute, who put the game to rest as he bagged twice and glided dangerously around the field.
"This was Dwight's first game and he scored two goals," Grayson told Wired868. "[Liam] Burns should have easily scored four by himself, making it an easy 7-0. That is why I am disappointed. But I expect good things to come from Yorke as he showed promise today."
Several players limped off the field from both teams pointing accusing fingers at the referee. But Grayson was having none of it.
"This ref has experience and knows what he is doing," said the Trinity East coach. "I always say that there are certain ways to get the referee's attention and hostility is not one of them. You should not hold up a game contesting a tackle when the clock is running."
For the Princes Town players, it looks like a trip to the infirmary. For Trinity East, an immediate return to the Premier Division beckons. But Malick might have something to say about that this evening.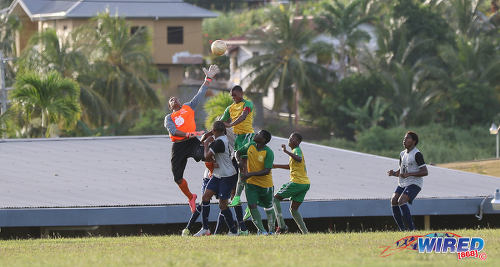 (Teams)
Trinity College East: 1.Emmanuel John (GK); 2.Curvonne Dookie, 17.Christian Ransome, 4.Randy Jackson (captain), 6.Jalani Augustus, 3.Rakim Cabie, 29.Kishon Hackshaw (5.Winston Guiseppi 58), 8.Marli Greaves (19.Dwight Yorke 53), 10.Myles Ryan, 15.Romario Williams, 18. Liam Burns.
Unused substitutes: 22.Shamall Joseph (GK), 25.Sergio Bustamante, 14.Ahmad Daniel, 21.Tyrese Williams, 24.Javed Elcock.
Coach: Michael Grayson
Princes Town West: 20.Akeem Daniel (GK); 3.Anderson Peters (captain), 6.Akil Samuel, 4.Christopher Figaro, 2.Ronaldo Dickson, 10.Rayon King Alleyne, 17.Jeremy Duntin (15.Jishawn Pierre 22), 9.Darian Kennedy (8.Zion Smith 43), 14.Yatham Henry (11.Kendall Teesdale 40), 12.Thafaun Figaro, 19.Brent Williams.
Unused substitutes: 13.Maleek Thompson, 7.Zidan Geoffroy, 18.Sheldon Sambury, 5.Kenan Cyrus.
Coach: Jeffery Seecharan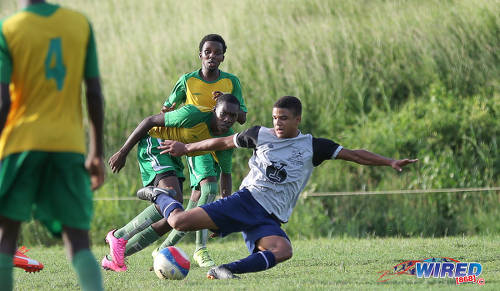 SSFL Championship Big 5 Playoff results
(Friday 28 October)
Speyside High 2 (Shaffie McKenzie 14, Kerri McDonald 34), Princes Town West 1 (Brent Williams 2) at Speyside;
Carapichaima East 1 (Theophilus Bourne), Trinity College East 0 at Carapichaima;
Malick Secondary were on a bye.
(Sunday 30 October)
Speyside High 1 (Stephon Antoine), Trinity College East 1 (Nickel Orr) at Speyside;
Princes Town West 4 (Anderson Peters 33 pen, Brent Williams 40, 56, Rushawn Murray 45 own goal), Malick Secondary 1 (Akeem Sealey 20) at Princes Town;
Carapichaima East were on a Bye.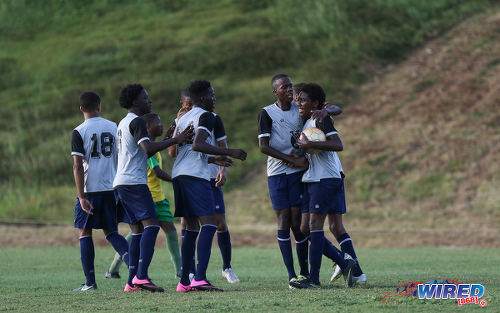 (Tuesday 1 November)
Carapichaima East 3, Princes Town West 0 at Carapichaima;
Malick Secondary 1 (Roshen Murphy 89), Speyside High 0 at Patna Ground, Diego Martin;
Trinity College East are on a Bye.
(Friday 4 November)
Malick Secondary 0, Carapichaima East 1 at Patna Ground, Diego Martin;
Princes Town West 0, Trinity College East 3 (Kishon Hackshaw 15, Dwight Yorke 66, 89) at Princes Town;
Speyside High are on a Bye.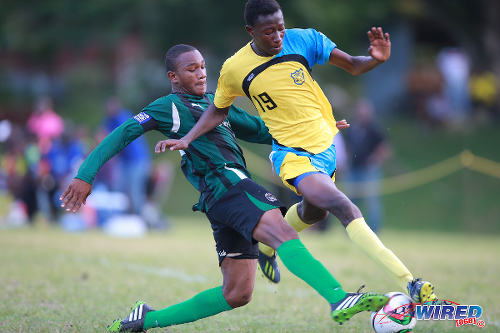 Upcoming Fixtures
(Sunday 6 November)
Trinity College East vs Malick Secondary at Trincity;
Carapichaima East vs Speyside High at Carapichaima;
Princes Town West are on a Bye.
Standings (Tabulated as Won-Drawn-Lost-Goals For-Goals Against-Points)
Carapichaima E  3-3-0-0-5-0-9
Trinity East            3-1-1-1-4-2-4
Speyside High      3-1-1-1-3-3-4
Malick Sec             3-1-0-2-2-5-3
Princes Town W 4-1-0-3-5-9-3