If you're searching for that inspirational tale where the plucky underdog beats the system by overturning the establishment, you had better look elsewhere.
Certainly not at the Ato Boldon Stadium yesterday where Police FC and St Ann's Rangers came up against defending champions Central FC and perennial bigwig W Connection respectively in Pro League action.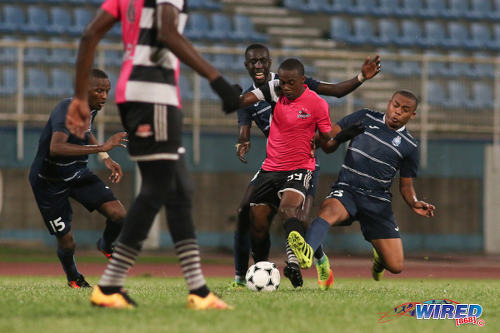 No, this is a story about feisty upstarts who were put in their place. In each case, the result would probably leave a scar, although the severity of the defeat might appear different based on the score card.
Connection won 4-0 against a Rangers team that trailed them only by goal difference at kick off. While, in the opening game of the double header, Police led until the 88th minute but somehow still ended up empty handed as an imperious Kenwyne Jones header sparked a rival for Central, who won 2-1.
In Rangers' case, they never really got going. Coach Anthony Streete's team sat deep with an intention of denying Connection's attackers space, clogging up the midfield space usually occupied by maestro Hughtun Hector and tying down marauding left back Kurt Frederick.
It seemed to be a reasonable and pragmatic solution. But, in retrospect, it was totally misguided.
Connection usually favour a 4-2-1-3 formation in which a holding midfield often drops between two central defenders while, once in possession, both full backs push up to create overloads down either flank. St Lucia international, Kurt Frederick, is the best attacking full back in the business and causes no end of worry up the left flank.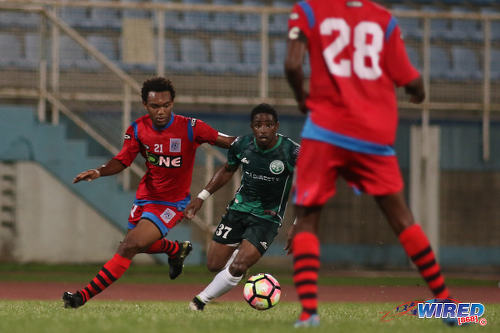 Only, rather than tear down the left flank, Frederick stepped into the midfield for Connection last night to create a diamond with Daneil Cyrus—another surprise—Kevon Goddard and Andre Toussaint. It left Connection with a back three of Ronell Paul, Gerard Williams and Jelani Peters, with Paul and Peters also happy to offer passing options for their front seven.
Rangers, as a result, were overrun in central midfield and, with Hector operating as a 'false nine', Connection were finding far too much space.
"I was expecting Kurt on the left flank and that is why I used two wide strikers to capitalise on [the space behind] their wing backs," Streete told Wired868. "I beat [Connection] twice last year [with Club Sando] and I think they planned well for this game and it worked in their favour. I have a young bunch and they are not able to react tactically on the spur of the moment."
Veteran goalkeeper Cleon John made a superb save to deny Connection's winged forward, Dimitrie Apai, in the 13th minute. And it took two John's blocks plus an intervention by defender Devon Drayton and the post to keep out Hector and Apai in the 24th minute, as Rangers struggled.
But, in the 35th minute, the "Savonetta Boys" did get the go ahead goal. And it was the kind of strike that separates the contenders from the pretenders.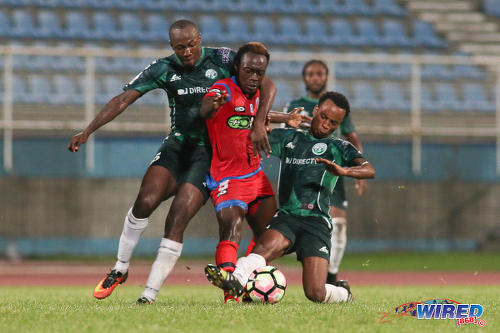 Frederick, arguably the best crosser of the ball in the Pro League, pushed through the centre into space vacated by Hector and displayed another strength of his game—long range shooting.
The sound of his left foot crashing the ball was like a symphony condensed into one note. It was from nearly 30 yards but John never stood a chance, as the ball flew into the goalkeeper's top left hand corner. If Kerry Jamerson or Chris Birchall—long range specialists for the Strike Squad and Soca Warriors respectively—were at the Ato Boldon Stadium last night, they might have shed a tear and nodded their heads with conviction.
Rangers nearly mustered an equaliser with an audacious free kick from King in the 43rd minute, which just missed the near corner. But, a minute from the halftime interval, Frederick struck again to double Connection's lead.
Hector slid a free kick sideways to Frederick from roughly the same distance as his first strike. And the St Lucian had to take a touch before taking aim. Inexplicably, two Rangers ball attackers—who were in close attendance—stood off as if doubting his ability to repeat the trick.
This time, Frederick kept his shot low and it squirmed under John for Connection's second goal.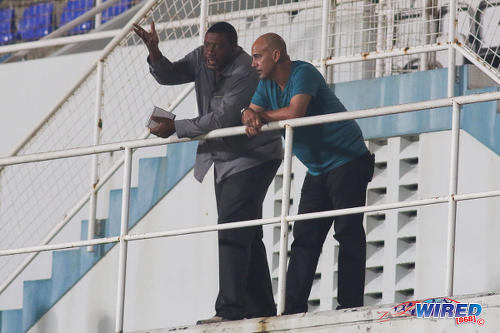 "I felt that shouldn't have scored but, from the goalkeeper's perspective, he was blinded," said Streete. "We went in hurting [at the interval] because we got that goal in the last minute of the half."
Two goals down, Rangers only way back into the game—apart from a Connection error—looked to be their electric young flanker, Jomoul Francois.
In the 55th minute, Francois diverted a wayward Toussaint pass into King's path and the Rangers attacker forced a fine save from Connection custodian Julani Archibald. A minute later, Francois went off one of his trademark runs inside off the flank, which, as always, began with him comprehensively outwitting Paul. On this occasion, Francois worked a give and go with King but hooked an improvised shot over the bar.
In the 63rd minute, Connection coach Earl Jean—who ran the bench in place of head coach Stuart Charles-Fevrier, who was on bereavement leave—accepted that Paul was not going to stop Francois without some sort of firearm and replaced his right back with Alvin Jones. The problem is Francois can be as frustrating for his own teammates as he can be for opponents with his poor decision-making in the final third.
So, three minutes after Jean tried to steel up his backline for Francois' pace, Streete helped Connection solve the problem by replacing his winger with Kazim Donald.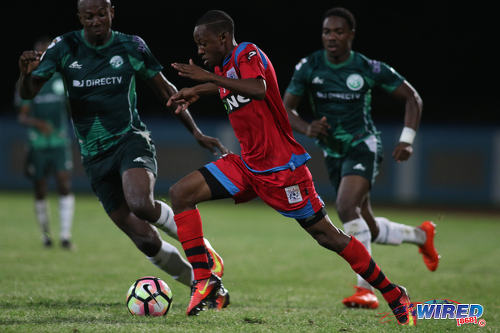 "We all know [Francois] is going to get past players but he was trying to do too much rather than bringing Dylon King and [his teammates] into the fray," said Streete. "That is his main problem. I am seeing some good attributes in him but he doesn't understand how to play with his teammates."
Whatever Streete's intention, the change looked to be a white flag for their opponents. And, fittingly, two Connection defenders—now free from worry about the pacy Francois—created their club's closing two goals.
Peters' hooked shot fell for substitute Jamal Charles to tuck home in the 75th minute while Jones (A) dribbled around Rangers left back Kareem Baptiste to tee up Toussaint for Connection's fourth in the 77th minute. And it might have been worse as another substitute, Shackiel Henry, diverted a Frederick cross on to the Rangers bar, five minutes from time.
The substitute that garnered the most attention on the night, though, was Central FC forward and Soca Warriors captain Kenwyne Jones, who was pencilled into Trinidad and Tobago senior coach Stephen Hart's World Cup qualifying team to face Costa Rica and Honduras—on 11 and 15 November respectively—despite not playing a minute of competitive football in roughly four weeks.
Central did not get off to a good start as right back Kaydion Gabriel was ejected for a second bookable offence in the 40th minute, after a foul on Police left back Nequan Caruth. Despite the numerical disadvantage, Central coach Dale Saunders sent on Jones (K) in the 53rd minute and the impact was immediate. But not in the way anyone might have expected.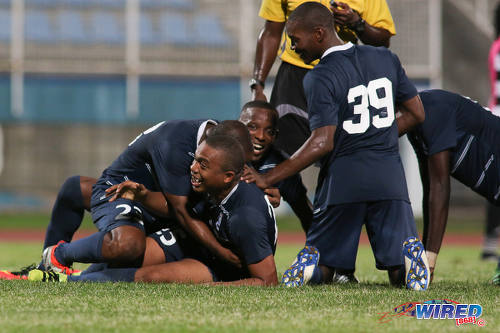 It was Police who scored within seconds of his introduction, as midfielder Kenaz Williams kicked into a lunging defensive block by Central defender Andre Ettienne. Both players thudded into each other and the Police midfielder was left in agony on the ground. But, crucially, his shot deflected off Ettienne and looped over Central goalkeeper Jan-Michael Williams for the opener.
It was Kenaz's first league goal since 6 February 2015 when he scored in a 3-0 over Caledonia AIA at the Marvin Lee Stadium. No pain, no gain.
Police lost 3-2 to San Juan Jabloteh in a physical contest on Tuesday and had just one training session and little time to catch their breath before last night's affair. And, after four games without a win, they were clearly energised by their advantage, which they went about protecting with relish.
Left back Dexter Alleyne, who played as a makeshift central defender last night, seemed especially inspired by the job of marking Jones and there was one nip at the ex-England Premier League forward's ankle in the 71st minute that might have made Hart's heart skip a beat.
Jones walked gingerly for a while but recovered without medical treatment. And boy did he recover. After precious little to encourage Trinidad and Tobago football fans—save for a cushioned flick that was wasted by Jason Marcano—the giant striker suddenly reminded everyone of his indisputable asset.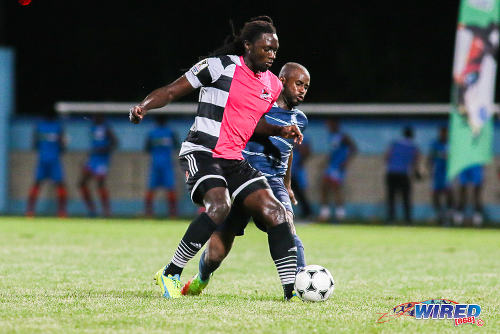 From the moment Marcano's cross took flight towards the far post, you knew Police were in trouble. And Jones leapt, hung and crashed a downward header beyond opposing goalkeeper Adrian Foncette to level the scores.
And, just as Police were coming to grips with having to share the points, they were left with nothing. Seconds after his goal, Jones won a free kick on the edge of the box and Marcus Joseph blasted the resulting free kick beyond the wall and straight at Foncette.
You don't hold Joseph's thunderbolts from that sort of range and Foncette's block only teed up Central captain Darren Mitchell, who gleefully accepted the rebound. Hood must have felt as if he had been mugged.
Six games into the season, the Pro League already looks to be a three-horse race between Central (16 points), Connection (13 points) and San Juan Jabloteh, who have 12 points but a game in hand. Last night belonged to the establishment.
(Teams)
W Connection (3-3-1-3): 18.Julani Archibald (GK); 21.Ronell Paul (16.Alvin Jones 63), 3.Gerard Williams, 27.Jelani Peters; 23.Kevon Goddard, 25.Daneil Cyrus, 2.Kurt Frederick; 14.Andre Toussaint; 31.Daniel Diaz (20.Jamal Charles 46), 13.Hughtun Hector (captain), 10.Dimitrie Apai (9.Shackiel Henry 81).
Unused substitutes: 1.Terrence Lewis (GK), 4.Maurice Ford, 43.Malik St Prix, 46.Arnfernee Frederick.
Coach: Earl Jean
St Ann's Rangers (4-3-1-2): 1.Cleon John (GK); 30.Lester Durham, 28.Shakiyl Phillip (captain), 5.Devon Drayton, 20.Kareem Baptiste; 8.Jameel Antoine, 7.Sedale McLean (19.Tafari Williams 81), 10.Devon Modeste; 6.Dylon King; 21.Josh Toussaint (33.Osaze Springer 58), 9.Jomoul Francois (11.Kazim Donald 66).
Unused substitutes: 22.Christopher Biggette (GK), 16.Richard Williams, 32.Marvin Lee, 44.Dyllon Lara.
Coach: Anthony Streete
Referee: Rodphin Harris
Man of the match: Kurt Frederick (W Connection)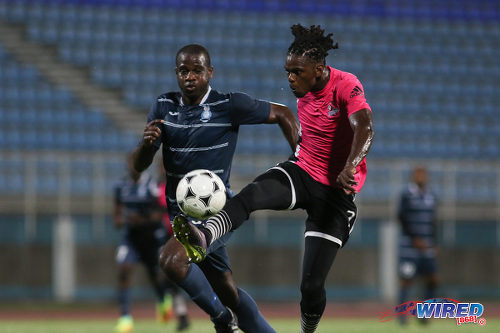 Pro League results
(Friday 4 November)
Central FC 2 (Kenwyne Jones 89, Darren Mitchell 90), Police FC 1 (Kenaz Williams 53) at Ato Boldon Stadium;
W Connection 4 (Kurt Frederick 35, 45, Jamal Charles 75, Andre Toussaint 77), St Ann's Rangers 0 at Ato Boldon Stadium.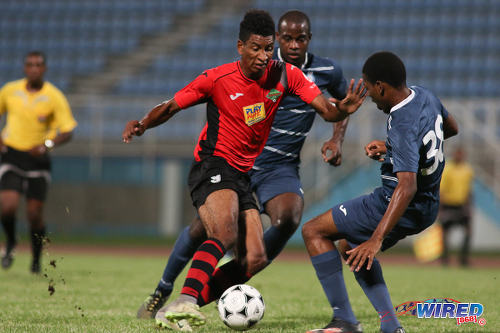 Upcoming results
(Sunday 6 November)
Morvant Caledonia vs Defence Force, 3.45pm, Morvant Recreation Ground;
San Juan Jabloteh vs Point Fortin Civic, 4pm, Ato Boldon Stadium;
Club Sando vs Ma Pau, 6pm, Ato Boldon Stadium.