The Morvant Recreation Ground opened its doors to the Trinidad and Tobago Pro League yesterday evening with pomp, noise and fervour. But, as it turned out, it wasn't the visitors who could have done with extra security in the so-called "hot spot".
Yesterday, the baddest gun slinger in Morvant was 29-year-old San Juan Jabloteh striker Willis Plaza—a seasoned hitman who has plied his trade in three continents having worked professionally in Vietnam, Belgium and El Salvador, as well as for the Trinidad and Tobago National Senior Team.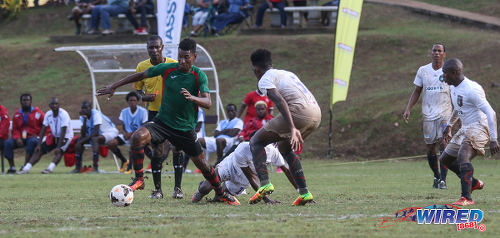 Morvant Caledonia United could not cope with Plaza's pace and panache. And, at the final whistle, the 4-2 scoreline flattered the host team.
The result saw Jabloteh skip from fifth to second place while Morvant Caledonia slipped from third to fourth in the 10-team standings.
"I think the inclement weather [hampered] our passing style and changed the direction of the football [as it] turned it into a dogfight," veteran Morvant Caledonia right back Kareem "Tiny" Joseph told Wired868. "I think with Jabloteh's strength, physique and height, [they made better use of the conditions].
"[The muddy conditions] changed the way we played and made us leave our passing game to go direct. And you can see [Jabloteh] have big guys at the back…"
At the other end, Plaza pointed to a different quality.
"Too much speed," said Plaza. "We beat them on pace because their defence was quite slow."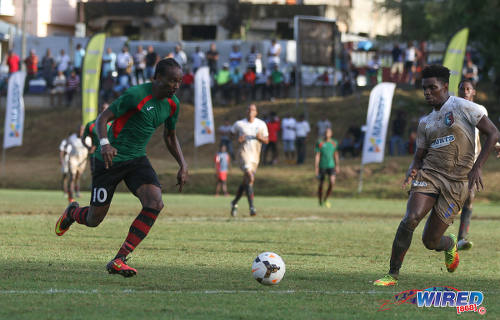 Jabloteh did not take long to get the show on the road. Just two minutes into the contest, a Morvant Caledonia defender hesitated for a second on the ball. Plaza did not.
And goalkeeper Marvin Phillip barely had time to blink before his former Trinidad and Tobago international teammate, Plaza, fired past him. First lesson to Morvant/Caledonia football fans: Be punctual!
Phillip made a fine save from ex-Caledonia winger Tyrone Charles in the 37th minute, after a flowing attack that involved Plaza and his strike partner Jamal Gay. But the second goal always seemed a matter of 'when' and not 'if'.
And it duly came from the penalty spot in the 42nd minute, as Jamaican specialist and Jabloteh central defender Adrian Reid cooly sent Phillip the wrong way.
Again, Plaza was instrumental as he stripped Otev Lawrence of the ball and accelerated past him before the panicked St Lucian defender chopped him down for a straightforward penalty decision.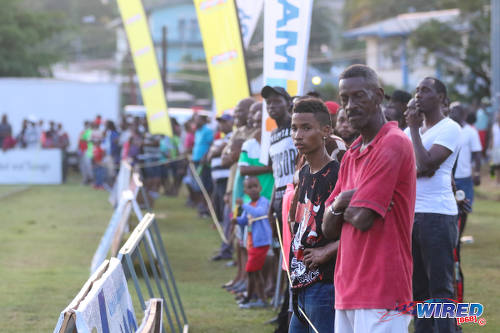 The lead stretched from two to three goals within seconds with Plaza again involved, as he headed into space for Charles. Morvant Caledonia left back Taje Commissiong was nowhere to be found and Charles flew past opposing defender Seon Thomas before beating Phillip with a fine, low angled drive into the far corner.
Commissiong and Lawrence are both 19 years old while Thomas is 22. For a generation unused to the rough instant justice that was corporal punishment, facing Plaza and Charles must have been a disorienting occasion.
Morvant Caledonia got one goal back before the halftime interval but it felt like charity.
Jabloteh goalkeeper Shem Louison and opposing striker Kordell Samuel chased a lofted ball over the top and the former player realised too late that he was beaten for pace. The collision, which occurred despite Louison's best efforts to pull out, happened at least a yard outside of the Jabloteh penalty box.
Referee Keon Yorke, who had put up with lectures from 2006 World Cup midfielder and Morvant Caledonia veteran Densill Theobald for much of the half, pointed to the spot. And "Tiny" Joseph obliged to narrow the deficit to 3-1.
By then, the attendance had swollen considerably as supporters filled all three stands, stood in the mud around the field or lined the street above the ground to catch their first glimpse of Pro League football in their neighbourhood.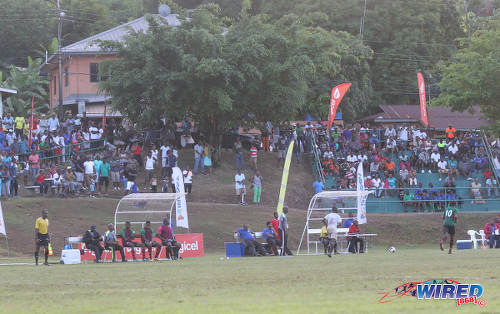 A head count was impossible but it looked to be in the range of 1,200 onlookers. Joseph estimated at least 1,500. One supporter, who was allowed to address the crowd by announcer Wayne Cunningham, came up with an even more impressive number.
"Welcome to the republic of Morvant," he said. "We have an attendance of 2.5 million people here today…"
If only the "Eastern Stallions" could match the wit and ingenuity of their fans on the day.
"Oh gorm Plaza, don't score no more nah!" pleaded ex-Caledonia player and long-time supporter, "Gangsta", in the 55th minute.
Plaza smiled and held up two fingers.
"Nah man," Gangster replied. "Don't score no more…"
Five minutes later, Plaza scored again, after a Noel Williams flick on. Morvant Caledonia coach Rajesh Latchoo replaced Lawrence at halftime and asked holding midfielder, Maestro Mensah, to watch the talented striker. But it made little difference.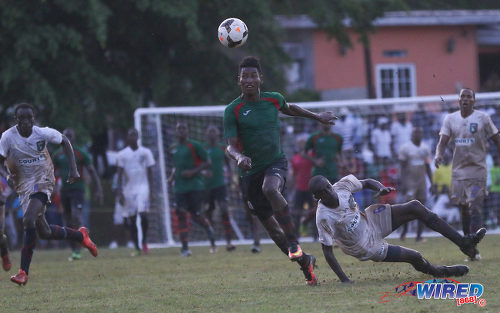 It was as though Plaza was wearing studded boots while his opponents played in banana skins. Once the Jabloteh striker looked even remotely interested in the opposing goal, the legs of the Morvant Caledonia defenders invariably turned to jelly.
Mensah slipped when he needed to be decisive and Plaza sprinted clear before cleverly chipping the ball over Phillip to make it 4-1. Theobald stared into the heavens.
"Plaza, oh gosh…" Gangsta moaned.
"Okay, ah done, ah done," Plaza replied, with a smile.
And he was true to his word.
"Half of the fans [today] are people from my neighbourhood," said Plaza, who grew up in Pinto but lived in Morvant and Chaguanas at various stages in his adult life—along with, of course, Nghệ An and Ho Chi Minh City (Vietnam), Visé (Belgium) and San Salvador (El Salvador).
"Today," said Plaza, "the atmosphere was just amazing…"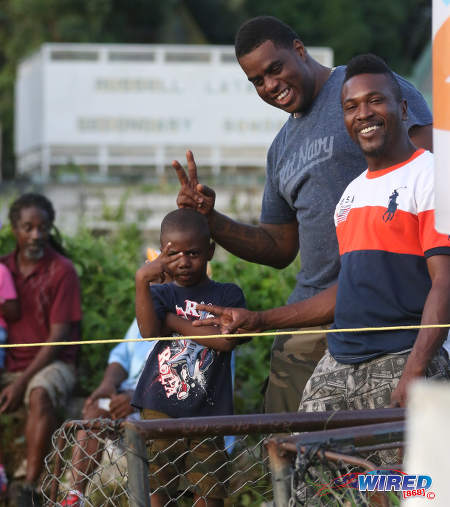 It will be a while before the Morvant Caledonia district forgets the sight of Jabloteh's mercenary sharpshooter.
Stallions skipper Akim Armstrong shook off his own miserable performance to grab a consolation item in the 72nd minute, after being gifted a free header off a Joseph corner kick. But that was as good as it got on the field for the hosts, who were grateful to some fine goalkeeping from Phillip to avoid further damage.
Off the field, there was much more to savour as hundreds of spectators milled about including Sport Minister Darryl Smith, TTOC president Brian Lewis, NAAA president Ephraim Serrette and TTFA president David John-Williams.
Shabazz, the technical director and founding member of the club that once named Caledonia AIA, looked as happy as a child in a toy store.
"I think [the large crowd] proves my point that the community really wants high level sporting and cultural activities," Shabazz told Wired868. "And not just for free but in a [close] proximity. Given the attendance yesterday, I think if we can get the grounds fenced and a better playing surface, the sky is the limit for what we can achieve.
"For us, it is an important step for self-sufficiency and we will do everything in our power to make it happen."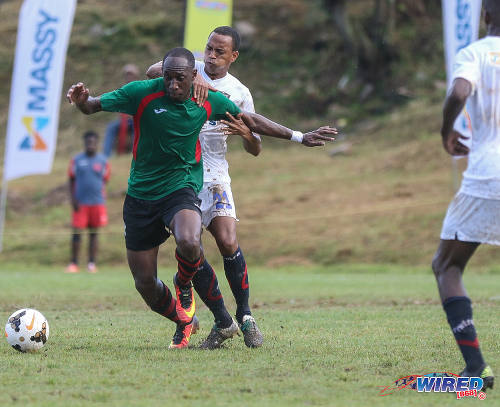 The Stallions took advantage of having their target audience in one geographical location. Rather than radio, television, newspaper or even social media ads, the club sent out a representative with a car and a speaker for just two days.
"We had a car go through the community on Friday evening and Saturday," said Shabazz. "And look at what we got in just two days. And, most importantly, it was incident free. So we are planning for the Army game now…"
If the Morvant Caledonia defence is anything as timid then as they were on Sunday, Defence Force striker Devorn Jorsling would be licking his lips.
Time will tell if the troubled area allows the Army/Coast Guard combination to dictate terms to them on the football field as they did before on the streets.
(Teams)
San Juan Jabloteh (4-2-2-2): 30.Shemel Louison (GK); 18.Jevon Morris, 21.Aquil Selby, 24.Adrian Reid, 6.Akeem Benjamin; 5.Elijah Manners, 12.Kion Joseph; 10.Tyrone Charles (16.Brent Sam 80), 19.Noel Williams; 7.Jamal Gay, 9.Willis Plaza (17.Josiah Trimmingham 86).
Unused substitutes: 35.Andrew Durant (GK), 8.Keyon Edwards, 15.Jerome McIntyre.
Coach: Keith Jeffrey
Morvant Caledonia United (4-1-2-3): 1.Marvin Phillip (GK); 12.Kareem Joseph, 5.Seon Thomas, 15.Otev Lawrence (18.Maestro Mensah 46), 6.Taje Commissiong; 14.Keron Bethelmy; 16.Amos Ramsay (11.Dominic Douglas 71), 17.Akim Armstrong (captain), 21.Densill Theobald, 23.Lester Joseph (10.Sheldon Holder 63); 7.Kordell Samuel.
Unused substitutes: 30.Stephon Seepersad (GK), 3.Teriq Highland, 8.Anthony Charles, 13.Jordan Devonish.
Coach: Rajesh Latchoo
Referee: Keon Yorke
Man of the Match: Willis Plaza (San Juan Jabloteh)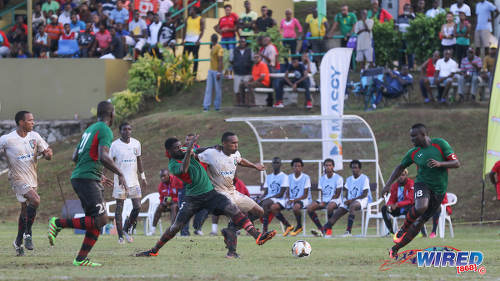 Pro League results
(Friday 14 October)
W Connection 2 (Shackiel Henry 50, Jamal Charles 70), Club Sando 1 (Kemuel Rivers 36) at Ato Boldon Stadium;
Central FC 4 (Marcus Joseph 13, 63, Jason Marcano 42, Darren Mitchell 90+1), Defence Force 1 (Hashim Arcia 57) at Ato Boldon Stadium;
(Sunday 16 October)
Morvant Caledonia United 2 (Kareem Joseph 45+3 pen, Akim Armstrong 72), San Juan Jabloteh 4 (Willis Plaza 2, 61, Adrian Reid 42 pen, Tyrone Charles 44) at Morvant Recreation Ground;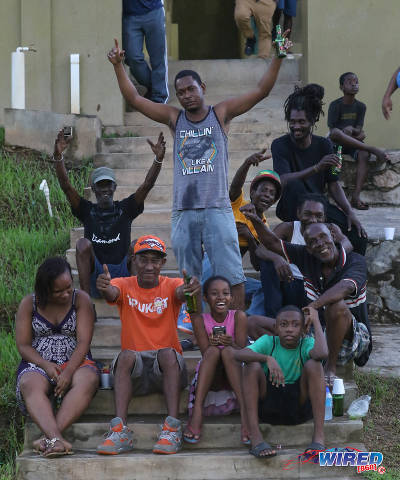 Upcoming fixtures
(Tuesday 18 October)
Ma Pau Stars vs St Ann's Rangers, 6pm, Ato Boldon Stadium;
Point Fortin Civic vs Police FC, 8pm, Ato Boldon Stadium.