"Keep seeing the picture. Keep seeing yourself getting the three points in the first game. Don't study the rest of games…"
Returning St Ann's Rangers head coach Anthony Streete, who swapped places with current Club Sando coach Angus Eve during the off-season, painted a mental picture for his new charges before kick off. And, judging from Sunday's performance at the Larry Gomes Stadium, they got the message.
The much changed Rangers line-up bought into Streete's positive philosophy, as the St Ann's-based outfit downed Defence Force 2-0 for only their sixth win in the last four seasons.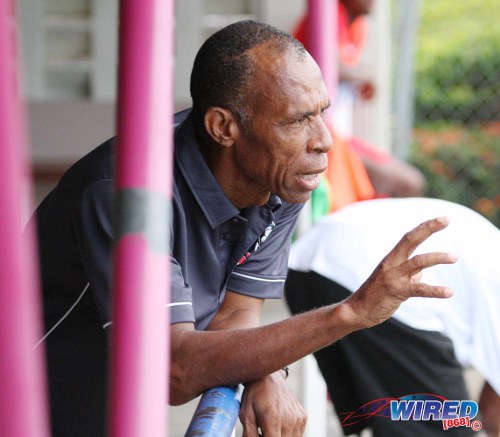 It was an unexpected result but Streete—who was last at the helm of the chronically underperforming team in 2014—and his team were worth their victory.
Arima was overcast and the venue's sluggish outfield led to an unattractive opening exchange as both sets of players struggled to retain the ball or do anything constructive with it.

Referee Rashby McPhee was the most excitable figure on the pitch for the first half hour, although his officiating was not initially warmly received by Rangers' travelling supporters.
"Yuh cokey-eye referee!" shouted one Rangers fan. "Watch with yuh two eyes!"
McPhee won over his critic in a matter of moments, as he pointed to the spot after a foul on veteran Rangers attacker Devon Modeste, who returned to the St Ann's team from Club Sando along with Streete.
The opportunity came from an incisive counter attack, as Modeste darted inside the opposing penalty box and, in one fluid motion, cut back onto his right foot. Defence Force right back Marvin Jones was already committed to his challenge and sent Modeste tumbling, to leave McPhee with his easiest decision of the afternoon.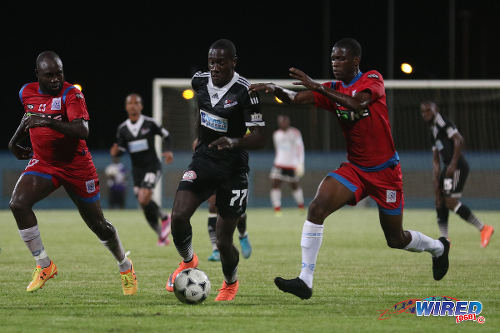 Rangers have suffered from a constant turnover of personnel over the last few seasons but midfielder Sedale McLean has been a consistent and assured figure in their squad. And McLean tucked away the penalty with an unconventional routine that saw him start his run up with his back to goalkeeper Sheldon Clarke, before neatly placing the ball into the corner.
The "Tetron Boys" huffed and puffed but Rangers ended the half with a goal to the good.
Defence Force coach Marvin Gordon sent on Kellon Serrette and Justin Garcia after the interval but their introductions proved largely ineffectual.
The Rangers players, with Streete bellowing in their ear, aggressively closed down opponents and pressed high up the pitch while record Pro League goalscorer and Defence Force sharp shooter, Devon Jorsling, struggled to find space beyond his marker, Devon Drayton.
Rangers conceded 65 goals last season during Eve's tenure. But with veteran former San Juan Jabloteh and North East Stars goalkeeper Cleon John between the sticks and Drayton steadying the backline, they were a steelier proposition for the soldiers.
Whenever Jorsling and company did get behind the opposing defence, John was there to confront them with not just sharp saves but his composed mannerism. Crosses were held confidently, his backline was well organised and Defence Force shots were unerringly smothered.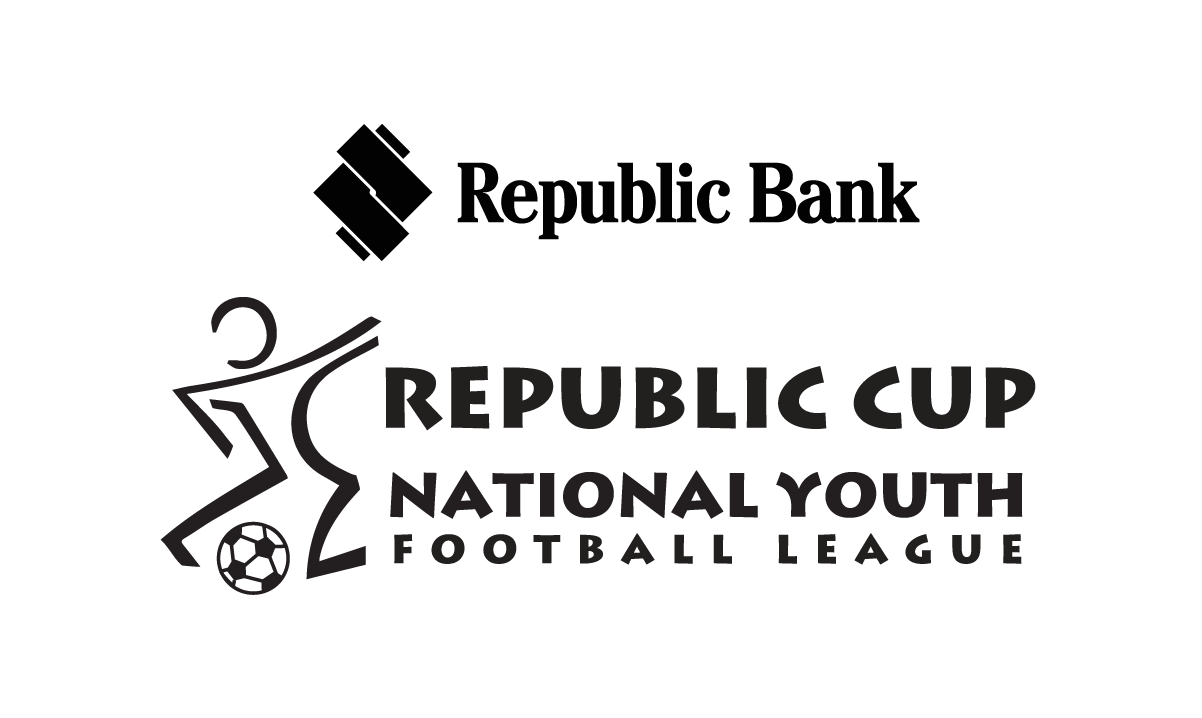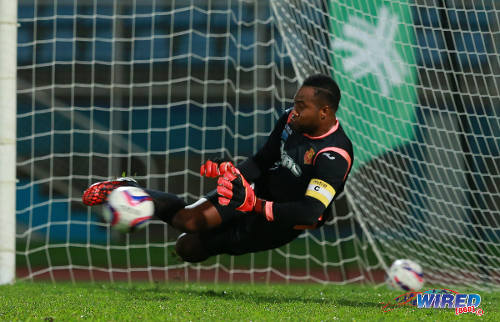 Rangers' solid backline provided the platform that Dylon King needed to impose himself on the game, as he danced around the pitch intercepting passes and elegantly turning loose balls into pacy counter attacks.
In the 55th minute, he pulled out a different skill from his deck of tricks. Defence Force conceded a free kick on the edge of the penalty area and King promptly claimed his man of the match crown with a rifled effort that Clarke got a hand to but could not prevent from nestling into the corner to double Rangers' lead.
St Ann's supporters may have braced themselves for a panicked, 'backs to the wall' display for the remainder of the contest. But Streete's fighters were generally unruffled.
Rangers could have even extended their lead in the 80th minute when McLean fired inches wide with an angled drive inches, after a brilliant through ball by energetic substitute Marvin Lee.
Streete credited John for his impact on the club.
"Cleon [John] brings experience and he is one of the leaders of the team," Streete told Wired868. "He is stamping his authority and he wants playing time because he wasn't getting it at [North East Stars]. That's the reason he came to Rangers and is staying at Rangers….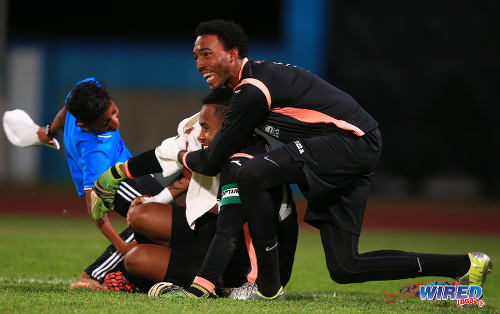 "I love him for his discipline. He motivates the whole team."
Rangers, according to their new coach, are still in the rebuilding phase and the aim is to simply avoid finishing bottom of the 10-team standings again.
"When I came into Rangers, there were just three or four players [left]," said Streete. "The team had deteriorated and the previous coach took half of the team to Club Sando. So we started from scratch….
"I'm just going game by game. For four or five seasons, we have been bottom of the table and we [are] just trying not to come last this year."
Ironically, Streete led Club Sando to finish above Eve's Rangers last season before the two coaches switched places. It is left to be seen what impact that move will have on the final standings, although Rangers are off to a good start.
(Teams)
Defence Force FC (4-4-1-1): 25.Sheldon Clarke (GK); 13.Marvin Jones, 17.Curtis Gonzales, 3.Jamali Garcia, 21.Aklie Edwards (26.Justin Garcia); 12.Jemel Sebro, 20.Levi Serries (16.Kellon Foncette), 99.Jerwyn Balthazar (captain), 18.Sean Narcis (8.Christopher Durity); 10.Hashim Arcia; 9.Devorn Jorsling.
Unused Substitutes: 1.Andre Marchan (GK), 5.Devin Jordan, 15.Brandon Fountain, 19.Thurlani George.
Coach: Marvin Gordon
St Ann's Rangers (4-3-3): 1.Cleon John (GK); 30.Lester Durham (16.Richard Williams), 28.Shakiyl Phillip, 5.Devon Drayton, 20.Kareem Baptiste; 8.Jameel Antoine, 6.Dylon King, 7.Sedale McLean; 11.Kaim Donald (33.Osaze Springer), 19.Tafari Williams (32.Marvin Lee), 10.Devon Modeste.
Unused Substitutes: 22.Christopher Biggette (GK), 17.Francis Rojas, 44.Dylon Lara.
Coach: Anthony Streete
Referee: Rashby McPhee
Man of the Match: Dylon King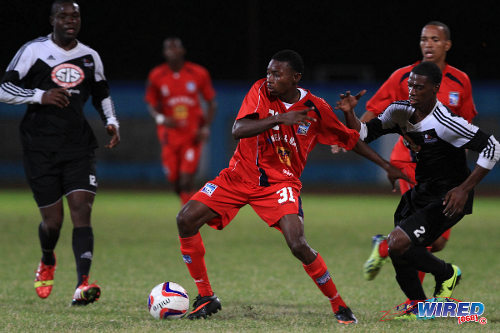 Pro League results
(Sunday 2 October 2016)
Defence Force FC 0, St Ann's Rangers 2 (Sedale McLean 36, Dylon King 55) at Larry Gomes Stadium;
(Friday 30 September)
Point Fortin Civic 1 (Sylvester Teesdale 31 pen), Morvant Caledonia Utd 3 (Jameel Neptune 5, Jair Edwards 55, Kareem Joseph 65 FK) at Mahaica Oval;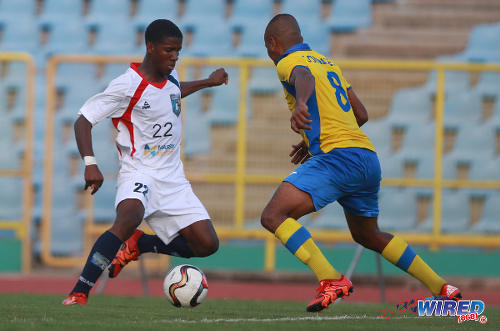 Upcoming fixtures
(Tuesday 4 October)
Club Sando vs San Juan Jabloteh, 6pm, Mahaica Oval;
*—Game will complete its final 42 minutes with Jabloteh leading 1-0 through Keston Julien;
Ma Pau Stars vs Police FC, 6pm, Hasely Crawford Stadium;
Central FC vs W Connection, 8pm, Hasely Crawford Stadium.