St Anthony's College relinquished pole position in the Secondary Schools Football League (SSFL) Premier Division yesterday evening, after suffering their first defeat of the season to a feisty Signal Hill Secondary outfit at Westmoorings.
And, as two-time Premier Division champions Naparima College fell 2-1 to Shiva Boys Hindu College in San Fernando, St Anthony's coach Ronald Daniel may not know whether to cry or smile. The "Westmoorings Tigers" battled back heroically in the second half but the visitors did enough to eke out an exciting 4-3 result.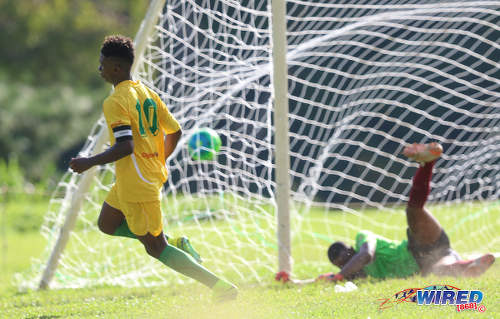 The losses for St Anthony's and Naparima saw the stylish Shiva Boys team jump to the SSFL summit with 19 points from eight games—three clear of the Tigers, Naps and Presentation College (San Fernando), who played to a goalless draw with St Augustine. Although Naparima and St Anthony's have played a game fewer.
Daniel admitted that his team were asleep at the start of yesterday's contest and their Tobagonian guests provided a rude awakening. There was less than 60 seconds on the clock when St Anthony's right back Marc Robertson was forced into a goal line clearance after an effort by opposing attacker Omarley James.
And, with the Tigers backline failing to recognise his threat, the bustling James prodded in at the back stick in the fourth minute, after the defence made a meal of a throw-in by Signal Hill fullback Jabari Francis.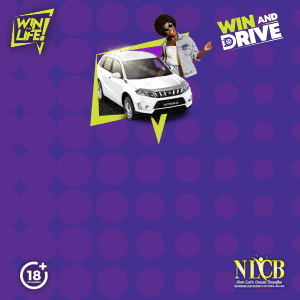 St Anthony's College were without the Trinidad and Tobago National Under-20 duo of winger Kathon St Hillaire and goalkeeper Jabari Brice. But there was no shortage of talent with the National Under-17 trio of Tyrese Bailey, Che Benny and Jaydon Prowell all included in their match squad.
Not that the visitors, who were beaten by a single goal against southern powerhouses Naps and Presentation College (San F'do), were overawed.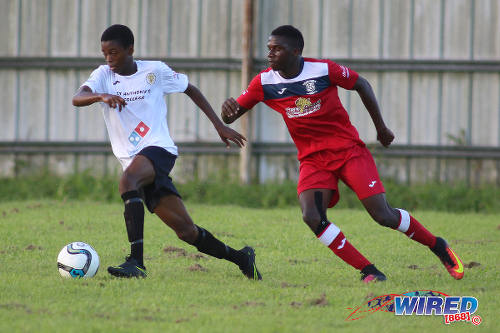 "We left Tobago with the intention to get these three points because we said that St Anthony's haven't lost any games," Signal Hill coach Urrington Samuel told Wired868. "We said that we were coming to beat them today and the boys were very confident."
The visitors oozed confidence in the first half and were well marshalled by midfield captain Akil Frank, who sauntered around like he owned the compound and constantly terrorised St Anthony's left back Derron John.
"That too easy man, come on!" shouted some bewildered Tigers supporters.
There was nothing complicated about Signal Hill's play. They were direct, strong and fast in their passing and decision making.
And before the table-toppers could come to terms with the reality, James tapped in another item from close range on 23 minutes. Again the hosts' left side was exposed, as Nkosi Chance bulldozed his way through before squaring for his teammate to finish.
Things could have gotten worse, just five minutes later, as St Anthony's goalkeeper Oba Augustine had to make a valiant save from point-blank range with Frank bursting through on goal.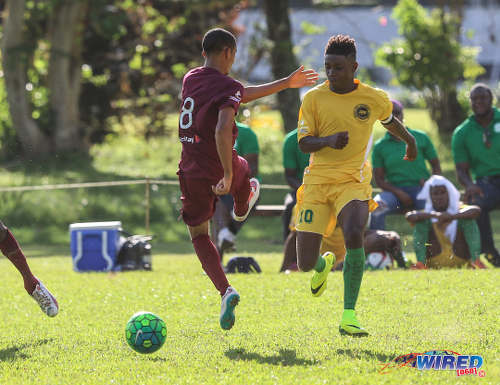 Daniel decided it was time to throw 'Plan A' through the window, as he inserted the diminutive Benny for central midfielder Sowande Prieto. The National Under-17s crashed out in the first phase of Caribbean Football Union (CFU) qualifying last month, but the playmaker was a rare bright spot for the hosts.
And almost immediately, his educated left foot began causing problems for the sturdy Signal Hill defence from set pieces.
"That [chemistry with the National Under-17 players] is coming in gradually," said Daniel. "You can see it because [Benny] came on and he made an input into the game."
Benny could not work any magic before halftime though, as the Tigers went into the interval facing a two-goal deficit.
Two quickly turned to three upon the resumption, as Frank nodded in a free kick from close range in the 49th minute. The skipper showed his delight to the home fans as he celebrated with a bit of a 'dab' dance.
Frank should have been doing some more 'dabbing' in the 55th minute, as he found himself with Augustine and the goal at his mercy—after a mazy run by fellow attacker Che Richards—but horribly miscued his shot.
Daniel decided to go down with all guns blazing, and he introduced the attacking pair of Krishon Alexander and Nkosi Salandy near the hour mark.
The Tigers were finally on the prowl—albeit an hour late—and their opposition, who had some travel issues, were tiring.
"We should have been on an earlier flight but two flights [were] delayed and [we ended up on] an 11:40am flight," said Samuel. "It would have been better if we came down and relaxed a day before playing… That's why I give those fellahs credit for winning this game."
The closing stages of the game were unnerving for Samuel and the passionate Signal Hill staff, as the now rampant Tigers scored three times within a 15-minute period.
First, the hosts pulled a goal back in the 71st minute off a beautiful Benny service. And, seven minutes later, the first half sub brought the deficit down to a single goal with a sublime free kick from the edge of the box.
The script appeared to be totally flipped now, and it was the turn of the Signal Hill players to chase shadows. And, after a barrage of set pieces from Benny and St Anthony's skipper Jules Lee, the hosts forced an equalizer.
Signal Hill goalkeeper Joshua James spilled a free kick from the left flank and Alexander was jolly-on-the-spot to knot the game up.
"A lack of fitness killed us so the opposition came back," said Samuel.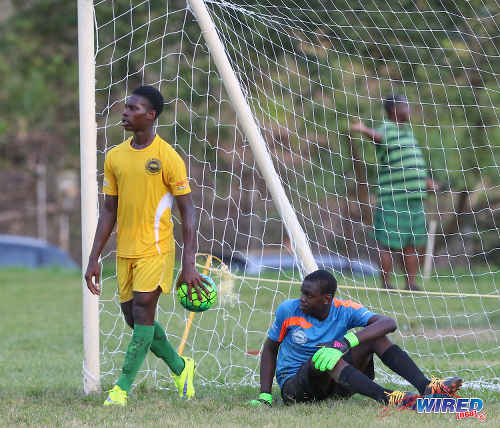 The Tigers escaped with a point in Fyzabad last week after battling back from a two-goal deficit. But there was no such fairytale ending yesterday.
As the home fans urged St Anthony's to go for a fourth goal, Augustine inexplicably mirrored the Signal Hill goalkeeper by spilling a Frank corner right at the feet of Jelani James. And the second half substitute gleefully accepted the invitation, as he tucked into the vacant net before whipping off his shirt to spark exuberant celebrations with his teammates.
John came agonisingly close to levelling the game at four-apiece but skimmed a left-footer off the bar in the first minute of stoppage time. And a teasing Benny cross, in the fifth minute of stoppage time, just bounced past the Signal Hill upright.
The St Anthony's fans could not believe it. But Daniel was keen to move on.
"Signal Hill came with their plan and they executed their plan so kudos to their coach," said the St Anthony's coach. "I think my team got into the game in the second half and we could have won the game.
"[But] football is like a puzzle which means we will mash it up and try to rebuild it. And [we will] try to get back the puzzle together so we could understand to go forward in our next set of games."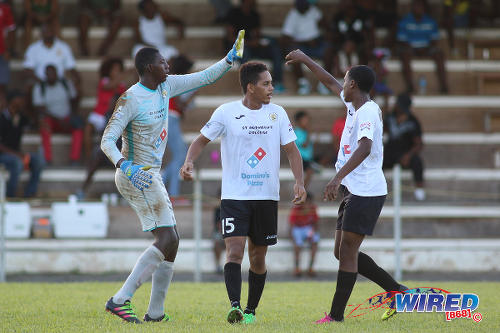 (Teams)
St Anthony's College (4-2-3-1): 22.Oba Augustine (GK); 5.Marc Robertson, 14.Nicaya Mahon, 15.Nicholas Moyou, 27.Derron John; 13.Shem Clauzel (17.Krishon Alexander 59), 23.Sowande Prieto (4.Che Benny 33); 10.Tyrese Bailey (9.Nkosi Salandy 59), 8.Jules Lee (captain), 11.Haile Beckles; 24.Jaydon Prowell.
Unused Substitutes: 26.Elijah Shade (GK), 16.Jordan Barclay, 18.Ronaldo Jacob, 20.Yevan Rajpaul.
Coach: Ronald Daniel
Signal Hill (4-3-3): 28.Joshua James (GK); 22.Jabari Francis, 23.Oshan George, 6.Jokiah Leacock, 8.Kellon James (4.Jabari George 73); 18.Akiel Holdford, 16.Antonio Pantin, 7.Nkosi Chance; 10.Akil Frank (captain), 13.Omarley James, 17.Che Richards (27.Jelani James 62).
Unused Substitutes: 1.Njeri Fermin (GK), 2.Sillon Williams, 11.Nathan Cadiz, 24.Karyque Joseph, 26.Ronaldo Samuel.
Coach: Urington Samuel
Referee: Richard Hart
Man of the Match: Akil Frank (Signal Hill)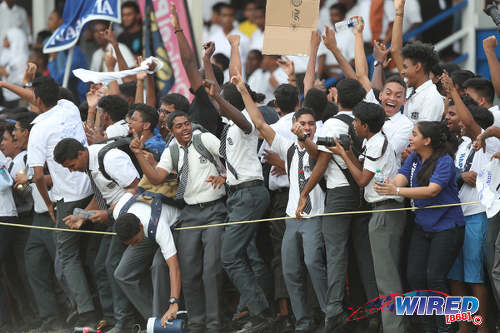 SSFL Premier Division results
(Saturday 1 October)
St Anthony's College 3 (Nkosi Salandy 71, Che Benny 78, Krishon Alexander 86), Signal Hill 4 (Omarley James 4, 23, Akil Frank 49, Jelani James 89), Westmoorings;
San Juan North 2 (Tyrell Cameron 36, Tigana O'Brien 90), Fatima College 2 (Andre Abraham 33, Keon Williams 75 pen) at San Juan;
Fyzabad Secondary 4 (David Jones 1, 67, Nashorn Simon 6, 8), Trinity College Moka 0 at Fyzabad;
QRC 1, Pleasantville 1 at QRC;
Naparima College 1 (Judah St Louis 2), Shiva Boys HC 2 (Junior Assoon 29, Jerome Samuel 90) at Lewis St, San F'do;
East Mucurapo 1 (Zion McLeod 38), St Mary's College 2 (Daniel Conocchiari 55, Tyrese Spence 57) at Mucurapo Road;
St Augustine 0, Presentation San F'do 0 at St Augustine;
St Benedict's College are on a Bye.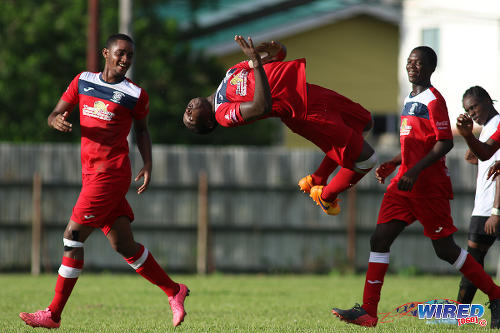 Upcoming fixtures
(Wednesday 5 October) [All kick offs at 3:40pm]
QRC vs San Juan North at QRC;
Signal Hill vs Shiva Boys HC at Signal Hill;
East Mucurapo vs St Benedict's College at Fatima College ground;
St Anthony's College vs Presentation (San F'do) at Westmoorings;
St Augustine vs Fatima College at St Augustine;
Fyzabad Secondary vs St Mary's College at Fyzabad;
Naparima College vs Pleasantville at Lewis Street, San F'do;
Trinity College Moka are on a Bye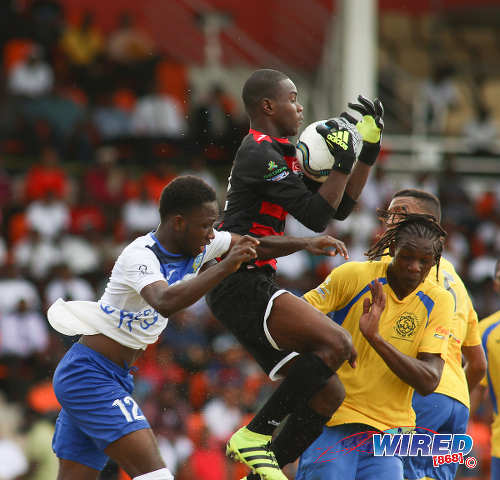 SSFL Premier Division standings
(Tabulated as Played-Won-Drew-Lost-Goals For-Goals Against-Points)
Shiva Boys HC    8-6-1-1-16-8-19
St Anthony's        7-5-1-1-19-9-16
Naparima             7-5-1-1-13-6-16
Presentation SF 8-5-1-2-9-7-16
St Mary's              8-3-3-2-10-11-12
Fyzabad Sec        8-3-2-3-16-12-11
San Juan North 8-3-2-3-15-12-11
Signal Hill           7-3-2-2-10-8-11
Pleasantville      7-2-3-2-9-11-9
Fatima College  7-2-2-3-11-12-8
St Augustine      8-1-5-2-7-9-8
Trinity Moka     8-2-1-5-3–15-7
East Mucurapo 7-1-1-5-8-12-4
QRC                        7-0-3-4-3-7-3
St Benedict's     7-0-2-5-3-12-2