It was billed as a SSFL Premier Division football match but, for much of the evening, it felt like a roller coaster ride at the Petrotrin Pointe-a-Pierre Sports Ground in Fyzabad.
Fyzabad Secondary led 2-0 and were coasting to the finish line. Then St Anthony's College roared back to make it 2-2 and could have won it. Only for 'Fyzo' to come within a whisker of wrecking their visitors' comeback.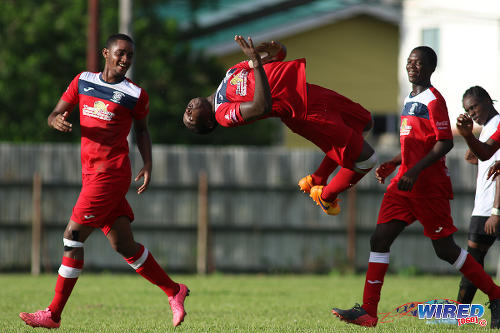 And when referee Dave Daniel finally blew his whistle for the last time, the two schools—the "Westmoorings Tigers" and the "Fyzabad Tigers"—were locked on two goals each.
The fact that St Anthony's College were happy with a point—despite starting the afternoon with a 100 percent record this season—says everything about the challenge they faced in south Trinidad.
"They surprised me, they had a good attack and an organised defence," St Anthony's coach Ronald Daniel told Wired868. "This is a point won. Coming down to Fyzabad and getting anything is a point won."

There was standing room only at the small ground and the Fyzabad crowd was in good voice. Not that everyone was satisfied with the effort of the proverbial "12th man".
"I still find we supposed to be giving them more thing," one supporter told his friend, during the halftime break. "Hear nah, you ever went [to a game at] St Anthony's? Is whole game they giving you thing you know… And is the most set of cocky, arrogant supporters you ever come across!"
Whether his recollection of an outing in Westmoorings was accurate or not, this evening was Fyzabad's time to defend their own backyard. And they were not messing about. Neither were the southern Tigers for that matter.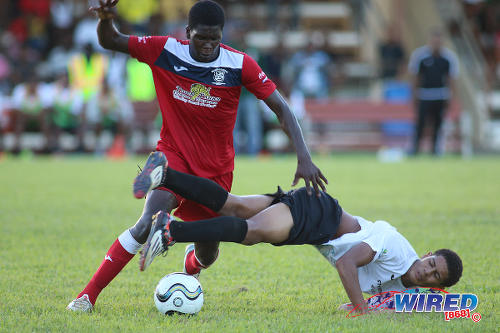 St Anthony's, who won all three outings before this afternoon, added two Trinidad and Tobago National Under-17 Team players—pocket-sized midfield dynamo Che Benny and slippery winger Tyrese Bailey—to a squad that already included National Under-20 attacker Kathon St Hillaire and goalkeeper Jabari Brice.
At the other end, Fyzabad coach Anthony Rougier, a former Soca Warriors stand-out and Scotland Premier League player with Hibernian, brought in two players—left back Gregory Charles and central defender Kareem Gill—who didn't seem to appreciate training or school that much.
"This is the first time I've played my strongest team this season," said Rougier. "We are changing the culture at Fyzabad Secondary whereas players must attending training and must go to class to be picked.
"At first, people were grumbling about us not playing our best team. But I think they are getting it now.
"Too many players are leaving school without an education and I'm not having that."
On the day, perhaps nobody summarised the different ethos between the two teams better than little Benny. The long-haired playmaker spent much of the last month locked away with the Trinidad and Tobago National Under-17 Team, whose 2017 World Cup campaign came to an abrupt end on Wednesday night after just three matches.
Daniel (R) drafted Benny in to his squad to chase schoolboy glory instead. But, if he thought that Fyzabad would be a walk in the park after Caribbean Cup action, then he had another thing coming.
By the 49th minute, Fyzabad were already two goals ahead and Benny was probably having flashbacks of unhappy nights in the red, white and black uniform.
Daniel (R) substituted the ineffective Benny after just 52 minutes with St Anthony's facing an uphill battle.
"[The returning National Under-17 players] threw off my chemistry a little bit," said the St Anthony's coach, "but I've got to respect the fact that they are national players.
"I have to go back and do some work [on integrating them into the squad]."
Credit to Fyzabad for their deserved lead at that point, though.
On a sloping ground with grass that was just high enough to hold up passes, the athletic, powerful Fyzabad players harassed intelligently and attacked the flanks with gusto.
Striker Natinni Jones was first on to the score sheet after getting on the end of a clever free kick behind the St Anthony's defence in the 19th minute. And Fyzabad captain Sharkeel Louison doubled their lead, four minutes into the second half, with a stinging drive into the top corner from 20 yards, after a flowing attacking move.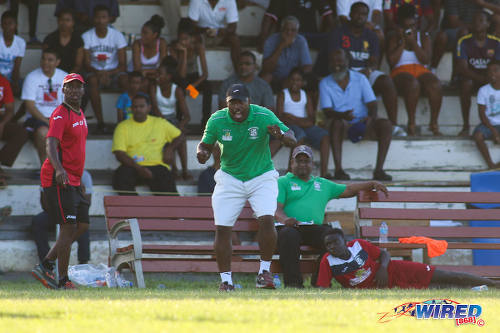 St Anthony's just couldn't find a way through. Near the hour mark, left back Derron John thought he had found some space on the overlap, only to be knocked five feet into the air by a lunging tackle from Fyzabad's kinky haired right back Marvin Edmund.
"Steups! The referee gave a card for that?!" one hopelessly partisan female Fyzabad supporter remarked, incredulously. "But he didn't even touch him!"
A weaker team would have folded there and then and asked their maxi taxi driver to start the engine. Not St Anthony's.
The northern visitors cursed their bad luck when Haile Beckles volleyed against the bar, after a Jules Lee cross, in the 69th minute. But still they refused to give up on the match.
It could have been 3-0 to Fyzabad in the 74th minute, as Jones just missed the near post with a stinging drive while substitute Nashorn Simon was making a nuisance of himself down either flank.
But then, against the run of play, St Hillaire pulled St Anthony's back into the match with a tidy finish off a counter attack in the 75th minute. 2-1.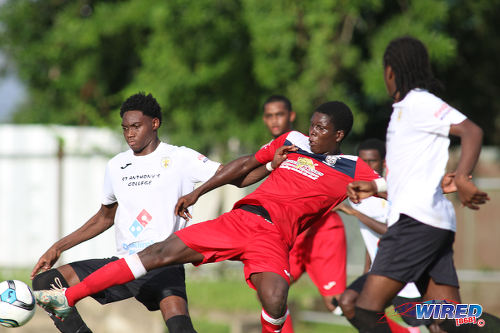 Fyzabad should have restored their two-goal advantage in the 81st minute, only for a combination of Brice and a perceptive Nicholas Moyou to deny Alleric Williams from point blank range. And, four minutes later, the Westmoorings Tigers were level after a diagonal ball from Lee and a Tyrese Bailey cross presented Hillaire with a tap in that he converted with confidence.
A member of the Fyzabad coaching staff slammed a water bottle against the ground in disgust.
"We threw away a two goal lead because of a lack of concentration and discipline," said Rougier. "I think in Trinidad and Tobago's football, the lack of concentration is partly down to a lack of education and discipline when you look at a lot of the players' attitude towards school and training.
"I never missed a training session in over 20 years of football. Our young footballers have got to understand that."
In the stands, Fyzabad's supporters did not waver for a second.
"Fyzo [clap clap], we want a goal [clap clap]," the crowd sang.
There was some late drama as Brice hit a goal kick straight at Jones in stoppage time. The Fyzabad striker darted into the opposing box and, as he took aim, St Anthony's desperate left back, John, grabbed hold of his pants with such relish that half of his backside was exposed.
Even the Copa Cabana management would have tossed John out for ungentlemanly conduct.
The determined Jones refused to yield and stayed on his feet, only for his shot to be charged down by Moyou. The match referee put the whistle to his lips but did not blow.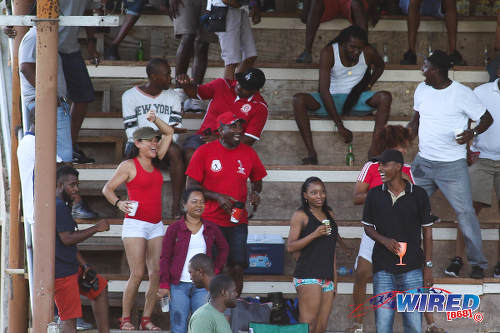 "That man shoulda go down!" shouted one Fyzabad supporter. "He don't know to do them thing?!"
"Nah, he do the right thing," another supporter countered. "The referee supposed to blow!"
All square then at the final whistle. St Anthony's remain in fourth place with 10 points but have played two games fewer than leaders Presentation College (San Fernando), who have 16 points from their six outings.
And Fyzabad? They are in fifth place with eight points from their six matches.
One gets the feeling, though, that they are only getting started.
(Teams)
Fyzabad Secondary (4-1-2-3): 1.Jamaal Sinclair (GK); 11.Marvin Edmund, 17.Dez Jones, 3.Kareem Gill, 16.Gregory Charles; 6.Kaylon Padilla; 8.Sharkeel Louison (captain), 12.Ken Bhola (2.Aaron Jordan 78); 21.David Jones (10.Nashorn Simon 57), 9.Natinni Jones, 7.Alleric Williams.
Unused substitutes: 23.Kristoff Ramdeo (GK), 4.Shawn Albert, 14.Nkosi Charles, 18.Jardell Sinclair, 19.Isaiah Estick.
Coach: Anthony Rougier
St Anthony's College (4-1-4-1): 1.Jabari Brice (GK); 5.Marc Robertson, 15.Nicholas Moyou, 14.Nicaya Mahon, 27.Derron John; 8.Jules Lee (captain); 7.Kathon St Hillaire, 13.Shem Clauzel (17.Krishon Alexander 60), 4.Che Benny (23.Sowande Prieto 52), 11.Haile Beckles; 9.Nkosi Salandy (10.Tyrese Bailey 52).
Unused substitutes: 22.Oba Augustine (GK), 16.Jordan Barclay, 18.Ronaldo Jacob, 19.Jakeem McNeil.
Coach: Ronald Daniel
Referee: Dave Daniel
Man of the Match: Kathon St Hillaire (St Anthony's College)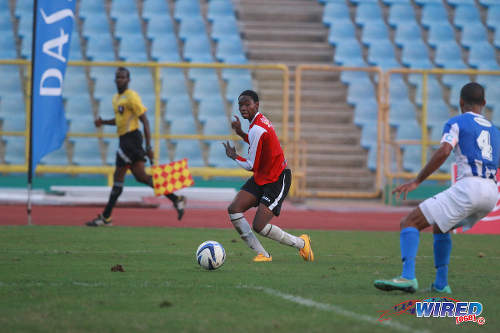 SSFL Premier Division results
(Saturday 24 September)
Fyzabad Secondary 2 (Natinni Jones 19, Sharkeel Louison 49), St Anthony's College 2 (Kathon St Hillaire 75, 85) at Fyzabad;
St Benedict's College 0, Pleasantville Secondary 1 at Mahaica Oval;
Naparima College 1, Signal Hill 0 at Lewis St, San F'do;
San Juan North 1, St Mary's College 2 at San Juan;
Trinity College Moka 0, St Augustine 1 at Moka;
Presentation San F'do 1, QRC 0 at Mannie Ramjohn;
Shiva Boys HC 1, East Mucurapo 1 at Penal;
Fatima College are on a bye.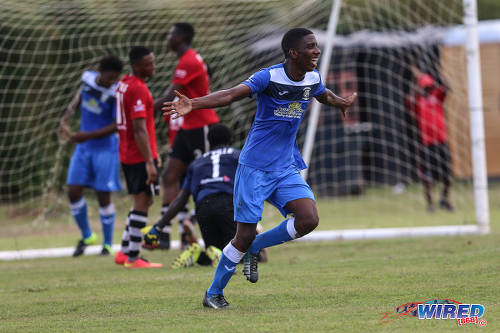 Upcoming Premier Division fixtures
(Wednesday 28 September) [All kick offs at 3:40pm]
San Juan North vs St Benedict's College at San Juan;
St Anthony's vs Trinity College Moka at Westmoorings;
QRC vs Fatima College at QRC;
Fyzabad Secondary vs Shiva Boys HC at Fyzabad;
East Mucurapo vs Pleasantville at Mucurapo Road;
Naparima College vs Presentation (San F'do) at Lewis St, San F'do;
St Augustine vs St Mary's College at St Augustine;
Signal Hill are on a bye.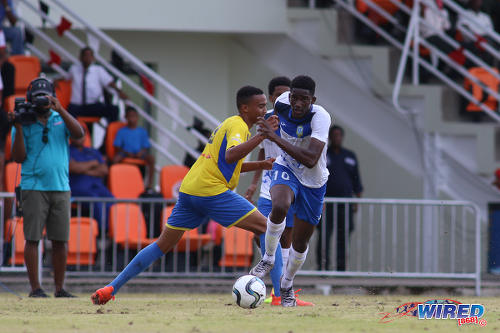 SSFL Premier Division standings
(Tabulated as Played-Won-Drew-Lost-Goals For-Goals Against-Points)
Presentation SF 6-5-0-1-9-5-15
Naparima             5-4-1-0-10-4-13
Shiva Boys HC    6-4-1-1-12-6-13
St Anthony's        4-3-1-0-10-5-10
Fyzabad Sec         6-2-2-2-11-10-8
Signal Hill             6-2-2-2-6-5-8
Pleasantville        5-2-2-1-7-7-8
St Mary's               6-2-2-2-7-9-8
San Juan North 6-2-1-3-9-10-7
Trinity Moka       6-2-1-3-3-6-7
St Augustine       6-1-3-2-6-8-6
Fatima College  5-1-1-3-7-9-4
QRC                        5-0-2-3-1-4-2
St Benedict's      6-0-2-4-3-8-2
East Mucurapo 4-0-1-3-4-8-1