Defending Secondary School Football League (SSFL) Premier Division champions Naparima College continued to gather momentum in their title defence with a 2-0 win over Trinity College Moka in Moka yesterday afternoon.
First half substitute Mark Ramdeen was the star of the show as he tormented all and sundry in Moka green and notched a sublime goal, as 'Naps' climbed three places to third place albeit with a game in hand over current leaders Shiva Boys Hindu College and Presentation College (San Fernando).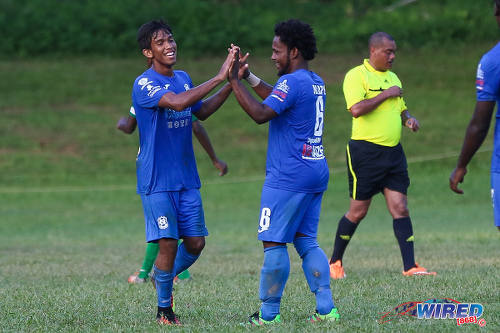 Shiva Boys and Presentation both have 12 points and Naparima are third with 10 points, as the southern schools maintain their firm grip over the SSFL summit in 2016. Shiva Boys and Presentation recorded wins over St Augustine and table proppers East Mucurapo respectively yesterday.
Towards the other end of the table, St Mary's College defeated age old rivals QRC 2-1 to earn their first win of the season while fellow northern college boys, Fatima College, held the winless St Benedict's College 3-3. CIC are now in 10th place in the 15-table standings with Fatima 11th, QRC 13th and St Benedict's second from bottom.
Signal Hill and Pleasantville were the other big movers yesterday, as they climbed to fifth and ninth spot with wins over sixth placed Fyzabad and seventh placed San Juan North respectively.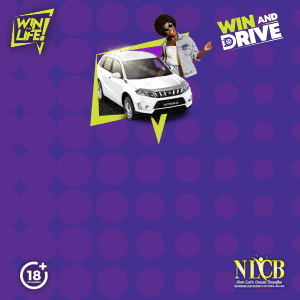 In Moka, it was the pint sized Ramdeen who added the star dust to keep Naparima heading in the right direction.
The ex-Shiva Boys midfielder, Ramdeen, did not even start the match as head coach Angus Eve shuffled his pack and initially kept the young ace in reserve. And, in fact, Ramdeen's performance was the gloss on an efficient Naparima performance.
From the get go, Naparima were in their zone while Trinity custodian Desean Bowen was in no man's land from as early as the third minute when impressive midfielder, Judah St Louis, played a trademark lofted through pass for attacker Isaiah Lee to chase.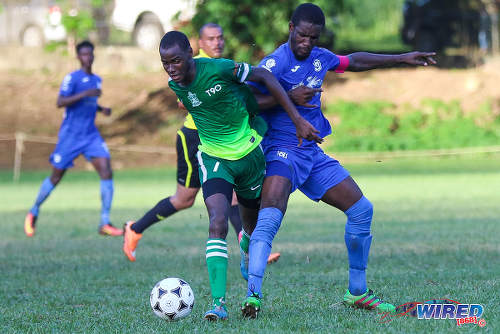 Lee charged down the right channel, looked up and calmly rolled the ball into the empty net with Bowen criminally out of position.
If Bowen's decision-making left a lot to be desired, the same could not be said for his shot stopping as he made smart low saves to deny St Louis and Lee in a dominant phase for the southern visitors.
Eve, at this stage, had the tactical upper hand on his Moka counterpart as the vigorous high pressing Naps unit frustrated Trinity's attempts to play the ball out from the back and constantly forced errors from their hosts.
Then came the game changer. Seon Shippley, who suffers from asthma, complained of feeling unwell and Eve took no chances and replaced his midfielder with the high-voltage wideman, Ramdeen, as Naps shifted from 4-4-2 to a 4-2-3-1 formation.
Lionel Messi offers electric pace, assured dribbling ability, a low centre of gravity and an intelligent left foot. Ramdeen, albeit at the SSFL level, offers a similar skill set.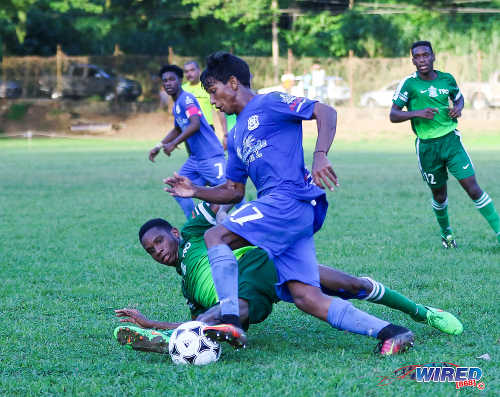 He was instantly in the thick of the action. But, for all his efforts in the first half, Bowen matched him. At the stroke of half time, a diving Ramdeen header was palmed away by an increasingly assured sweeper keeper who, in eccentric, yet effective, fashion, spent more time at the edge of the penalty area than on his goal line.
Saves aside, many Naps attacks were shut down early by the advanced keeper. And Trinity built on Bowen's good work as they started the second half brighter and finally instigated some panic in the Payne-marshalled Naps rear guard.
Trinity appeared to target opposing left back Khris Stroud, who succumbed to striker Isaiah McLean's enchanting step overs in one attack before Terrel Durham also got the beating of him on the outside. Both times, to the home fans' dismay, Trinity attackers dawdled on the ball for too long in the box and the chances slipped away.
Trinity were making inroads though and midfield anchor Saleem Henry was finally starting to find space in a regista role in front of his defence, after being successfully restrained by St Louis and Sandy for the majority of the game.
Justin Sadoo and Ramdeen, however, had no intention of allowing Henry to take centre stage for too long.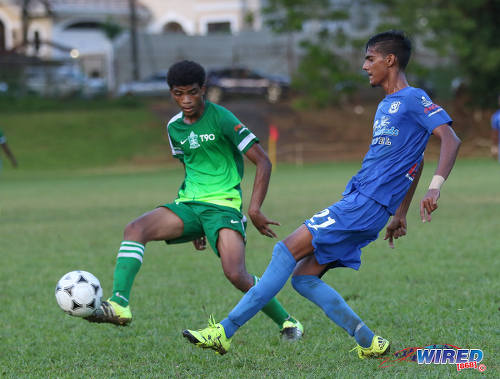 Sadoo threaded a through ball to a galloping Ramdeen down the right—one of the many Sadoo through balls accented by Eve's loud chorus: "Oh yes, good ball"—and the diminutive attacker cut inside onto his left and dinked over the on-rushing Bowen, only to narrowly miss the far post.
That effort proved to be merely a sighter for the young Ramdeen, who, based on yesterday's sparkling performance, was a puzzling omission from coach Russell Latapy's Trinidad and Tobago National Under-17 team.
In the 71st minute, Ramdeen would not be denied after Sandy played him in with a pass from the left. He collected, charged at the Trinity goal, bamboozled two defenders and ordered the keeper onto his  knees before petulantly lobbing the ball into the back of the net.
It was an effort that many south of the Brazilian border would have been proud of.
Ramdeen's moment of invention paved the way for a rushed final few minutes on Trinity's part but Levi Fernandez in Naps goal was largely untroubled.
Henry bellowed to his team mates: "Come na boy, play like ya want it!" However, Naps' boys in blue stood firm and even put their bodies on the line for the cause with St Louis left groggy after being battered by Trinity defender Isaiah Alexander in an aerial duel.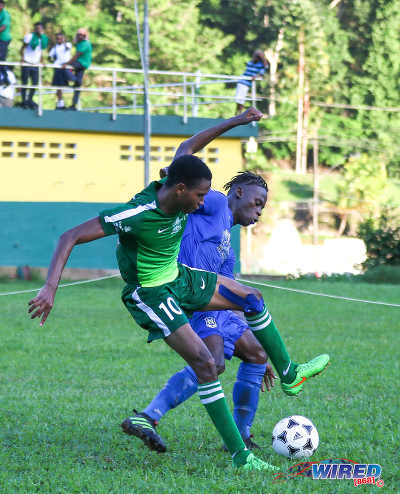 Eve glowed about Ramdeen and Naparima's performance in his post-match comments.
"Mark should have been on the field with the under 17s (national team), that goes without saying." Eve told Wired868. "Unfortunately the coach didn't see things that way. But you saw it today. He added energy, he was fresh."
In the wake of the Dominic James' tragic death in a schoolboy match in Jamaica on Tuesday, Eve stressed that Naparima always puts the safety of their players first.
"What happened in Jamaica was tragic. Fortunately, Naparima has many past students who are doctors and sports doctors and the team does full medicals before the season. Even today, we know which players suffer from asthma. We have the nebulizer on the bench and even still we didn't want to take the chance (with Shippley) today."
Trinity slipped one spot to eighth place with their loss to Naparima yesterday. But Eve credited their opponents' effort while he suggested that St Anthony's College, who are fourth but have a maximum of nine points from their three outings, are the favourites this season.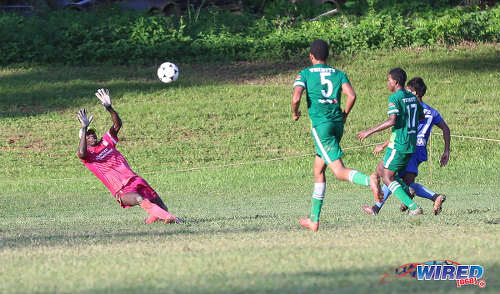 "Trinity were tremendous today," said Eve. "As the champion team, you have to take every game seriously. Every team that comes out to play us, really pushes.
"We are actually underdogs, I think, because we lost so many players [this season]. The likes of St Anthony's, I believe, actually has the nod over us in terms of national players and quality and talent."
Notwithstanding the challenge, Naparima certainly showed the necessary quality for the job yesterday.
(Teams)
Trinity College Moka (4-2-3-1): 1.Desean Bowen (GK); 16.Bryan Walkes, 4.Zaki Skinner, 5.Isaiah Alexander, 17.Raheem Jawahir; 7.Saleem Henry, 2.Mateus Callender (12.Afiba Mcleod); 21.Terrel Durham, 18.Joshua Fraser(13.Jean-Luc Pantin), 11.Josiah Joseph; 10.Isaiah McLean.
Unused Substitutes: 3.Joshua Trumpet, 9.Michael Quamina, 14.Jevon Ward, 20.Temesgen Tezera, 22.Caleb Moore.
Coach: Marlon Minguel
Naparima College (4-4-2): 1.Levi Fernandez (GK); 4.Aalon Minors, 5.Rondell Payne, 13.Jeron Pantor, 3.Khris Stroud; 21.Justin Sadoo, 11.Shane Sandy (C)(16.Declan Marcelle), 6.Judah St Louis, 14.Seon Shippley (17.Mark Ramdeen); 7.Akinola Gregory (9.Shobal Celestin), 12.Isaiah Lee.
Unused Substitutes: 18.Ronaldo McIntosh, 23.Renaldo Francois, 26.Sylon Sylvan, 30.Enrique Changiah.
Coach: Angus Eve
Man of the Match: Mark Ramdeen
Referee: Geoffrey Hospidales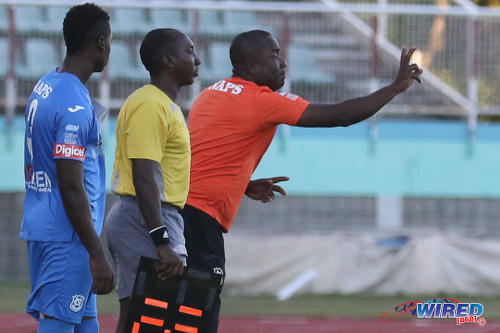 SSFL Premier Division results
(Wednesday 21 September)
Fatima College 3, St Benedict's College 3 (Jevaughn Humphrey [2], Jaycee Paras) at Fatima;
Signal Hill 2 (Nkosi Chance 3, Omarley James 56), Fyzabad Secondary 0 at Signal Hill;
Pleasantville 2 (Jude Phillip 30, Jabari Hodge 59), San Juan North 1 (Jerome Cyrus 9) at Pleasantville;
Trinity College Moka 0, Naparima College 2 (Isaiah Lee 3, Mark Ramdeen 71) at Moka;
St Mary's College 2, QRC 1 (Anthony Stokes) at Serpentine Road
Shiva Boys HC 4 (Junior Assoon 7, Tyrel Emmanuel 40, Tyrell Baptiste 72, Yohannes Richardson 90), St Augustine 2 (Anthony Samuel 43, Rahim Gordon 48) at Penal;
Presentation San F'do 3 (Kori Cupid 4, Kareem Riley 57, 76), East Mucurapo 1 (Zion McLeod 90) at Guaracara Park;
St Anthony's College are on a bye.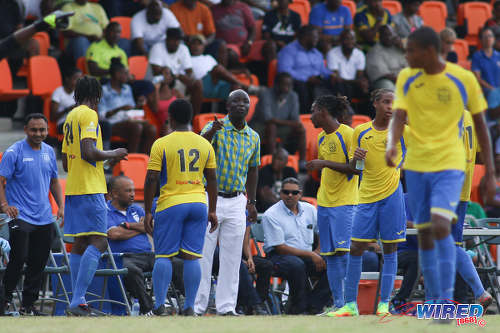 Upcoming Premier Division fixtures
(Saturday 24 September) [All kick offs at 3:40pm]
Fyzabad Secondary vs St Anthony's College at Fyzabad;
St Benedict's College vs Pleasantville Secondary at Mahaica Oval;
Naparima College vs Signal Hill at Lewis St, San F'do;
San Juan North vs St Mary's College at San Juan;
Trinity College Moka vs St Augustine at Moka;
Presentation San F'do vs QRC at Mannie Ramjohn;
Shiva Boys HC vs East Mucurapo at Penal;
Fatima College are on a bye.