The aggregate score now reads Haiti 4, Trinidad and Tobago 1.
The two Caribbean nations have now met five times at both senior and junior levels over the last three years. And, on all but one occasion, it was the French-speaking islanders who came out on top.
The Trinidad and Tobago National Under-20 Team, with Levi Garcia and Kadeem Corbin in menacing form, whipped Haiti in the 2014 Caribbean Cup final at the Hasely Crawford Stadium in Port of Spain.
But, that apart, Haiti defeated the senior Soca Warriors at the 2013 CONCACAF Gold Cup and in 2016 Copa America Centenario play off while, in the 2014 Caribbean Under-17 Championship, they cruised to a 3-0 win over the junior Warriors.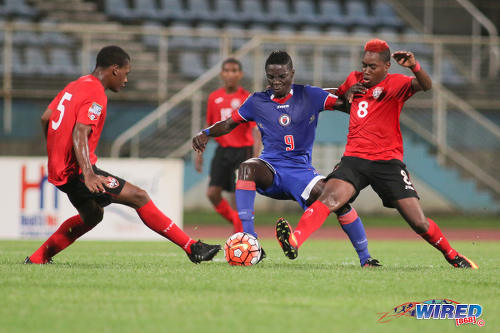 And last night, the Haitian hoodoo continued as the visitors downed Russell "Little Magician" Latapy's team 2-0 in the opening game of their Korea Republic 2017 Under-17 World Cup campaign at the Ato Boldon Stadium in Couva.

Why are the Haitian footballers causing the "Soca Warriors" so many worries?
Well, they are fast, strong, aggressive and usually play at a very high tempo. Last night was no different and, despite only arriving in Trinidad on Thursday night due to Immigration hold-ups, the visitors made the young Warriors very uncomfortable in their own backyard and forced them to fight for every inch of space they could get.
"When we passed in Panama to the airport we saw many trouble [sic] in immigration," said Haiti coach James Morisset, through his translator. "And when we came into Trinidad we saw more trouble. We talked to the players at the hotel and we let them know that we had to fight for the win.
"So that's why you see tonight the players on the field played so strong and we got the win."
Haiti definitely left it all out on the Ato Boldon field last night, and the medical personnel were called onto the field countless times in the second half to attend to fatigued and cramping Haitian players. But as it turned out, the visitors had enough in the tank to claim the precious three points.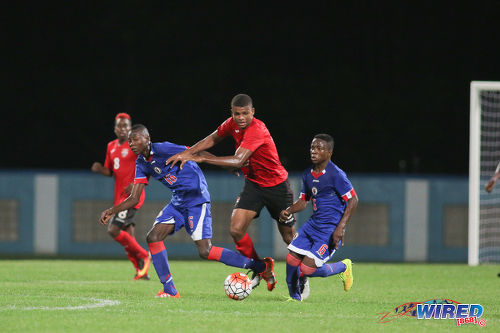 Earlier, Jamaica flexed their brawn against Bermuda to come away with a handsome 6-2 victory.
Bermuda looked to be getting back in the contest when Rahzir Smith-Jones scored in the 30th minute to halve the deficit at 2-1. But the  young "Reggae Boyz" had other ideas as two more goals before the interval and a stylish free kick by 'Man of the Match' Kaheem Parris effectively put the game to bed.
It was then the Tokiya Russell show as the Bermuda substitute tapped into an empty net in the 81st minute before bizarrely heading into his goal in stoppage time to cease the scoring.
In the second game of the evening's double header, the hosts started brightly enough as attacker Isaiah Hudson and skipper John-Paul Rochford showed off some neat touches. Latapy opted for what looked like a 4-2-1-3 formation with Rochford starting as a left-sided forward in a three-prong attack and Hudson playing behind those three forwards.
"We know offensively John-Paul is a very creative player so we were trying to get him in areas where he could use his offensive abilities to help the team," said Latapy, at the post-game conference. "And we tried to put three players [Luke Singh, Jodel Brown and Isaiah Hudson] with a little more stature in the middle of the park so we wouldn't get overrun."
The Little Magician's trick nearly came off in the seventh minute as Hudson skilfully evaded his marker and forced a fine save from goalkeeper Redondio Alliance with a wicked left-footed shot from long range.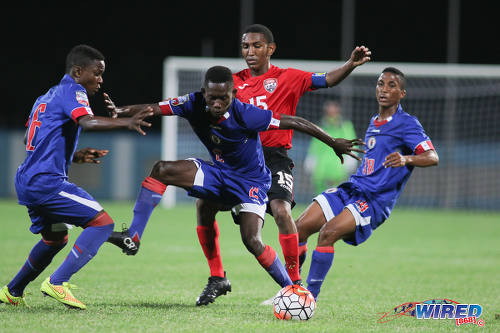 The warning signs were there for all to see at the other end though, as the Trinidad and Tobago defenders never really looked assured passing the ball at the back while their passes generally weren't brisk enough.
In the 10th minute, Haiti's Marc Martine inexplicably volleyed over bar from inside the six-yard box after Trinidad and Tobago custodian Emmanuel John failed to hold on to a close range effort.
And, six minutes later, Warriors centre-back Jesse Williams was forced to make a recovery block near his goalmouth after he and his teammates fell asleep during a Haitian set piece.
In truth, Latapy's charges were second best to most loose balls and they paid a heavy price in the 23rd minute as striker Nael Elysee clinically buried a right-footed shot into the bottom corner after Williams had made a headed clearance.
"I just thought their positional sense was better," Latapy said. "I think the distances [within the setup of their formation] was a lot better than ours. We seemed to have a lot of big gaps.
"We did a lot of work in this three-four week period I was here trying to correct different things. But a lot of things we worked on needs to be [done through] repetition…"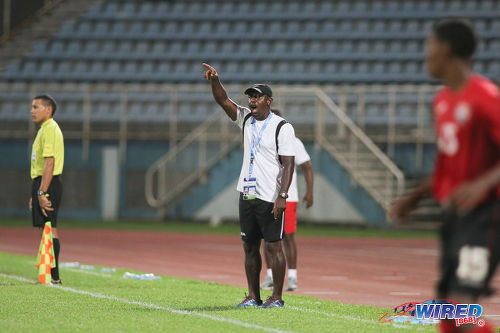 Latapy did some tinkering at halftime as he brought in Nickell Orr and Jaydon Prowell for the pair of left-back Brandon Semper and forward Nion Lammy. But the former 2006 World Cup midfield maestro was nearly left cursing in both English and Patois, as some sloppy passing at the back forced John to make a point-blank save from the unlucky Martine, mere seconds after the restart.
The hosts tried to get the lanky Hudson on the ball more often in the second period, and he looked the likeliest figure to make something happen too. On the hour mark, Hudson spotted a run through the middle by Prowell and drilled a pass to the Central FC youth striker, but the latter's first touch let him down and the half chance escaped.
The young Warriors were gradually building momentum by then and they created sheer pandemonium in the opposing penalty area in the 65th minute, as Haiti were temporarily down to 10 men while a player received medical treatment.
The home team were unable to make the best of that numerical advantage though. And, instead, were punished by opposing skipper Steeve Saint-Duc, who notched his eighth goal in CFU qualifying.
In the 68th minute, the sturdy Saint-Duc got on the wrong side of Williams—after Martine played a hopeful through ball—and there was no chance catching him. The Haitian skipper's finish was simply exquisite as he lobbed the onrushing John with a stab of his left boot.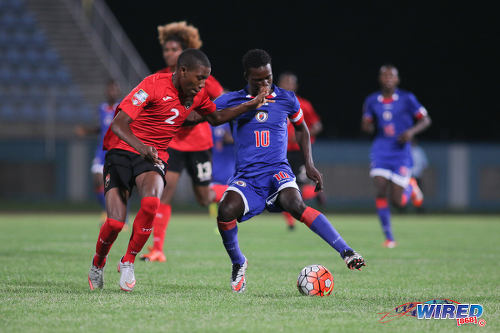 There was nearly a double for Saint-Duc in the 82nd minute, as he rounded John after racing on to a long ball only to be denied on the goal line by a spectacular block from the retreating Orr.
The hosts kept up the fight until the end and the match officials awarded a mammoth six minutes of stoppage time. But efforts by Rochford and defender Tyrike Andrews went agonisingly wide.
"I'm obviously disappointed, [because] we are playing at home. But the reality of the game is that the better team won tonight," Latapy said. "You can see why they are defending champions, they are a very organised team. And they made it really difficult for us, they played really well…
"I know that we have good players and tonight we didn't play to the standard that we could play at. We didn't play to our potential."
Latapy, who was announced as the new National Under-17 coach on August 19, oversaw friendly encounters against the likes of National Super League outfit University of Trinidad and Tobago (UTT) and the Men's National Under-20 team.
But would the team have been better prepared if they were given some international  warm-up matches?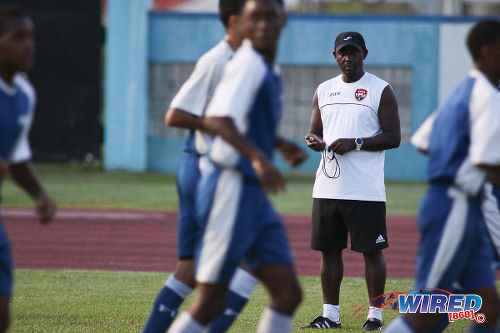 "It is difficult to say. I was asked by the Association if we wanted friendly games [and] I didn't think that we were prepared at the time to play friendly games," said Latapy. "My decision was to try and work with the team to get them at a level so we would be prepared to play friendly games.
"I think it showed tonight that we weren't really prepared as Haiti is to play international games…"
There is no time for wound-licking for the young Warriors as they will square off against Bermuda at the Couva venue tomorrow from 6:30pm. Jamaica and Haiti will do battle at 4pm in an appetising top-of-the-table encounter.
Meanwhile, Group B action kicks off today at the Hasely Crawford Stadium with Suriname tackling Guadeloupe from 4pm and Cuba battling Curacao from 6:30pm.
(Teams)
Trinidad and Tobago (4-2-1-3): 1.Emmanuel John (GK); 2.Kerdell Sween, 4.Tyrike Andrews, 5.Jesse Williams, 6.Brandon Semper (16.Nickel Orr 46); 13.Luke Singh, 8.Jodel Brown; 7.Isaiah Hudson (14.Kishon Hackshaw 69); 11.Tyrese Bailey, 19.Nion Lammy (9.Jaydon Prowell 46), 15.John-Paul Rochford (captain).
Unused Substitutes: 20.Elijah Shade (GK), 3.Keon Boney, 10.Che Benny, 12.Jerrin Jackie, 17.Omar Da Naia, 18.Jonathan Godette.
Coach: Russell Latapy
Haiti (4-3-3): 1.Redondio Alliance (GK); 2.Jolicoeur Etienne, 13.Jimmylson Guillaume, 3.Brismax Clerge, 17.Ivenson Basquin; 6.Obenson Laveille (5.Anderson Belus 85), 16.Jean Danley, 11.Steeve Moondestin; 18.Marc Martine (Louidon Casseus 90+5), 9.Nael Elysee (19.Corlens Etienne 65), 10.Steeve Saint-Duc (captain).
Unused Substitutes: 12.Wilder Leonard (GK), 4.Djeftey Joseph, 8.Serge Antony Lucien, 20.Talson Charleus.
Coach: James Morisset
Referee: William Anderson (Puerto Rico)
Man of the Match: Steeve Saint-Duc (Haiti)
CFU Men's Under-17 Group A results
(Friday 16 September)
Bermuda 2 (Rahzir Smith-Jones 30, Tokiya Russell 81), Jamaica 6 (Raewin Senior 5, Kaheem Parris 17, 72, Kendall Edwards 36, Nicque Daley 42, Tokiya Russell [own goal] 90+1) at Ato Boldon Stadium;
Trinidad and Tobago 0, Haiti 2 (Nael Elysee 22, Steeve Saint-Duc 68) at Ato Boldon Stadium.