The Secondary School Football League (SSFL) kicked off with great excitement as teams from around the country began their third round of matches in the Premier Division.
Puzzling officiating, a game played on no one's home ground and the exchange of mild off-field hostilities were some of the features of the Signal Hill – East Mucurapo show. The Tobagonian's 2-1 win sees them climb to 5th in the table in their debut season in the SSFL Premier Division after grinding out back-to-back draws in their first two games.
This was East Mucurapo's first game back in the Premier Division after spending 2015 in the Championship Division. Their previously designated curtain raiser against St Anthony's College was abandoned due to a waterlogged field.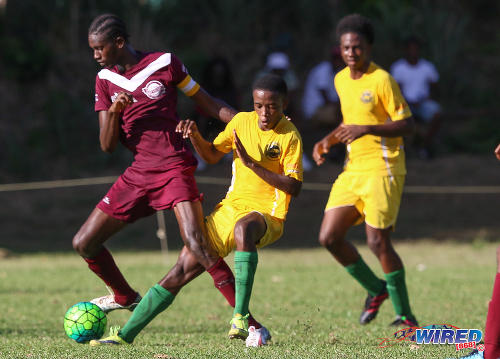 Back in St James, Mucurapo's neighbours Fatima College recorded their first victory of the season against age-old rivals St Mary's College with a 2-0 win at home.
On-form Shiva Boys HC were stunned 2-1 by San Juan North; defending champions Naparima College earned their first 3 points in a south side battle with Fyzabad Secondary; and Trinity College Moka pulled off a last gasp winner against QRC to walk away with a 1-0 win.

"Put your foot on the pedal and the ball on the grass, move over Signal Hill" bellowed the East Mucurapo players as they entered the changing rooms of their adopted home ground for the day in Moka. However, by the time the referee blew his whistle on Wednesday there was no doubt there was some transmission trouble.
The boys from Tobago were rugged and up for the fight. Their imposing backline gave the nervous Mucurapo attackers no room to even think in the opening 45 mins. In fact, it was easily Signal Hill who felt more comfortable in the serene and picturesque surroundings of the Moka Grounds.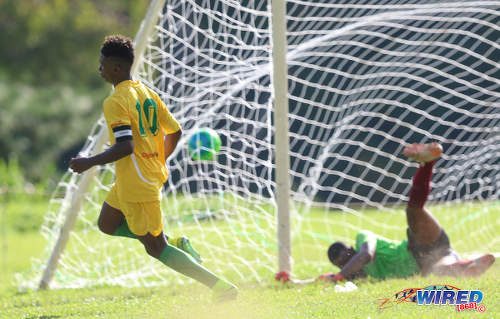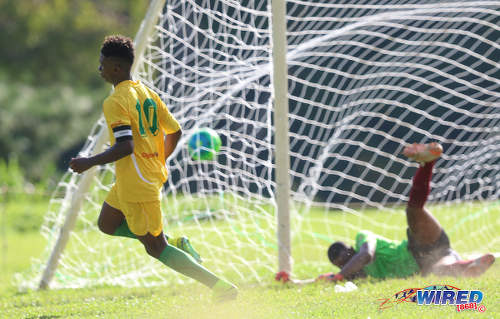 In his post-match comments, East Mucurapo's head coach Dale Saunders admitted that nerves had a lot to do with his team's lacklustre opening performance and few would argue with him after innocuous tackles and rushed judgements had his charges trailing 2-0 after the first half hour.
The lively Akil Frank lost his marker after the ball was played into the channel and he put Signal Hill ahead with a rasping finish at the near post. Mucurapo did not know what hit them.
Four minutes later, Signal Hill rightback Jabari George, pinged a terrific cross-field pass into the path of Jabarry Francis who was promptly brought down in the box by a flailing Cassimy. Up stepped Frank to double Signal Hill's lead. The Mucurapo keeper stood no chance.
The remaining few minutes of the half saw Saunders take a few pages out of Claudio Ranieri's famed "Tinkerman" book. He threw on attacker Tarik Martin and constantly re-jigged formation and the position of his players. Only the defensive quartet and goalkeeper Davis stayed where they started.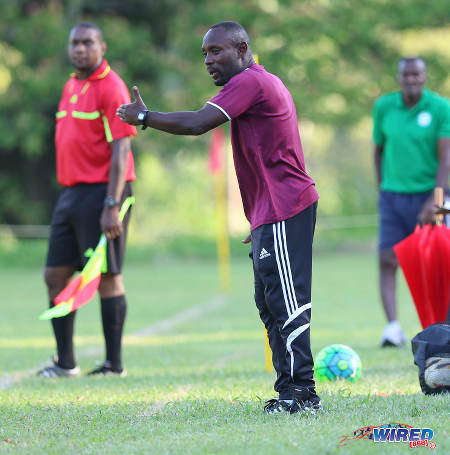 The tinkering almost paid dividends at the stroke of half time though. Lanky Mucurapo captain, Akquinde Marslin, showed greater trickery than some of his shorter counterparts to create space on the wing. He whipped in a peach of a cross but Neaves' header came thundering back off the far post.
Signal Hill were sent a warning, but one which they tried desperately not to heed at the start of the second half. In the 54th minute, the previously assured Jabari George appeared to handle the ball in his penalty box but all Mucurapo appeals were waved away by assistant referee Richard Hart.
Hart's hunger for being in the middle of the action was clearly not appeased by that decision and he would later be at the centre of one of the stranger incidents seen in the 2016 SSFL to date.
In a bewildering span of 5 minutes, Hart directed Mucurapo to retake their awarded spotkick four times. It was an easy penalty decision with Darrion Jack being wrestled to the ground by his marker but the next few minutes were a lot less easy to digest.
Spectators were left confused as Hart kept raising his flag up and down in a manner that would have made Soka in Moka patrons proud. On each occasion, he indicated that Signal Hill goalkeeper Joshua James was infringing and coming off of his goal line too soon.
It was a puzzling punishment for James who saved the third retaken kick after watching the first two canon off the frame of the goal.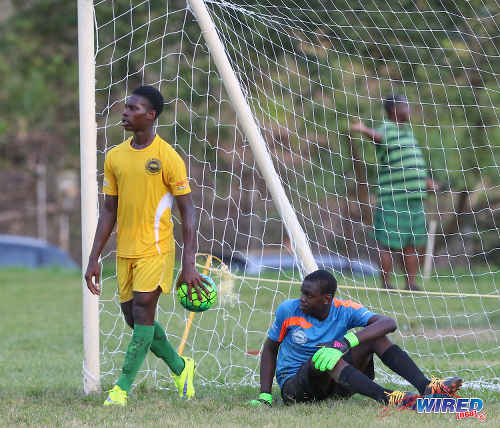 Mucurapo themselves seemed to be on edge with the situation and shuffled their designated penalty kicker three times. Jack saw his effort kiss the base of the post and roll away. Then captain Marslin witnessed his first penalty attempt thunder off the left post before clipping the right post. Then his second retaken penalty was well saved by the downtrodden James.
Tigerish midfielder Joel Alphonso might have even got a crack at a retaken penalty had he not been substituted due to a nasty head wound. Thus it was that Zion Mcleod took command of the situation and brought home the fourth retaken spotkick.
It was a bitter pill to swallow for Signal Hill at the time and their assistant coach Curtis Moses took to religion to explain the melee.
"It was total madness. Everyone could have seen it was madness. But at the end of the day, life goes on, there is a God above and the referee's decision is final." said Moses, in his post match comments.
Things got feisty between coach Saunders and his counterparts from Tobago, especially with the referee's decision to award six minutes of extra time. Choice words were exchanged but, in the end, the heat remained on the side lines rather than the pitch as Signal Hill held out for the 2-1 victory.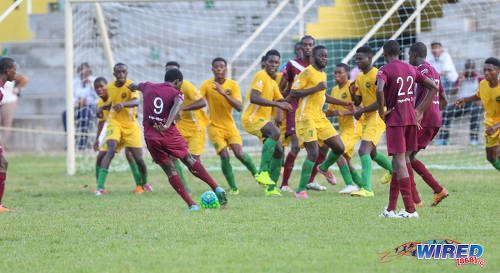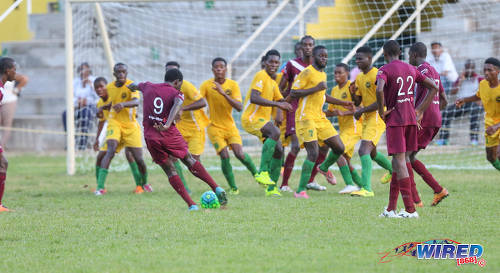 (Teams)
East Mucurapo (4-4-2): 1.Joshua Davis (GK); 5.Jomokie Cassimy, 6.Akquinde Davis (C), 21.Sherlon Roberts, 23.Akiel Matooram; 17.Darrion Jack, 14.Joel Alphonso (9.Jelani Ferary), 8. Joshua Constantine, 3. Joshua Sylvester (11.Tariq Martin); 7.Shaquille Neaves (20.Johan Anthony), 22.Zion Mcleod.
Unused Substitutes: 13.Daniel Callender, 30.Terral Cambridge, 16. Aaron Roberts, 18. Rondell Roberts.
Coach: Dale Saunders
Signal Hill (4-2-3-1): 28.Joshua James (GK); 4.Jabari George (18.Akiel Holdford), 6.Jokiah Leacock, 23.Oshan George, 8.Kellon James; 9.Ackeem Benjamin, 16.Antonio Pantin; 10.Akil Frank (C), 22.Jabari Francis (22.Ronaldo Small), 27. Jalanie James (11.Nathan Cadiz); 7.Nkosie Chance.
Unused Substitutes: 1.Njeri Fermin (GK), 24.Karyque Joseph, 2.Sillon Williams, 5.Selwin Campbell, 12.Keishorn Small.
Coach: Urington Samuel
Man of the Match: Akil Frank
Referee: Ishmael Mohammed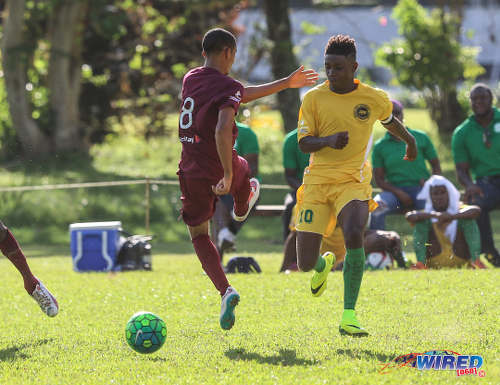 SSFL Premier Division results
(Wednesday 14 September)
East Mucurapo 1 (Zion McLeod 80 pen), Signal Hill 2 (Akil Frank 25, 29 pen) at Moka;
Fatima College 2 (Stephon Marcano 51, Justin Araujo-Wilson 81), St Mary's College 0 at Mucurapo Road;
Naparima College 2 (Shobal Celestin 7, Isaiah Lee 89), Fyzabad Secondary 1 (Ken Bhola 82 pen) at Lewis Street, San Fernando;
St Benedict's College 0, Presentation (San F'do) 1 (Jordan Riley 59) at Mahaica Oval;
St Augustine Secondary 1 (Rahim Gordon 40), St Anthony's College 2 (Derron John 52, Haile Beckles 75) at St Augustine;
San Juan North 2 (Jerome Cyrus 70, 82 pen), Shiva Boys HC 1 (Tyrel Emmanuel 43) at Bourg Mulatresse;
QRC 0, Trinity College Moka 1 at QRC.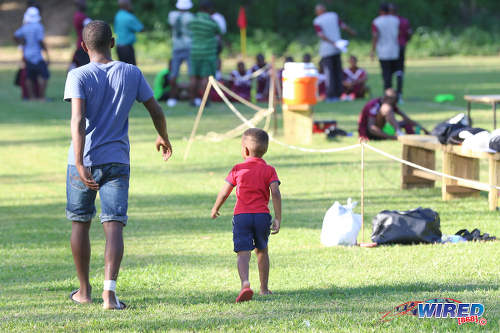 Upcoming SSFL Premier Division fixtures
(Saturday 17 September)
Pleasantville vs Fyzabad Secondary, 2:45pm, Mahaica Oval, P/Fortin;
St Benedict's College vs St Augustine, 4:45pm, Mahaica Oval, P/Fortin;
Fatima College vs Naparima College, 3:40pm, Mucurapo Road;
St Mary's College vs St Anthony's College, 3:40pm, Serpentine Road;
Presentation San F'do vs Signal Hill, 3:40pm, Guaracara Park;
San Juan North vs East Mucurapo, 3:40pm, Bourg Mulatresse;
Shiva Boys HC vs Trinity College Moka, 3:40pm, Penal;
QRC are on a bye.