An injection of energy by winger Jarred Dass again proved to be difference for the Trinidad and Tobago National Under-20 Team last night, as they rebounded from a goal down to hold St Lucia 1-1 in Caribbean Cup qualifying action at the Ato Boldon Stadium in Couva.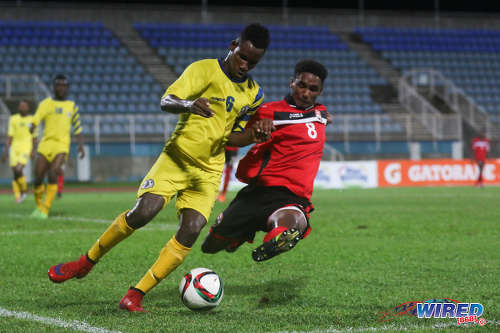 Dass, who came on as substitute in the 61st minute, conjured up an equaliser within seconds, as his first touch sent a teasing cross towards the far post where 15 year old Isaiah Hudson made no mistake.
The final scoreline meant that the young Soca Warriors finished top of the group by virtue of goal difference over St Lucia. Both teams will advance to the Caribbean Cup finals, which kicks off on 21 October 2016.
At the final whistle, both coaches were pleased with the result.
"We have achieved our objective which was to finish top of the group," said Trinidad and Tobago coach Brian Williams.

Williams, whose appointment controversially reduced the Trinidad and Tobago Football Association (TTFA) technical committee to a rubber stamp, pointed out that he had just six weeks with his squad and used half that period to screen players. Williams was actually appointed on 6 April and selected his first training squad two days later.
Still, he insisted the Under-20s will get better with time and work; and he pleaded for patience.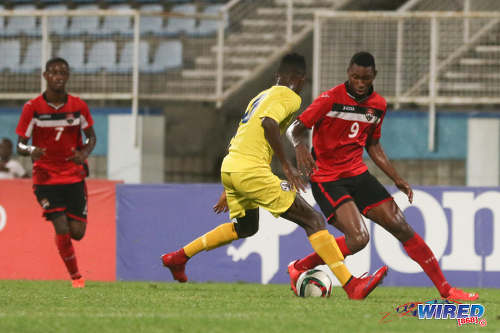 It is worth noting that, two years ago, these two nations met at Under-17 level and Noah Nicholas scored twice in a 2-0 St Lucia win, as both nations advanced to the CONCACAF stage.
Last night, St Lucia saw little of the ball and spent much of the time on their heels. So, Williams has certainly not taken the team backwards.
Yet, there is little trace of the gusto within Trinidad and Tobago's last Under-20 Team, which sashayed to the 2014 Caribbean title with the likes of Levi Garcia, Kadeem Corbin, Akeem Garcia, Neveal Hackshaw and Shannon Gomez in their ranks.
Within weeks of that Caribbean tournament, a half dozen Trinidad and Tobago players were invited to Europe for trials with Levi proving to be so impressive that he was signed by Netherlands Eredivisie club AZ Alkmaar before his 18th birthday.
Thus far, there has been little sign of such individual talent in the current roster.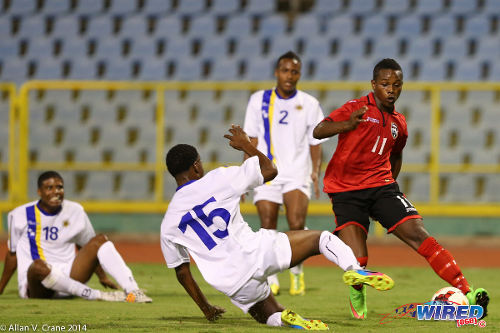 Much was expected of striker Nicholas Dillon and playmaker and captain Jabari Mitchell, who were both part of Trinidad and Tobago's teenaged 2014 outfit and play professionally with Central FC and W Connection respectively.
But all of Dillon's five goals came against the woefully outclassed Turks and Caicos while Mitchell, who scored twice two years ago, rarely sparkled in the offensive third and looked more like a "number eight" than a "ten" over the three outings.
Neither ever looked like breaking their shackles yesterday against a limited but street-wise St Lucian team.
The young Warriors pinned their guests in their own half so comprehensively that St Lucia saw opposing territory just once in the opening 15 minutes. Yet, Trinidad and Tobago never moved the ball around quickly enough to fashion the chances they must have hoped for.
Trinidad and Tobago's midfield trio of Kareem Riley, Morgan Bruce and Mitchell were especially culpable here.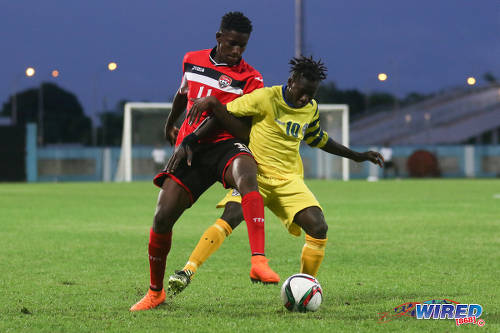 Riley strayed too far from his central defenders to provide cover when St Lucia won possession while his passes were too often on to the boots of his teammates rather than into space, which forced them to stop and wait for the ball.
And neither Bruce nor Mitchell pushed high enough to support Dillon upfront nor showed the appetite or speed of thought to excel when space became limited near the opposing area.
It meant that, with the possible exceptions of Hudson and left back Noel Powder, Trinidad and Tobago seemed happier to possess the ball in the non-threatening areas of the field. St Lucia had no such inhibitions.
Despite seeing little of the ball, the visitors had the first genuine scoring attempt in the 20th minute, as playmaker Cassius Joseph—who was left unattended by Riley—slipped into space for Nicholas only for the latter to shoot tamely from inside the Trinidad and Tobago 18-yard box.
The scare seemed to momentarily rouse the Warriors and St Lucia goalkeeper Noah Didier—the game's third 'Noah'—was forced into a fine double save to keep out Powder and Hudson in the 31st minute.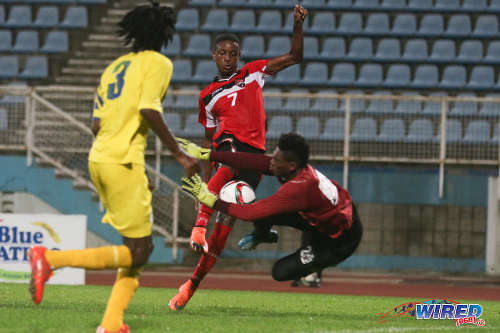 But the host defence had not learned their lesson and St Lucia again took advantage of Trinidad and Tobago's dozy transitional defending to pounce in the 39th minute.
This time, Nicholas found space down the left channel and Joseph poked his cross past opposing goalkeeper Jabari Brice on the second attempt for the opening item.
It was the first goal that the Warriors conceded in three matches. But that stat flattered the hosts; and Williams admitted that his biggest challenge before October is to strengthen his central defence.
Central defenders Kierron Mason and Taryk Sampson might argue that they were victims of indecent exposure as their full backs often operated high up the field while their midfielders were far too shy about the defensive side of the game.
But then Mason does not help his own case much with a penchant to concede the ball cheaply. And another error from the gangly defender nearly led to a second St Lucian item in the 51st minute, only for Sampson to deflect Nicholas' shot for a corner.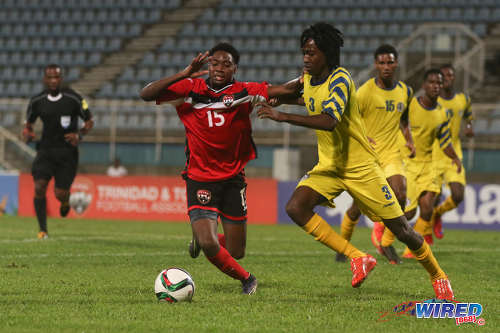 Williams decided for a change and sent on Dass to replace Bruce, which caused pandemonium in one pocket of the covered stands.
"Let's go Jarred!" screamed his vociferous cheering section.
Within seconds, the rest of the stadium was applauding as well, as Dass stepped in off the left flank and delivered a pinpoint cross for Hudson, which his former Naparima College teammate steered past Didier to level the scores.
Williams, a former Strike Squad standout, sprinted down the running track to join in the embrace with his young players.
Another substitute, Rushawn Murphy, almost bagged the game winner in the 71st minute but hit into the side netting after the St Lucian defence failed to cut out a long punt into their penalty area.
But the adrenalin soon cooled to reveal a harsh truth. Trinidad and Tobago, who were collectively flat and disjointed, lacked the individual quality to break down a relatively modest St Lucian team.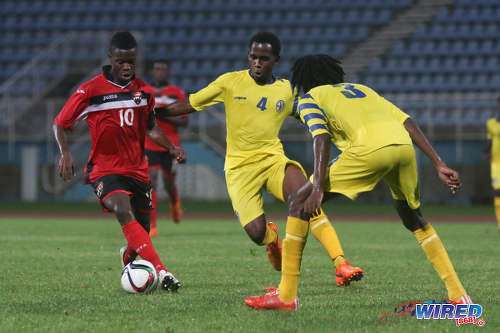 It might have been worse too, as Mason was stripped by Joseph yet again in the 89th minute and Brice saved smartly with his legs to deny Nicholas and preserve the point.
"There is simply work to be done," said Williams, who thanked the public for their support of the young men.
The Under-20 Team will have two weeks off before they resume training on 6 July. Williams explained that attacker Jerren Nixon Jr, who suffered a torn thigh muscle during training, should be available for the next stage along with the trio of Chaz Burnett, Joshua Burnett and Anthony Herbert, who all missed out due to exams in the United States.
Herbert, crucially, can operate in central defence.
Shiva Boys Hindu College midfielder Tyrel "Pappy" Emmanuel, who was ruled out due to breathing problems, and left back Keston Julien, who is on trial in the Netherlands, should also rejoin the squad.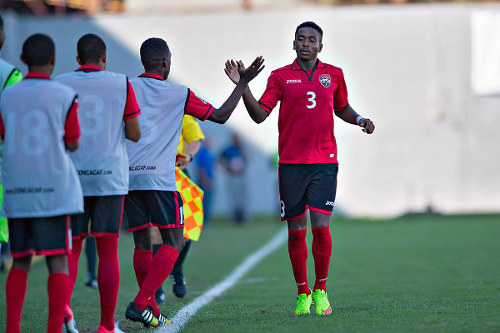 Williams' job is to mesh these parts into a cohesive unit with four months. But there are no planned camps or tours on the horizon for the Under-20 squad. And, at present, the only games available for the local-based players will be in either the Secondary Schools Football League (SSFL) or National Super League (NSL) competitions with their respective teams.
The coach's ability to address that dilemma will determine the success of their Korea Republic 2017 Under-20 World Cup campaign.
Williams hopes to add Levi to his squad for the October competition. But that might be wishful thinking, as AZ are under no obligation to release the talented winger who already has international engagements in August and September with the full national team and is likely to be on coach Stephen Hart's roster for the senior Caribbean Cup, which is also in October.
The current Under-20 squad is the first national team constructed completely under the stewardship of current TTFA president David John-Williams, who employs Williams and half of his starting squad at W Connection.
And John-Williams contradicted his Under-20 coach last week by describing the youth team's pre-tournament time together as: "very good preparation."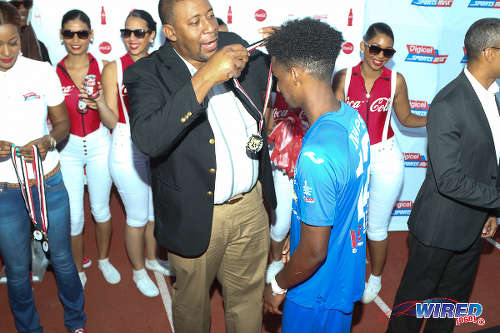 The team's work over the next three months will give further insight into not just the the organisational capabilities of its technical staff but the TTFA's new leadership as well.
(Teams)
Trinidad and Tobago (4-1-4-1): 20.Jabari Brice (GK); 3.Kori Cupid, 4.Kierron Mason, 5.Taryk Sampson, 6.Noah Powder; 11.Kareem Riley; 7.Isaiah Hudson, 10.Jabari Mitchell (captain), 19.Morgan Bruce (8.Jarred Dass 61), 15.Kathon St Hillaire (17.Rushawn Murphy 70); 9.Nicholas Dillon.
Unused substitutes: 1.Jadel Poon-Lewis (GK), 2.Andrew Rullow, 12.Shane Sandy, 13.Isaiah Garcia, 14.Yohannes Richardson, 16.Micah Lansiquot, 18.Jacob Sookal.
Coach: Brian Williams
St Lucia (4-4-1-1): 20.Noah Didier (GK); 2.McCathur Louis, 6.Melvin Doxilly, 18.Cherdam Seraphin, 3.Keeroy Lionel; 19.Alvinus Myers, 15.Ryi Maryat (captain), 4.Zachernus Simon, 11.Antoine Wilfred (12.Kerry Joseph 41 [14.Jamie Prosper 73]); 10.Cassius Joseph; 7.Noah Nicholas.
Unused substitutes: 1.Viannie George (GK), 16.Vino Barcelette (GK), 5.Dante Hippolyte, 9.Tev Lawrence, 13.Albertini Phillip, 17.Selwyn Boyce.
Coach: Albert St Croix
Referee: Kerry Skeeple (Antigua)
Man of the Match: Noah Didier (St Lucia)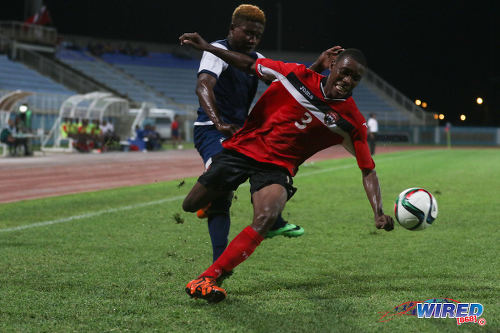 CFU Under-20 Qualifiers Group Two
(Sunday 19 June)
Guadeloupe 5 (Yvann Macon [3], Dimitri Bolivar, Giovanni Dupalan), Turks and Caicos 0 at Ato Boldon Stadium;
Trinidad and Tobago 1 (Isaiah Hudson 62), St Lucia 1 (Cassius Joseph 39) at Ato Boldon Stadium;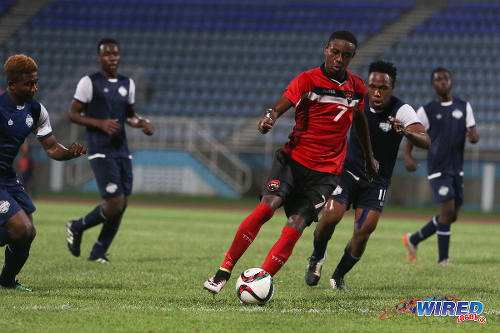 (Friday 17 June)
St Lucia 1 (Ryi Maryat 47), Guadeloupe 0 at Ato Boldon Stadium;
Trinidad and Tobago 11 (Nicholas Dillon 11, 29, 49, 61, 64, Isaiah Hudson 15, 58, Kierron Mason 46, Noah Powder 50, Micah Lansiquot 72, Morgan Bruce De-Rouche 83), Turks and Caicos 0 at Ato Boldon Stadium;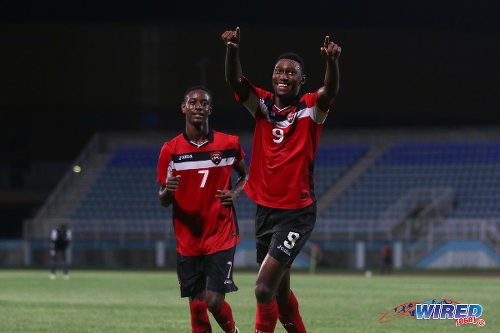 (Wednesday 15 June)
Turks and Caicos 0, St Lucia 2 (Antoine Wilfred 58, Nyrone Winter 70) at Ato Boldon Stadium;
Trinidad and Tobago 1 (Jarred Dass 48), Guadeloupe 0 at Ato Boldon Stadium.