If ever the people of Morvant/Laventille grow tired of the Trinidad and Tobago Defence Force presence there, maybe they should invite the soldiers to a game of football.
Yesterday afternoon, the Army/Coast Guard combination laid down their arms to face Morvant Caledonia United in the Lucozade Sport Goal Shield quarterfinal at the Hasely Crawford Stadium in Port of Spain. And the result was a humbling 5-1 scoreline.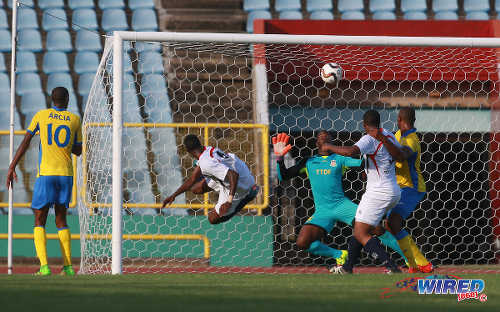 The final score, goes the cliche, did not reflect the balance of the game. And it was true. It might have been double figures!
Play Whe San Juan Jabloteh were not as lucky with their own brush with the law, though, as the "San Juan Kings" were whipped 3-0 by Police FC in the second match of the Port of Spain double header.
The results mean that Morvant Caledonia and Police will square off from 6 pm on Friday April 15 in the first Lucozade semifinal, which will be followed by a clash between fierce Couva rivals, Bankers Insurance Central FC and DIRECTV W Connection FC at 8 pm.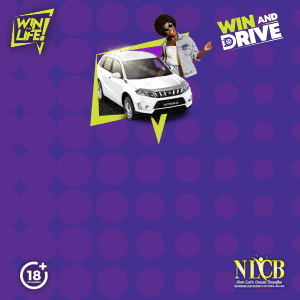 Anything can happen after that.
It was Police's first knock out win of the season—on the third attempt—and the "Lawmen" are potentially 90 minutes away from only their second final of the Pro League era, after they fell 3-0 to Connection in the 2014 Pro Bowl final.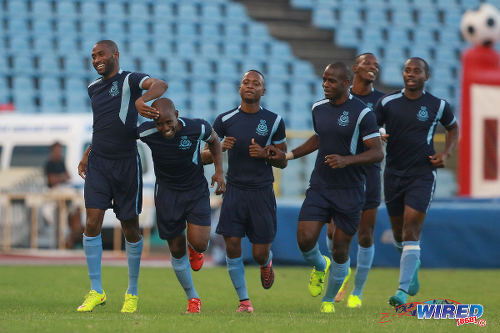 For Jabloteh, it was their second successive defeat—both suffered without injured veteran midfielder Marvin Oliver.
Do the Bourg Mulatresse boys have a "Dread dependency?"
Apart from Nathan Lewis' scampering up the flank, Jabloteh were barely recognisable from the fluid, street-smart, counter-attacking outfit that they can be at their best.
But credit too to Police coach Richard Hood, who ensured that his fullbacks were rarely short of support against some of the local game's most fiercesome wingers.
Jabloteh offered little resistance otherwise.
Left back Dexter Alleyne put the Lawmen ahead after just three minutes with a neat header at the far post off a deep Kareem Freitas free kick.
And Freitas was involved again when Police doubled their advantage in the 43rd minute, as Makesi Lewis nudged the ball over the line after his teammate's effort was parried by the opposing custodian.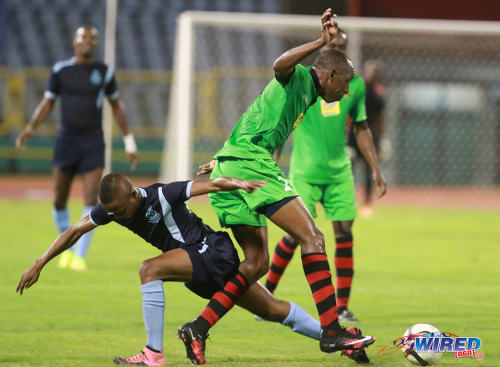 It should have been 3-0 at the interval but Police captain Todd Ryan hit wide from the penalty spot, after Jabloteh defender Adrian Reid handled a Clevon McFee cross.
No matter. Jameel Perry put the result beyond doubt in the 55th minute with a composed finish, as Police resisted a late cameo from Jabloteh substitute Sean Bonval to preserve a clean sheet.
It was not nearly as emphatic as the opening game of the double header, though.
To put the result into context, the last time Morvant Caledonia and Defence Force met in Port of Spain, which was on 8 January 2016, the "Teteron Boys" romped to a humiliating 8-0 triumph.
But the "Eastern Stallions" had other plans this time.
Morvant Caledonia were first on the score sheet, arguably against the run of play, as captain Kareem "Tiny" Joseph's low first time cross on the break was turned in at the near post by Jameel "Shooter" Neptune in the 28th minute.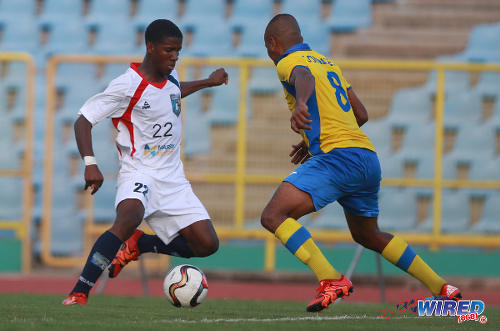 But Defence Force's own marksman, Devorn Jorsling, brought the regiment back on level terms with a cool penalty kick in the 42nd minute, after wing back Marvin Jones tumbled in the area over Morvant Caledonia flanker Marcus Ambrose.
That would normally be the signal for the Army/Coast Guard outfit to take command of the affair. But not yesterday.
Neptune won a free kick down the left flank and, in first half stoppage time, Morvant Caledonia defender and St Kitts and Nevis international, Ordell Flemming, met Joseph's free kick with a decisive glancing header, before wheeling away to celebrate with a spectacular somersault.
And Defence Force never recovered.
Let's just say that coach Marvin Gordon might as well have a tailor remove the word "Defence" from his team's emblem. Because it was one of the worst displays of defending that you are likely to see in the local top flight.
Dave Long and Stephan Campbell both presented clear scoring opportunities to Sheldon Holder and Pernell Schultz respectively within the first 15 minutes of the second half, through a combination of poor passing or being caught in possession on top of their own penalty area.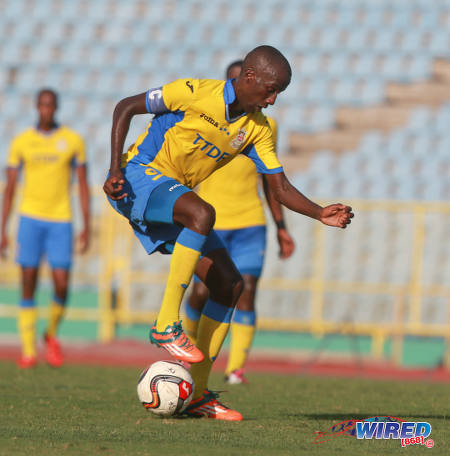 While the Defence Force's offside trap closer resembled a welcome mat to the opposing offence.
Yet Morvant Caledonia muffed at least three chances with only opposing custodian Sheldon Clarke to beat, before Schultz finally snatched an insurance goal in the 67th minute after a Holder through pass.
Neptune made it 4-1 with the goal of the day, as he took the ball around his Trinidad and Tobago National Futsal teammate, Kerry Joseph, en route to a sizzling strike into the top right hand corner from the edge of the penalty area.
And maestro Akim Armstrong conjured up the fifth in the 78th minute, as he hurdled Campbell and cleverly teed up Holder for the finish.
Can the Police subdue Morvant Caledonia next Friday?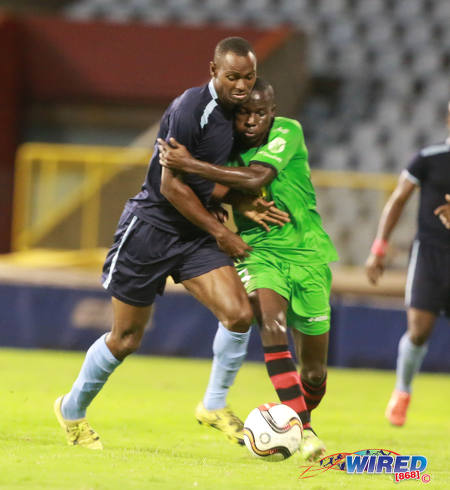 The Defence Force were certainly not up to the task.
(Teams)
Morvant Caledonia United (4-4-1-1): 1.Marvin Phillip (GK); 16.Antonio Joseph, 3.Ranaldo Bailey, 19.Robert Primus, 4.Ordell Flemming (20.Jamaal Harvey 80); 12.Kareem Joseph, 17.Akim Armstrong, 5.Maestro Mensah, 6.Marcus Ambrose (10.Sheldon Holder 46); 22.Jameel Neptune; 28.Pernell Schultz (15.Otev Lawrence 78).
Unused substitutes: 34.Stephon Seepersad (GK), 8.Anthony Charles, 11.Abdallah Phillips, 24.Gregory President.
Coach: Jerry Moe
Defence Force (3-4-1-2): 25.Sheldon Clarke (GK); 8.Curtis Gonzales, 2, Glynn Franklyn (52.Stephan Campbell 46), 4.Dave Long (11.Akeem Roach 66); 13.Marvin Jones, 20.Levi Serries, 99.Jerwyn Balthazar (captain), 21.Akile Edwards; 10.Hashim Arcia (23.Kerry Joseph 57); 9.Devorn Jorsling, 16.Kellon Serette.
Unused substitutes: 1.Andre Marchan (GK), 7.Jelani Felix, 17.Ross Russell Jr, 18.Sean Narcis.
Coach: Marvin Gordon
Referee: Dave Daniels
Man of the Match: Jameel Neptune (Morvant Caledonia United)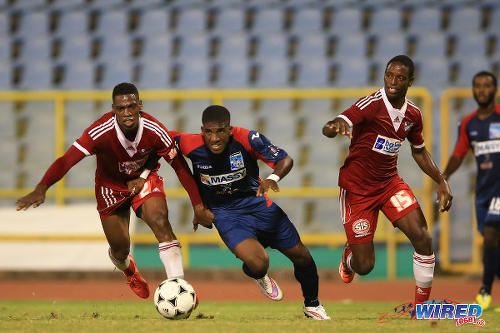 Lucozade Sport Goal Shield results
Quarterfinal Round
(Saturday April 9)
Defence Force 1 (Devorn Jorsling 42 pen), Morvant Caledonia United 5 (Jameel Neptune 28, 73, Ordell Flemming 45, Pernell Schultz 67, Sheldon Holder 78) at Hasely Crawford Stadium;
San Juan Jabloteh 0, Police FC 3 (Dexter Alleyne 3, Makesi Lewis 43, Jameel Perry 55) at Hasely Crawford Stadium;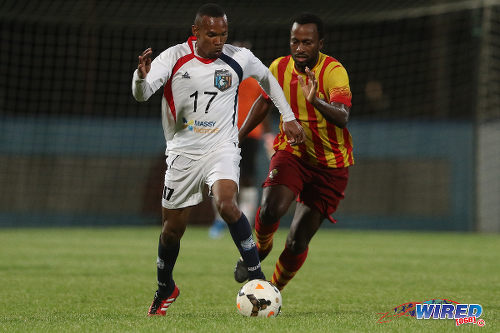 (Friday April 8)
Central FC 1 (Rundell Winchester 29), St Ann's Rangers 1 (Keron Cornwall 20) at Ato Boldon Stadium;
*—Central FC won 3-1 on kicks from the penalty mark
W Connection 4 (Shahdon Winchester 10, Jelani Peters 56, Andre Toussaint 62, Neil Benjamin Jr 87), North East Stars 1 (Kerry Baptiste 48) at Ato Boldon Stadium;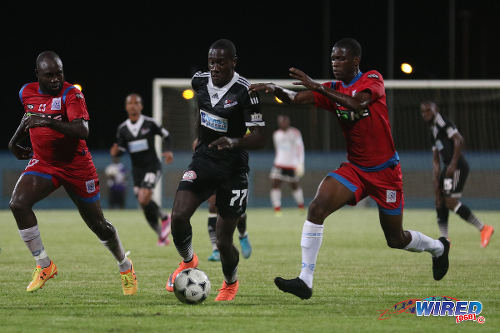 Upcoming fixtures
Semifinal Round
(Friday April 15)
Morvant Caledonia United v Police FC, 6 pm, Ato Boldon Stadium;
Central FC v W Connection, 8 pm, Ato Boldon Stadium.