The "Soca Warriors" put on their dancing shoes tonight with their most comprehensive victory under head coach Stephen Hart, as they brushed aside St Vincent and the Grenadines 6-0 at the Hasely Crawford Stadium in Port of Spain.
The result kept Trinidad and Tobago atop of Group C, as they continue their Russia 2018 World Cup qualifying campaign.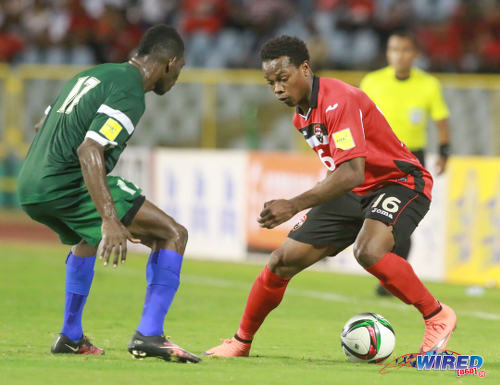 A draw at home to Guatemala on 2 September 2016 will guarantee the Warriors of a spot in CONCACAF's final qualifying round. Not that captain Kenwyne Jones and company are likely to be satisfied by anything as modest as a draw these days.
In front of roughly 15,000 spectators, Trinidad and Tobago finally released the shackles as they put a shellshocked "Vincy Heat" to the sword tonight with five second half goals in the lopsided fixture.
"The first half performance was one of the best I have seen this team play," said Trinidad and Tobago coach Stephen Hart. "I don't think the 1-0 scoreline reflected the performance. And then we came out the second half and did things very very efficiently and ended up with the goals.

"There are still a few things defensively that we can keep working on… But I thought overall they were the best two performances—first half and second half—that we have played in a long time."
After three uninspiring showings this year—away to Haiti, Grenada and St Vincent and the Grenadines—there was little inkling that something special was in store when, at 6.15 pm, the flood lights went out at the Hasely Crawford Stadium and forced both teams to retreat to their dressing rooms in darkness.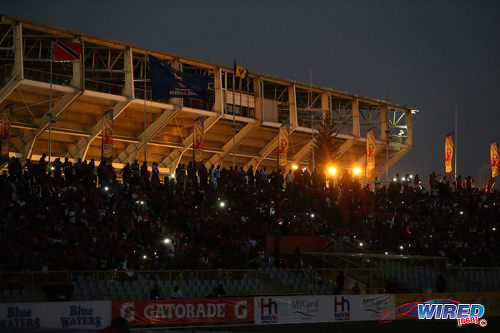 It was the second successive power failure at the venue, after a similar incident before kick off against the United States on 17 November 2015. The starting time, as a result, was pushed from 7 pm to 7.30 pm.
"They were fine," said Hart, when asked about the possible impact of the power outage. "When we went in (to the dressing room) with the delayed start, we told them to relax, be calm. We knew we would get another 10 minutes to warm up (before kick off)."
Hart was worried that the players might grow stiff in the dressing room, though. So he had his team put on some soca music and dance around.
As it turned out, the Warriors could not wait to show off their moves to a wider audience.
Sheldon Bateau was first to grab the floor, in the 36th minute, as he celebrated his first World Cup qualifying goal and his third international item for the Warriors with an "Uncle Ellis" routine.
Joevin Jones was next in the 49th minute and he followed West Indies cricket star Dwayne Bravo's choreography for "Champion."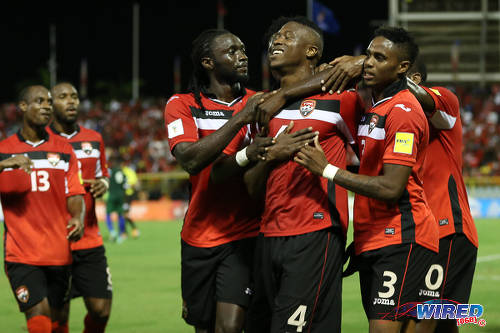 By the final whistle, the Warriors were all dancing like champions—literally and figuratively.
Although they did not have it all their way. It was the Vincy Heat who had the first golden chance on goal, after just five minutes, and who knows how that goal might have affected proceedings.
Joevin conceded possession cheaply in the centre field and, in a flash, Vincentian winger Oalex Anderson was scurrying down the flank but could not beat Trinidad and Tobago goalkeeper Marvin Phillip with his angled drive.
"When you're playing against top teams like Trinidad and you have one opportunity, you have to make use of it," said St Vincent coach Cornelius Huggins. "We got some opportunities that I think we were supposed to put away…
"I think my team has more potential than (the scoreline showed), it's just unfortunate that things didn't go our way."
Nobody could argue that Phillip was extremely lucky to end the game with a clean sheet, as Anderson, in particular, was a handful throughout and create several decent scoring opportunities.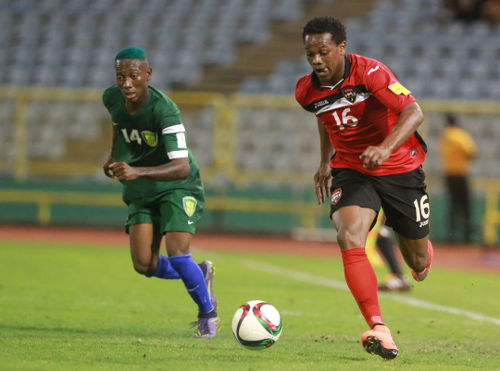 The most notable of those chances came in the 71st minute when the United States-based winger stepped inside Mekeil Williams but watched in disbelief as his low shot smacked the near post, ricocheted off the far upright and then rebounded out to safety.
Yet, Anderson's menace was child's play to what the Warriors—and Levi Garcia and Joevin, in particular—were doing at the other end.
In Arnos Vale, it was hard to point to a decent individual performance, left back Aubrey David apart, before Garcia came off the bench to rescue the Warriors.
Tonight, the opposite was true.
The quick ball movement and patience of Hart's midfield triangle of Khaleem Hyland, Andre Boucaud and Kevin Molino, married to the menacing wing play of Garcia and Joevin and Kenwyne's unselfish display upfront, made for a bewitching performance—albeit against one of the least formidable teams of this stage.
"The two central midfielders managed the game well," said Hart. "They moved the ball short and forward, in combinations with Molino and Kenwyne, and then got the ball wide in good positions.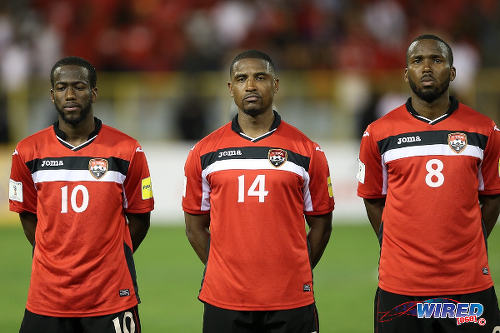 "And (Justin) Hoyte's timing on his running was fantastic."
Hyland hit the post in the ninth minute with a direct free kick while Molino had a close range effort denied by Christopher's outstretched leg in the 12th minute before "Uncle Shelly" Bateau opened the scoring.
The versatile defender rode one tackle as he powered forward and released Joevin behind the Vincentian defence. Rather than retreat to his post, Bateau continued his run. And he was rewarded for his ability as Christopher parried Joevin's effort and the Russia-based defender swept home the loose ball.
Hart admitted that he was frustrated at their slender lead at the interval, despite all their brilliant work. But the Warriors put that right in the second half.
Joevin spotted Christopher cheating in anticipation of a cross, in the 48th minute, and beat the goalkeeper at his near post for only his third international goal in his 53rd appearance.
The Vincentian players gesticulated angrily at their lanky custodian. And then promptly collapsed.
Kenwyne made it 3-0 from close range in the 59th minute, after a fine Hyland cross. And the Warriors captain released Molino for the game's fourth item in the 66th minute.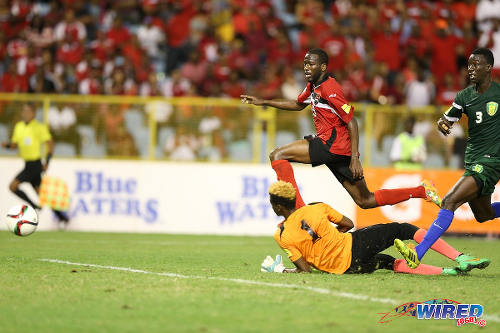 Hart reached to his bench and they wasted little time getting in on the act as well.
Diminutive striker Trevin Caesar, finally given the chance to play in his natural position upfront rather than on the flank, responded with a late double in the 85th and 89th minutes.
Another substitute, Sean De Silva, created Caesar's first with a precise threaded pass while Hyland got another assistant for the second.
"I have to stock up on some aspirin because there are selection headaches now," said Hart. "But it is a problem I welcome. A lot of players are pushing (for places) and a lot of players have to understand they are fighting for (their) positions."
The score summary might easily reached double figures in the second half alone, as Kenwyne missed two presentable close range opportunities. While Caesar also failed to convert two chances.
"Our execution in terms of passing and movement was exceptional," said Hart. "Plenty people would argue that the finishing could have been a lot better. But from a coaching stand point, I would like to build on this performance.
"And we certainly now look like we have the bench that can make a difference."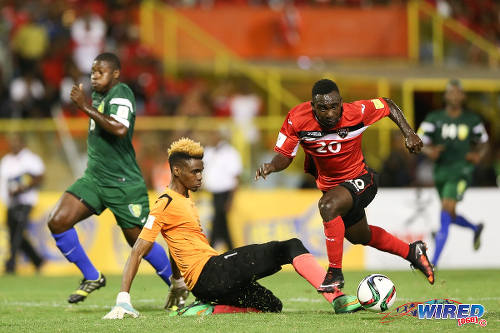 The real damage, though, came on the flanks, where 25-year-old Joevin and 18-year-old Garcia took turns emasculating their respective full backs with outrageous pivots, close control and bursts of speed.
By the final whistle, Huggins had used two different full backs against Joevin and three against Garcia while the St Vincent defence tried to crowd them out by pressing in pairs and isolating the opposing wingers through one on one marking.
Nothing even looked remotely like working.
"I just try to encourage (Garcia) to relax and to be penetrative," said Hart, "and he does that extremely well. I don't think we have had that type of wide attacker who could bring so much excitement and penetration in a long time.
"He just has to keep growing with his club and keep his feet on the ground. And that boy can go very, very far."
Garcia was superb. Yet Joevin—who plays at left back for Seattle Sounders in the MLS—had a bigger impact on the final result and, arguably, shaved the man of the match stakes.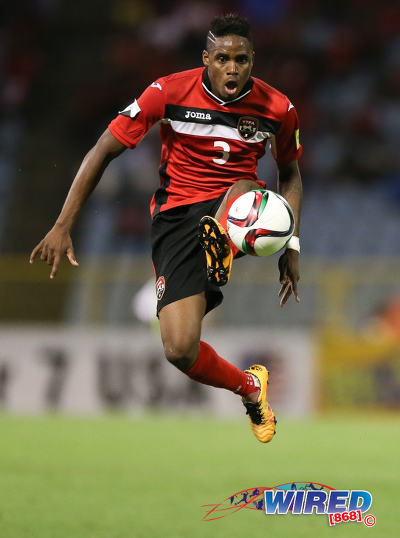 "One (Garcia) is an orthodox wide player and the other (Joevin) is coming in on his stronger foot," said Hart. "I don't think Joevin knows how talented he really is… Once he keeps himself in the top physical condition and the right mental state, I think he can go very far in football."
Hart insisted, as he did after an uninspiring 1-0 Copa America play off loss to Haiti in January, that their patchy win over St Vincent in Arnos Vale, did not look quite as bad when he watched over the tape.
But surely he will be anxious to get his copy of tonight's performance.
The win saw Trinidad and Tobago remain as the only unbeaten team in the group with 10 points from their four matches. The United States, who whipped Guatemala 4-0 in Ohio tonight, are next with seven points while Guatemala and St Vincent have six and zero respectively.
One point against Guatemala on September 2 will ensure that the Warriors are through to the next round. And a win would give Trinidad and Tobago a terrific chance of finishing top of the group, as they close their semifinal schedule away to the United States on September 6.
If last night's form lingers, the United States and Guatemala will have their hands full.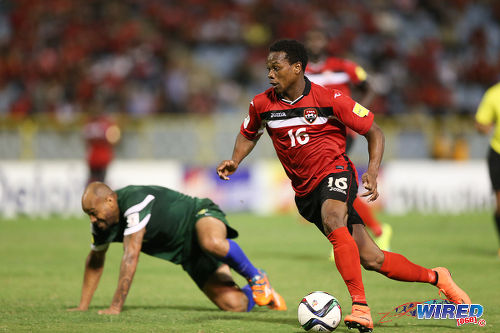 (Teams)
Trinidad and Tobago (4-2-3-1): 1.Marvin Phillip (GK); 13.Justin Hoyte, 17.Mekeil Williams, 4.Sheldon Bateau, 2.Aubrey David; 8.Khaleem Hyland, 14.Andre Boucaud; 16.Levi Garcia, 10.Kevin Molino (20.Trevin Caesar 70), 3.Joevin Jones (12.Sean De Silva 82); 9.Kenwyne Jones (captain) (6.Neveal Hackshaw 77).
Unused substitutes: 21.Adrian Foncette (GK), 5.Daneil Cyrus, 7.Hughtun Hector, 11.Willis Plaza, 18.Yohance Marshall, 19.Shahdon Winchester, 23.Jomal Williams.
Coach: Stephen Hart
St Vincent and the Grenadines (4-2-3-1): 1.Lemus Christopher (GK); 14.Akeem Williams, 3.Roy Richards (captain), 5.Shawn Benjamin, 16.Jolanshoy McDowald (13.Brad Miguel 56); 4.Jarrel McMaster, 6.Shemol Trimmingham; 17.Emerald George, 9.Myron Samuel (8.Dorren Hamlet 73), 10.Oalex Anderson; 12.Tevin Slater (7.Kyle Edwards 62).
Unused substitutes: 22.Kevan Henry (GK), 15.Kevin Francis, 19.Shandel Samuel, 21.David Pitt.
Coach: Cornelius Huggins
Referee: Sandy Vasquez (Dominican Republic)
Man of the Match: Joevin Jones (Trinidad and Tobago)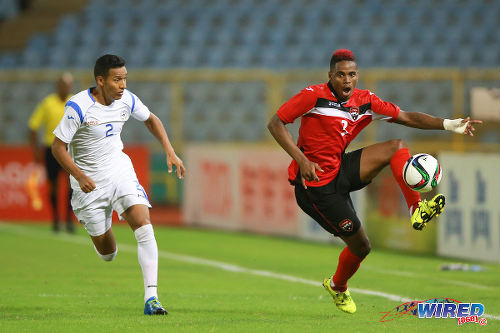 CONCACAF World Cup qualifiers
(Tuesday March 29)
Trinidad and Tobago 6 (Sheldon Bateau 36, Joevin Jones 49, Kenwyne Jones 59, Kevin Molino 66, Trevin Caesar 85, 89), St Vincent and the Grenadines 0 at Hasely Crawford Stadium;
United States 4 (Clint Dempsey 12, Geoff Cameron 36, Graham Zusi 46, Jozy Altidore 90), Guatemala 0 at Columbus, Ohio.