At this rate, Play Whe San Juan Jabloteh might want to consider renaming their team: San Juan Express. Jabloteh certainly seem to be in a hurry of late. Yesterday was their fifth Pro League win in a row, as Jabloteh held off Defence Force 2-1 at the Barataria Recreation Ground in Barataria.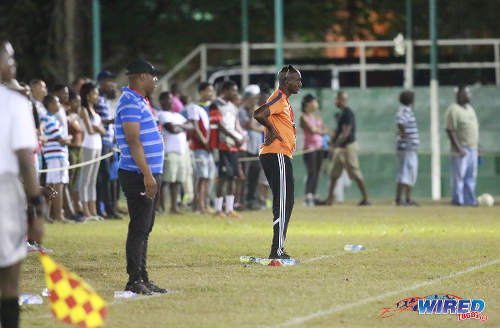 Jabloteh, who are fourth, trail third place Defence Force by just a solitary point now while they are two shy of second place DIRECTV W Connection. The Pro League's top two clubs at the end of the season will advance to next year's 2017/18 CONCACAF Champions League qualifying series.
Defending champions Bankers Insurance Central FC are first and eight points clear of the "San Juan Kings." But then few teams can compare themselves to Central with a straight face these days.
While Jabloteh's form is impressive, Central's is something else. Current coach Dale Saunders has not lost a match since he took over in mid-December—which is a run that stretches for 13 matches—while they have won their last seven straight league outings.
"It will be like Muhammad Ali and Sonny Liston," Jabloteh midfielder and former Central captain Marvin Oliver told Wired868, with a laugh. "Central are like Sonny Liston, the champion, and we are young Ali… We just want to hit him in his mouth."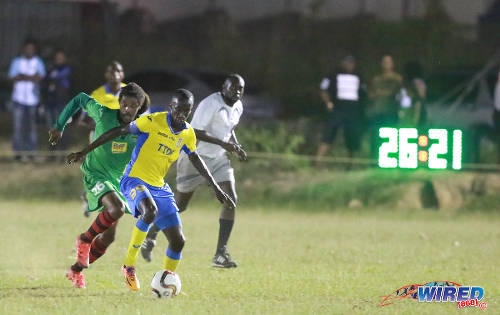 The analogy was given with a laugh rather than a snarl. Oliver's exit from the "Couva Sharks" in January was acrimonious and culminated in a legal battle, which the 41 year old playmaker won—albeit with an, arguably, watered down verdict from the Pro League's Player Status Committee.
But even Oliver can smile now when he thinks about Central. They are all smiling in Jabloteh at the moment.
Yesterday was Jabloteh's second match at their adopted home in Barataria and, although there was no stands around the ground and limited parking, the attendance was doubled to over 400 patrons.
There was a sound system to provide information on goal scorers and substitutions as well as an electronic clock and rotating advertising board.
Jabloteh have certainly made themselves at home.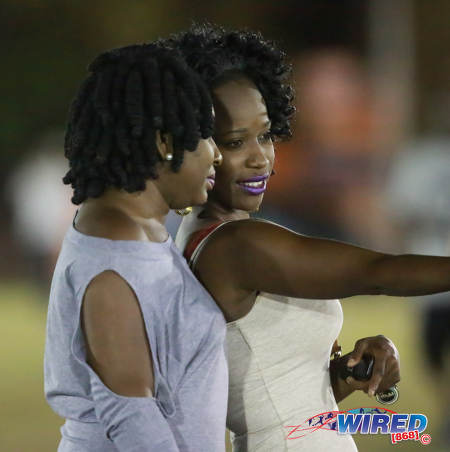 "The atmosphere was tremendous," said Oliver. "There were a lot of faces I haven't seen in a long while. Not just from Barataria but from all around the country.
"I saw my old manager 'Mango' Pierre and my good friend George Romano and the Abasali brothers and so on…"
At the various national stadia, there is a feeling of joint ownership by the clubs and home advantage is merely theoretical. But not in Barataria.
There isn't the partisan support that Point Fortin Civic enjoy when fans actually turn out at Mahaica Oval or when North East Stars played at Ojoe Road. But there is just enough voltage in the air and uncertainty on the ground to challenge visitors.
Supporters are close enough to participate in the action and players can have everything from technique to passing options questioned emphatically while the dry, uneven surface tests concentration.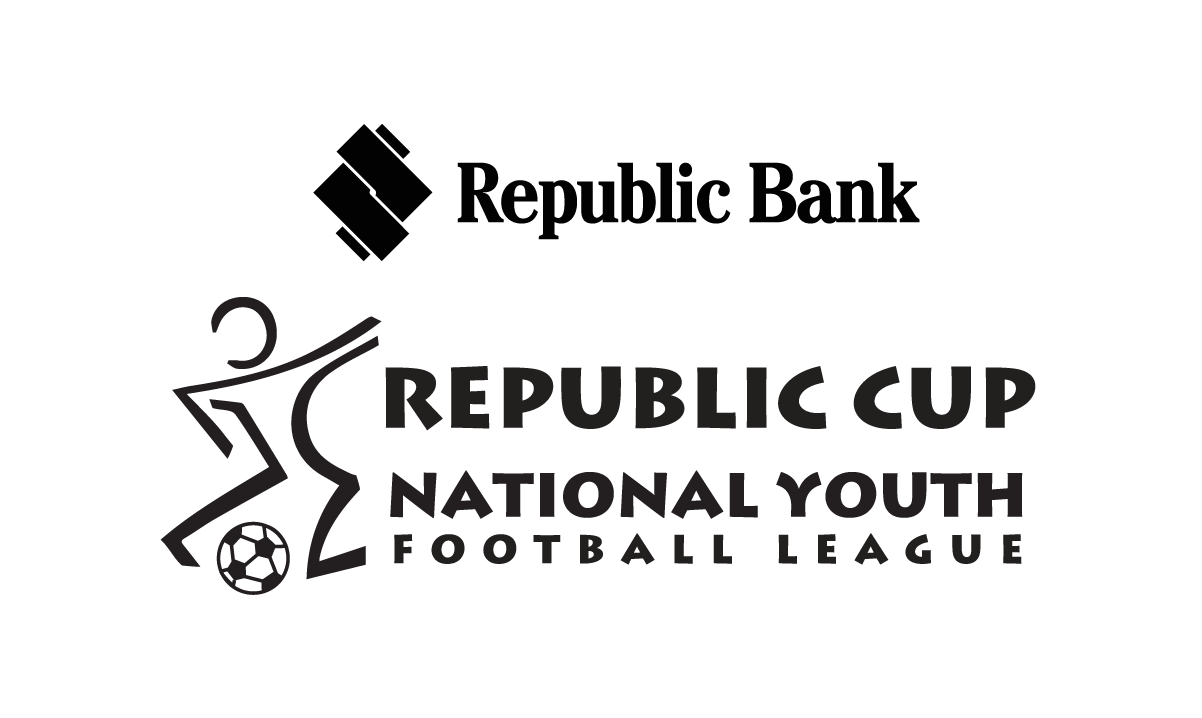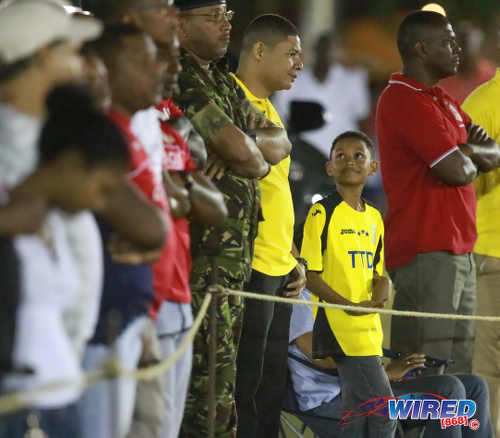 "The condition wasn't a big problem for us because we train on a similar ground," Defence Force striker and Pro League's all-time leading scorer Devorn Jorsling told Wired868. "I liked the atmosphere. I welcome it. (But) it is the first time in a while that that I got jitters. And I was on the bench!
"There were guys there who I hadn't seen since I was playing in the (schools) league. And they told me they hoped to see me have a good game…"
Like Civic the previous week, the Army/Coast Guard combination found themselves under the gun from the opening whistle. Once more, speedy winger Nathan Lewis was Jabloteh's most lethal weapon.
In the 23rd minute, Lewis opened the scoring with a route one item after a Defence Force corner kick, as he raced on to a ball over the top and slammed past opposing custodian Sheldon Clarke.
And, midway through the second half, the former Caledonia AIA winger struck again on the break after a threaded pass by Jabloteh's Jamaican maestro Fabian "Parker" Reid.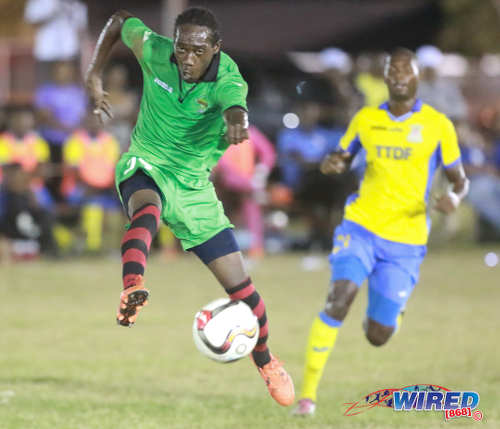 "What was disappointing is we prepared whole week to try to contain the pace of Nathan," said Jorsling. "Because the coach watched them play Civic and told us he was the main threat.
"So to concede the first goal straight from our corner like that, when we could have stopped him with a professional foul, was very disappointing."
Lewis has scored all three Jabloteh goals in Barataria so far. But, in truth, the San Juan outfit's strength is at the back.
Adrian Reid, one of three Jamaicans in their starting team, is such a reassuring figure that once error prone central defender Aquil Selby now looks almost magisterial in his company.
And their back four is protected by the perceptive and experience pair of captain Damian Williams—the third Jamaican—and Oliver.
In the last 270 minutes, Jabloteh conceded just once from open play. And Defence Force's late consolation item yesterday came via a cool penalty from Richard Roy.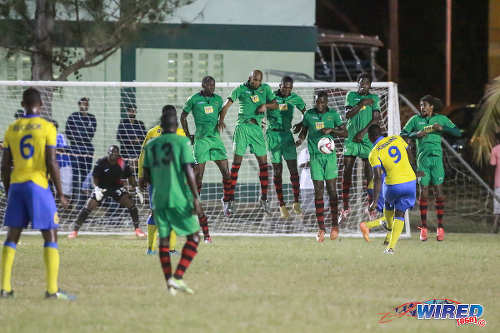 It was needless in the extreme as Jabloteh left back Akeem "Battery" Benjamin screened the ball out of play only for referee Gyasi McDonald to award a corner rather than a spot kick. And Selby, inexplicably, proceeded to barge over opposing defender Rodell Elcock during the resulting set piece.
There were some late testing set pieces from Jorsling but enough to threaten the result.
Defence Force, who led the league last Christmas, are starting to fade away. Jorsling blamed his own form and the inconsistency of the team's talented young brigade for their slump.
"After picking up (a thigh strain) in January, my form hasn't been what it used to be and the team tends to look to me for my leadership," said Jorsling. "Secondly, there are a lot of young players in our squad and young players tend to be inconsistent… The team is in a transition stage."
At Jabloteh, coach Keith Jeffrey made it clear that he signed Oliver to help inculcate the right ethos among his younger players and, so far, the results speak for themselves.
"We are in good form right now and playing at a high intensity but there is still room for improvement," said Oliver. "We can have a lot more closing down and we can improve fitness-wise to help us see the game through. Sometimes we defend too deep as well.
"And our finishing… In the last three games, we probably had about 50 good chances and only scored six!"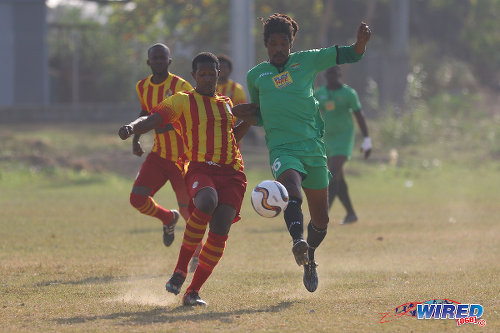 The excitement of a new ground and vibrant audience has proven to be a spur so far. Ask the young ball boy who was attending to the southern end of the ground yesterday.
"Oh gosh boy Guerra!" moaned several boisterous fans, as the second successive ball zipped past him and into the wide canal to his back.
"Yuh sleeping on yuhself or what?! Eh? You have problems or what?! You have a mortgage?!"
Fortunately, the next ball to fly his way came in a high, gentle arc and he carefully executed the catch to loud cheers and applause.
'Guerra' looked sheepishly at his feet but could not hide his ear to ear smile.
Central will try to puncture Jabloteh's enthusiasm and camaraderie when they clash in Barataria after a lengthy break, due to the Trinidad and Tobago National Senior Team's upcoming assignments against Grenada and St Vincent and the Grenadines.
Boxing analogy apart, Oliver is well aware that Central have the energy levels, know-how and machismo to defy the Barataria Recreation Ground. But he is not the sort to back from a challenge.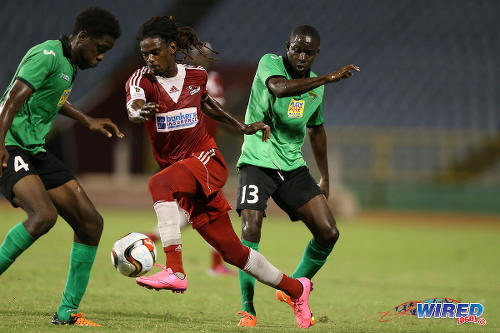 "I think it will be a great match-up," said Oliver. "I am just looking forward to it… The onus is on them. They have a great team and great players who I still love.
"But it is just one game so, with Yahweh on our side, who knows."
(Teams)
San Juan Jabloteh (4-2-3-1): 35.Andrew Durant (GK); 4.Garth Thomas, 21.Aquil Selby, 24.Adrian Reid, 6.Akeem Benjamin; 26.Marvin Oliver, 11.Damian Williams (captain); 27.Nathan Lewis (8.Keyon Edwards 84), 13.Fabian Reid, 10.Tyrone Charles (2.Noel Williams 46); 7.Jamal Gay (9.Brent Sam 84).
Unused substitutes: 30.Shemel Louison (GK), 15.Jerome McIntyre, 20.Aaqil Campbell, 23.Kennedy Hinkson.
Coach: Keith Jeffrey
Defence Force (4-2-3-1): 25.Sheldon Clarke (GK); 13.Marvin Jones (9.Devorn Jorsling 66), 3.Jamali Garcia (8.Curtis Gonzales 46), 6.Rodell Elcock, 21.Akile Edwards; 4.Dave Long (10.Hashim Arcia 66), 99.Jerwyn Balthazar (captain); 12.Jemel Sebro, 23.Kerry Joseph, 30.Kishun Seecharan; 26.Richard Roy.
Unused substitutes: 1.Andre Marchan (GK), 7.Jelani Felix, 18.Sean Narcis, 20.Levi Serries.
Coach: Marvin Gordon
Referee: Gyasi McDonald
Man of the match: Nathan Lewis (San Juan Jabloteh)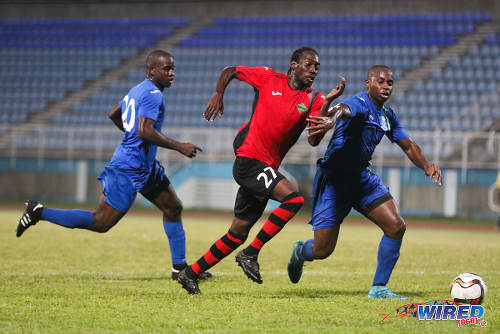 TT Pro League results
(Saturday March 12)
San Juan Jabloteh 2 (Nathan Lewis 25, 69), Defence Force 1 (Richard Roy 83 pen) at Barataria Recreation Ground;
(Friday March 11)
Morvant Caledonia Utd 1 (Jameel Neptune 90), Police FC 2 (Jameel Perry 49, Makesi Lewis 51) at Ato Boldon Stadium;
W Connection 1 (Dimitrie Apai 50), Point Fortin Civic 0 at Ato Boldon Stadium.