Play Whe San Juan Jabloteh were too much to handle this afternoon for a gutsy but blunt Club Sando outfit, as they held on for a 2-1 triumph at the Larry Gomes Stadium in Malabar.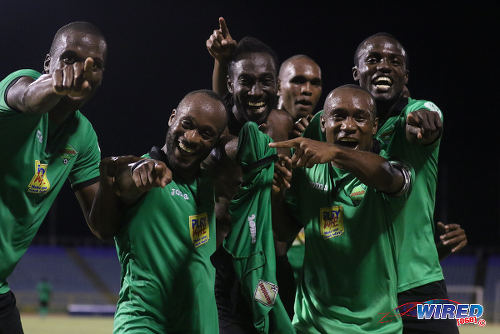 The result saw both teams remain in fifth and seventh place respectively in the 10-team Pro League team table. Jabloteh, who have 26 points, trail leaders Central FC by 11 points.
It was the second successive loss for Sando. Both defeats came after the newly promoted club dove head first through the transfer window and re-emerged with four signings. Prior to those changes, the club had gone unbeaten in three games, which included two wins against Morvant Caledonia United and Point Fortin Civic and a draw with Defence Force.
Maybe those three facts are unrelated. Maybe not. But it should make an interesting conversation for coach Anthony Streete and technical director Muhammad Isa, as they consider their strategy for this weekend's fixtures.
Do they give their new additions more playing time to help them bed in to their new surroundings?

Or do they return to their trusted soldiers like Akeem Humphrey, Kevon Woodley, Devon Modeste, Kelvin Henry, Amritt Gildharry, Coneal Thomas and Shaquille Holder, who all began the affair on the substitutes' bench?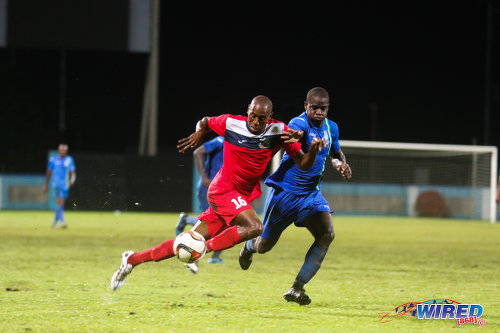 Attacker Bradley Nestor, an American with Trinidad and Tobago roots and a former United States Soccer Development Academy striker, was the pick of the lot with his clever touches and movement.
At the half hour mark, Nestor nearly made a spectacular Pro League entrance with a 25 yard free kick that swerved and dipped but just missed the top left hand corner.
Another Sando recruit, Shannon Phillip—one of four Grenadian newcomers in the starting team alongside his cousin and defender Moron Phillip, winger Rickson Phillip and goalkeeper Jason Belfon—had a less remarkable start to his local career, as he tripped Jabloteh winger Sean Bonval just inside his own penalty area in the 38th minute .
Referee Keilon Bacchus, to the ire of the Jabloteh squad, gave a free kick on the edge of the box.
There was little else of note in the first half of a contest that was competitive but lacked cut and thrust.
Jabloteh got their first clear sight of goal in the 50th minute, as Sando's makeshift left back, Jared London, swung and missed at a Jamal Gay cross, only for Nathan Lewis to fire too close to opposing goalkeeper, Belfon.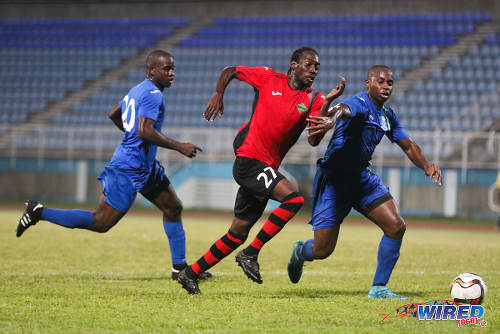 There was another interesting debut as defender Akeem Benjamin, a former Pro League champion with W Connection and Central FC, made his first appearance for Jabloteh at right back in the 60th minute.
Benjamin generally added serenity to the Jabloteh backline, which was not especially difficult against a flat Sando squad. Yet, six minutes after his introduction, Jabloteh were behind.
In a rare moment of innovation around the opposing area, roaming midfielder Jack Weedon released Ryan Frederick who crossed hopefully towards his far post. And Jabloteh left back, Jerome Isaiah McIntyre, slammed his clearance against teammate Keyon Edwards and into his own net.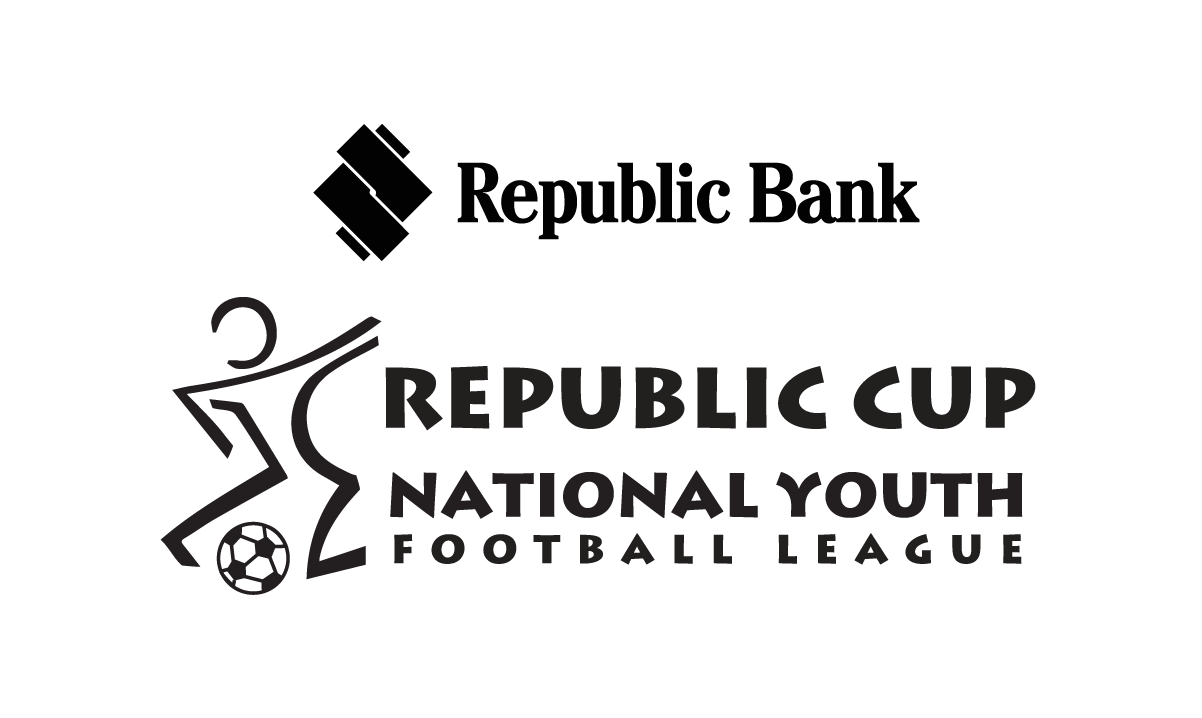 Sando did not enjoy their advantage for long, as, in the 69th minute, their defence was slow to respond to a quick free kick and Garth Thomas, who had moved from right back to central back, ran on to a diagonal ball to finish on the second attempt.
There was a curious form of justice to Jabloteh's 75th winner, as Sando defenders Kevon Neaves and Phillip (S) clashed into each other and took down Kennedy Hinkson at the same time, in a vain attempt to cut out a Fabian Reid pass.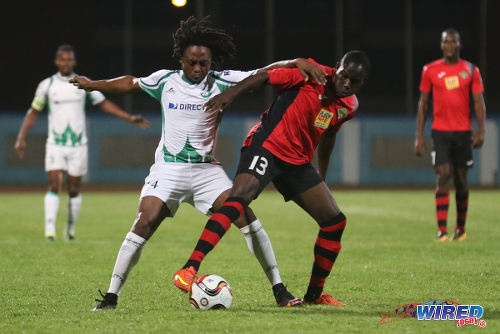 The foul looked as though it was committed just outside the Sando 18-yard box. Bacchus pointed to the penalty spot and Jabloteh's Jamaican defender Adrian Reid stroke forward to calmly finish his third penalty of the season.
Streete turned to Modeste, who scored in each of their last three games before Sando hired outside help. But the clever utility player could not get them out of that jam.
Streete and Isa must now consider whether they are selling their veteran players short.
Or if the new brigade are ready to help them win Pro League matches.
(Teams)
San Juan Jabloteh (4-2-3-1): 30.Shemel Louison (GK); 4.Garth Thomas, 24.Adrian Reid, 21.Aquil Selby, 15.Jerome Isaiah McIntyre; 8.Keyon Edwards, 13.Fabian Reid; 3.Nathan Lewis, 23.Kennedy Hinkson (9.Brent Sam 76), 14.Sean Bonval (6.Akeem Benjamin 59);  7.Jamal Gay (captain).
Unused substitutes: 35.Andrew Durant (GK), 3.Lincoln Burns, 12. Jordan Devonish, 19.Dominic Douglas.
Coach: Keith Jeffrey
Club Sando (4-1-4-1): 1.Jason Belfon (GK); 13.Kern Cupid (captain), 3.Shannon Phillip, 10.Kevon Neaves, 17.Jared London; 4.Moron Phillip (7.Akeem Humphrey 68); 20.Rickson Phillip (16.Kevon Woodley 58), 9.Jesse Downing, 19.Ryan Frederick, 35.Bradley Nestor; 12.Jack Weedon (24.Devon Modeste 79).
Unused substitutes: 34.Kelvin Henry (GK), 15.Amritt Gildharry, 22.Coneal Thomas, 26.Shaquille Holder.
Coach: Anthony Streete
Referee: Keilon Bacchus
Man of the match: Adrian Reid (San Juan Jabloteh)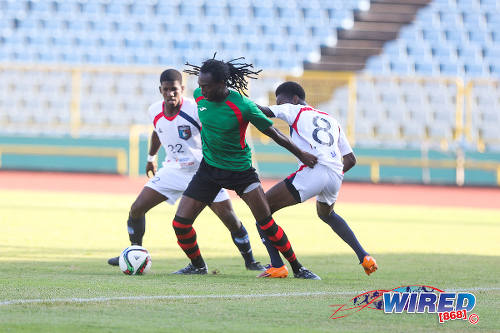 Pro League results
(Wednesday February 16)
San Juan Jabloteh 2 (Garth Thomas 69, Adrian Reid 76 pen), Club Sando 1 (Keyon Edwards OG 65) at Larry Gomes Stadium;
(Tuesday February 16)
Defence Force 0, W Connection 1 (Jabari Mitchell 90) at Marvin Lee Stadium;
Morvant Caledonia Utd 2 (Sheldon Holder 11, Kareem Joseph 90+2), Point Fortin Civic 0 at Marvin Lee Stadium;
Police FC 2 (Makesi Lewis 44, Devon Jamerson 78), St Ann's Rangers 1 (Kadeem Hutchinson 25) at Ato Boldon Stadium;
Central FC 3 (Marcus Joseph 32, Jason Marcano 43, 76), North East Stars 0 at Ato Boldon Stadium.
[standings league_id=2 template=compact logo=true]