The Trinidad and Tobago Women's National Senior Team inflicted a historic 5-1 whipping on neighbours, Guyana, last night to advance to the CONCACAF 2016 Olympic qualifying series semifinal round on Friday.
It was Trinidad and Tobago's joint largest margin of victory in a CONCACAF women's tournament, after a 6-2 win against Haiti in a 2004 Olympic qualifier.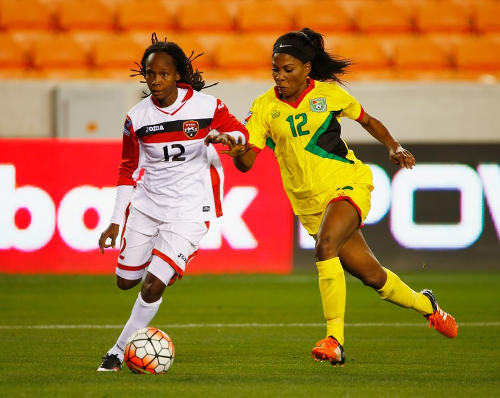 The "Women Soca Warriors" will now face FIFA World Cup champions, the United States, from 9.30 pm at the BBVA Compass Stadium in Houston, Texas. The winner will go to the Rio Olympics. The loser will be be eliminated.
For now, Trinidad and Tobago coach Richard Hood and his squad might just want to bask in the success of a final four placing.
"The result was a great one for us in a must win situation," Hood told Wired868. "This was our main goal coming out there. Anything but a semifinal finish would have been a failure.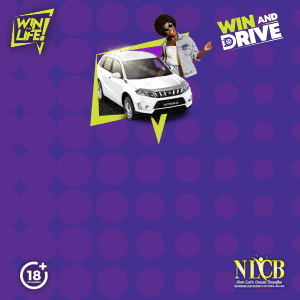 "Now, we have to see what we can do against the US."
Guyana only needed to draw to advance to the semifinal round. But, despite a humbling 6-0 loss to Canada on Sunday evening, Hood promised to get the Women Warriors into the knockout round.
Trinidad and Tobago captain Maylee Attin-Johnson said she never doubted their ability to progress for a second.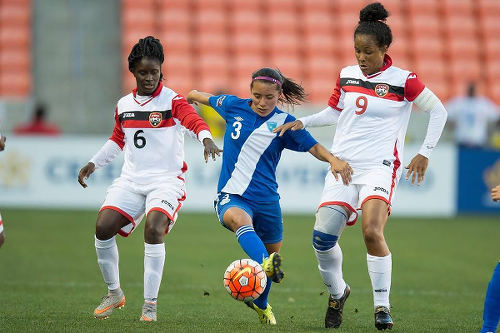 "We were not really worried," Attin-Johnson told Wired868. "We knew we were the number one team in the Caribbean, so we just needed to go out there and stamp our authority."
Hood reverted to the starting team that defeated Guatemala last  Thursday, as winger Ahkeela Mollon and midfielder Janine Francois were recalled at the expense of full back Danielle Blair and holding midfielder Victoria Swift.
Hood and Attin-Johnson had promised to hit Guyana with everything they had and, although their opponents knew what was coming, they could not resist.
"We wanted to come out and go at them fast and get behind their backs down the flanks as quickly as possible," said Hood. "We thought their full backs were weak and we executed brilliantly."
Kennya "Yaya" Cordner put the Women Warriors ahead after just seven minutes as she ran on to a through ball and rounded Guyana goalkeeper Chante Sanford to score.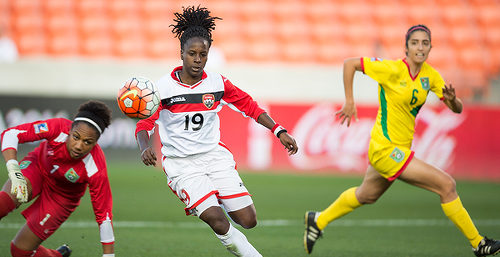 And Trinidad and Tobago grabbed three more goals in the next 15 minutes, as Mollon teed up an item for Mariah Shade then grabbed one herself while opposing defender Alison Heydorn put into her own net in a clumsy effort to cut out a Janelle Cunningham cross.
Once four goals clear, the Warriors, according to captain Attin-Johnson, went into cruise control. And Bria Williams pulled a goal back for Guyana with a precise lobbed effort from distance in the 44th minute.
"We took our feet off the gas and allowed them to score a goal," said the Trinidad and Tobago captain. "That is what separates us from the top teams like the USA and Canada. When they get a team to punish, they keep pushing and pushing for the entire 90 minutes.
"We have got to learn to be more professional if we want to close the gap…"
Cordner added gloss on the scoreline with a fifth item for the Women Warriors in the 61st minute, after the Guyana custodian failed to hold on to a Mollon effort.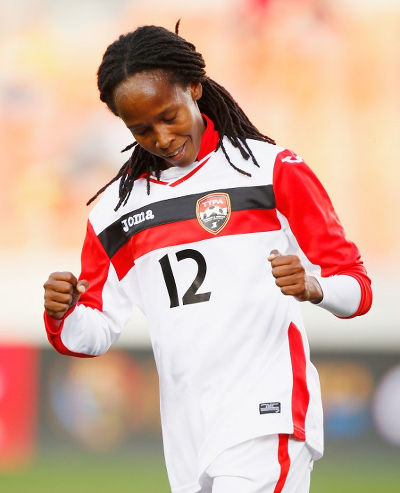 Attin-Johnson made a point of congratulating Mollon, who got her first 90 minute outing under Hood tonight and should be raring to go against the United States.
"We are a very dynamic team going forward with Ahkeela and Kennya on the wings and they both played within the (new tactical) system and scored," said Attin-Johnson. "She proved she can perform within the system and that is great for us with the USA to come on Friday."
Hood praised Mollon too, as the winger responded positively after she struggled tactically in the opening win over Guatemala and was left out against Canada.
"She played the offensive role much closer to what we are trying to get her to do," he said. "The goal she scored was straight through the middle and we want to see more of that from her. I want her to finish off moves too and not just cross the ball."
The final whistle sealed Trinidad and Tobago's largest triumph in a CONCACAF women's tournament in the last 12 years and joint best margin of victory ever at this level.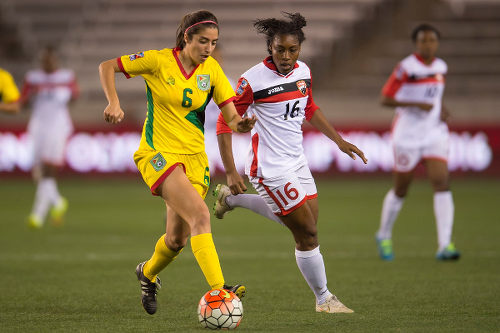 It will be considerably more difficult on Friday when the Women Warriors line up against the World Cup champions on their home soil from 9.30 pm.
Hood said the squad will review video footage of the United States over the next two days, as they formulate a game plan.
He admitted to concern about his team's physical preparation while there are still some tactical areas that he needs more time to work on.
"We are not where we should be fitness wise," said Hood. "I don't know with our fitness concerns if we can play the way we want to play against them…
"We also have to improve our ability to keep possession of the football. I don't know if we can improve enough over the next two days. It is a work in progress.
"We just have to do our best."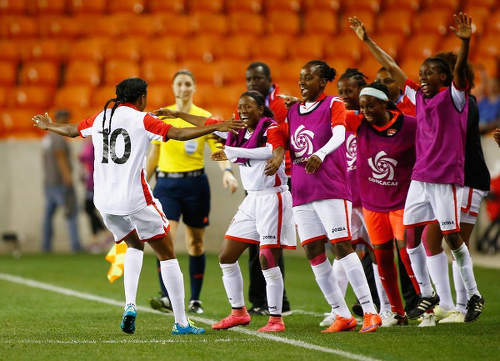 Attin-Johnson and her teammates gave the US a fright, two years ago, but ultimately succumbed to a 1-0 defeat. It is likely to be ever tougher this time.
She doesn't think the World Cup champions would be particularly motivated by that close scoreline.
"They didn't like that they only beat us 1-0 in that (2015 World Cup qualifier) and they will come out hard (on Friday)," said Attin-Johnson. "But I don't think they will be trying to settle a score. They are a top team for a reason and they are very professional in every game they play, no matter who they are coming up against.
"We just have to maintain our composure and play our hearts out…
"For us to qualify for an Olympics, we have to beat a top team. Now a top team is in front of us and we have to do our best and hope our best is good enough."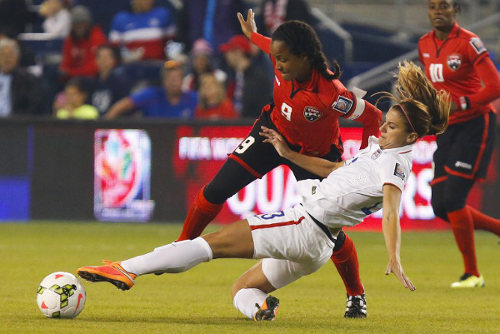 (Team against Guyana)
Trinidad and Tobago (4-2-3-1): 1.Kimika Forbes (GK); 6.Khadidra Debesette, 14.Karyn Forbes, 5.Arin King, 2.Jenelle Cunningham; 9.Maylee Attin-Johnson (captain), 11.Janine Francois (15.Liana Hinds 65); 12.Ahkeela Mollon, 10.Tasha St Louis (8.Victoria Swift 72), 19.Kennya Cordner; 3.Mariah Shade (16.Jo Marie Lewis 64)
Unused substitutes: 18.Shalette Alexander (GK), 20.Saundra Baron (GK), 4.Danielle Blair, 7.Kayla Taylor, 13.Naomi Guerra, 17.Anastasia Prescott.
Coach: Richard Hood
Referee: Gillian Martindale (Barbados)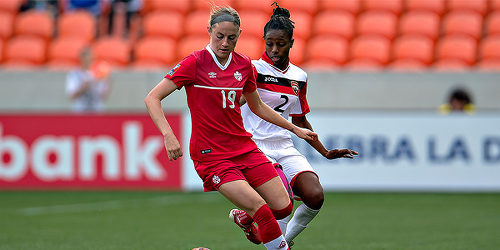 CONCACAF 2016 Olympic qualifier
(Tuesday February 16)
Trinidad and Tobago 5 (Kennya Cordner 7, 61, Mariah Shade 10, Alison Heydorn OG 17, Ahkeela Mollon 21), Guyana 1 (Bria Williams 44) at BBVA Compass Stadium, Houston;
Canada 10, Guatemala 0 at BBVA Compass Stadium, Houston.
[standings league_id=5 template=compact logo=true]