The Trinidad and Tobago Women's National Senior Team got an ice cold reality check in Houston yesterday evening, as they were clobbered 6-0 by Canada in a CONCACAF 2016 Rio Olympic qualifying fixture at the BBVA Compass Stadium.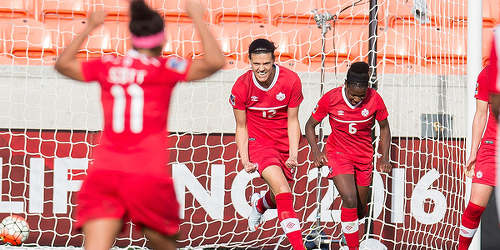 At kick off, Canada and the "Women Soca Warriors" had three points each and were competing for the right to top Group B. But it proved to be a mismatch, as the North American team scored twice in the first half and four more after the break for a comfortable win.
Trinidad and Tobago coach Richard Hood, who took over in the middle of January and had no international warm-up games leading up to the tournament, said it was just too early in his team's cycle to handle a CONCACAF powerhouse like Canada, who are ranked 11th in the world by FIFA.
"We didn't have the physical capacity to play with that Canadian team today, that was quite evident," Hood told Wired868. "We are not as strong and as fit as we need to be to compete with that team. The Canadian team is a fantastic team."
The result leaves the Women Warriors in third place, after Guyana shocked Guatemala 2-1 for their first win at CONCACAF level.

The Women Warriors must defeat Guyana on Tuesday night to advance from their group.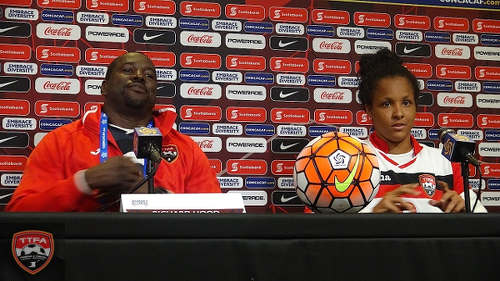 Hood suggested Guyana were fortunate to escape with three points against Guatemala but he knows they would be mentally stronger as a result.
"I thought Guatemala were the better team but they wasted a lot of opportunities and Guyana got the victory with a long ranged shot," said Hood. "They will bunker down and hope they can resist us (on Tuesday) and we have to win that game.
"We will put out our most offensive team and go for the win."
Trinidad and Tobago topped their Caribbean qualifying round while Guyana eked through in a third spot, so the two island republic should start as favourites.
But captain Maylee Attin-Johnson and company would have to put last night's game behind them.
Yesterday's result would not compare favourably to a fortuitous but gritty 1-0 loss to the United States, two years ago, in the 2015 World Cup qualifying campaign under former coach Randy Waldrum.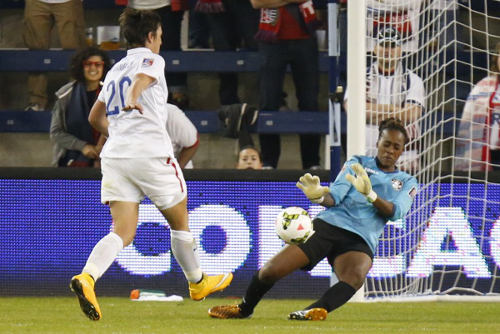 But the devil is in the details.
Waldrum, whose own preparation was far from smooth, still had two camps in Houston and one in Palo Seco as well as five Caribbean Championship fixtures under his belt before he led the Women Warriors out to face USA.
In contrast, Hood has been in charge for barely a month, had no international rehearsals whatsoever and did not have his full team together until three days before their first game.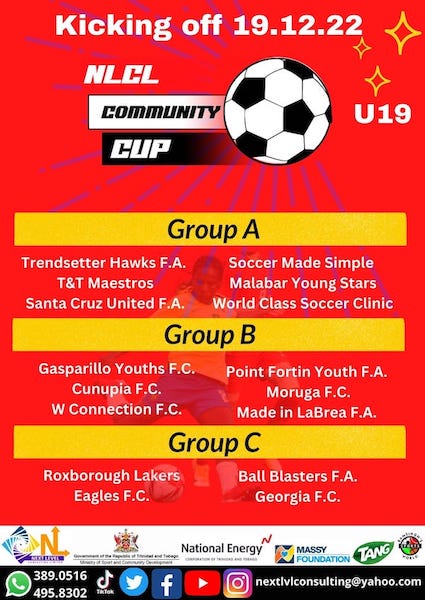 The Women Warriors too have had an eye-raising four different head coaches in their last six games, as Waldrum, Anthony Creece and Kendall Walkes all took turns on the bench before Hood's appointment.
Attin-Johnson explained that Hood has implemented a new system designed to make Trinidad and Tobago a more potent and dynamic force going forward. But the problem is the squad have not had time to fully absorb it.
"It is difficult for some of us to change to a system in that space of time," Attin-Johnson told Wired868. "We only had our full team three days before the first game. And with what we are trying to play, if one player doesn't do their job, the entire thing can shut down…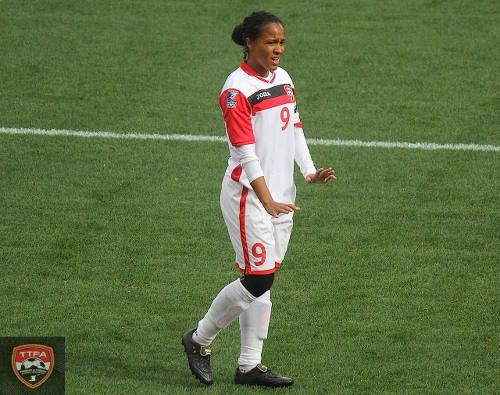 "I think it is a good thing he is trying to implement but it is difficult to grasp when you don't have your players together well in advance of such a difficult tournament."
There was no hiding place for Trinidad and Tobago's flaws last night, despite the fact that Hood set out to frustrate his opponent.
Talented winger Ahkeela Mollon and busy midfielder Janine Francois were both omitted from the starting team as Hood tried to put out a more workmanlike squad.
Khadidra Debesette started in Mollon's preferred role on the right flank, due to her superior defensive instincts, while Victoria Swift's more rugged approach was felt to be better suited for the Canadian challenge.
"Basically, we set up to counter Canada," said Hood. "We knew they would play long balls from the ball for their forward to win flick-ons to feed with their runners through our defensive lines. And we knew they would be more physical in the centre than Guatemala.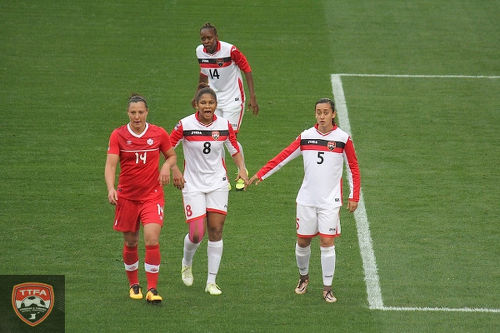 "So we brought in Vicki to mark their striker and let our back four cover (her)… And we tried to take away their wing play because we knew how strong they could be on the flanks.
"So we needed players who were willing to work hard on defence basically and we tried to start with our best defensive unit available to us at this time."
Trinidad and Tobago's resistance lasted for roughly 24 minutes until Canada's Diana Matheson broke free down the left side of their defence and beat goalkeeper Kimika Forbes with a low shot at her near post.
The Women Warriors never looked capable of a response. The final shot count read 22 Canadian efforts to just two from the team in red, black and white.
And captain Maylee Attin-Johnson and company managed only 89 completed passes to 349 from their North American opponents.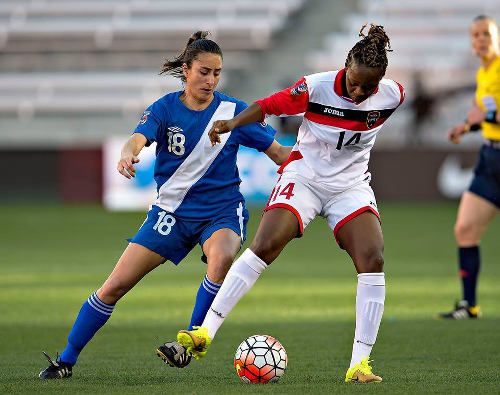 "We were awful in possession and that is a big concern," said Hood. "We never tried to play our passing game today… (Instead) we tried to (play long passes and) win second balls and we lost most of them.
"To play the way we want to play, we have to be able to keep the ball. And we couldn't keep the ball."
Melissa Tancredi doubled Canada's lead with a free header off a left side cross in the 44th minute and the "Maple Leaves" never looked back.
"(Canada players) come in threes and fours and surround the ball and I think we panicked a little and weren't composed when we had the ball," Attin-Johnson told Wired868. "We were always rushing. I think it was a lack of composure and not trusting in our ability to move on the ball. That is what killed us.
"We kept turning over the ball."
Thirty two year old veteran Christine Sinclair came off the bench and cut in off the left flank to score her 159th international goal, which took her past former USA legend Mia Hamm as the second highest scorer in the history of the women's game.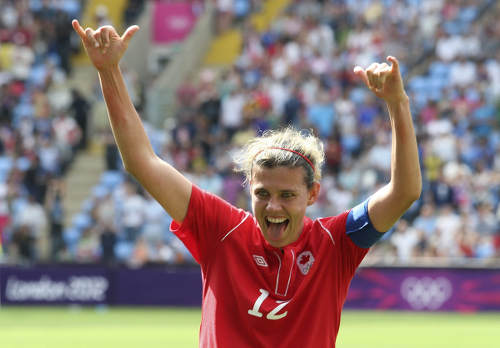 Another retired USA striker, Abby Wambach, remains the international game's most prolific scorer with 184 goals.
Kadeisha Buchanan, Janine Beckie and Jessie Fleming got on the score summary too, as Canada ran riot down the flanks.
"A lot of their goals came from the wings and we just didn't have an answer for that," said Attin-Johnson. "We knew that would be their strength going into the game. We gave them too much space and let them play to their strengths and they punished us."
Trinidad and Tobago cannot afford another slip-up.
"Guyana only need a draw to (advance), so we have to go out (and attack) with full force," said Attin-Johnson. "We know they will (go into a) bunker and try to frustrate us, so we have to have an all or nothing mentality…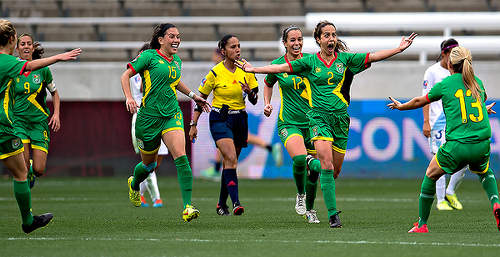 "We are the number one team in the Caribbean for a reason and we will go all out against Guyana with that mindset. It is do or die."
Hood vowed that the Women Warriors will rebound from tonight's thumping. And Guyana better watch out.
"Our goal was to reach the semifinals and we are going to reach the semifinals," said Hood. "We have to beat Guyana. And we will. Simple as that."
(Team against Canada)
Trinidad and Tobago (4-2-3-1): 1.Kimika Forbes (GK); 4.Danielle Blair, 14.Karyn Forbes, 5.Arin King, 2.Jenelle Cunningham; 8.Victoria Swift (15.Liana Hinds 46), 9.Maylee Attin-Johnson (captain) (7.Kayla Taylor 80); 6.Khadidra Debesette, 10.Tasha St Louis, 19.Kennya Cordner; 3.Mariah Shade (16.Jo Marie Lewis 73).
Unused substitutes: 18.Shalette Alexander (GK), 20.Saundra Baron (GK), 13.Naomi Guerra, 12.Ahkeela Mollon, 11.Janine Francois, 17.Anastasia Prescott.
Coach: Richard Hood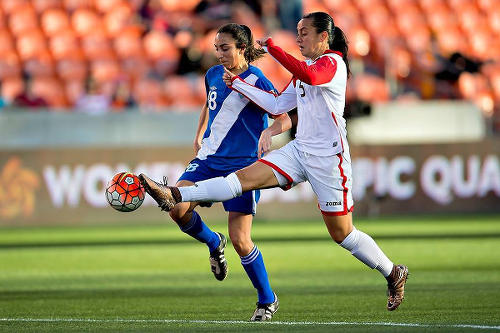 CONCACAF 2016 Women's Olympic qualifying series results
(Group B)
(February 14)
Guyana 2 (Mariam El-Masri 71, Alison Heydorne 76), Guatemala 1 (Ana Martinez 54) at BBVA Compass Stadium, Houston;
Trinidad and Tobago 0, Canada 6 (Diana Matheson 24, Melissa Tancredi 44, Christine Sinclair 63, Kadeisha Buchanan 66, Janine Beckie 75, Jessie Fleming 79) at BBVA Compass Stadium, Houston;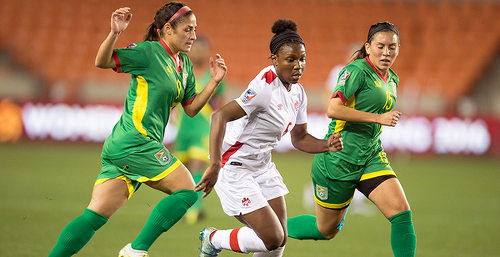 Upcoming fixtures
(All kick offs given in TT time)
(February 15)
Mexico v Costa Rica, 7 pm, Group A, Toyota Stadium, Frisco;
United States v Puerto Rico, 9.30 pm, Group A, Toyota Stadium, Frisco;
(February 16)
Trinidad and Tobago v Guyana, 7 pm, Group B, BBVA Compass Stadium, Houston;
Canada v Guatemala, 9.30 pm, Group B, BBVA Compass Stadium, Houston.
[standings league_id=5 template=compact logo=true]