"For what?!" Defence Force coach Marvin Gordon asked fourth official Rashby McPhee, at the Ato Boldon Stadium in Couva last night.
It was more an accusation than a question.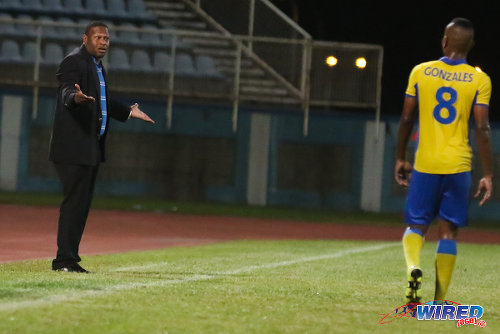 "For what?!" Gordon repeated.
By the final whistle, Club Sando had continued their remarkable new year's form with a 1-1 draw against the 2015/16 Pro League leaders, Defence Force, thanks to a contentious 89th minute penalty from utility player Devon Modeste.
From Sando's last six matches, the newly promoted club picked up 10 points. Last year, they picked up one point from their opening seven Pro League outings.

It was a bad night for Police FC too, as they were gunned down 4-2 by Play Whe San Juan Jabloteh in a thrilling affair at the same venue.
Let's just say that the first joint patrol for the Defence Force and Police Service in 2016 did not go too well.
The "Lawmen" were second at Christmas and had the distinction of seeing their goalkeeper, Adrian Foncette, sit on the bench for Trinidad and Tobago, as the "Soca Warriors" contested a 2016 Copa America Play Off spot with Haiti on January 8.
Today, Police are fifth—thanks to Jap's North East Stars goalless draw with Point Fortin Civic this afternoon—and barely have a goalkeeper in their ranks at all.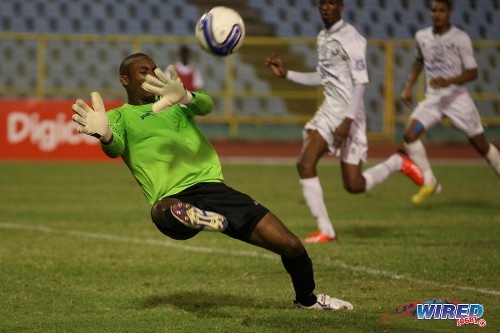 At present, Foncette is in Turkey trying to land himself a professional contract while his deputy, Keinol Paul, was sent off in the last minute of Police's contest last night.
Police's next Pro League assignment is on Tuesday evening when they face Defence Force from 3.30 pm at the Larry Gomes Stadium. And coach Richard Hood has not seen his only other registered goalkeeper, Akeemo Williams, in about a month.
"(Akeemo Williams) wasn't on the bench (yesterday) because he hasn't been training for a while," Hood told Wired868. "I contacted him today and he said he had some personal issues. But he should play in our next game.
"Let me change that. He has to play in the next game."
Jabloteh had lost their last two outings before last night and, in sixth position, were drifting increasingly further away from the front runners. But there was little sense of a shortage of confidence, as the "San Juan Kings" exploded from the opening whistle.
Within nine minutes, Jabloteh were two goals up.
"We know that Jabloteh always come out fast, so we talked about keeping good organisation and minimising mistakes," said Hood, "but it didn't work out that way.
"We gave up two soft goals very early."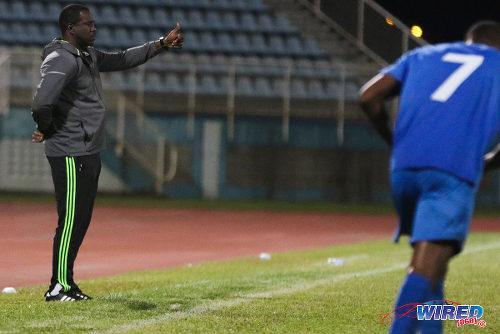 The Police defence could be partially forgiven for not spotting the danger, though, as it came in an unusual package.
Former Trinity College East schoolboy Sean Bonval, who refers to himself as "Humble Boss", had never started a Pro League match before and is an unknown quantity at this level.
But, barely six minutes into the game, Bonval outfoxed Police right back Clevon McFee and crossed for a similarly fresh faced Brent Sam. The San Juan North student's effort was charged down by Paul but winger Nathan Lewis was on spot to convert the loose ball.
Jabloteh's second goal, just three minutes later, came from the opposite flank off a long throw, as Bonval timed his leap well to beat the Police custodian with a downward header.
Jabloteh 2, Police 0.
It was a dream full debut for the young attacking midfielder and might have gotten better still in the 20th minute, as Bonval hit a powerful curling effort from outside the box that smashed against the underside of the bar before bouncing clear to safety.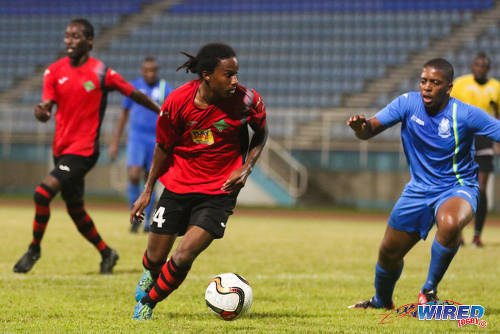 To the Lawmen's credit, they shook off the effects of the early ambush and gave chase.
In the 37th minute, Police left back Jibiri McDavid won an impromptu wrestling contest with opposing full back Garth Thomas before crossing low into the area for striker Makesi Lewis. And there was only ever one likely outcome there.
His first time left footed effort made it 13 goals from as many outings this season—a league high at present—and, more importantly, halved the deficit.
Four minutes into the second half, Makesi's strike partner, Kareem Freitas, pounced on a Christon Thomas free kick to flick in a surprise equaliser, as Jabloteh's defence again seemed to be on "hibernate" mode.
It was Freitas' 11th league goal this season, which is bettered only by Makesi and Defence Force midfielder Jerwyn Balthazar (12).
Or, to put it another way, Makesi and Freitas together had two more goals than the entire Jabloteh squad managed this season, up until that point.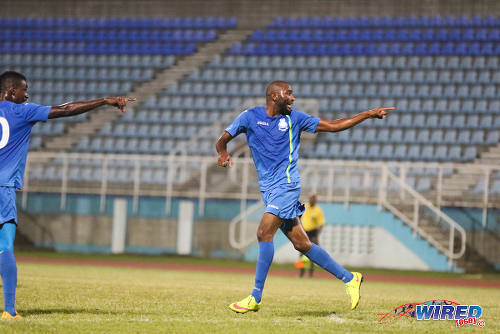 But last night belonged to Makesi's namesake, Nathan Lewis.
In the 59th minute, Paul was forced into a fine double save from Nathan and Jamal Gay, after the former player streaked into the area. But the Police goalkeeper could not find an appropriate response, a minute later, as Nathan got on the end of a flowing counter attack that involved Jabloteh captain Damian Williams and Sam.
This time, Nathan dribbled inside Police defender Jasimar Asher, who was a second half substitute for Kevin Lewis, before driving a stunning effort into the top left hand corner.
"Asher's fitness level isn't where it should be right now," said Hood. "But that was a forced change (to bring him on). And our opponents took advantage of that…"
Police might have had a fortuitous equaliser in the 83rd minute, as Jabloteh defender Adrian Reid clipped his own bar with an attempted clearance from a Makesi cross. While, seconds later, substitute Keon Wilson twice came close to a tying goal, as his initial snap shot was blocked by Reid in the 83rd minute while he skied a volley off a Freitas cross.
Jabloteh coach Keith Jeffrey responded by withdrawing Gay into midfield for the closing five minutes, as his team went from 4-4-2 to 4-5-1. Most coaches might have made that adjustment about an hour earlier. But Jeffrey doesn't do conservative.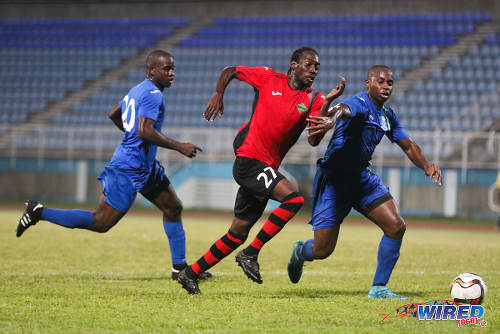 The Jabloteh coach looked as pleased as punch when his swashbuckling troops widened the advantage, in stoppage time, and, unsurprisingly, Nathan was again involved.
This time, Nathan danced around Paul on another break before being tripped by the goalkeeper.
Referee Nicholas Gloudon flashed the red card and Police defender Anton Hutchinson donned Paul's goalkeeping gloves and was was promptly beaten with a thumping Reid penalty kick.
Hutchinson will have his fingers crossed that AWOL custodian, Morgan, shows up on Tuesday evening when Police tackle the army/coast guard combination.
Arguably, now might not be a bad time to face Defence Force, who are without free-scoring captain, Balthazar, and winger Kerry Joseph, due to national service with the Trinidad and Tobago Futsal team in Cuba.
Sando held their own for much of last night's contest and only agile goalkeeping from Sheldon Clarke and alert defending from left back Akile Edwards kept the scores level at halftime.
But Defence Force would have fancied their chances of taking all three points once midfielder Sean Narcis put them ahead in the 57th minute with a close range header from a Curtis Gonzales cross.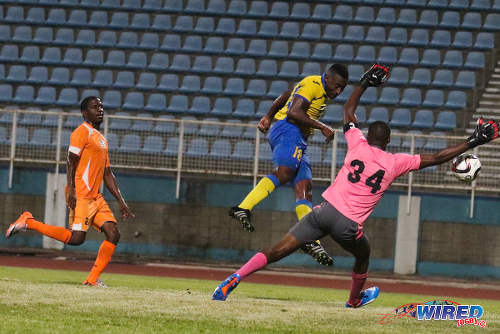 Sando might have gone down to 10 players too in the 78th minute, as striker Kevon "Showtime" Woodley swung a forearm into the face of young defender Jamali Garcia but somehow escaped with only a verbal warning from referee Dennis Changiah.
Gordon rued that decision in the 87th minute, as Woodley won a corner kick with a deflected shot. And, from the subsequent spot kick, the Sando striker was all alone at the back post but muffed his header.
Changiah pointed to the penalty spot and motioned that Woodley had been impeded by Defence Force substitute Stephan Campbell.
Gordon had to be restrained by technical director Kelshall Alexander, as he demanded an answer from McPhee. Modeste knew what to do, as he dispatched his effort into the corner of the net for a precious draw.
The result means defending champions, Bankers Insurance Central FC, can cut Defence Force's lead to a single point, if they defeat fierce Couva rival, DIRECTV W Connection at the Ato Boldon Stadium tomorrow.
Either way, there will be a lot riding on the clash between the police and the army on Tuesday. But then who would expect a harmonious get-together when those two groups of servicemen share the same space.
(Teams)
Police FC (4-2-3-1): 22.Keinol Paul (GK); 7.Clevon McFee (16.Keon Wilson 72), 5.Anton Hutchinson, 20.Elijah Belgrave, 6.Jibiri McDavid; 14.Kaaron Foster (18.Dylon King 82), 21.Todd Ryan (captain); 12.Kevin Lewis (2.Jasimar Ashers 50), 10.Kareem Freitas, 19.Christon Thomas; 9.Makesi Lewis.
Unused substitutes: 3.Kadeem Boyce, 8.Kurdell Brathwaite, 11.Kadeem Riley, 13.Ricardo Peltier.
Coach: Richard Hood
San Juan Jabloteh (4-4-2): 30.Shemel Louison (GK); 4.Garth Thomas, 21.Aquil Selby, 24.Adrian Reid, 15.Jerome Isaiah McIntyre; 14.Sean Bonval (23.Kennedy Hinkson 77), 11.Damian Williams (captain), 8.Keyon Edwards (16.Kaashif Thomas 75), 27.Nathan Lewis; 7.Jamal Gay, 9.Brent Sam (12.Jordan Devonish 80).
Unused substitutes: 35.Andrew Durant (GK), 3.Lincoln Burns, 13.Fabian Reid, 19.Dominic Douglas.
Coach: Keith Jeffrey
Referee: Nicholas Gloudon
Man of the match: Nathan Lewis (San Juan Jabloteh)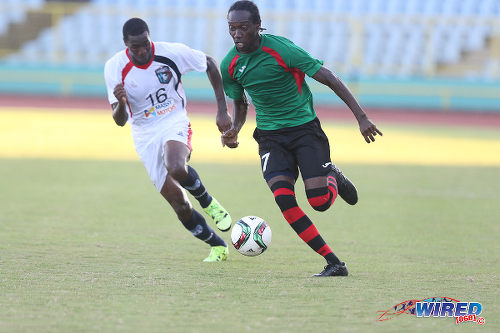 Pro League results
(Friday January 22)
Defence Force 1 (Sean Narcis 57), Club Sando 1 (Devon Modeste 89 pen) at Ato Boldon Stadium;
San Juan Jabloteh 4 (Nathan Lewis 6, 60, Sean Bonval 9, Adrian Reid 90 pen), Police FC 2 (Makesi Lewis 37, Kareem Freitas 49) at Ato Boldon Stadium;
(Saturday January 23)
North East Stars 0, Point Fortin Civic 0 at Larry Gomes Stadium;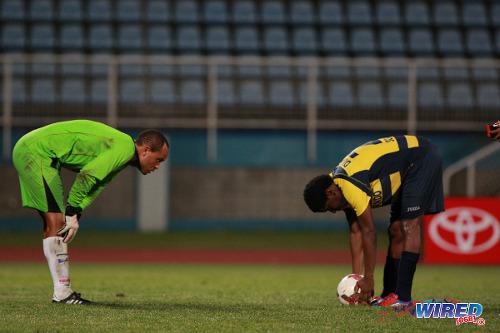 Upcoming Pro League fixtures
(Sunday January 24)
St Ann's Rangers v Morvant Caledonia United, 3.30 pm, Larry Gomes Stadium;
Central FC v W Connection, 4 pm, Ato Boldon Stadium.