Real Maracas gave themselves an emotional lift in their bid to avoid relegation yesterday evening, as they started 2016 with an emphatic 6-1 win over Stokely Vale FC in a clash between the CNG National Super League (NSL) Premiership Division's two bottom clubs.
But, in more ways than one, this was not your average football match.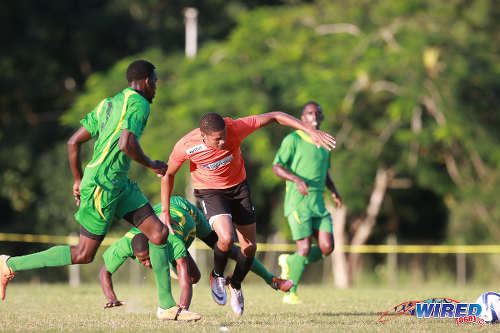 Maracas and Stokely Vale both had 15 points at kick off. The former team, now under the guidance of former Pro League Coach of the Year Michael McComie, are hellbent on avoiding relegation.
And Stokely Vale?
Well, the Tobago team travelled to the mainland with just 10 players and no goalkeeper. And one of their defenders, Anthony Cooper, had a heavily strapped knee and moved with all the agility of a tractor trying to weave through traffic.
"(Trinidad and Tobago Women's National Team star) Karyn Forbes usually throws a tournament for our (Plymouth) village and she threw it (on Saturday) night," said veteran Stokely Vale coach James Campbell, as he tried to explain his shorthanded team. "So after playing in the tournament, they had to come to play (on Sunday afternoon). And some of our players got injured in the tournament…"
Their missing numbers were barely half of Vale's problems, though, as Campbell's players bickered constantly and almost went into meltdown during a bizarre halftime team talk.
At the other end, McComie was not trying to win as much as he was trying to prevent his team from losing.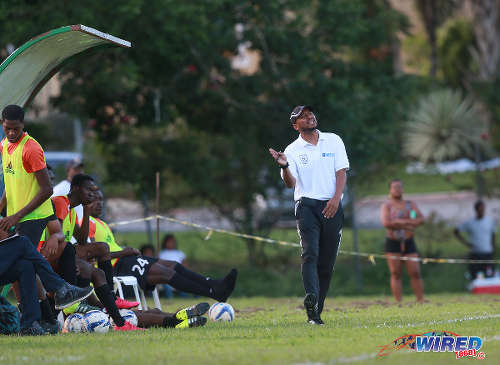 "It is amazing in terms of what is now a local attitude that was bad, which believe it or not, has gotten plenty worse," McComie told Wired868. "The local players in particular tend to measure themselves against the opposition. So if the opposition is terrible, they play just less than terrible.
"(They are) never trying to maximise their potential (and are) always getting themselves in trouble (as a result)."
It was an interesting analysis and, to be fair, not especially unkind to Stokely Vale.
Before kick off, although the 10 Vale players got to Maracas together, only six players started warming up in unison. Three of their teammates were casually lacing up their boots or doing their own stretches while another juggled a ball on his own.
It was a premonition of what would follow.
"Listen to me… after this I will sit down," McComie told Maracas captain Kerwyn Bartholomew, with all the gravitas of a man about to reveal the secrets of the universe. "Right now, allyuh measure the game and think allyuh win already. So allyuh will wait for the other team to score before you do what you have to do.
"Just do what you have to do out there for me please."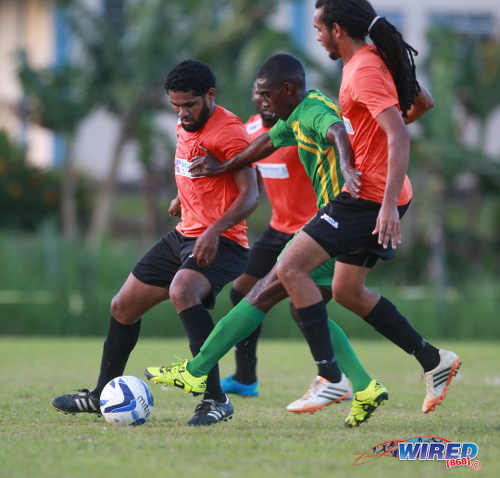 Of course, McComie didn't say it exactly like that. The former Joe Public coach swears like a sailor with a nail in his foot. So feel free to add your own colour to his speech.
Stokely Vale, who lined up in a 4-4-1 formation, actually held their own for much of the first 20 minutes. On either flank, the Tobago team possessed wingers, Travis Joseph and Krishawn Joseph, who were built like heavyweight boxers but possessed the feet of tap dancers. And their lone striker, Brian Hinds, was strong and lively.
But poor Jeyriel Stephen, despite his best efforts, was hopeless between the uprights and did not even have goalkeeping gloves.
Maracas scored with their first real low shot on target, as Aaron Peters cut in from the left flank and blasted a low rocket below Stephen in the 25th minute.
Christian Thomas doubled Maracas' advantage with the goal of the match, in the 32nd minute, as he spun on Jevon Williams and flicked the ball over the head of Ken Alleyne before beating Stephen with a crashing volley.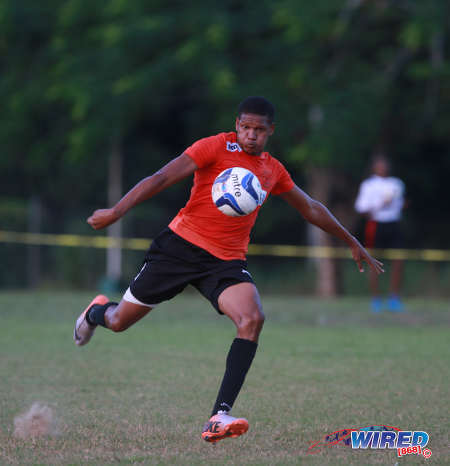 It was quite a reversal of roles from Christian's day job. The Maracas striker is a lifeguard by profession. And the Stokely Vale custodian was definitely all at sea.
Peters made it a three goal cushion, two minutes before the interval, with a close ranged header off a cross from ex-North East Stars and Central FC midfielder Marc "Passion" Leslie.
But McComie was far from pleased with the halftime result and told  his players as much.
"The halftime talk was just a stern talk about their attitude towards the game," said the former Joe Public coach. "It is a disrespect towards the game and it is sad to me that local players do not understand when they disrespect the game. They see that as nothing wrong…
"It is sad to see the majority of local players, not all obviously, but the majority of them; they disrespect the game in terms of effort and attitude towards the game itself.
"That was the team talk at half time. And they went on and I think you can see a lot more urgency and purpose from them in the second half."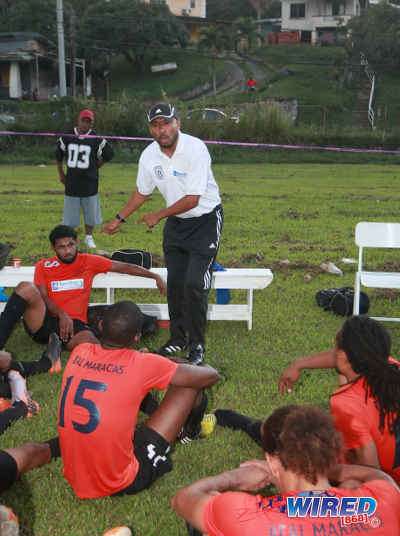 In truth, the widening chasm between the sides in the second half probably had as much to do with the Stokely Vale team talk as it did with McComie's soliloquy.
Vale coach, Campbell, sat silently on the bench as captain Travis Winchester and defender Omar Charles, a former Central FC player, initially discussed tactics with their teammates.
But Thomas (K) wanted to hear from his coach as well.
"So coach you have nothing to say?" asked Thomas. "Every time I watch your face, I does feel to cry yuh know. You sit down dey like a rum drinker in a bar."
"What you want me to tell you?!" Campbell retorted. "You are a big man. You don't know what to do?!"
"Well give me a vibes self nah," said Thomas.
"You get ball to cross, you dribble," said Campbell, "you get ball to pass, you dribble… What you want me to tell you?! You have to know your role and function as a player!"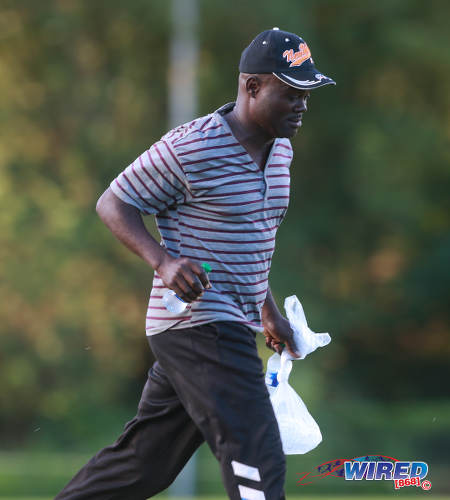 Thomas' teammates murmured approval for their coach. But the player stood his ground.
"The one thing I do right, allyuh doh compliment me on that," said Thomas. "Allyuh does only see wrong. Allyuh won't say: 'Boy, I see yuh try.'
"You could tell me about allyuh coaches!"
"I understand what the coach saying," Cooper interjected. "He's saying he's talking to you right through and you (keep) doing the same thing."
As both teams walked back on the field, Thomas was still trying to find a sympathetic ear among his Vale comrades.
"All I trying to tell the man is to build a vibes yuh know," said Thomas, as his teammates looked in the other direction.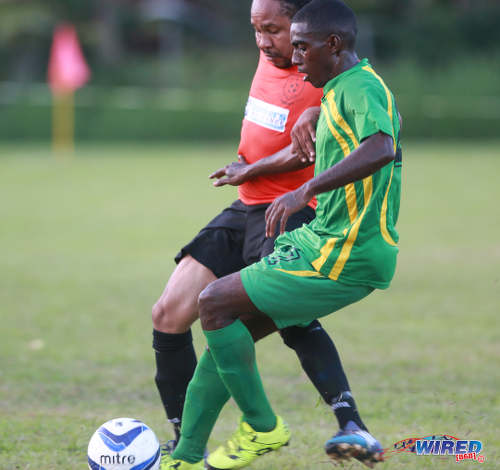 Within the next six minutes, Vale conceded another three goals, as Peters completed his hattrick, veteran midfielder Ricardo Bennett scored a solo effort and defender Marvin Manswell got in on the action.
"The second half was much better," said McComie.
Coach Campbell was not the only leadership figure within Vale's ranks to have his authority questioned yesterday either.
"How we defence getting ripped apart so, boy?!" asked the frustrated Vale captain, Winchester, midway through the second half.
"Boy, hush yuh mudda c*** and play nah!" Charles responded.
Campbell suggested it was all a bit of 'Tobago love' and the squad will be a stronger and more harmonious bunch for their next game.
"I think the quarrelling in the team was because of the pressure they were under," said the longstanding coach. "The team came down short and they were feeling the pressure because of that scenario…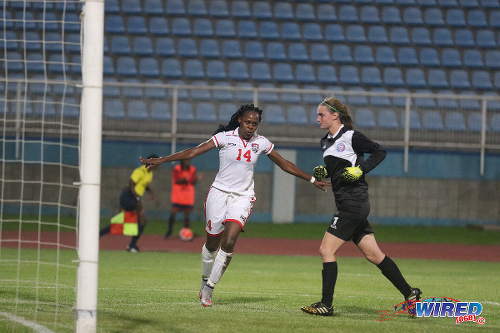 "But, at the end of the day, when we go back you will see a difference in the team."
The final word from the Tobago visitors was a positive one, as Lashawn Roberts—who answered to the nickname, "Rat Trap"—ran on to a through ball from Winchester and flicked a header over Maracas custodian Kelon Rampersad for a consolation goal.
"I must score boy!" Roberts shouted in glee, as he grabbed the ball and sprinted back to the centre circle. "I must score!"
If Vale are to rescue their place in the Premiership Division, they will need much more of Rat Trap's enthusiasm and much less of Charles and Joseph's bickering. It is a tall order, though.
(Teams)
Real Maracas (3-4-3): 1.Kelon Rampersad (GK); 16.Kerwyn Bartholomew (captain), 4.Marvin Manswell, 27.Kester Mejias; 20.Aaron Peters, 11.Ricardo Bennett (24.Michael Yaw Darko 81), 23.Marc Leslie, 15.Kadeem Graham; 9.Dillon Bartholomew (6.Jabari Braithwaite 72), 21.Christian Thomas (25.Isaiah Irish 78), 12.Curt Danclair.
Unused substitutes: 30.Emmanuel John (GK), 3.Anthony Frank, 19.Shirkel Diamond, 28.Kevin McLean.
Coach: Michael McComie
Stokely Vale FC (4-4-1): 28.Jeyriel Stephen (GK); 2.Jevon Williams, 4.Anthony Cooper, 3.Ken Alleyne, 29.Lashawn Roberts; 27.Kevin Thomas, 13.Omar Charles, 7.Travis Winchester (captain), 10.Krishawn Joseph; 21.Brian Hinds.
Coach: James Campbell
Referee: Sheldon Gomez
Man of the match: Ricardo Bennett (Real Maracas)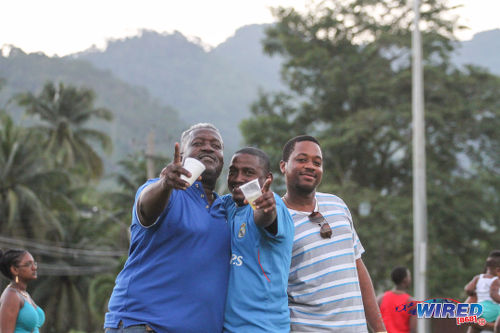 CNG National Super League League Premiership
(Sunday January 9)
Siparia Spurs 2 (Andy London 87, 89), Defence Force 3 (Michael Edwards 7, 24, Ronald St Louis 77) at Petrotrin Ground, Fyzabad;
Real Maracas FC 6 (Aaron Peters 25, 43, 53, Christian Thomas 32, Ricardo Bennett 47, Marvin Manswell 49), Stokely Vale FC 1 (Lashawn Roberts 75) at Maracas Recreation Ground;
La Horquetta SA 2 (Omeaku Barbour 7, Kwesi Windsor 79), Marabella Family CC 4 (Juma Clarence 8, 41, 67, 85) at Larry Gomes Stadium;
Guaya United 3 (Jody Allsop 21, Kheelon Mitchell 45, Ryan Stewart 47), FC Santa Rosa 2 (OG 10, Gary Bart 43) at Guaya Recreation Ground;
Matura ReUnited 1 (Dorian Robinson 65), Police FC 0 at Matura Recreation Ground;
Bethel United 2 (Teejay Cadiz 3, 32), Club Sando Moruga 4 (Nigel John 22, 90, Anderson Toussaint 65, Trevon Mitchell 78) at Montgomery Recreation Ground;
Petrotrin Palo Seco 2 (Willian Garcia 60, Cebastian Bailey 90), Tobago FC Phoenix 1976 3 (LeJandro Williams 14, 38, Aqui-Raiem Raymond 87).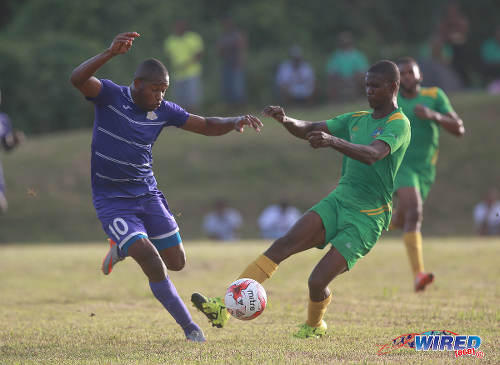 Upcoming NSL fixtures
(Thursday January 14)
Club Sando Moruga v Marabella Family CC, 4 pm, Grand Chemin Recreation Ground;
Matura ReUnited v Petrotrin Palo Seco, 4 pm, Matura Recreation Ground;
FC Santa Rosa v La Horquetta SA, 5 pm, Marvin Lee Stadium;
Stokely Vale v Guaya United, 5 pm, Plymouth Recreation Ground;
WASA FC v Real Maracas FC, 5 pm, Matura Recreation Ground.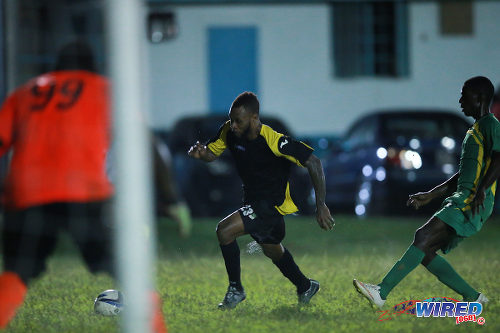 Standings (Played-Won-Drawn-Lost-Goals For-Goals Against-Points)
Defence Force  24-17-3-4-55-28-54
Guaya United  23-17-2-4-63-36-53
T'go Phoenix   24-14-5-6-48-30-46
Matura ReUtd 22-11-5-6-41-37-38
Santa Rosa       24-10-6-8-39-34-36
Police FC          24-10-5-9-52-39-35
WASA FC         23-10-4-9-35-25-34
Siparia Spurs   23-9-7-7-52-54-34
Marabella         24-7-9-8-49-48-30
Sando/Moruga 23-8-5-10-39-44-29
Petrotrin P/S    22-7-5-10-41-45-26
Bethel United   23-6-2-15-29-46-20
La Horquetta   22-5-4-13-37-60-19
Real Maracas   23-5-3-15-29-48-18
Stokely Vale      24-3-6-15-23-58-15