A brilliant half volley by Jesse Downing and two second half items from Amritt Gildharry and Kerron Mitchell led to a historical outing for Club Sando FC yesterday, as the newly promoted team finally recorded their first Pro League victory with a 3-0 win over Morvant Caledonia United at the Ato Boldon Stadium in Couva.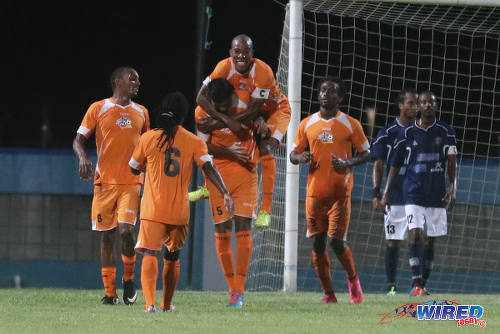 "It was a big relief to the players," Sando coach Anthony Streete told Wired868, after the final whistle.
As the Sando squad headed towards the players' tunnel with heads held high, Caledonia coach Jerry Moe, assistant coach Rajesh Latchoo and technical director Jamaal Shabazz huddled together for a quick post-mortem on the cycling track.
Four years ago, Caledonia were the Caribbean Club Champions. Now, they are joint bottom of the standings midway through the season.
If it isn't time to panic yet at Morvant Caledonia, then it must be pretty close.

Streete admitted that his players, who had lost five successive outings before last night, were licking their chops at the sight of the "Eastern Stallions."
"I think the boys were motivated (before kick off) knowing that it was Caledonia," said Streete, "and they are bottom of the table too."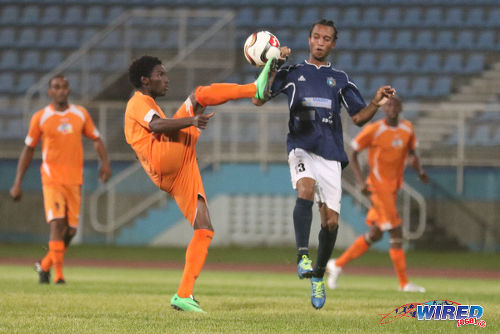 Sando's technical staff members were not shy about seizing the initiative either.
The San Fernando-based club started the season using the popular 4-2-3-1 formation before poor results saw them flirt with a more conservative 5-4-1. Yesterday, they went 4-1-3-2 with Kevon "Showtime" Woodley and Devon Mitchell operating as orthodox strikers.
"I think our adjustments helped in terms of our cohesion and shape," Sando technical director Muhammad Isa told Wired868. "We went to two strikers upfront and I think it made a big difference because they were able to compliment each other."
Arguably, the real battle line was drawn in central midfield where Caledonia's 30-something year olds, Densill Theobald and Abdallah Phillips, were in a turf war with Sando's 20-year-old pair of Akeem Humphrey and Jared London.
Theobald can still thread a needle in mid-sprint while Phillips shuffled the ball around briskly. But neither could gain a yard from Sando's tigerish and more mobile midfield duo.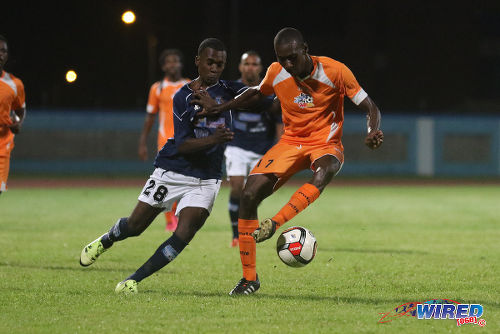 And Sando had forced their opponents back on their heels when Downing struck in the 37th minute.
Sando captain Kern Cupid slightly overhit his cross from right back but left back Kemuel Rivers dropped his diagonal ball right in the mixer. The Caledonia defence's headed clearance dropped on top of their own penalty box.
It was the type of slack rearguard work that often goes unpunished at this level. But not last night.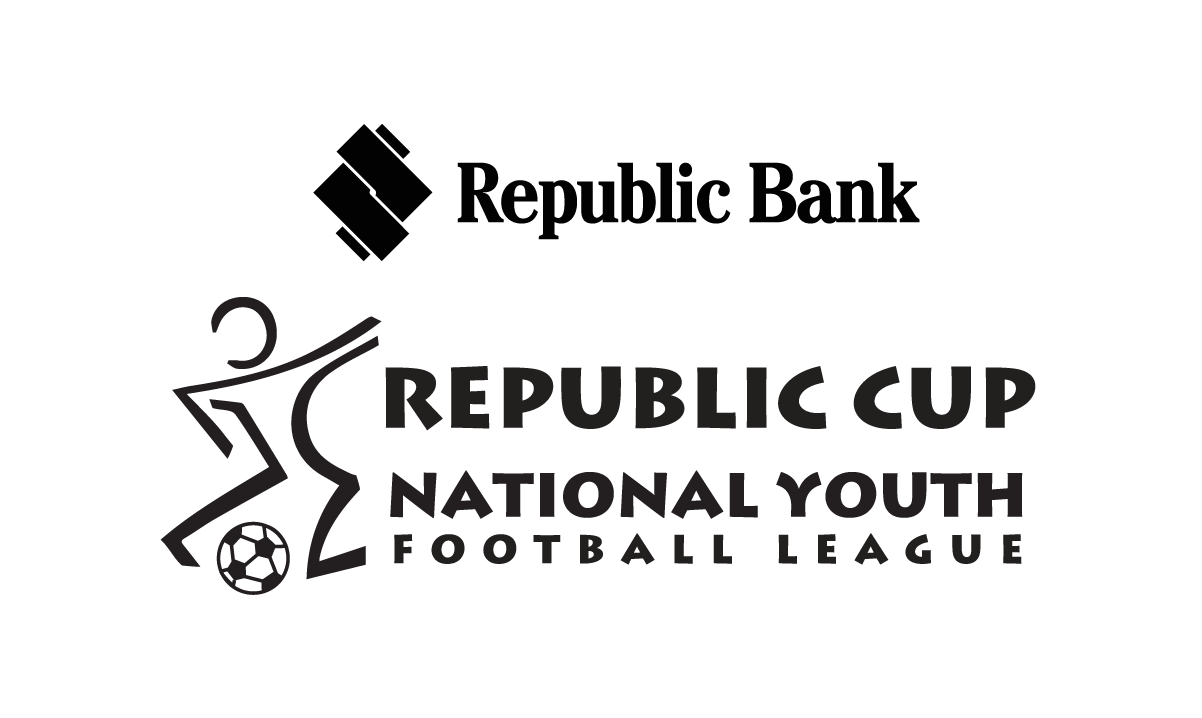 Downing met the ball with a sweet half volley, which sent it whizzing past young Caledonia custodian Deandre Villaroel—who deputised for Marvin Phillip due to his absence for international duty—and into the far corner.
Seven minutes into the second half, Sando doubled their advantage.
Caledonia captain Kareem "Tiny" Joseph made a superb headed clearance to keep a right side Ryan Frederick cross from reaching Woodley. But, from Modeste's subsequent corner kick, the table proppers would not be denied.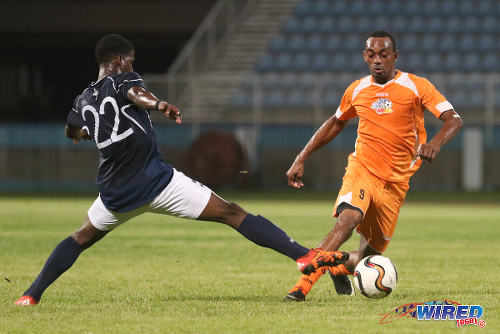 Villaroel blocked Woodley's initial volley but Gildharry rammed the rebound into the roof of the net in the 53rd minute.
Moe introduced former Finland-based midfielder Akim Armstrong and Guyana poacher Pernell Schultz and Caledonia did show some impetus.
Tiny came closest to a response, as he slapped one effort off the upright in the 61st minute after a give and go with Armstrong.
By then, though, Sando had conceded the midfield area for extra security at the back, as London dropped into central defence to create a 5-3-2 formation.
For all of Caledonia's territorial advantage, it was only their veteran right back, Joseph, who ever looked capable of getting behind the Sando defence. And that, simply, was not good enough.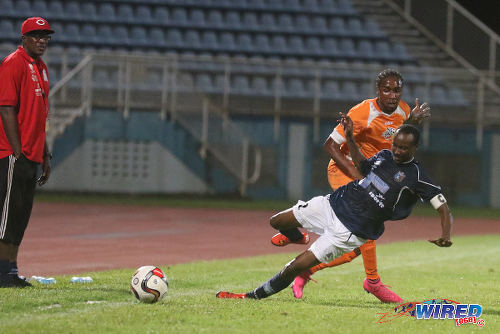 Sando added insult to injury with a third item, as Mitchell came off the substitutes' bench to convert a right side Humphrey cross. And it could have been worse as a Frederick free kick missed the far corner by inches, after an Otev Lawrence foul on another Sando substitute Shaquille Holder.
Streete and Isa were thrilled with the three points, though. And only goal difference separates 10th placed Sando and 9th placed Caledonia at the foot of the table.
"(That win) could not come at a better time than at the beginning of the year," said Streete. "We hope in 2016 we can prevail and reach the destination we want for ourselves, (which is) in the middle of the table."
The Sando technical staff admitted that some of their players, who competed in the National Super League (NSL) last season, were unable to rise to the occasion in the top flight. And they have already made cuts.
Sando hope to beef up their squad when the Pro League transfer window opens in roughly three weeks. Yesterday, they did not even face Caledonia with a full 18-man squad.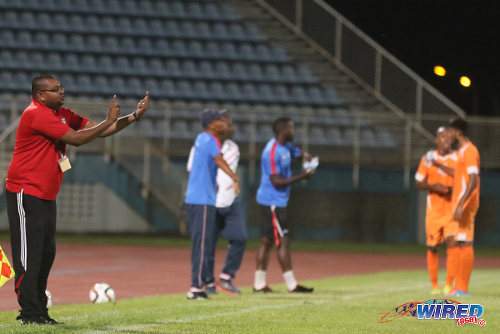 "I think we will do well this year because we will utilise the transfer window and make some changes," said Isa. "So we just want to hold on and pick up points where we can and wait for the transfer window (to open)."
While trying to hold on and pick up points where possible, Sando trounced the Eastern Stallions 3-0. That sobering fact hints at the scale of Caledonia's problems this season.
(Teams)
Club Sando (4-1-3-2): 34.Kelvin Henry (GK); 13.Kern Cupid (captain) (26.Shaquille Holder 68), 15.Amrit Gildharry, 22.Coneal Thomas, 6.Kemuel Rivers; 17.Jared London; 9.Jesse Downing (8.Jeromie Williams 59), 7.Akeem Humphrey, 19.Ryan Frederick; 16.Kevon Woodley (21.Kerron Mitchell 78), 24.Devon Modeste.
Unused substitutes: 33.Alexei Julien (GK), 10.Kevon Neaves, 12.Jack Weedon, 18.Shane Hospedales.
Coach: Anthony Streete
Morvant Caledonia United (4-1-3-2): 33.Deandre Villaroel (GK); 12.Kareem Joseph (captain), 15.Otev Lawrence, 4.Ordell Flemming, 23.Shaquille Edwards (17.Akim Armstrong 58); 13.Kyle Bartholomew (28.Pernell Schultz 58); 22.Jameel Neptune, 21.Densill Theobald, 16.Antonio Joseph (8.Anthony Charles 77); 11.Abdallah Phillips, 10.Sheldon Holder.
Unused substitutes: 3.Ranaldo Bailey, 24.Gregory President, 25.Chase Sealey, 26.Triffon Browne.
Coach: Jerry Moe
Referee: Dennis Changiah
Man of the match: Akeem Humphrey (Club Sando)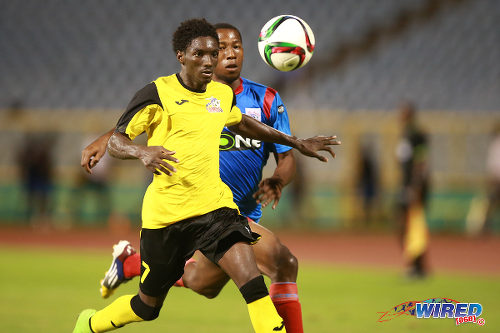 Pro League result
(Tuesday Jan 5)
Club Sando 3 (Jesse Downing 37, Amrit Gildharry 53, Kerron Mitchell 90+3), Morvant Caledonia United 0 at Ato Boldon Stadium;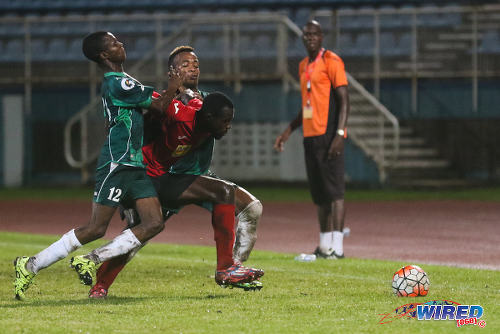 Upcoming fixtures
(Friday January 8)
Defence Force v Morvant Caledonia United, 6 pm, Hasely Crawford Stadium;
San Juan Jabloteh v North East Stars, 8 pm, Hasely Crawford Stadium;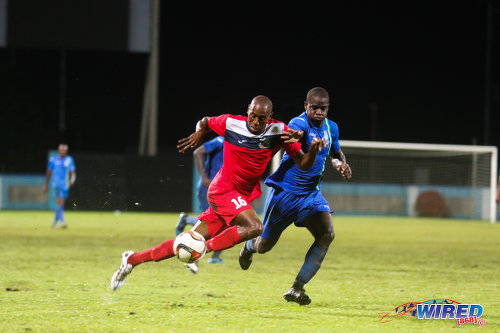 (Saturday January 9)
Police FC v Point Fortin Civic, 3.30 pm, Larry Gomes Stadium;
Club Sando v W Connection, 5 pm, Ato Boldon Stadium;
Central FC v St Ann's Rangers, 7 pm, Ato Boldon Stadium.