Prisons FC only needed a draw to secure the CNG National Super League (NSL) Championship crown last night and automatic promotion to next season's Premiership Division.
Instead, the "Wardens" were given the slip by Queen's Park Cricket Club (QPCC) FC at the Hasely Crawford Stadium, as the "Parkites" leapfrogged Prisons on the back of a 3-1 win to clinch the title on the final game of the season.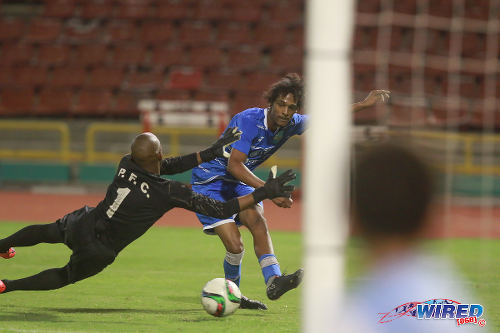 QPCC coach Shawn Cooper was beaming at the final whistle.
"This is why I came here, to get them over the line," said Cooper, who also coaches Presentation College (San Fernando) and the Trinidad and Tobago National Under-20 Team. "They said: Shawn, we had three chances to get in and we failed at the final hurdle. So we are bringing you in to make a difference."
At the other end, there was regret mixed with pride for Prisons coach Gary Prescott, whose team kicked off in pole position but found themselves three goals down within the opening hour.

"We still give all glory to Jesus," said Prisons coach Gary Prescott, "but if you look back at the last six or seven months (and) what the Prison Service has been through, with prison escapes and killings and death threats and so on.
"We felt the brunt of that too because we are prison officers first… It was really a mental challenge (and) I am really proud of them."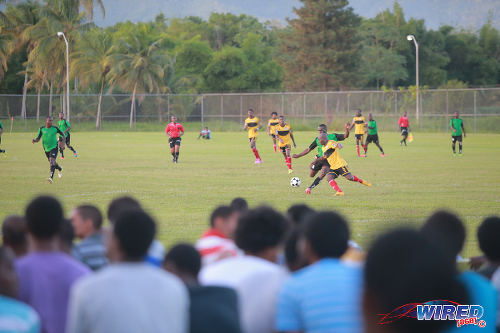 Prisons and QPCC should have decided the Championship title on Tuesday December 15, only for a blackout to force a postponement of their meeting as well as a clash between Petit Valley United FC and Edinburgh 500 FC.
The latter two teams kicked off first yesterday in a Port of Spain double header and Edinburgh 500 sealed a 2-1 triumph, thanks to a smashing 89th minute free kick from David Lendor, to rescue their Championship status and seal relegation for Xtra Foods Chaguanas FC.
QPCC were hunting a miracle too and left little to chance.
Controversially, the Parkites got permission from the stadium's management to narrow the playing surface by two feet on either side, in an effort to curb the speed and menace of free-scoring Prison winger, Ricardo Alleyne.
"To me, it is a disrespect to come to the national stadium and see two lines (drawn) on the field," Prescott told Wired868. "We can't go in Queen's Park and do anything to their field. This is the national stadium (and) this belongs to the people of Trinidad and Tobago…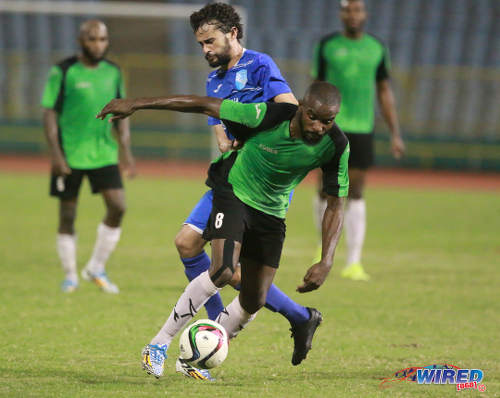 "Presentation College, which is coached by Cooper, played here without (narrowing) the field. So if they are big men playing football, I don't see why they can't play with the whole field."
Queen's Park offered no apologies for utilising their home advantage, though, and Cooper pointed out that his troops defeated Prisons on their large YTC ground as well.
"We are the only team who took six points from them," said Cooper. "They didn't do their homework. I knew they were going to come here tonight and try to run over us, seeing that we got six from UTT (in our last game). But it was a different team and a different strategy.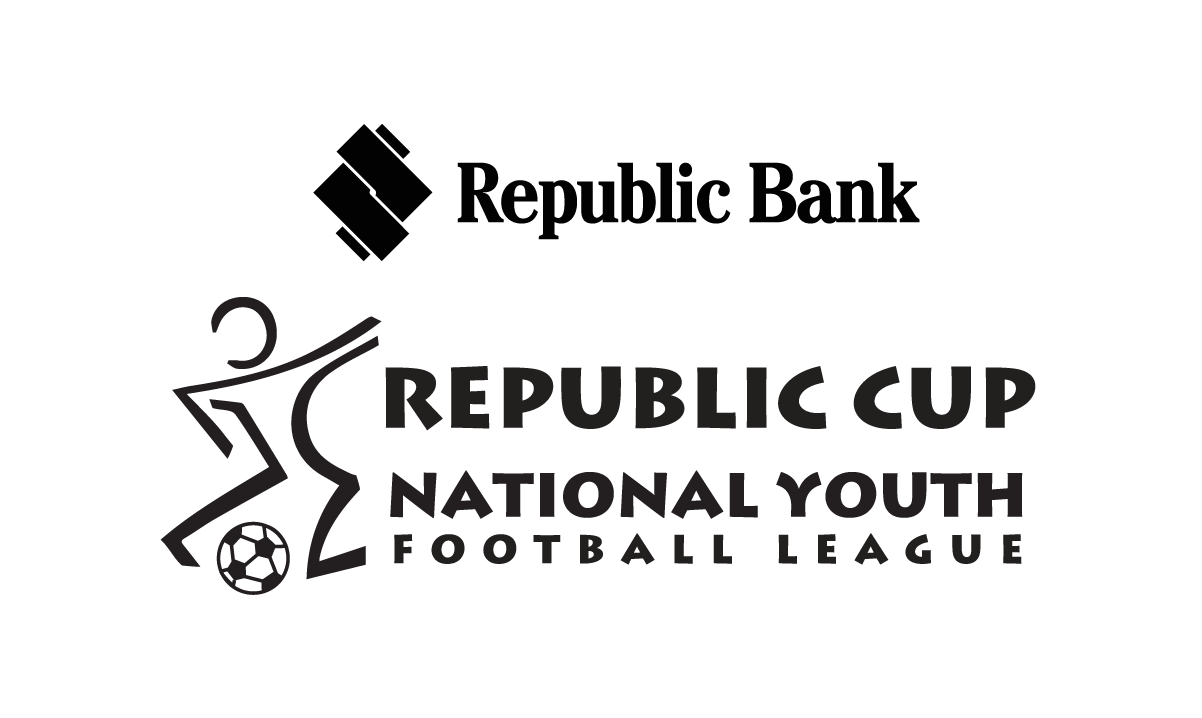 "We dropped off and sucked them in to play on the counter and it worked perfectly. They fell into our hands."
QPCC looked bewildered in the waterlogged playing conditions during their previous outing on Tuesday December 8, when they were crushed 6-2 by a Jamal Creighton-inspired UTT in O'Meara, Arima.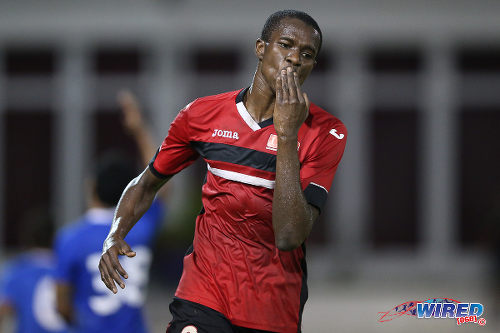 Yesterday, Cooper was desperate to exploit their home advantage, as they narrowed the field and then sat deep to limit space to their opponents on the sides and behind their backline.
"We are not a young, athletic team like most of (our opponents)," said the Parkites coach. "We have a few touch players and we play to plan."
QPCC's star winger Jason Devenish was also used in an attacking central midfield role at the expense of regular occupant, Jerome Charles.
"I played (Devenish) in the centre because I got information that they worked an hour or two with just their defensive unit," said Cooper. "I knew they would be coming to stop him on the sides of the field, so I put him inside to nullify whatever they were going to try.
"(Charles) was a bit upset he didn't start. But I told him believe in me and believe in the tactics."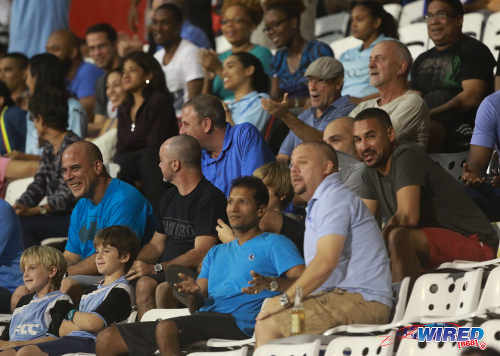 Prisons, with their rhythm section in full flight, made all the early running in front of close to 1,000 patrons, although their movement was largely in front of QPCC's back four.
But, against the run of play, the first real opportunity went to the Parkites. And they did not waste it.
Winger Mikhail "Nani" Walters-Dindial managed to wriggle free from the decidedly more muscular Prisons right back Keston Pierre to collect a loose ball on top of the opposing area and ghosted past Kidell Lewis before driving under the body of goalkeeper Jevon Bourne towards the far corner, where an unmarked Shabaka Mahluli was waiting to tap home in the 17th minute.
It was a well orchestrated goal by Walter-Dindial but also a shocking lack of commitment to the tackle by Pierre.
Prisons striker Curtis Carrington was inches wide with a diving header in the 22nd minute while, nine minutes later, QPCC goalkeeper Nicholas Dick was forced into a fine double save from Alleyne and Pierre.
As the interval beckoned, Prescott might not have been unduly worried, even as Devenish won a free kick from Lewis about 25 yards away from the Prisons goal. Devenish's curling set piece effort did not look problematic either.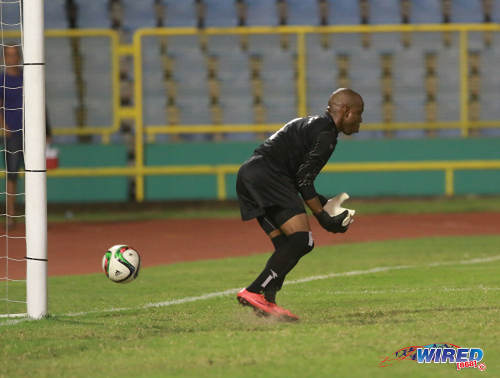 But, somehow, Bourne allowed the ball to slip from his grasp and into the back of the net. And Prisons were really in trouble.
"The mistake was disappointing but I won't say I was disappointed in the keeper," said Prescott. "If we rack up the points that he saved us during the season, it would be ungrateful for me to chastise him for one bad game…
"He had a bad game but we still love him 100 percent."
The Parkites dressing room was buzzing at halftime.
Cooper, an estate corporal at RBC, admitted that it took him some time to get the Queen's Park players to buy into his ideas and his first stint with the team did not bring as much success. But he is winning them over now.
"I came from a W Connection upbringing where Stuart Charles and Brian Williams and they are tactical coaches," said Cooper. "So that approach is instilled in me. It was a new environment and a new culture at Queen's Park, which is an upper middle class club where most of the guys are working and football is a part-time sport for them.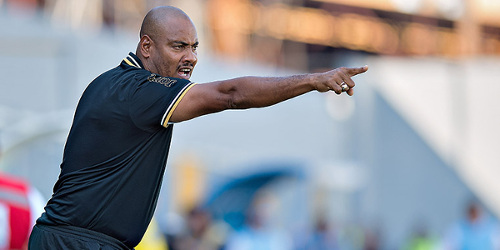 "The guys didn't buy in as much before as they have now. They stuck to the game plan and they knew discipline would get us through. And it did tonight."
Prescott was not suitably impressed.
"Nothing they did (tactically) caused any issues for us because we just threw away our chances," said Prescott. "If a team stops you from creating chances, then you can examine yourself tactically because then you need to adjust. But we threw away our chances."
Yet, within 10 minutes of the restart, Prisons conceded a third. Once more, the Parkites benefitted from a rapid transition game.
There was no error to pick on in Prescott's backline on this occasion. Just a vertically challenged Prisons goalkeeper and a perceptive Parkites attacker.
Benedict Barrett stepped in off the left flank and curled a brilliant effort high into the far corner that Bourne, who was off his line, would have needed a stepladder to reach.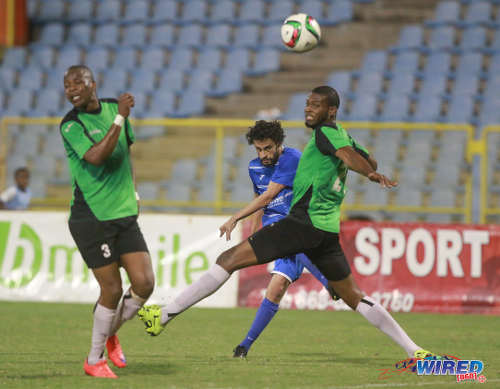 "All the goals came from off the training field," said Cooper, who said he took advice from "Soca Warriors" coach Stephen Hart to break his team's scoring drought, "which made me feel very proud."
The fat lady began clearing her throat in the 72nd minute when Pierre was shown a straight red card for shoving Devenish. In fact, Devenish was the provocateur, as he slyly dragged his boot across the Prisons defender after Pierre executed a tackle.
But referee Gregory Guevarra saw only Pierre's aggressive response.
Prisons threw on another attacker and got the consolation goal they deserved, as substitute Questelle Walters finished off a feed from Carrington in the 84th minute.
But, for all the huff and puff of Prescott's officers, they were largely kept at bay by a Parkites defence that was competently guarded by two midfield sentries in Nasyir Rodriguez and Mikhail Awai.
Cooper singled out Awai, the team captain and a former Pro League player with St Ann's Rangers, as instrumental in QPCC's success.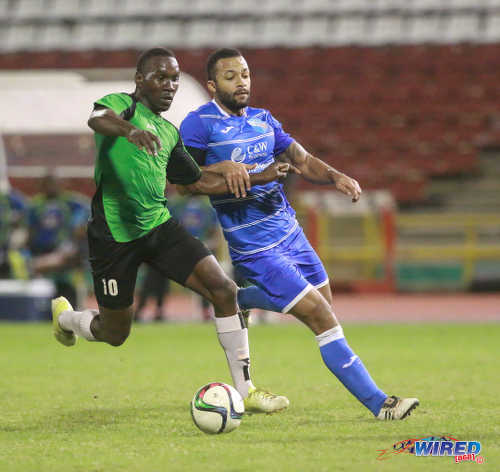 Last week, Awai and substitute Chike Phillip were both unavailable due to professional duty off shore as sub-sea robotic pilots/technicians.
"It worked out fine with the (blackout) as our skipper was offshore and he only came back today," said Cooper. "That was a blessing in disguise and God must have set up this for us to win… Mikhail (Awai) is a general. When he is on the field, the players have full confidence in themselves.
"When he is on the field and we have that leadership, anything is possible."
For the Parkites, it is on to the Premiership now, which is one rung below the Pro League.
Prescott, whose team lead for much of the season and scored the most goals in the division while conceding the fewest, took a moment to appreciate their season's work.
"Our aim was to let people respect Prisons in football and see that we are serious and organised," he said. "We played nice football but we didn't score the goals and Queen's Park did."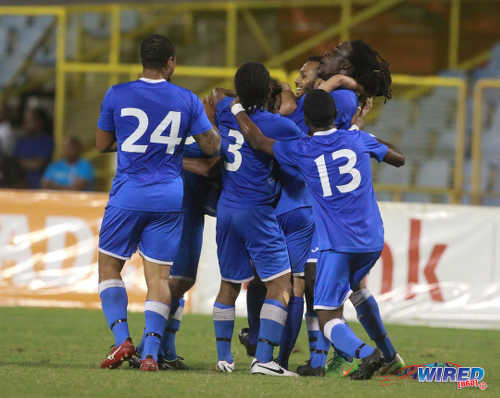 Ruefully, the 38-year-old Prescott credited the 50-year-old Cooper with introducing him to the coaching profession by offering him a job with Naparima College's Under-14 and Under-16 teams.
"Cooper and Dunstan Williams started me in coaching at Naparima," said Prescott, "so I have love and respect for Cooper… It was like the teacher versus the student (tonight)."
Next season, Prescott will have to show what he has learnt, as Prisons try to follow QPCC into the NSL top flight.
"I think the winner this season was the league itself," said Prescott. "Hats off to teams like Cunupia and Barrackpore and UTT, who were organised and gave us a fight. Any team that's coming from the zone to this (league) has to prepare properly (because) this is a different level of football."
(Teams)
QPCC (4-2-3-1): 1.Nicholas Dick (GK); 13.Kishan Geelal, 6.Chad De Freitas, 21.Alex Knaggs, 3.Jovan Marshall; 38.Nasyir Rodriguez, 4.Mikhail Awai (captain); 20.Shabaka Mahluli (19.Jerome Charles 56), 10.Jason Devenish (14.Ryan De Silva 81), 11.Mikhail Walters-Dindial (24.Chike Phillip); 9.Benedict Barrett.
Unused Substitutes: 22.Matthew Jardim (GK), 8.Akil Glasgow, 18.Paul Lawrence, 25.Ackime Prudhomme.
Coach: Shawn Cooper
Prisons FC (4-2-3-1): 1.Jevon Bourne (GK); 3.Keston Pierre [Red card 72], 21.Kidell Lewis, 4.Terrence Gene (captain), 20.John Stewart; 9.Stephen Julien; 8.Ricardo Alleyne, 99.Anthony Parris, 7.Roland Walcott Jr (14.Larry Albert 79), 16.Lance Haynes (17.Questelle Walters); 10.Curtis Carrington.
Unused substitutes: 25.Ricardo Wade (GK), 5.Sean Diaz, 13.Leon Lewis, 24.Shaun Checkley, 19.Randy Primus.
Coach: Gary Prescott
Referee: Gregory Guevarra
Man of the match: Mikhail Awai (QPCC)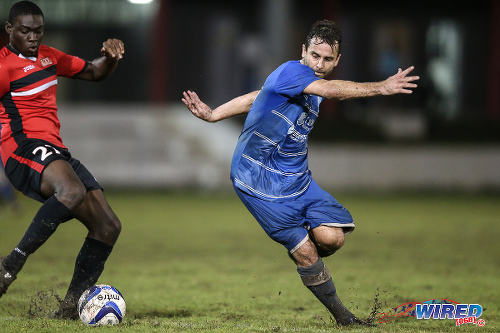 CNG NSL Championship results
(Monday December 21)
Petit Valley United FC 1 (Keston Bibby-Cummings 86), Edinburgh 500 FC 2 (Calvi Grazette 45, David Lendor 89) at Hasely Crawford Stadium;
QPCC 3 (Shabaka Mahluli 17, Jason Devenish 44, Benedict Barrett 55), Prisons FC 1 (Questelle Walters 84) at Hasely Crawford Stadium.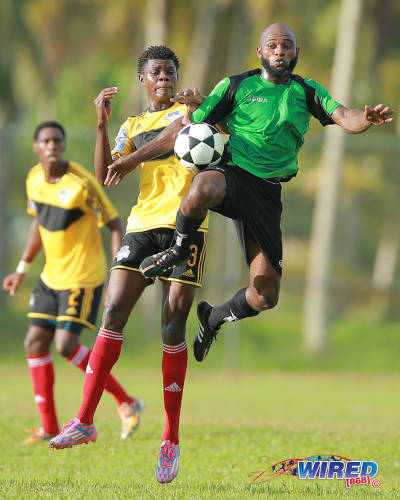 CNG NSL Championship Division standings
(Tabulated as played-won-drew-lost-goals for-goals against-points)
QPCC FC                18-13-4-1-41-23-43
Prisons FC              18-13-2-3-44-17-41
Cunupia FC            18-11-6-1-43-18-39
Saddle Hill             18-8-2-8-45-40-26
UTT                          18-7-2-9-45-36-23
Petit Valley Utd    18-6-3-8-32-39-21
Barrackpore Utd  18-6-2-10-34-31-20
Edinburgh 500      18-5-2-11-20-36-17
Chaguanas FC       18-4-4-10-23-45-16
Malabar FC            18-3-1-14-23-65-10