DirecTV W Connection attacker Jomal Williams continued his dazzling form yesterday, as he helped the "Savonetta Boys" cruise to their second cup triumph of the 2015/16 season with a 4-0 whipping of the 10-man Defence Force team in the Toyota Classic final at the Hasely Crawford Stadium, Port of Spain.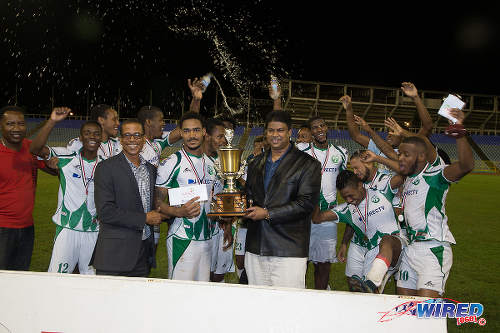 The result meant a $75,000 cash prize for Connection and a second MVP of the season for Williams, who was also named First Citizen's Bank Cup MVP for his exploits just over a month ago.
"Jomal is developing but he still can improve and be a little more consistent during the 90 minutes," W Connection coach Stuart Charles-Fevrier told Wired868. "But he definitely has come a long way and he has tremendous talent."
Although Williams was the man of the moment, it was Defence Force striker Devorn Jorsling who provided the biggest talking point of the final, as he had a moment of madness in the 45th minute.
The Pro League's all-time leading goal scorer is not known for holding back his feelings but last night referee Crystal Sobers was in no mood to hear his thoughts.
With Defence Force already trailing two-nil, Jorsling reacted angrily to a decision which went against him, after a tussle with a couple of Connection defenders near the penalty area, and talked his way into a yellow card.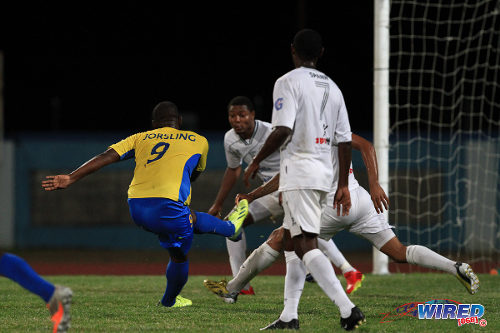 "If you get a yellow card for talking I think there and then you should hush your mouth," said disappointed Defence Force coach Marvin Gordon. "Because if she give you one card for talking, automatically she will give you another if you continue."
However, the yellow card did not seem to deter Jorsling, who continued to press Sobers and, within seconds of his first booking, was giving marching orders.
By then, Connection were already in charge, with veteran playmaker Andre Toussaint and skipper Alvin Jones controlling proceedings in the middle of the park.
The Connection skipper was the first to test the mettle of Defence Force goalkeeper Sheldon Clarke in the 12th minute, as he arched a wicked, dipping 38-yard free kick towards the bottom corner which brought a smart save from the shot-stopper.
But Clarke was hapless to stop Williams, nine minutes later, as the MVP slotted home unmarked at the back post, after being found by a right side Jones pass that was intended for Winchester.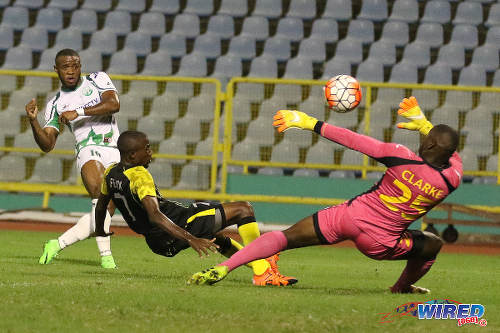 "I thought defensively we weren't marking and tracking (off-the-ball runs) well enough," said Gordon, "and the first goal was a soft goal. It was bad marking and tracking on our part."
Connection's goal brought the Army/Coast Guard combination into life and Gordon's adjustments caused some worrying moments for the Savonetta Boys after the half-hour mark.
Midfielder Jelani Felix had a stinging left-footed shot deflected wide from a tight angle in the 34th minute while a header from centre-back Glynn Franklyn off the ensuing corner kick yielded the same agonising result.
At the other end, Connection showed that they did not need many bites at the cherry.
Toussaint and combative Dominican midfielder Briel Thomas strolled through the Army's passive backline in the 39th minute before feeding Winchester on a platter, inside the six-yard box, to make it 2-0.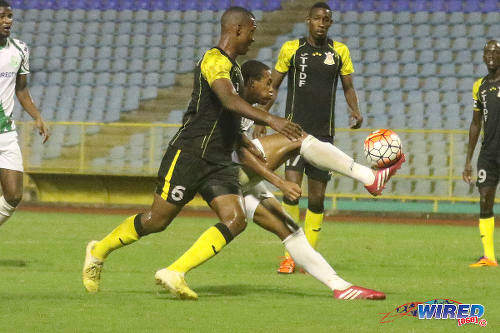 "Knowing the threat of Winchester, Williams and Benjamin, I wanted one of my centre halves to try and drop off in case the other went into a challenge," said Gordon, "because they are all very quick players.
"But I think my players didn't work hard enough defensively to stop them."
As if trailing two-nil and being a man down was not bad enough, imagine shooting yourself in the foot.
That is exactly what defender Curtis Gonzales did in the 66th minute as he cheaply gave possession away to Connection substitute Dwight Quintero, inevitably leading to Connection's third goal which was easily scored by Benjamin Jr.
"At the start of the second half I thought we were doing brilliantly but another defensive mistake let us down as Curtis Gonzales gave away the ball cheaply and that caused the third goal," said Gordon. "The third goal really buried us."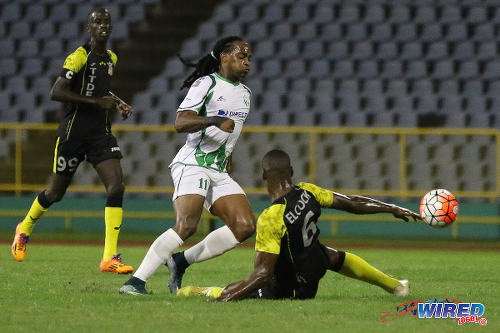 Former Connection attacker Hashim Arcia had half a chance to grab a consolation for his team in the 72nd minute but he failed to control a pass by midfielder Stephan Campbell, just on the edge of the 18-yard box.
Instead, it was Connection who notched their fourth and final item in the 89th minute through a tap in by substitute Aikim Andrews, after some excellent play by Williams on the left side of the box.
"I thought we deserved to win," said Charles-Fevrier. "We were the better team and we definitely showed more quality than Defence Force.
"But knowing them, they'll go back to the drawing board and bounce back because they have the capability to do so."
Connection have now won both knockout competitions on offer thus far this season. But, despite their excellent cup form, they are yet to win a game in the 2015/16 TT Pro League season.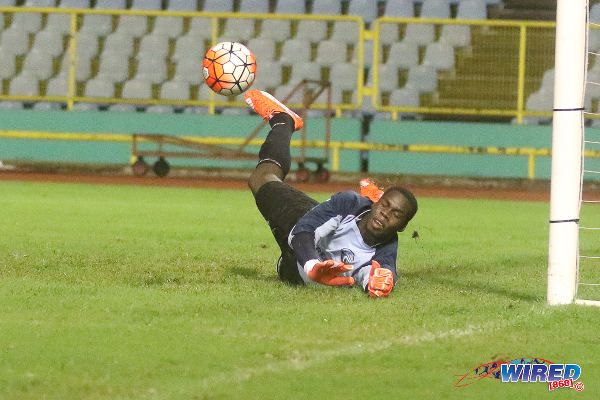 Charles-Fevrier explained why his team is yet to hit top gear in Pro League play.
"The cup is a shorter competition where it can give you glory after about three or four games," said the Connection coach, "and we get a certain level of focus because we know we can be champions after (a short period). So it's about being more consistent in the league and keeping that focus."
"No two games are the same, every game is different. We have to take our chances and score our goals and tonight we did that."
Thankfully for Defence Force, Clarke stopped a fair share of Connection's chances, otherwise the Classic final could have finished with a tennis score.
There was a similar 4-0 score line in the Secondary Schools Toyota Classic Challenge match, which preceded the grand final, as St Mary's College trounced North Zone rivals Fatima College after a clinical first half display.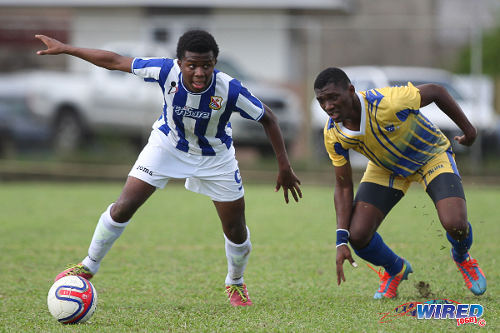 The $10,000 Classic Challenge purse would have been a welcome sight for the "Saints", who largely struggled for consistency throughout a difficult Secondary Schools Football League (SSFL) Premier Division season before a mid-table league finish and a North Zone Intercol final loss.
On the other hand, Fatima changed coaches during the Premier Division season and only escaped relegation through a superior goal difference to Tobago's Speyside High.
(Teams)
W Connection (4-2-1-3): 18.Julani Archibald (GK); 21.Shannon Gomez, 3.Gerard Williams, 5.Triston Hodge, 2.Kurt Frederick; 16.Alvin Jones (captain), 8.Briel Thomas; 14.Andre Toussaint (17.Aikim Andrews 70); 11.Neil Benjamin Jr (12.Demitri Apai 80), 10.Jomal Williams, 9.Shahdon Winchester (19.Dwight Quintero 57).
Unused Substitutes: 1.Terrence Lewis (GK), 4.Maurice Ford, 13.Kion Joseph, 23.Kevon Goddard.
Coach: Stuart Charles-Fevrier
Defence Force (4-2-3-1): 25.Sheldon Clarke (GK); 8.Curtis Gonzales (3.Jamali Garcia 70), 6.Rodell Elcock, 2.Glynn Franklyn, 21.Akile Edwards (10.Hashim Arcia 51); 99.Jerwyn Balthazar (captain), 52.Stephan Campbell; 7.Jelani Felix, 23.Kerry Joseph (26.Richard Roy 51), 17.Ross Russell Jr; 9.Devorn Jorsling [Red card 45].
Unused Substitutes: 80.Aaron Enil (GK), 4.Dave Long, 5.Devin Jordan, 12.Jemel Sebro.
Coach: Marvin Gordon
Referee: Crystal Sobers
Man of the Match: Jomal Williams (DIRECTV W Connection)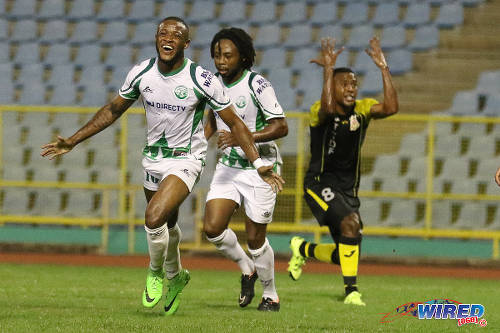 Toyota Classic Most Goals: Jomoul Francois (North East Stars) (4)
Toyota Classic MVP: Jomal Williams (DIRECTV W Connection)
Toyota Classic Cup final 
(Sunday December 6)
DirecTV W Connection 4 (Jomal Williams 21, Shahdon Winchester 39, Neil Benjamin Jr 66, Aikim Andrews 89), Defence Force 0 at Hasely Crawford Stadium;
SSFL Toyota Classic Challenge
(Sunday December 6)
Fatima College 0, St Mary's College 4 (Daniel Conocchiari 7, Chinua Bernard 19, Tyrese Spicer 42, Ethan Shim 44) at Hasely Crawford Stadium.