Trinidad and Tobago Women's National Under-20 Team goalkeeper Rebecca Almandoz was a picture of defiance as the two island republic avoided a lopsided score summary in their opening 2015 CONCACAF Championship fixture against Canada yesterday in San Pedro Sula, Honduras.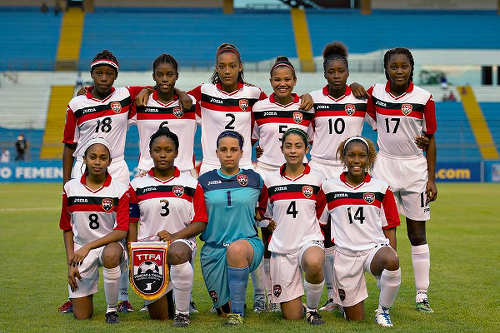 At the final whistle, the North American outfit emerged 2-0 victors but it might easily have been worse as they peppered the teenaged "Women Soca Warriors" with shots.
The match stats showed that Canada managed 25 shots over the 90 minutes with 10 efforts on target, most competently handled by Almandoz, and one off the woodwork.
Trinidad and Tobago, captained by defender Renee Mike, did not muster a single shot—on or off target—and had just one corner kick to show for their offensive efforts in the game.
National Under-20 Team coach Jason Spence commended his players for their application and spirit, despite less than ideal preparation. And Spence suggested his squad had "closed the gap" on Canada, notwithstanding the fact that they were bombarded throughout the contest.

"Credit definitely has to be given to the players for literally jumping off a plane to face a power house in women's football and giving a gallant, solid showing," Spence told the TTFA Media. "We will certainly be building on this game. We lost the game in two moments of not shutting down the play quick enough.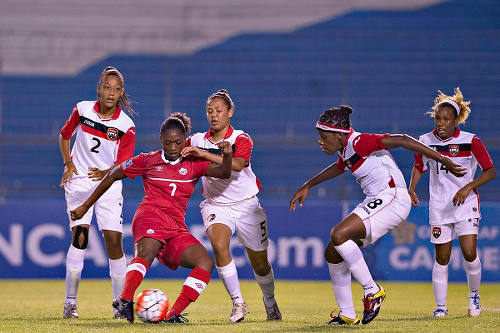 "The positives certainly are that we have shown growth in the way and methods we use at this level. The scoreline in the CONCACAF Under-17 qualifier, two years ago, was a 11-0 victory for Canada from which the same core of players were involved.
"So clearly we have closed the gap and certainly if we had gotten the preparation I asked for and we arrived in Honduras earlier it would have put us in a better position psychologically and physically."
Spence also credited his charges' tactical discipline in the fixture.
"We made life quite frustrating for them as we stuck to our shape and we were disciplined for the most part of the match," said Spence. "Unfortunately we have to use the games in the tournament also as our warm up games.
"Nevertheless I am pleased with the way and the discipline shown by the team tonight."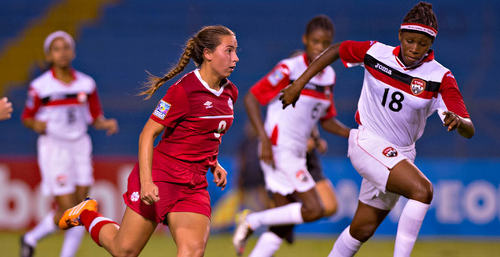 The Trinidad and Tobago U-20s will be in action again on Saturday against the host nation, Honduras, from 7.30 pm in San Pedro Sula.
Yesterday, Honduras opened their campaign with a 2-2 draw against Jamaica.
(Team)
Trinidad and Tobago: 1.Rebecca Almandoz (GK); 2.Shaunalee Govia, 3.Renee Mike, 4.Sawsha Woznuk, 5.Amaya Ellis, 6.Kelsey Henry (19.Ranae Ward 77), 8.Shanelle Arjoon, 14.Chevonne John, 17.Kedie Johnson (9.Raenah Campbell 46), 18.Naomie Guerra, 10.Tsaianne Leander (20.Laurelle Theodore 65).
Unused substitutes: 12.Nicolette Craig (GK), 13.Chelsea Frederick, 15.Paul Shenieka, 11.Celeste Thomas, 16.Tonya Richards, 7.Maya Matouk.
Coach: Jason Spence
Referee: Alondra Arellano (Mexico)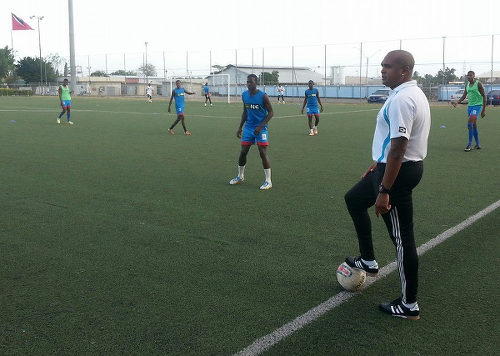 CONCACAF Under-20 Championship results
(Thursday December 3)
Canada 2 (Sarah Kinzner 16, Martina Loncar 81), Trinidad and Tobago 0 at San Pedro Sula
Jamaica 2, Honduras 2 at San Pedro Sula
Upcoming fixtures
(Saturday December 5)
Canada v Jamaica, 5 pm, San Pedro Sula
Honduras v Trinidad and Tobago, 7.30 pm, San Pedro Sula.