Naparima College will battle St Anthony's College for the Coca Cola 2015 National Intercol title next Monday at the Mannie Ramjohn Stadium, after they squeezed past a resilient St Augustine Secondary outfit 2-1 yesterday at the Marabella venue.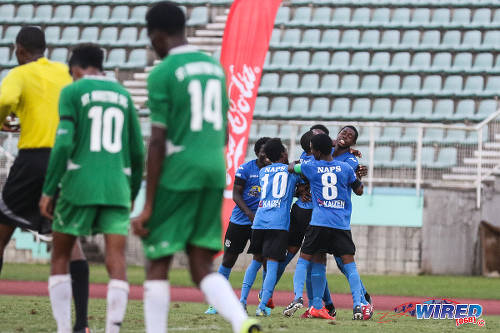 Coach Michael Grayson's "Green Machine", which was playing its second game in the space of three days, looked understandably weary and went into an ultra-defensive mode after skipper Joshua Marshall put them ahead in the 13th minute from the penalty spot.
"To be honest I didn't know how my team would respond to the first 15 to 20 minutes," Grayson told Wired868. "The initial plan was not to give up anything in that period and, fortunately for us, we got the penalty which took off a little bit of the pressure. But the legs weren't there and they were just playing on a lot of heart.
"It would have been better if we had another day rest but thanks to the SSFL and the poor administration it wasn't possible.
"What would have happened if Speyside had won? Unless (THA chief secretary) Orville London hired a plane, this game would have been postponed because they would not have gotten a flight."

The lead-legged St Augustine team rarely ventured near the "Naps" 18-yard box after Marshall's penalty, which was the result of a silly Khris Stroud challenge on playmaker Jesse Joseph following a corner kick.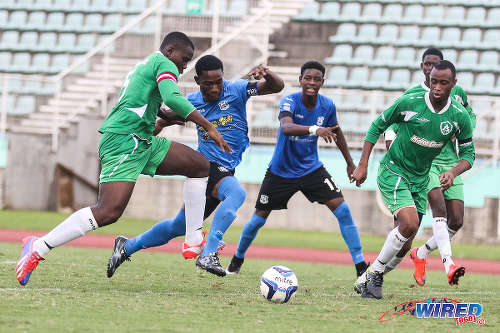 Marshall and his troops then tried to repel a relentless Naparima team, which was led by in-form forward Isaiah Hudson.
The Naps sharpshooter got little breathing room, as St Augustine's defensive midfielder Ainsworth Grant stuck to him like white on rice and the pair shared a special bond yesterday. If Hudson had gone off for water, Grant would have probably asked for a sip.
Naparima grew increasingly frustrated by the stubborn East Intercol champs, and most of their first half attempts were restricted to shots from long range. Although St Augustine custodian Yannic Gamaldo did seem troubled by what should have been regulation efforts.
Gamaldo spilled a 32-yard drive by Naps skipper Michael Basdeo in the 17th minute before repeating the mistake from the ensuing corner. He then produced an awkward save with his thighs to stop a ferocious, long range effort by Basdeo's midfield accomplice, Shane Sandy, in the 36th minute.
St Augustine were now defending with as many as nine players behind the ball, as they tried their best to keep out Angus Eve's two-time Premier Division champs.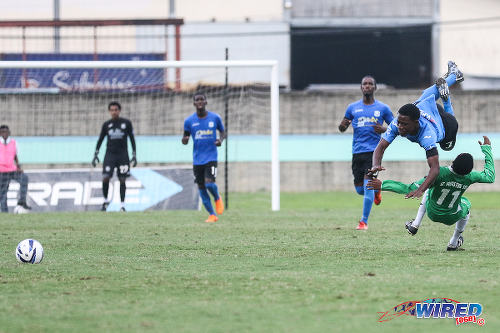 Coincidentally, St Anthony's College, the other 2015 Intercol finalist, are the only team to effectively shut out and defeat Naparima this season. But Eve was wise to Grayson's game plan.
"Clearly (St Anthony's coach) Nigel Grosvenor had to talk to Grayson because they did the exact same thing," said Eve. "We saw him put the big number four (Grant) on Hudson and then we saw him position the two centre-backs even closer. But we analysed at half time and we made the change to go two up top."
The lively Akinola Gregory replaced Stroud at the interval and the attacker wasted very little time to show his abilities to the St Augustine defence.
Gregory blew by opposing left-back Kendell Boneo, mere seconds after the restart, and delivered a devious cut-back, which caused all sorts of problems as an attempted clearance slammed into Naps attacker Jarred Dass and ricocheted into the St Augustine goal.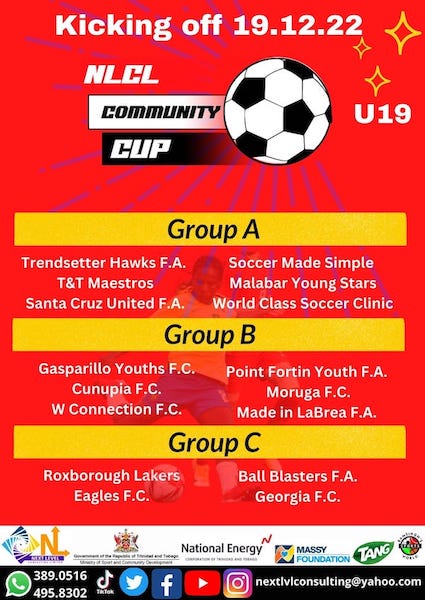 "Losing a goal in the first minute of the second half," said Grayson, "something had to have gone wrong somewhere."
Despite being level at 1-1, St Augustine continued to hang on.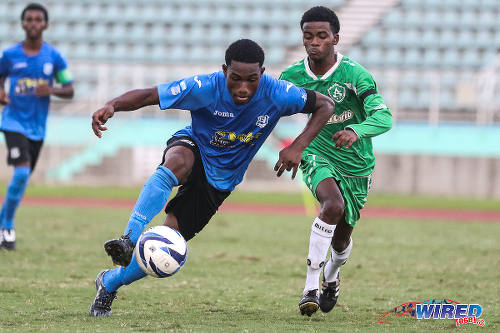 Boneo redeemed himself in the 53rd minute as he spectacularly saved a goal bound effort by Dass with his feet, while Gamaldo did the same nine minutes later to thwart a determined Hudson.
As the game wore on, Naparima's flanks looked like the avenue for a regular time winner, as St Augustine's "Three Musketeers" of Grant, Marshall and centre-back Zion Holder commanded the central defensive area.
Perhaps spurred on by their defensive prowess at the back, St Augustine's attackers finally came alive in the dying moments of the game and they conjured up a chance that nearly snatched the victory.
First half substitute Moses Jaikeran was unable to provide the golden touch though, as he struck a left-footed shot agonisingly wide of Levi Fernandez's goal following a throw-in on 86 minutes.
Gregory and company showed their opponents how to prosper from a throw-in in the second minute of stoppage time as the aforementioned attacker quickly tossed to Sandy, who shrugged off a challenge inside the box before squaring to substitute Shobal Celestin who was on hand to tap in from close range.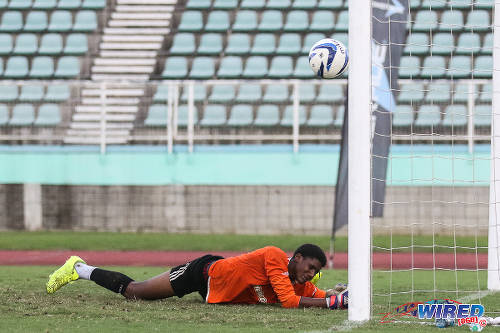 "We were doing well up until the final minute when we failed to put in a tackle in the area," said Grayson, in a subdued tone, "and the player was able to get in a cross which created the winning goal.
"That last minute goal hurt more than if the goal was scored in the middle of the game."
Celestin's timely winner now means that Naparima College will go in search of their third trophy of the 2015 SSFL season on Monday against St Anthony's.
And a buoyant Eve had a message for the "Westmoorings Tigers."
"I think for the advertisement of school football (with SportsMax airing the game live), I don't think people want to see one team park the bus and create a drab final," said the Naparima coach. "I would love St Anthony's to come out and play attractive football and try to beat us so the fans could enjoy the Intercol final and bring it back to the days of old."
Will "Grovie" accept the challenge?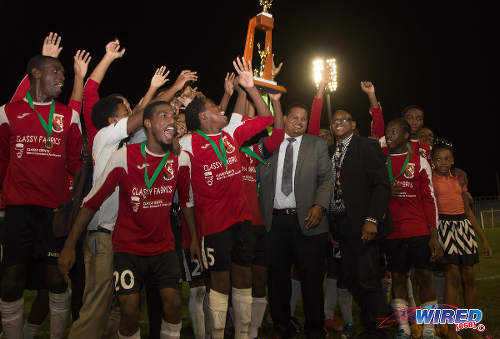 Only time will tell.
(Teams)
Naparima College (4-2-3-1): 22.Levi Fernandez (GK); 4.Nicholas Thomas, 16.Anderson Toussaint, 19.Stephon Smith, 3.Khris Stroud (7.Akinola Gregory 46); 21.Justin Sadoo (10.Jeremiah Kesar 73), 6.Judah St Louis; 12.Jarred Dass (9.Shobal Celestin 65), 11.Shane Sandy, 8.Michael Basdeo (captain); 18.Isaiah Hudson.
Coach: Angus Eve
St Augustine Secondary (4-1-4-1): 1.Yannic Gamaldo (GK); 27.Rayhan Phillip, 3.Zion Holder, 5.Joshua Marshall (captain), 11.Kendell Boneo; 4.Ainsworth Grant; 19.Kenton James (10.Moses Jaikeran 38), 8.Jesse Joseph, 14.Tyriq Alexander, 9.Anthony Samuel (18.Dike Wilson 72); 7.Isaiah Lee.
Coach: Michael Grayson
Referee: Rodphin Harris
Man of the Match: Akinola Gregory (Naparima College)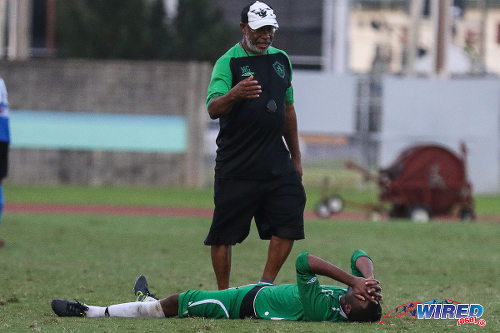 National Intercol semi-final
(Wednesday November 25)
Naparima College 2 (Jarred Dass 46, Shobal Celestin 90+2), St Augustine Secondary 1 (Joshua Marshall 13), Mannie Ramjohn Stadium;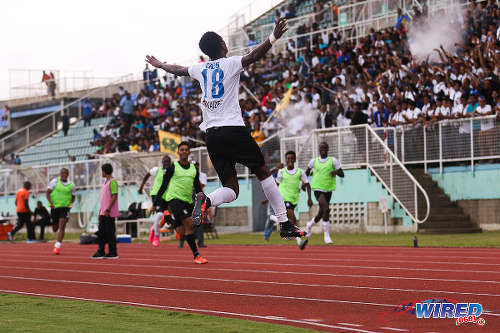 National Intercol final
(Monday November 30)
Naparima College v St Anthony's College, 3.30 pm, Mannie Ramjohn Stadium.