A predatory first half double by St Anthony's College substitute Haile Beckles was all it took to decide the first 2015 Coca Cola National Intercol semifinal at the Hasely Crawford Stadium today.
Beckles, who came on for injured left-back Jediael Harewood in the 26th minute, took just nine minutes to make his lightning, quick presence felt, as he latched on to a flick on from St Anthony's custodian Jabari Brice at the edge of the Carapichaima East area before slamming a low, angled shot past opposing goalkeeper Dejourn Charles.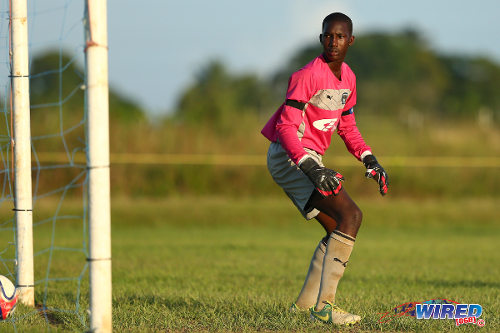 The diminutive Beckles then sealed the contest in the 45th minute, as he squeezed a shot past Charles from close range after receiving a dangerous cross from 2014 Intercol winner Kathon St Hillaire.
St Hillaire, who won last year's National Intercol title with Mucurapo East Secondary, now has the chance to make the unlikeliest of repeats with his new schoolmates come next Monday.
The St Anthony's performance was not as convincing or as fluent as their North Zone Intercol winning display though, as the "Westmoorings Tigers" often struggled to find their rhythm against a feisty Carapichaima outfit.

"I was not pleased with the performance at all," St Anthony's coach Nigel Grosvenor told Wired868. "The boys came out today wanting to hold on to the ball too long and wanting to dribble. I don't know if that was because of cockiness or being overzealous."
St Anthony's skipper Simon Joseph showed that he was ready to set an early example for his teammates though, as he forced a fine, flying save from Charles with a free kick from about 25 yards out in only the second minute.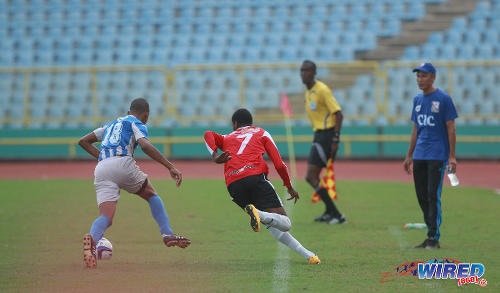 The burly defender then tried his hand at playmaking in the 10th minute, as he slipped a clever pass to forward Shakeem Patrick from another free kick situation. But Charles was equal to the task once again as he tipped the attacker's shot overbar.
Midfielders Nicaya Mahon and Jodel Brown also came close to opening the Tigers' account inside the first 20 minutes, but both found Charles and the "Caps" defence in their way.
Then came the moment that changed the course of the first National Intercol semi.
Carapichaima right-back Michael Williams found himself face-to-face with Harewood on the wing, and he baited the Tigers left-back into a challenge before doing a smooth step over, which led to a rash challenge by the defender. Ironically, Harewood came out on the worse end of the challenge and had to be replaced by Beckles.
Some might say Harewood's tackle had the "perfect" timing.
"It was unfortunate Harewood got injured and I had to put a forward (Patrick) to play left-back in order to put Haile up top," said Grosvenor. "I suppose if Harewood did not get injured things would not have worked out that way…"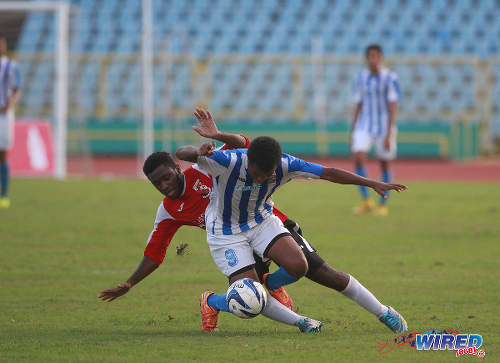 Grosvenor laughed, after the match, as he mused over his first substitution. But Beckles was in no joking mood when he came on and immediately began using his speed to hustle the Caps backline.
And the forward got his first reward in the 35th minute as he outpaced pocket-sized left-back Jerome Forte before drilling a right-footed shot below Charles.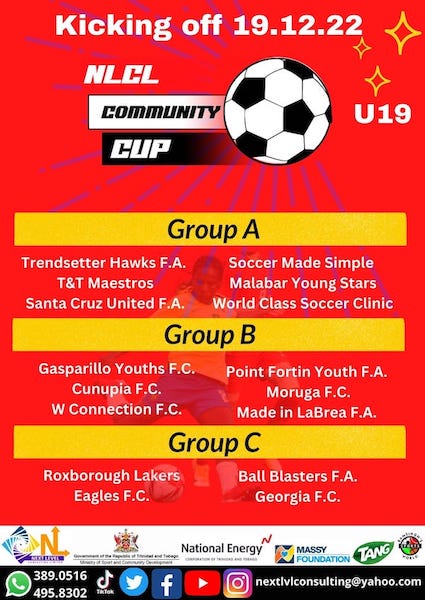 Beckles' opening item could not have come at a better time too as, three minutes earlier, Carapichaima had their best goal scoring opportunity of the first half thwarted by Brice.
Beckles then doubled his tally on the stroke of half time as St Hillaire picked him out in the penalty area after making the most of a failed clearance on the edge of the opposing penalty area by Carapichaima defender Darreon Thomas.
The Kevin Jeffrey-coached Carapichaima team came out asking questions of the North Zone Intercol champs at the start of the second half and manufactured the best move of the game in the 62nd minute when skipper Aaron Kennedy delightfully combined with lively midfielder Colin Wheeler at the edge of the area.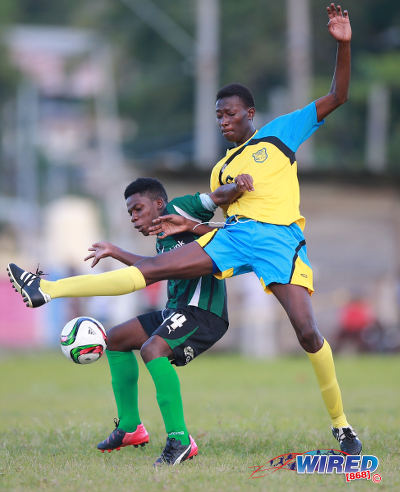 However, Wheeler's shot failed miserably to match the slick move that created the opening and was dragged well wide of the St Anthony's goal
Grosvenor was not sitting too comfortably in the St Anthony's technical area.
"Two-nil is never a (safe) lead and they came out second half and put us under some pressure," the relieved coach said. "If they had scored a goal to make it 2-1 then they would have come at us thinking that they could do it. So I was under pressure until the end of the game."
The palpitations increased for Grosvenor as Brice fumbled a corner by Carapichaima substitute Kevon Williams in the 70th minute. But, even with all their possession and endeavour, the Central Intercol champs could not conjure up another clear-cut chance.
The dangerous duo of Beckles and St Hillaire both had opportunities to add some gloss to the score line but their efforts failed to trouble Charles. Beckles' first half double had already done the trick.
The Tigers now await the winner of tomorrow's second semifinal between St Augustine Secondary and Naparima College.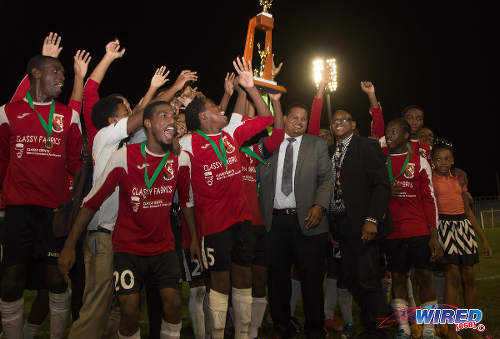 But the verdict is out on which St Anthony's outfit will show up come next Monday.
"They cannot afford to be coming out and playing like that (in the final) and I'm hoping that they learn from today and knock the ball around next game," Grosvenor said. "Both Naps and St Augustine are playing well so it is going to be a difficult final."
(Teams)
St Anthony's College (4-1-3-2): 1.Jabari Brice (GK); 20.Brent Joel (6.Kheisa Granger 46), 15.Nicholas Moyou, 18.Simon Joseph (captain), 12.Jediael Harewood (4.Haile Beckles 26); 14.Nicaya Mahon; 5.Jodel Brown (13.Shem Clauzel 56), 19.Andrew Rullow, 2.Tyrese Bailey; 7.Kathon St Hillaire, 9.Shakeem Patrick.
Unused Substitutes: 22.Oba Augustine (GK), 16.Gyasi Moore, 21.Nkosi Salandy, 24.Jaydon Powell.
Coach: Nigel Grosvenor
Carapichaima East (4-2-3-1): 1.Dejourn Charles (GK); 23.Michael Williams, 5.Darreon Thomas, 19.Tyeral Fullan (3.Kadiz Chandler 56), 30.Jerome Forte; 7.Mecaheil Alexander , 16.Daniel Pascal; 8.Theophilus Bourne (20.Kevaughn Smith 76), 13.Colin Wheeler, 6.Aaron Kennedy (captain); 9.Justin Joseph (12Kevon Williams 68).
Unused Substitutes: 18.Aaron St Clair (GK), 2.Akiem Allert, 11.Gianni Dickerson, 17.Andre St Clair.
Coach: Kevin Jeffrey
Referee: Keilon Bacchus
Man of the Match: Haile Beckles (St Anthony's College)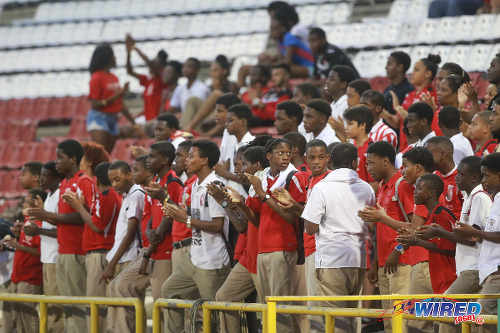 National Intercol semifinal
(Tuesday 24 November)
St Anthony's College 2 (Haile Beckles 35, 45), Carapichaima East 0, Hasely Crawford Stadium;
(Wednesday 25 November)
Naparima College v St Augustine Secondary, Mannie Ramjohn Stadium, 3:30 pm.