Two-time reigning Premier Division champions Naparima College continued their quest for an impressive national double in the 2015 SSFL season as they pipped old foes Presentation College (San Fernando) 3-2 to lift the South Zone Intercol title yesterday at the Mannie Ramjohn Stadium in Marabella.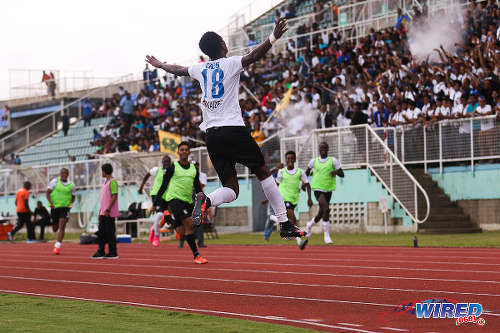 The "Pres Lions", who had dedicated the match to attacker Nate Brooks who was hospitalised last weekend after being hit twice by stray bullets from a gunman, registered the first and last goals of the contest but it was "Naps" who prevailed in the five-goal thriller with three goals in the space of 15 minutes in a relentless period in the second half.
National Under-17 attacker Kareem Riley got the ball rolling for Presentation in the first half with a firm, long range drive but the Pres Lions failed to make full use of a first half in which they looked ominous throughout.
Shawn Cooper's charges would regret not making better use of the first period as the Premier Division champs came out with a vengeance after the resumption, ably aided by the halftime introductions of midfielders Judah St Louis and Justin Sadoo.
What Naparima did in the first half of their semi-final encounter against Shiva Boys Hindu College—score three times inside the first 20 minutes—should have served as ample warning to the Pres Lions, but they did not seem to take heed.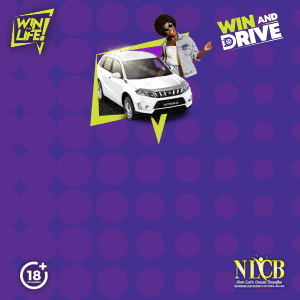 "At the halftime talk I told the boys that we needed to forget about the first half and deal with the second half," Presentation coach Cooper told Wired868. "Now in dealing with the second half, the first fifteen minutes are very important. We needed to get a goal to settle the nerves."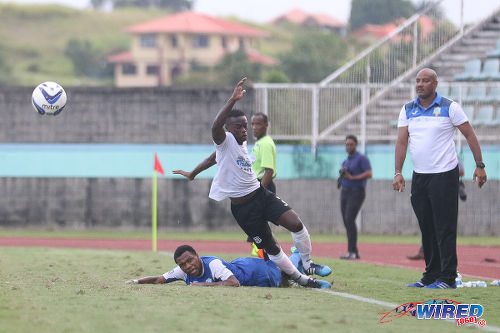 Pres did not get that goal though.
"If they had scored one (I told them) the momentum would have gone in their favour, and so said so done."
Naparima midfield workhorses Shane Sandy and skipper Michael Basdeo recognised the importance of a good second half start for their team and they immediately made their intentions clear as they both had cracks from outside the box in the 47th minute. Basdeo's finessed effort, which was parried wide by Pres custodian Ishmael Salaam, led to Naps sought after equaliser.
Sandy's inviting in-swinging corner was beautifully met by defender Anderson Toussaint who did exactly what the coaching manuals preach—head the ball back where it came from—with a lofted header that eluded Salaam and nestled in the back of the net.
"I think after the equaliser the guys didn't settle down and they were disappointed because we had a lead and it went away so easily," Cooper said.
Naps' lively sub Sadoo did not give the Pres Lions a chance to lick their wounds, as he combined brilliantly with attacker Jarred Dass on a swift counter-attack in the 55th minute before inadvertently finding Naps sharpshooter Isaiah Hudson who buried with aplomb to give his team a 2-1 lead.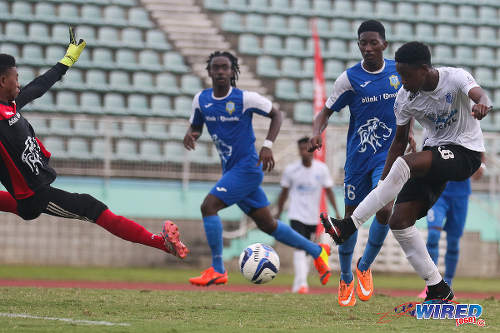 Riley, who is never shy of having a crack from distance, tried to conjure up a spectacular response mere seconds later but Naps custodian Levi Fernandez was alert enough to keep out his low blast this time.
The pestering Sadoo put his team up 3-1 in the 63rd minute as he finished calmly from ten yards out after Hudson mesmerized Pres defender Ayindike Francis inside the penalty area.
Cooper was not too amused by it all though.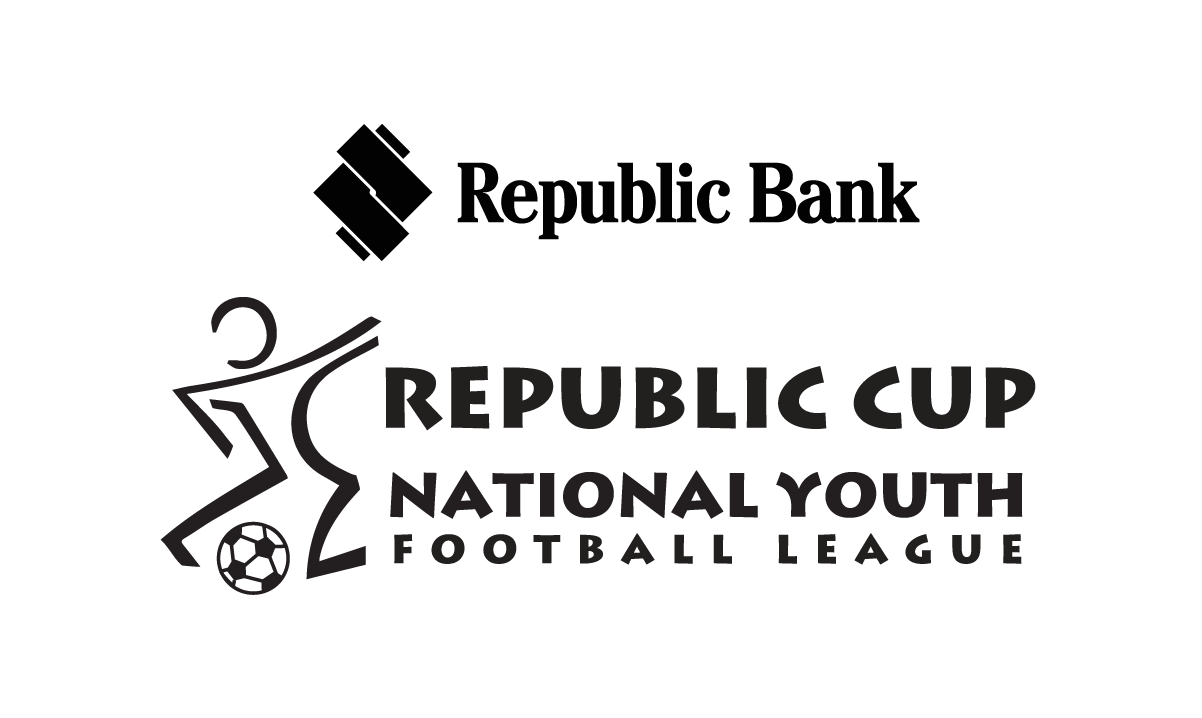 "Some indiscipline stepped in with the marking which led to mistakes and goals (being conceded)."
Sandy and Basdeo were now in full control in the middle of the park and the diminutive Naps skipper worked efficiently in his second half position on the left side of the Naps midfield. Basdeo is no Usain Bolt though, so he cleverly knocked the ball behind the Pres defence for Sandy and Hudson to run on to with menacing effect.
The Naps cheering squad was now drowning out their Pres rivals and there were rapturous applauses in the 79th minute as Hudson disdainfully fitted opposing midfielder Jarod Gordon with a "sombrero" in the middle of the park.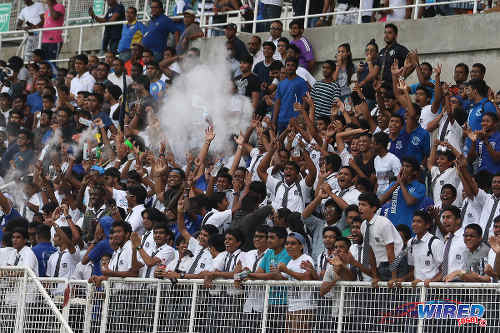 Gordon almost gave the perfect response just two minutes later as he smacked a cushioned header by Riley onto the crossbar. The Presentation supporters frantically begged for a goal but the ball clearly did not go over the line.
The Pres faithful were left wondering "what if?" in the third minute of stoppage time as central midfielder Terrell Williams slotted a left-footed shot past Fernandez after another intelligent pass by Riley.
"I think if we had scored the one that hit the crossbar and came down on the line it might have been a different outcome because we came and scored one in the end," said Cooper. "I can still keep my head up high and say the boys did well and we had a very good season. Congrats to Naparima and kudos to their staff for putting together a very deep team. They are able to attract and scout and bring in players at their whims and fancies."
Angus Eve and his Naparima players will now await the winner of the Coca Cola National Intercol semi-final between Speyside Secondary and St Augustine Secondary before their squad depth is put to the test again.
(Teams)
Naparima College (4-2-3-1): 22.Levi Fernandez (GK); 20.Rondell Payne, 16.Anderson Toussaint, 4.Nicholas Thomas, 3.Khris Stroud; 11.Shane Sandy, 8.Michael Basdeo (captain); 12.Jarred Dass (7.Akinola Gregory 75), 5.Kierron Mason (6.Judah St Louis 46), 9.Shobal Celestin (21.Justin Sadoo 46); 18.Isaiah Hudson.
Unused Substitutes: 1.Darriel Kurjah (GK), 2.Tyrike Andrews, 10.Jeremiah Kesar, 14.Aalon Minors.
Coach: Angus Eve
Presentation College (San F'do) (4-4-2): 1.Ishmael Salaam (GK); 16.Mylz Barrington, 2.Shirwin Noel (9.Levon Bass 89), 6.Ayindike Francis (10.Kyle Moodie 69), 12.Darnell Hospedales; 13.Jarod Gordon, 8.Terrell Williams, 23.Kori Cupid, 27.Keston Julien; 11.Kareem Riley (captain), 7.Nion Lammy (19.Jordan Riley 77).
Unused Substitutes: 28.Tyrek James (GK), 4.Joel Atwell, 5.Juaval Roberts, 14.Akiel Bridgeman.
Coach: Shawn Cooper
Referee: Rodphin Harris
Man of the Match: Isaiah Hudson (Naparima College)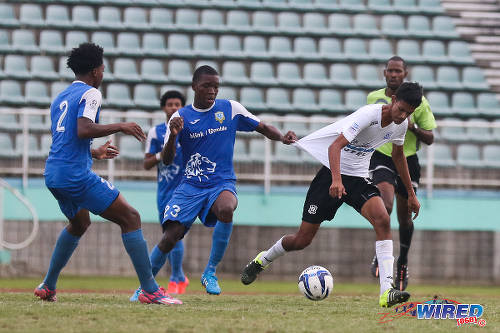 South Zone Intercol Final
(Friday November 20)
Naparima College 3 (Anderson Toussaint 48, Isaiah Hudson 55, Justin Sadoo 63), Presentation College (San F'do) 2 (Kareem Riley 25, Terrell Williams 90+3), Mannie Ramjohn Stadium;