2015 CONCACAF Gold Cup reserve Dwane James made an unlikely debut tonight in the CNG National Super League (NSL) Championship Division, as the former Pro League journeyman helped Barrackpore United to a 3-0 win over Edinburgh 500 FC in a bottom of the table clash.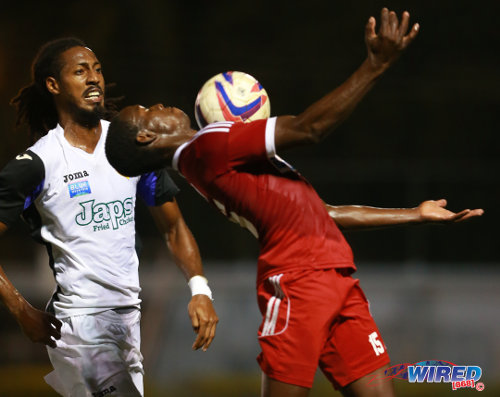 James, who represented North East Stars last season, failed to seal a move to St Ann's Rangers in time—after spending much of his pre-season on trial in Costa Rica—but took advantage of the NSL's October registration window to get some playing time.
He played in central defence for Barrackpore, who started the match on the bottom of the ten-team standings but ended in ninth place.
The two bottom Championship Division clubs will be relegated to their respective zones but Barrackpore may think they have a fighting chance now, as they pulled within three points of eighth place Malabar FC.
Malabar lost 3-1 at home to Xtra Foods Chaguanas FC tonight in D'Abadie and they might have had a sinking feeling as they watched their leading marksman, Mikheil Peters, score on his debut for Barrackpore.

Peters is the Championship Division's most prolific goal machine with 13 goals already this season. Twelve of them were for Malabar, who must find a way to pick up points without him.
Antonius Myers, a St Lucian loan signing from Morvant Caledonia United, got the other two goals for Barrackpore. Ex-Trinidad and Tobago international Conrad Smith is also on loan from Caledonia to the South Zone club.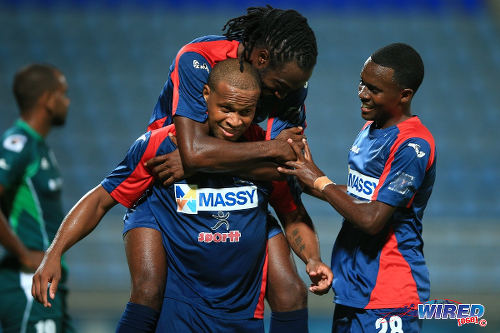 Elsewhere at O'Meara, UTT striker Jamal Creighton scored his seventh and eighth goal of the 2015/16 Championship Division campaign in just his fourth match, as his team spanked Petit Valley United 5-2 to continue their sprint up the standings.
UTT were rock bottom just over a month ago. Now, they are fifth.
There were only disappointed faces at the Edinburgh 500 Recreation Ground, though, as a no-show by match officials forced the postponement of a fixture between leaders, Prisons FC, and Cunupia FC.
CNG NSL Championship Division results
(Tuesday November 3)
Cunupia v Prisons at Edinburgh 500 Recreation Ground;
*DNP due to no-show of officials
Barrackpore Utd 3 (Antonius Myers 15, 90, Mikheil Peters 25), Edinburgh 500 FC 0 at Barrackpore Recreation Ground;
Malabar FC 1 (Xae-Pierre De Fou 11), Xtra Foods Chaguanas FC 3 (OG 37, Matthew Ramirez 53, 85) at D'Abadie Recreation Ground;
UTT 5 (Jamal Creighton 30, 90, Dwayne Nicome 35, Joseph Brown 72, OG 78), Petit Valley United 2 (Eric Charles 23, Keston Bibby-Cummings 56) at UTT, O'Meara Road;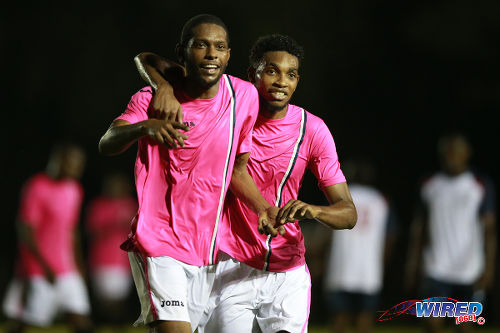 Standings (Tabulated as Played-Won-Drew-Lost-Goals For-Goals Against-Points)
Prisons FC               9-7-1-1-23-7-22
QPCC FC                  9-6-3-0-18-9-21
Cunupia FC             9-6-2-1-21-10-20
Saddle Hill              9-5-2-2-23-14-17
UTT                             10-3-2-5-21-20-11
Petit Valley Utd     10-3-2-5-19-22-11
Chaguanas FC        10-3-2-5-14-22-11
Malabar FC             10-3-1-6-16-27-10
Barrackpore Utd  10-2-1-7-13-19-7
Edinburgh 500      10-2-0-8-4-22-6