Despite a valiant performance, Carapichaima East Secondary could not avoid the dreaded drop from the Secondary Schools Football League (SSFL) Premier Division yesterday, as they succumbed to a 3-2 defeat at the feet of St Augustine Secondary on home soil.
The "Caps" schoolboys were not the only ones shown the Premier Division door yesterday as Speyside High also got the boot from the SSFL's top flight, after being on the wrong end of a 4-1 thumping by champions Naparima College. Both outfits will join bottom placed Trinity East College in the lower tier next season.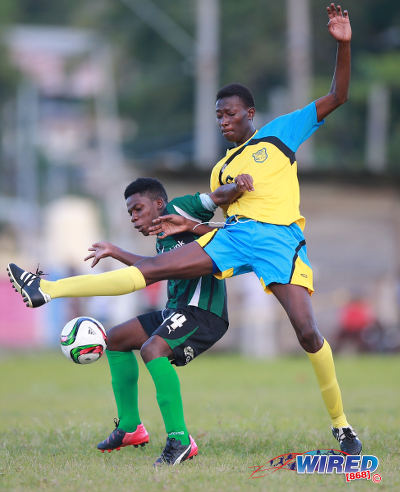 The Tobago boys did not go quietly though as they gave Naps a rude victory reception on the "Sister Isle" in a game which four players received red cards—two from each team—and one Naparima player was hospitalised with a suspected concussion.
The final day of the Premier Division season was a bit sweeter for Fatima College though, as despite losing 5-2 to Fyzabad Secondary, the boys from Mucurapo Road escaped relegation due to having a superior goal difference to Speyside, although the two teams were tied on a paltry 10 points.
At the Carapichaima East school ground, Caps needed a win to have any chance of survival. And they got the appropriate start when midfielder Aaron Kennedy scored during a goalmouth scramble in only the fourth minute.

The Michael Grayson-coached St Augustine team was not about to let Caps have their own way though. "Green Machine" forward Anthony Samuel nearly conjured up a swift reply, just a couple minutes later as he slammed into opposing goalkeeper Dejourn Charles' side-netting after a terrific solo run.
Caps failed to take heed of Samuel's warning and they were punished in the ninth minute, as St Augustine midfielder Jesse Joseph expertly dispatched a 27-yard free kick to level the scores at one goal apiece.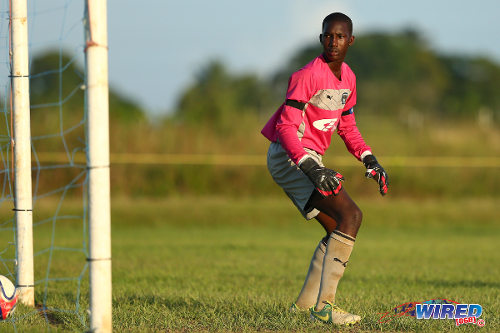 Caps looked motivated for the decisive encounter and created a number of chances in the first half but their finishing left much to be desired.
Goal scorer Kennedy and attacking teammate Justin Joseph both had opportunities to help the Caps cause but they were unable to do so.
Kennedy was denied by agile St Augustine custodian Yannic Gamaldo from close range in the 25th minute, while Joseph (Justin) had no one but himself to blame when he blazed over bar in the 42nd and 45th minutes, after being played through on goal.
Caps coach Kevin Jeffrey must have wished that Joseph (Justin) had the sweet touch of his namesake, Jesse, yesterday.
The wet and soggy conditions were not conducive to neat football and a more direct and rugged approach was taken in this "do-or-die" game.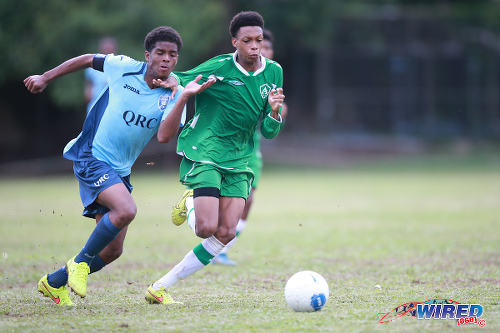 There was not enough "doing" on Caps' part at the start of the second half though and the Green Machine asserted themselves on their anxious opponents. Tyeral "Big Red" Fulan had his hands full at the centre of the Caps defence while Charles also had to produce a sharp effort in the 47th minute to keep out an effort by St Augustine's Samuel.
But the pressure of the occasion finally got to the Carapichaima rear guard in the 57th minute as Charles and centre-back Darreon Thomas collided in an attempt to clear an innocuous long ball, which fell to the feet of St Augustine midfielder Tyriq Aexander. And Alexander caressed a right-footed shot into the top corner.
Then, Joseph (Jesse) gave Caps no favours whatsoever as he smacked an absolute screamer from 33 yards that caught Charles off his line to make it 3-1, just two minutes later.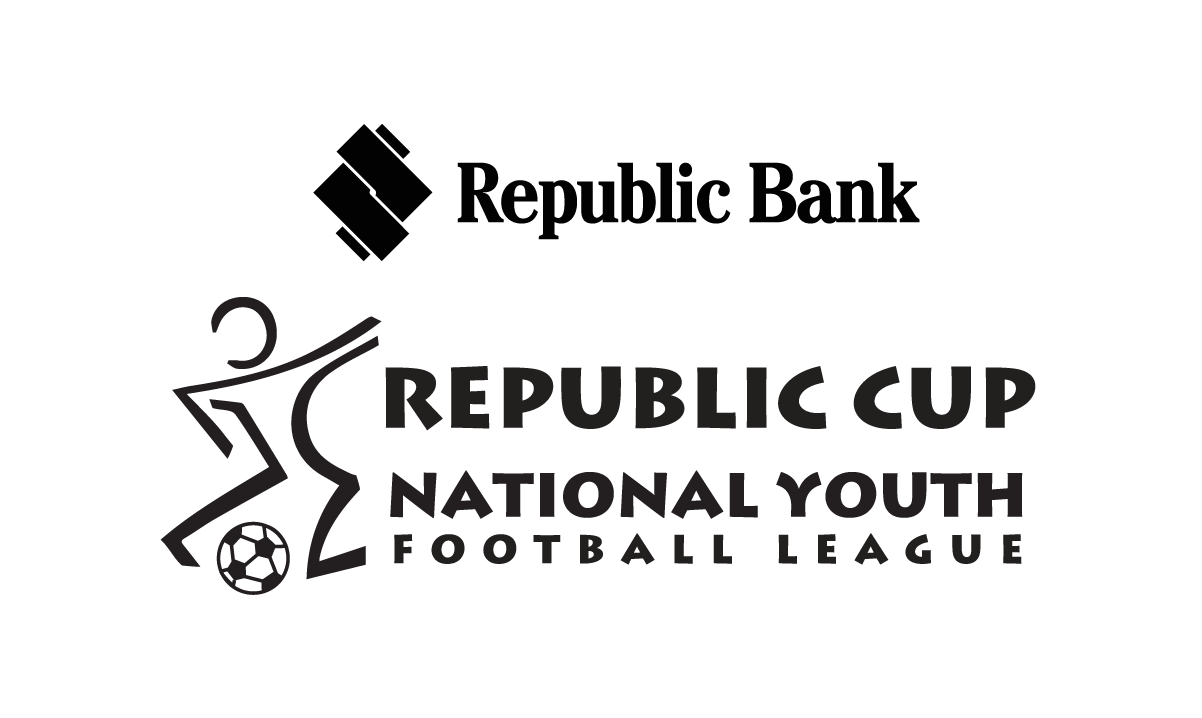 Jeffrey responded to St Augustine's third item by making a triple substitution for Carapichaima in the 67th minute. And they were thrown a lifeline, nine minutes later, as St Augustine midfielder Ainsworth Grant was penalised for a shove in the penalty area.
Thomas partly atoned for his earlier blemish, as he dispatched the penalty with aplomb.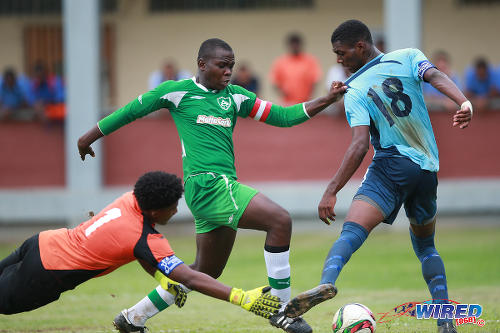 The final quarter-of-an-hour was nervy for the Green Machine, as Caps threw more than their "kitchen sink" forward in pursuit of two more goals.
The goals nearly came too, but Gamaldo was intent on not being beaten again.
Substitute Amaru Cox shot into the side netting after Gamaldo saved brilliantly in a crowded penalty area in the 83rd minute. And the St Augustine custodian reacted acrobatically once more, in the third minute of stoppage time, to stop a goal-bound header.
Referee David Ramkallawan's whistle was the last thing the Caps players would have wanted to hear. But their valiant efforts came a little too late.
(Teams)
Carapichaima East (4-2-3-1): 18.Dejourn Charles (GK); 14.Micah Serrette (captain) (17.Jamal Phillip 67), 28.Tyeral Fulan, 5.Darreon Thomas, 30.Jerome Forte; 7.Machael Alexander, 16.Daniel Pascal; 9.Justin Joseph (8.Amaru Cox 67), 6.Aaron Kennedy, 20.Kevaughn Smith (12.Kevon Williams 67); 3.Kadiz Chandler.
Unused Substitutes: 1.Jeremiah Phillips (GK), 10.Keston Virri, 24.Tyrone Fullan, 35.Andre St Clair.
Coach: Kevin Jeffrey
St Augustine (4-2-3-1): 1.Yannic Gamaldo (GK); 6.Kareem Walker (13.Darrian Parks 89), 3.Zion Holder, 5.Joshua Marshall (captain), 11.Kendell Boneo; 8.Jesse Joseph, 4.Ainsworth Grant; 15.Allan Hogan (18.Dike Wilson 69), 14.Tyriq Alexander, 10.Moses Jaikeran (19.Kenton James 46); 9.Anthony Samuel.
Unused Substitutes: 2.Akeem Hosten, 12.Jhavon Peters, 17.Tahj Devenish.
Coach: Michael Grayson
Referee: David Ramkallawan
Man of the Match: Yannic Gamaldo (St Augustine)
SSFL Premier Division results
(Wednesday October 28)
Carapichima East 2 (Aaron Kennedy 4, Darreon Thomas 76), St Augustine 3 (Jesse Joseph 9, 59, Tyriq Alexander 57), Carapichaima;
St Mary's College 3, Trinity College Moka 2, St Mary's;
Fyzabad Secondary 5, Fatima College 2, Fyzabad;
QRC 1, St Benedict's College 2, QRC;
Speyside High 1, Naparima College 4, Speyside;
Presentation San F'do 1, St Anthony's College 2, Mannie Ramjohn Stadium;
Shiva Boys HC 2, Trinity College East 1, Trincity,
SSFL Premier Division Standings 
(Tabulated as Played-Won-Drew-Lost-Goals For-Goals-Against-Points)
Naparima College   14-11-2-1-29-7-35
St Benedict's              14-8-4-2-21-14-28
Presentation SF       14-8-3-3-27-16-27
St Anthony's              14-8-3-3-23-19-27
St Augustine Sec      14-8-2-4-27-18-26
Shiva Boys HC          14-7-5-2-20-12-26
St Mary's College    14-7-1-6-26-19-22
QRC                               14-5-6-3-18-13-21
San Juan North       14-7-0-7-20-16-21
Fyzabad Sec              14-5-1-8-19-25-16
Trinity Moka            14-3-5-6-23-26-14
Fatima College        14-2-4-8-18-29-10
Speyside High         14-3-1-10-16-36-10
Carapichaima E      14-1-5-8-11-24-8
Trinity East              14-1-0-13-12-37-3