Isaiah Hudson registered his second hat-trick in eight days today as he propelled reigning SSFL Premier Division champions Naparima College to a resounding 4-1 win over Fatima College on Mucurapo Road.
Hudson's heroics pushed "Naps" four points clear atop the SSFL standings with just five match days remaining.
"I think since we have moved Isaiah Hudson from on the flanks to up front he has been tremendous," Naparima coach Angus Eve told Wired868.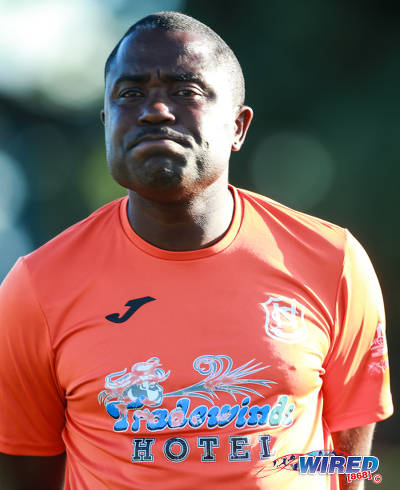 Fatima's defenders would surely have been warned to pay particular attention to the 'red hot' Hudson. But the clever and willing off the ball movement by the lanky striker were too much for the home team to handle this afternoon.
Fatima goalie Akil Guerra came out the victor in his first showdown with Hudson in the 15th minute. But he was helpless to stop the striker's effort, just 10 minutes later, as the Naps front man tapped home from close range after some enterprising play by Renaldo Francois down the right flank.

Fatima's first half play was as lethargic as the home support at the Fatima College Grounds and the Naparima players strode around like they owned the joint.
"Aye that too easy man!" shouted a worried Fatima fan.
Francois demonstrated just how straightforward it was for the visitors in the 38th minute as, after being played in by fellow winger Akinola Gregory, he knocked in his own rebound unchallenged by watching Fatima defender Rivaldo Prince.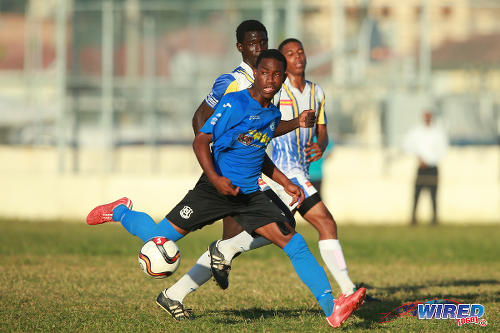 Naps' second item prompted Fatima coach Hayden Martin into action, as he withdrew attacker Sebastien Camacho and switched from a compact 4-4-1-1 formation to a more attacking 4-3-3 system.
The change in tactics seemed to bring Fatima attacker Krishorn Alexander to life towards the end of the first half and he smashed a free kick off Levi Fernandez's crossbar in the 40th minute. It would not be the last that Fernandez saw of Alexander either.
The relegation-threatened Fatima could ill afford any more lacklustre halves like the opening 45 minutes today, and their intensity was immediately lifted after the interval.
Fatima midfielder Liam De Verteuil came close to reducing the deficit in the 49th minute but was unable to keep his effort down during a frantic goalmouth scramble.
Alexander, who was the focal point in Fatima's three-prong attack, was a constant threat to opposing centre backs Anderson Toussaint and Stephon Smith, and he powered his way past Toussaint in the 61st minute only to be thwarted by Fernandez's reflex save.
There was much to admire about Smith's assured performance at the back for Naparima and he often glided out of defence to pick out his skipper Michael Basdeo and Kierron Mason in the midfield.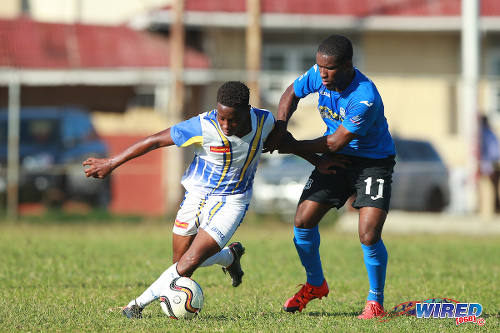 But Smith's defensive prowess and awareness were unable to stop Alexander in the 76th minute, as the tireless attacker got his just reward after some breezy wing play by substitute Jonathan Casimire, who blew past Gregory and left-back Khris Stroud in the build-up.
Was a Fatima comeback on the books?
Not a chance!
That was how emphatically the dangerous Hudson quelled those thoughts, as he scored twice within the space of five minutes to kill the contest and rejuvenate the Naparima rhythm section.
"North-South-East-West, Naparima is the best!" chanted the jubilant group.
The second of Hudson's three items in the 83rd minute was a bit controversial though.
The striker collected a Nicholas Thomas interception while coming from an offside position, but, with no flag raised, he hammered a low, left-footed shot past a despairing Guerra who pleaded in vain to the officials.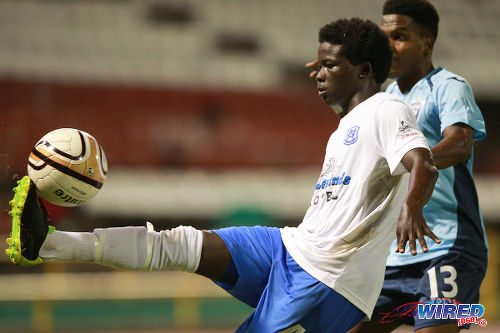 Eve's team appears to be picking up steam towards the end of the Premier Division and it does not augur well for the southern trio of Shiva Boys Hindu College, Presentation College (San Fernando) and St Benedict's College, who all trail the reigning champs.
"We came out with a renewed vigour and a renewed focus (since the St Anthony's loss) and we know what we needed to do to win the games," said Eve. "We need to beat ourselves really for anybody to beat us and when you're on top everybody tries to come at you."
Can anyone else but the Tigers put a halt to the Naparima runaway train?
(Teams)
Fatima College (4-4-1-1): 21.Akil Guerra (captain) (GK); 24.Joshua Gooding, 4.Adam Uddenberg (5.Tyreke Moore 35), 23.Mossiah Griffith, 17.Rivaldo Prince; 20.Stephon-Francis Marcano, 14.Joshua Pierre, 18.Kyon Williams, 15.Liam De Verteuil (7.Jonathan Casimire 65); 11.Krishorn Alexander; 10.Sebastien Camacho (16.Joshua Araujo-Wilson 38).
Unused substitutes: 1.Kareem Fermin (GK), 2.Yohance Sealy, 26.Matthew Serrant.
Coach: Hayden Martin
Naparima College (4-2-3-1): 22.Levi Fernandez (GK); 20.Rondell Payne, 16.Anderson Toussaint, 19.Stephon Smith, 3.Khris Stroud (21.Justin Sadoo 79); 11.Shane Sandy (12.Jarred Dass 64), 8.Michael Basdeo (captain) (4.Nicholas Thomas 64); 7.Akinola Gregory, 5.Kierron Mason, 23.Renaldo Francois; 18.Isaiah Hudson.
Unused substitutes: Darriel Kurjah (GK), 2.Tyrike Andrews, 10.Jeremiah Kesar, 17.Mitra Arjoon.
Coach: Angus Eve
Referee: Kern De Souza
Man of the Match: Isaiah Hudson (Naparima College)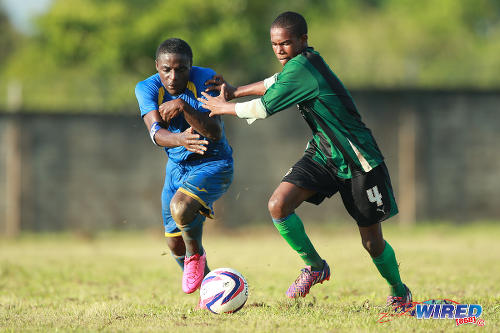 Wednesday October 14
(SSFL Premiership Division)
Fatima College 1 (Krishorn Alexander 76), Naparima College 4 (Isaiah Hudson 25, 83, 88, Renaldo Francois 38), Fatima;
Presentation San F'do 0, St Mary's College 1, Mannie Ramjohn Stadium;
St Augustine Secondary 3, Trinity College East 1, St Augustine;
Shiva Boys HC 1 (Quinn Rodney), San Juan North 0, Penal;
Carapichaima East 1, St Anthony's College 2 (Haille Beckles [2]), Carapichaima;
Speyside High 2, Trinity College Moka 1, Speyside;
Fyzabad Secondary 0, St Benedict's College 1, Fyzabad.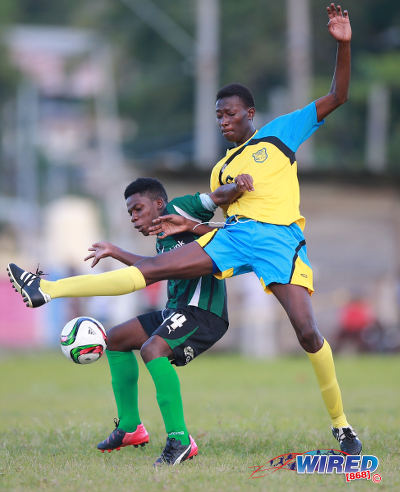 SSFL standings (Tabulated as Played-Won-Drew-Lost-Goals For-Goals Against-Points)
Naparima College  10-8-1-1-22-6-25
Shiva Boys HC          10-6-3-1-15-7-21
Presentation SF       10-6-2-2-19-13-20
St Benedict's              10-6-2-2-14-10-20
St Anthony's              10-6-2-2-18-15-20
St Mary's College    11-6-1-4-21-12-19
San Juan North       11-6-0-5-18-13-18
QRC                               10-4-5-1-14-8-17
St Augustine Sec      11-5-2-4-18-16-17
Trinity Moka             10-2-4-4-17-19-10
Fyzabad Sec              10-3-0-7-12-19-9
Carapichaima E       11-1-4-6-9-19-7
Speyside High          10-2-1-7-11-25-7
Fatima College        10-1-3-6-14-20-6
Trinity East              10-0-0-10-6-27-0