A 90th minute goal by Brent Sam ensured that San Juan North Secondary edged Fatima College yesterday to record its first home win of the SSFL Premier Division season and jump to fifth in the 15-team standings.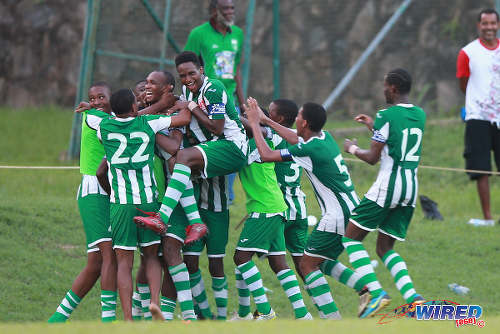 Sam's ruthless left-footed winner was his second of the evening and enough to appease the Bourg Mulatresse crowd that grew frustrated during the course of the contest.
Despite the victory, the Bourg faithful were far from pleased with the football on display from its home team and San Juan coach Jerry Moe echoed those sentiments after the match.
"At this stage, we want to focus on developing a winning attitude and sometimes it doesn't mean playing well offensively but playing well defensively to give ourselves a chance of winning the game," Moe told Wired868. "There is a lack of confidence in the boys to put the ball down and play and also the surface is not the best of surfaces for good passing football. But getting the winning mentality is the main focus and then by mid-season the team really should be playing some nice football."
Although San Juan's Sam was on the periphery of the game for much of the 90 minutes, he arguably had the two most important touches. The first of which came in the eleventh minute when he tapped home from close range after winger Joshua Jerome flicked on a long throw.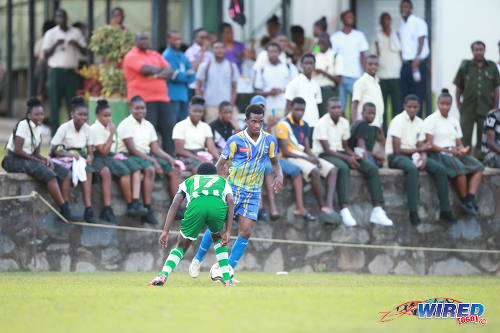 Fatima's midfield duo of Sebastien Camacho and skipper Jahreed Murray dealt with the bumpy Bourg surface much more adeptly than their hosts as they moved the ball around neatly in the middle of the park in the first half.
Camacho even delighted the home fans with some silky touches in the 28th minute as he tricked his way by a few opposing challenges in a mazy run. There was no personal joy for the crafty Camacho but there was for his team though as the visitors drew level just four minutes later.
Fatima striker Krishorn Alexander raced on to a cheeky flick by midfielder Stephon Marcano on the half line before outracing the San Juan rear guard and arrowing a right-footed shot past the despairing dive of backpedalling Bourg skipper D'Andre Villoroel in goal.
Alexander's goal seemed to inspire Fatima as Camacho and playmaker Kyon Williams looked increasingly comfortable in midfield.
But Camacho and company found the going much more difficult in the second half as San Juan's central midfield duo of Lukman Brooks and Rhondel Gibson took a special interest in denying them time and space. The Bourg duo were far from pretty but they were effective.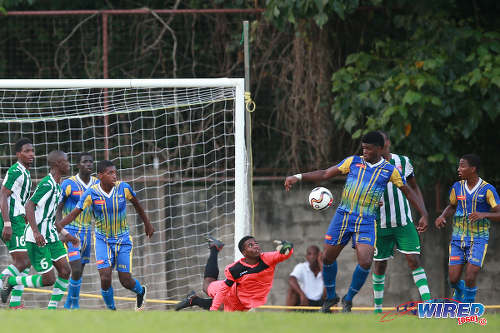 San Juan left back Brandon Semper also received a more advanced posting in the second half and he made good use of the opportunity with some quick, purposeful charges down the wing.
Semper stung the fingertips of Fatima custodian Akiel Guerra in the 49th minute and twice fizzed some dangerous crosses into the lanky Sam.
In the first instance in the 66th minute, Sam slammed the ball into the back of the net but was belatedly ruled offside. And he missed an audacious back heel attempt with the goal at his mercy, just four minutes later.
Fatima's Williams nearly stunned the home fans when he came close to the decisive goal with a gutsy solo run but Sam turned out to be the most determined man in Bourg Mulatresse yesterday.
While the visitors thrusted bodies forward in the 90th minute to search for their first Premier Division win of this season, Sam and strike partner Joshua Leach lurked near the halfway line. And, as Fatima's set piece came to nought, Leach took possession and played a diagonal through ball to Sam who outmuscled and outran the retreating Fatima players before slamming a low, devilish left-footed shot past a hapless Guerra.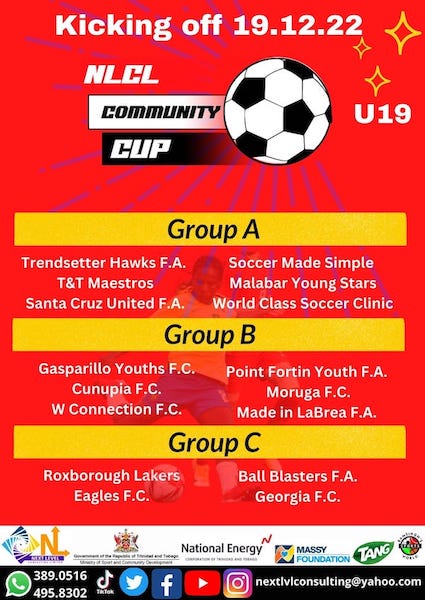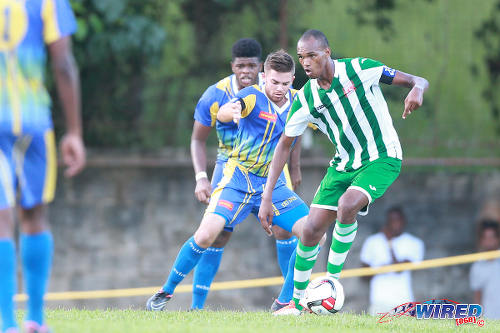 Match winner Sam, who plies his trade with San Juan Jabloteh in the Pro League, opted to repeat at San Juan North this year and coach Moe defended the youngster's decision.
"I think (Sam's situation) is a catch-22," said Moe. "Yes we have a Pro League in Trinidad but the salaries some of these young players are getting cannot take them anywhere and if they don't have an education to fall back on then that is a problem.
"I would prefer for Sam not to be in the school from a football standpoint but for the sake of his future he really needs to be in school and he has been trying very hard in the classroom…
"Young players have to be smart where their education is concerned because to depend on the Pro League alone can be very difficult."
(Teams)
San Juan North (4-4-2): 1.D'Andre Villaroel (Captain) (GK); 12.Warren Chase, 3.Kerdell Sween, 16.Kyle Williams, 6.Brandon Semper; 11.Joshua Jerome (20.Jerome Cyrus 52), 29.Lukman Brooks (15.Myles Oliver 79), 5.Rhondel Gibson, 22.Jermelle Britto (17.Kareem John 45+1); 9.Brent Sam, 19.Joshua Leach.
Unused Substitutes:  4.Kenyan Huggins, 14.Shrikel Diamond, 18.Maldini Diaz, 24.Obadele Dickson.
Coach: Jerry Moe
Fatima College (4-2-3-1): 22.Akiel Guerra (GK), 21.Krishan Spence, 5.Tyreke Moore, 23.Mosiah Griffith, 26.Matthew Serrant; 10.Sebastien Camacho (6.Sky Pouchet-Benoit), 8.Jahreed Murray (captain); 20.Stephon Marcano (7.Jonathan Casimire 77), 15.Kyon Williams, 2.Yohance Sealy (13.Joshua Araujo-Wilson 56); 11.Krishorn Alexander.
Unused Substitutes: 1.Kareem Fermin (GK), 12.Michael Herrera, 14.Adam Uddenberg, 19.Jireh James.
Coach: Jason Spence
Referee: Keilon Bacchus
Man of the Match: Brent Sam (San Juan)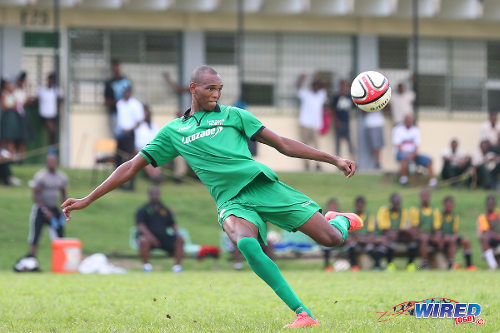 SSFL Premier Division results
Speyside High 1 (Kerry McDonald 46), Shiva Boys HC 0
St Mary's College 0, St Augustine 1
QRC 1, Carapichaima East 1
Naparima College 1 (Jarred Dass 57), Trinity College Moka 0
Trinity College East 0, St Benedict's College 1 (Shemar Ravello 15)
San Juan North 2 (Brent Sam 11, 90), Fatima College 1 (Krishorn Alexander 32)
Fyzabad Secondary 0, Presentation San F'do 3 (Kareem Riley 15, 88, G Charles OG 64)