Seven goals, a mini-brawl, two red cards and a debatable late penalty kick. It was all happening at the Dibe Recreation Ground in Long Circular this evening.
When the dust settled, NLCB La Horquetta SA was the happier of the two teams after holding on for an exciting 4-3 win over Police FC in CNG National Super League Premiership Division action.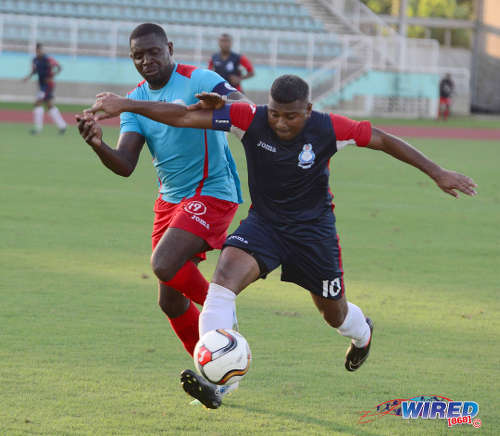 It was only La Horquetta's second win for the season and the East Zone team remained second from bottom in the 15-team table. The bottom three Premiership Division teams will be relegated to the Championship and La Horquetta is five points away from safety at present.
But, as this evening's win over seventh-placed Police showed, La Horquetta has the talent to beat the drop. Team administrator Brendan George said the squad meant business in Dibe.
"I think it was the vibe that the team came with (today)," said La Horquetta team administrator Brendan George. "In the last game, we had (the match) to win but unfortunately lost in the 90th (minute).
"So based on that, we said this game we are coming out for all (three) points."
A close inspection of La Horquetta's last five results shows the thin line between success and failure in the local Premiership.
La Horquetta led 3-1 at the interval against Club Sando Moruga on August 30 before crumbling to an eventual 5-3 defeat. Four days later, Shelton Williams scored in the last minute as 1976 FC Phoenix edged John's men 2-1.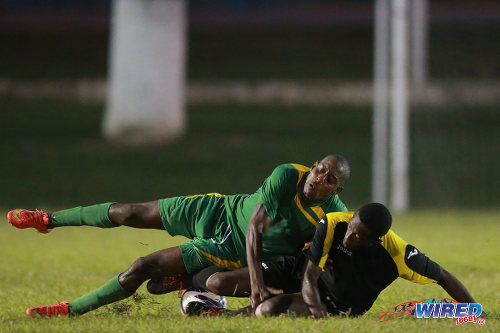 A goalless draw against WASA FC followed before La Horquetta conceded two more last minute goals in successive matches, which meant a 3-3 draw against Marabella Family Crisis Centre and a 4-3 loss to Siparia Spurs.
This evening, La Horquetta decided to stand up and seize the desired result. Arguably, the self-declared bad boys met a Police squad that was far too confident in its own powers.
"We didn't play to our game plan," said Police coach Chris Bailey. "We gave away too much possession and we didn't take our chances…
"I think (we) were over confident and it just didn't go our way."
Five members of the Police squad had extensive Pro League experience while veteran midfielder Trent Noel has 36 senior international caps for Trinidad and Tobago. In contrast, La Horquetta did not even travel with a goalkeeper, as neither Sean Marshall nor Hakeem Lucas turned up and outfield player Kevin Mulzac had to deputise between the uprights.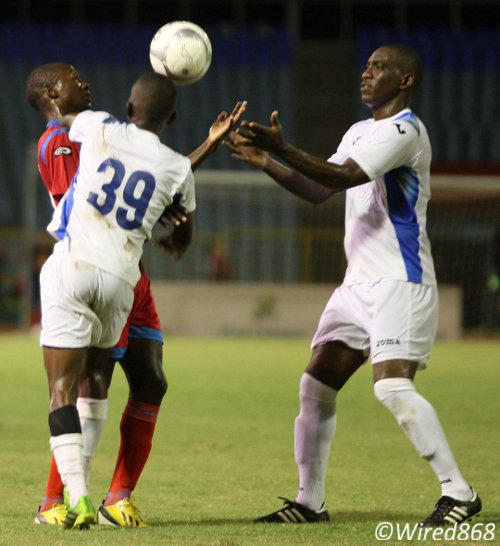 A see-saw affair followed with neither team able to hold on to the initiative. Twice, La Horquetta led through Nathan Julien and then Sherwayne Morris. Each time, Police equalised courtesy of Real Dedier and then Kareem Perry before Noel put the "Lawmen" ahead 3-2 in the 55th minute.
Six minutes later, holding midfielder Atiba Hackette levelled the scores again at 3-3.
On the touchlines, the action in the two technical areas was just as entertaining.
Bailey tried to coax a suitable performance from his officers.
"Let us go and win this game nah… Let's play football nah."
John, who was never one to use two words if he could manage 20, urged rebellion.
"Those police fraid bad boys, allyuh!"
It was John who held his breath in the 68th minute as Police substitute Kemron Purcell rose to head a right side cross off the far post. Noel was first to the rebound but clipped the top of the bar with his effort.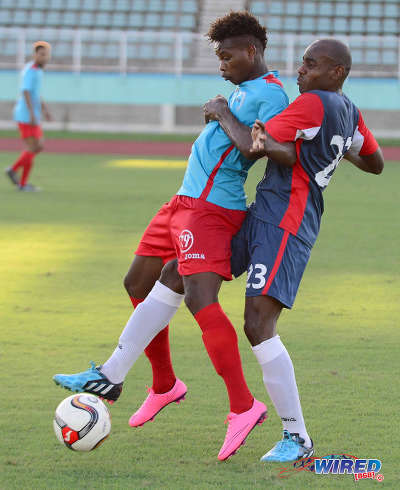 The misses would haunt the Lawmen, 12 minutes later, when Police left back Akiba Peters tripped La Horquetta striker Anslem Jackson inside of his own area.
Jackson was heading away from goal at the time and looking for a passing option when Peters stuck his boot out. It was a woeful penalty to concede but surely that was not referee Kern De Souza's fault.
Jackson sent Police custodian Theon Browne the wrong way to convert his spot kick.
"We have the referee under needles, fellahs!" shouted John, uncharitably. "Come fellahs. It's a coup!"
Bailey urged his players to stay focused, as they surrounded De Souza to complain.
"Let us play our football," said Bailey. "We have enough time to do this."
But, three minutes later, the discontent erupted.
Perry crossed from the left flank and La Horquetta's stand-in custodian, Mulzac, appeared to step across the touchline with the ball. De Souza gestured for a corner. La Horquetta's defenders retorted that the ball was already out and it should have been a goal kick.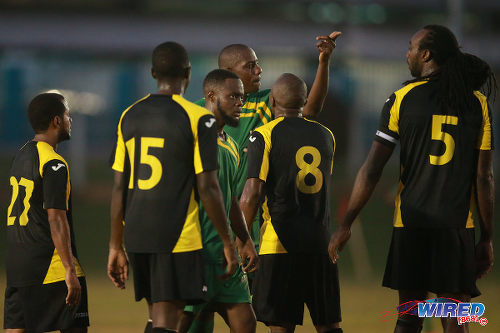 And, in the delay, the Lawmen charged into their opponents and it went from zero to a hundred really quick.
Police's Purcell and La Horquetta's Taje Commissiong were ejected for striking opponents while both teams complained about opposing players who also deserved red cards for their roles in the scuffle.
"I'm vex it's not me (that got hit)," said one La Horquetta substitute. "My coach from taekwondo would have real coast on me."
John and Bailey took exception to the reaction from either bench. The La Horquetta technical staff sprinted on to the field to act as peacemakers. The Police coaching staff followed the letter of the law and remained on the sidelines.
"Why you didn't run out to control your players?" asked John. "You didn't see what we were trying to do?"
"How long you coaching?" asked Bailey. "You don't know that it's the referee's job and you have to stay in your area?!"
"This isn't about coaching," John shot back. "This is about common sense. We're trying to avoid 'rab'."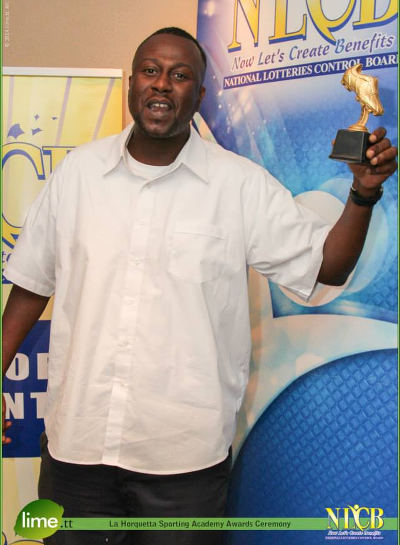 In stoppage time, Police had a last chance at goal, after Jackson tripped Perry on the edge of the La Horquetta area.
Noel, once a deadly set piece expert, stood over the ball and stepped back dramatically. And, while everyone focused on the former "Soca Warrior", Police defender Real Didier raced in and whacked a blistering drive that crashed against the top of the bar before flying over.
Mulzac did not even have time to blink.
John did not even so much as pause for breath in the La Horquetta technical area.
"Don't study them allyuh," said John. "Those policemen don't say their prayers."
God favoured the slick-talking 'rude boys' in Dibe today.
(Teams)
La Horquetta SA (4-2-3-1): 4.Kevin Mulzac (GK); 17.Fedric Commissiong, 19.Ricardo Cornwall, 5.Sherwayne Morris, 14.Cedric Commissiong; 6.Atiba Hackette, 13.Taje Commissiong; 11.Omeaku Barbour (12.Wesley Elcock 71), 9.Keston Jones, 7.Nathan Julien; 23.Anslem Jackson.
Unused substitute: 3.Dion Thomas.
Coach: Jude John
Police FC: 22.Theon Browne (GK); 2.Nykell James, 4.Real Dedier, 5.Osei Charles, 8.Akiba Peters; 31.Keylon Wyllie (30.Keon Figaro), 20.Trent Noel, 17.Kenaz Williams (19.Kemron Purcell), 3.Kareem Perry; 44.Colin Williams (10.Jason Boodram), 13.Dwight Elliott.
Unused substitutes: 1.Kelvin Charles (GK), 6.Kheon Archie, 24.Aaron Stewart, 26.Kwame Hazel, 30.Keon Figaro.
Coach: Chris Bailey
Referee: Kern De Souza
Man of the Match: Anslem Jackson (La Horquetta)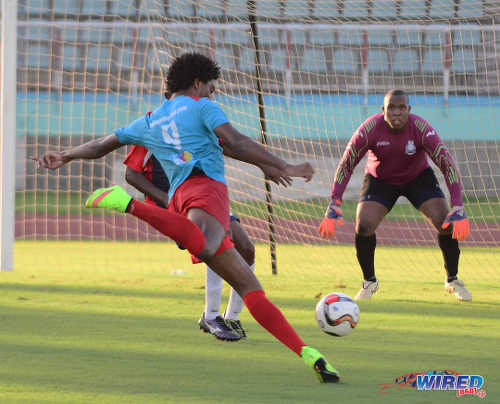 NCG National Super League Premiership results
(Thursday September 23)
Police FC 3 (Real Dedier 31, Kareem Perry 51, Trent Noel 55), NLCB La Horquetta SA 4 (Nathan Julien 26, Sherwayne Morris 39, Atiba Hackette 61, Anslem Jackson 80 pen) at Dibe;
1976 FC Phoenix 1 (Shelton Williams 10), Guaya Utd 2 (Carlon Hughes 55, 78) at Canaan Recreation Ground;
Matura ReUnited 2 (Kitwana Abosi 16, Joel Hoyte 78), Defence Force FC 0 at Matura Recreation Ground;
Real Maracas 1 (Dillon Bartholomew 90), Marabella Family Crisis Centre 3 (Levi Garcia 36, Juma Clarence 55, Renefor Martin 84) at Maracas Recreation Ground;
Bethel United 1 (Teejay Cadiz 43), Petrotrin Palo Seco 2 (Jason Gross 36, Romauld Aguillera 49) at Montgomery Recreation Ground;
WASA FC 1 (Michael-Lee Celestine 51), Siparia Spurs 1 (Andrew Samuel 60) at WASA ground, St Joseph;
Upcoming Premiership Division Fixtures
(Sunday September 27)
Real Maracas FC v Club Sando Moruga, 4 pm, Maracas Recreation Ground;
Siparia Spurs v Bethel Utd, 4 pm, Petrotrin Ground, Fyzabad;
Defence Force FC v WASA FC, 4 pm, WASA, St Joseph;
Guaya United v Matura ReUnited, 4 pm, Guaya Recreation Ground;
Police FC v 1976 FC Phoenix, 4 pm, St James Barracks;
Petrotrin Palo Seco v Marabella Family Crisis Centre, 5 pm, Palo Seco Velodrome;
Stokely Vale FC v NLCB La Horquetta SA, 5 pm, Plymouth Recreation Ground.