Defence Force surged to the top of the Premier Division of the CNG National Super League yesterday evening with a comprehensive 4-2 victory over Guaya United in a top-of-the-table clash at the Mannie Ramjohn Stadium's training ground in Marabella.
The Army/Coast Guard combination got a double strike from captain Christopher Durity in the 18th and 45th minutes as well as a goal apiece from Michael Edwards and Josimar Belgrave in a game in which both teams were reduced to 10 men.
The Army came with guns blazing and really should have gone ahead in the seventh minute. Belgrave was given some room to explore down the left flank and centred for Edwards, who couldn't find his footing and steered his shot wide of the post.
Two minutes later, Edwards and Belgrave combined again for the opener. Belgrave made another trademark run down the left side and cut inside to tee up Edwards, who picked his spot before burying his shot in the back of the net.
Guaya, despite the presence of World Cup 2006 winger Collin Samuel, struggled to find the fluency that led them to victories in their earlier matches. It was the club's first outing without Scottish coach James Baird, who resigned last Thursday.

And Defence Force took full advantage early on, as the "Teteron Boys" snatched a two-goal cushion in the 19th minute.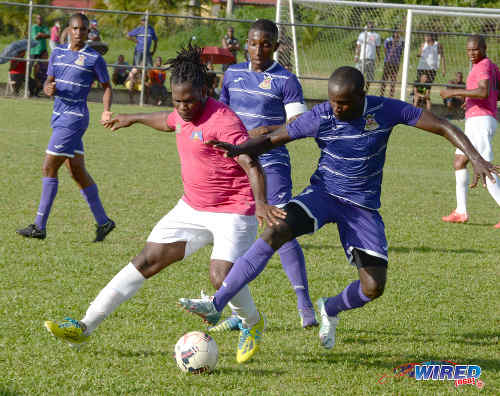 This time, Jahvon Neptune got loose of his man on the right flank and delivered a pin-point cross for Durity who slid in to divert the ball past Guaya goalkeeper Erskine Johnson.
Nothing was going right for Guaya. In the 23rd minute, Kheelon Mitchell's swerving left side corner kick looked destined to lead to a goal, only for Guaya teammate, Sherlon Campbell, to head overbar from beneath the crossbar, despite being unchallenged.
The soldiers made them pay as they went three goals up in first half stoppage time.
Neptune collected a long throw from his custodian Kevin Graham and picked out Durity, who dribbled past his marker from left to right and fired past Johnson.
Guaya made some alterations at the interval, as Samuel was replaced by Jody Allsop in central midfield. The change bore fruit almost immediately as Allsop found Keylon Thomas free on the right flank and his cross was bundled in by Carlon Hughes in the 51st minute.
Hughes' goal was followed by a period of dominance on the ball by Guaya but, somehow, Defence Force kept them out.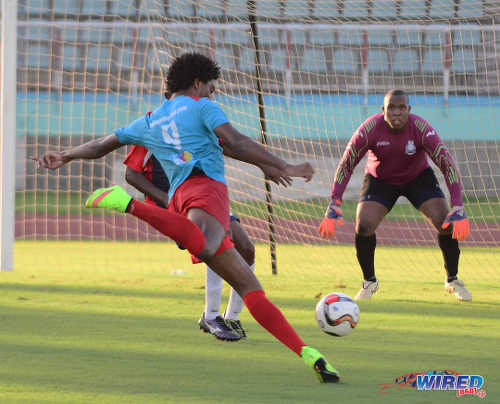 Then, against the run of play, the Teteron Boys snatched a fourth goal as Belgrave raced clear, after a pass by substitute Kurt Williams, and dribbled past the opposing goalie for a 4-1 lead.
Soon after, Defence Force lost Dwight Scott for his second bookable offence while Guaya's Beville Joseph was also given marching orders for two yellow cards.
Guaya continued to search for another goal and eventually got it five minutes into time added on.
Allsop was again involved as his long cross found teammate Kevin Jagdeosingh who fired in in the final goal of the match.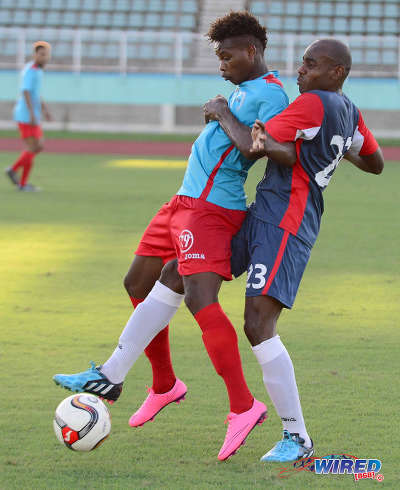 CNG NSL Premiership Division results
(Sunday September 20)
Defence Force 4 (Chris Durity 18, 45, Michael Edwards 9, Josimar Belgrave 70), Guaya United 2 (Carlon Hughes 51, Kevin Jagdeosingh 90) at Mannie Ramjohn training ground;
Club Sando Moruga 3 (Dareem Ramkhalawan 24, Aaron Julien  36, Trevon Mitchell 48), 1976 FC Phoenix 1 (Dave Grimshaw 20) at Grand Chemin Recreational Ground;
NLCB La Horquetta SA 3 (Taje Commissiong 31, 69, Anselm Jackson 63), Siparia Spurs 4 (Andy London 36, Donrick Mascall 43, Stavon Frederick 78, Jesse Edwards 90) at Larry Gomes Stadium;
Real Maracas FC 1 (Ricardo Bennett 16), WASA FC 0 at Maracas Recreational Ground;
Marabella Family CC 2 (Levi Garcia 37, Renefor Martin 69), Police FC 2 (Keon Figaro 2, Jason Boodram 33) at Mannie Ramjohn Stadium;
Petrotrin Palo Seco 6 (Wilian Garcia 24, 60, 66, 74, Romauld Aguilera 38, Akeems Grant 42), Matura ReUnited 1 (Dorian Robinson 51) at Palo Seco Velodrome;
FC Santa Rosa 2 (Kasseem Karim 65, Jovan Rochford 78), Stokely Vale FC 0 at Marvin Lee Stadium;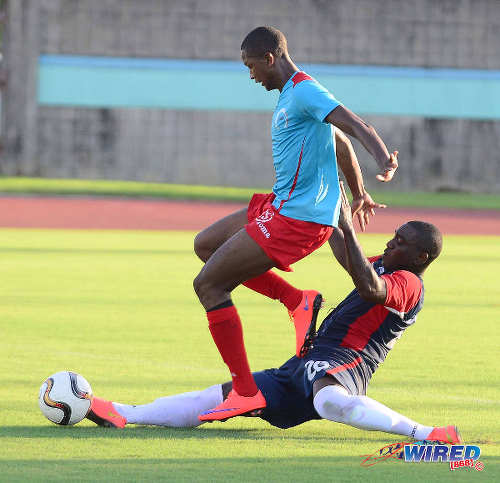 Upcoming Fixtures
Premiership Division
(Thursday September 24)
Club Sando Moruga v FC Santa Rosa, 4 pm, Grand Chemin Recreation Ground;
Matura ReUnited v Defence Force FC, 4 pm, Matura Recreation Ground;
Police FC v NLCB La Horquetta SA, 4 pm, St James Barracks;
Real Maracas v Marabella Family CC, 5 pm, Maracas Recreation Ground;
Bethel United v Petrotrin Palo Seco, 5 pm, Montgomery Recreation Ground;
WASA FC v Siparia Spurs, 5 pm, WASA ground, St Joseph;
1976 FC Phoenix v Guaya United, 5 pm, Canaan Recreation Ground.