Originally slated to begin competitive action in one of the four groups in the CFU qualifiers in St Kitts on Wednesday July 17, Trinidad and Tobago's Women's National Under-17 team will be cooling their heels at home—and hating it!
"To be honest, I wish they call now and say (we'll start) tomorrow," Coach Rajesh Latchoo told Wired868, "because we have our foreign-based players included and right now the team is just eager to play."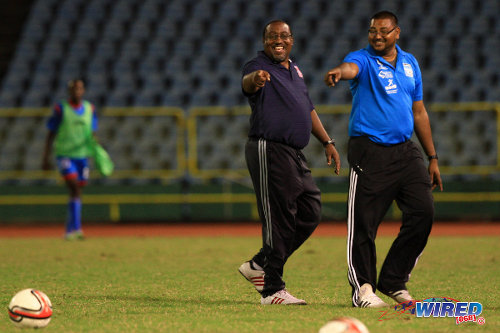 Ten of the 14 participating teams took to playing fields in the Dominican Republic, Haiti and Suriname on Wednesday but, with the stadia in St Kitts deemed not yet fit to host the fourth group, T&T must wait until organizers settle on a location and a timetable for their group which also includes the British Virgin Islands and St Kitts and Nevis.
But the good news is that T&T could well end up with an unexpected home advantage.
"They (CFU) are still looking for a venue," TTFA general secretary Sheldon Phillips told Wired868, "and there is still a chance that we may host it. But our financial conditions currently leave a risk to us in that regard and we're still in discussions with the CFU as far as being the host nation is concerned.

"But we are unable to agree under the current terms," continued Phillips, noting that the first leg of the CFU Under-20 Women's qualifiers is also carded for this month. "Based on the conversations I have been having with the CFU, our group will be pushed back to the second week in August.
"One of the concerns we voiced obviously was any sort of conflict with the U-20 tournament as we would not like to see that happen. The coaches have also voiced that opinion as well so CFU bringing the date up doesn't seem on the cards."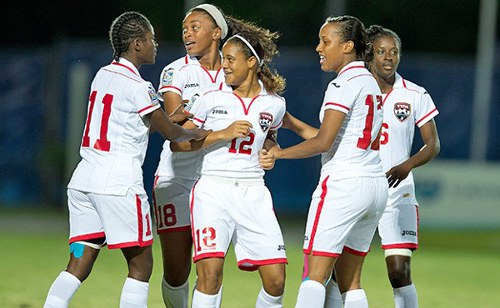 For Latchoo, the postponement may prove bitter-sweet as his foreign contingent may not be with him for much longer. T&T's group was initially set to run from July 15-19 and the foreign contingent of the squad was due to fly out thereafter but the current circumstances may alter those plans.
"Some players have indicated that they could possibly stay until August 2 – 4 but at that time they will have to attend school and meet other commitments abroad," Latchoo explained. "This does pose a challenge and is a bit of an inconvenience to us but I am proud to say that all 24 girls in the squad are very talented."
Latchoo, who is also head coach of the developmental Oilers team in the Women's Premier League (WPL), said that, the CFU hiccup aside, morale in his squad is good and he's quite happy with the quality he has seen from his players.
He said his team has been using WOLF matches to work out combinations and tactics and so far things have been coming along very nicely. And they are well aware that, if they want to advance to the next stage of qualifying in Puerto Rico in November, they have little choice but to put all the negatives behind them and get on with the job whenever they do get down to business.
"Yes, I like what I have been seeing thus far," Latchoo ended. "But at the end of the day, the ball is round and we have to go out there and play the football. The game is not won on paper but I'm confident we will do well."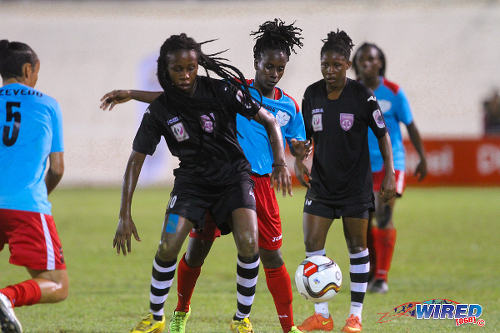 For Jason Spence and his Under-20 team, the headaches have been fewer but they have encountered some obstacles of their own.
Coach Spence said that the CXC examinations, held every year in May and June, caused some disruption to his training regime this year. Despite this, however, the team has persevered and is now shaping up very nicely.
"We were able to get everyone settled and I think the girls are gelling really well," Spence told Wired868. Saying that team chemistry and togetherness were on point, he noted that there was still some work to be done where fitness is concerned but the team is "getting there."
"We are working with physio Ashley Alonso every day," he explained, "to get the girls up to full fitness because that is most important."
The U-20s are grouped with Dominica and hosts St Vincent & the Grenadines in Group Four of the CFU Under-20 tournament and will be bidding to go on to the next phase of the qualifiers which takes place in Haiti in October.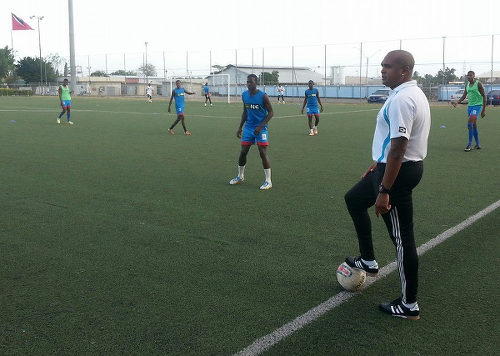 They will depart for St Vincent on July 24 for their group first game against St Vincent and the Grenadines, carded for two days later on July 26.
Included in Coach Spence's ranks are the Oilers trio of Shenelle Arjoon, Chevonne John and Naomie Guerra. Spence commended the WPL for "giving them that extra push" and says he has already noted an improvement in their attitude to and desire for the game.
"I have asked their coach to deploy them in the positions they're likely to be representing the national team in," the pleased coach commented, "and so far they have been performing well."
The St Ann's Rangers coach also sang the praises of Marlon Charles and Joanne Daniel, who handled the core of the current U-20 team at the U-17 level. Spence is hopeful that his team can replicate the performances they produced as U-17s.
U-20 team Jameela Mohammed singled out for special mention the parents of all the players. She noted that the concurrence of CXC and CFU preparations represents a serious challenge which, without a strong support team, has the potential to torpedo the best laid plans.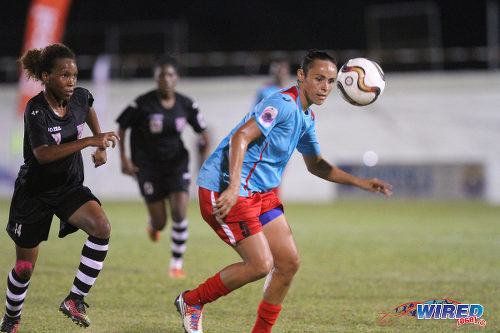 Both Spence and Latchoo agreed that the parents have been instrumental in ensuring that the girls stay focused. In fact, it was pointed out, some of them have had to tap into their own resources to keep things on an even keel.
"Management has been trying our best to work with what we have," Mohammed told Wired868. "But the parents have been very supportive in terms of giving assistance and making things comfortable for the girls in training."
Mohammed added that the embattled TTFA has supported the team by supplying water and food inter alia and by allocating ticket funds for the foreign-based players. But the team, she stressed, needs sponsorship.
Yesterday, the Sport Ministry held a fundraiser for the national youth teams in Diego Martin with a double header that saw the U-17s play a WPL All Star team while the "Strike Squad" squared off against a 2006 "Soca Warriors" XI. There is no word yet on whether the venture was a financial success.
"At present, because of the environment and what is taking place with football internationally, she said, "sponsorship is very fickle but we're still looking for sponsorship and we hope more people will come on board."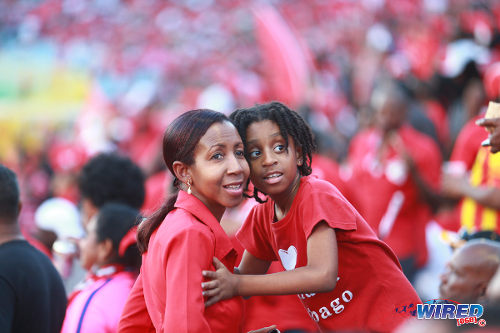 Time is of the essence since there is just over one week left before the Under-20 women precede their U-17 compatriots into battle, when they take the field in St Vincent on July 26.