Football! Bloody hell!
Trinidad and Tobago and Mexico set the CONCACAF Gold Cup alight tonight with an eight goal thriller in Charlotte to end the group stage of the 2015 tournament.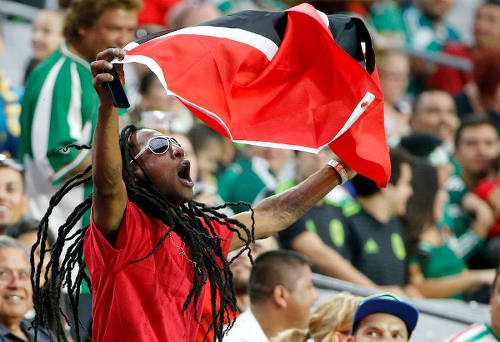 And, when the dust settled, both nations were locked at four-goals apiece and the "Soca Warriors" were atop Group C.
"It was a good game for spectators—not my heart," Trinidad and Tobago coach Stephen Hart told the TTFA Media. "We had an objective to get to the quarterfinals. We wanted to win the first game and get the result from Cuba and not have to play Mexico to get to the quarterfinals."
Somewhere in a hotel lounge, Panama coach Hernan Dario Gomez must have mumbled an expletive under his breath.

Earlier this year, Panama and Trinidad and Tobago arranged a friendly home and away series between the two nations. The Central American team travelled to Trinidad in March, where they were housed at taxpayers expense, won 1-0 in Couva and then reneged on the deal to host the Warriors in June.
Instead, the Panamanian Football Federation offered to let their National Under-23 Team face Trinidad and Tobago to complete the series. And the feeling was that Gomez did not think the Warriors were suitable match practice.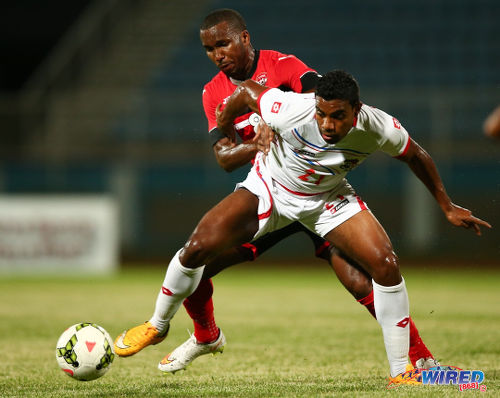 It is a perceived slight that the Warriors would probably remember when the two nations meet from 4.30 pm on Sunday in a quarterfinal fixture in New Jersey.
Panama drew all three group matches so far against Haiti, Honduras and the United States and eked through among the best third placed teams.
And the Warriors?
They didn't just barge through the door; they ripped the damn thing off its hinges.
"It was a bit bittersweet knowing that we were on top and then conceded," said the composed Trinidad and Tobago captain Kenwyne Jones, in the post-match interview.
He would probably have said something quite different if the question was posed as the final whistle blew.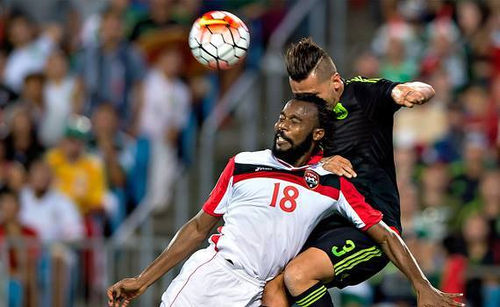 At the time, Jones was lying down, just outside the Mexican penalty area, and embracing Trinidad and Tobago's final goal scorer Yohance Marshall so tenderly that Mrs Marshall must have been blushing.
"We had a plan for the corner kicks, but I picked up the flight of the ball late," said Marshall. "But I wound up in the right place. We could have lost, but we could have easily won also."
For the first time, the Warriors went into a Gold Cup without a negotiated bonus scheme for wins or advancing past the group stage. And Sport Minister Brent Sancho, a former 2006 World Cup player, has not been in a particularly generous mood towards the Trinidad and Tobago Football Association (TTFA) of late.
There will be pressure on Sancho now to loosen the purse strings for the national players and staff at least.
The Mexico Football Federation's annual budget is believed to be in the region of US$150. The Warriors make by with whatever former Sport Minister Anil Roberts left behind, which was roughly TT$5 million or US$0.8million.
Imagine what Warriors coach Stephen Hart could do with a properly functioning football body behind him?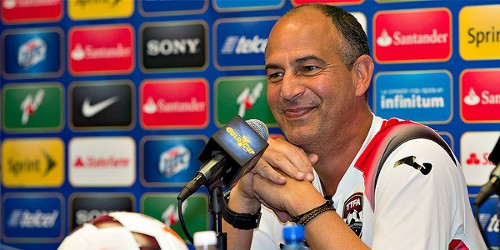 This is a night for dreaming, after all. Trinidad and Tobago made six changes to a winning team and still managed to hold a Mexican side that advanced to the knockout stage of the Brazil 2014 World Cup.
Goalkeeper Jan-Michael Williams and midfielder Andre Boucaud were both unavailable through injury and suspension respectively. But Hart went further as he replaced Radanfah Abu Bakr, Daneil Cyrus, Lester Peltier and Ataulla Guerra with Marshall, Aubrey David, Cordell Cato and Keron Cummings respectively.
Perhaps the coach wanted fresh legs against Mexico. Or maybe he was saving players for the weekend knockout fixture.
Either way, it was a gamble; and not one that always looked like reaping rewards.
Trinidad and Tobago created the first moment of concern in the match, after nine minutes, as Jones chased a weak Mexican back pass and goalkeeper Guillermo Ochoa was forced into a rushed clearance for a throw.
But such proactive play was rare from the Warriors in the first 45 minutes and they were soon defending inside their own half of the field as "El Tricolour" built momentum.
By the time the opening goal came, in the 31st minute, a Mexican item seemed an inevitability.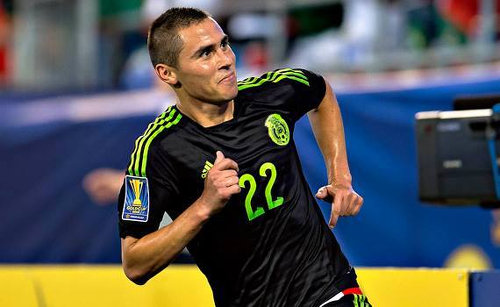 Miguel Layun whipped in a cross from the left flank that came off the head of striker Carlos Vela and into the path of right wing back Paul Aguilar who buried between the legs of Trinidad and Tobago goalkeeper Marvin Phillip.
Mekeil Williams, who was making his fifth international senior appearance, was a fraction late in spotting the danger.
At that stage, Mexico had 62 percent ball possession.
The Mexicans should have doubled their lead in the 47th minute as substitute Oribe Peralta missed a free header. But they were not as wasteful, three minutes later, when Jones conceded possession with a wayward pass at the half-line.
Carlos Vela, the former Arsenal striker, peeled away to collect in space, and stepped inside Marshall before squeezing his shot past Phillip for Mexico's second.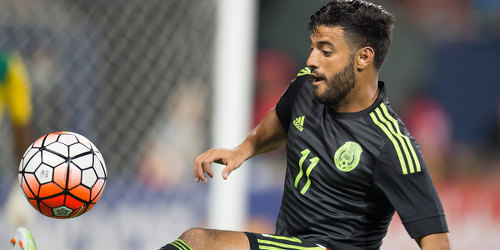 But Jones atoned quickly. In the 54th minute, the muscular Cardiff City striker muscled past one Mexican defender and held off another before slipping a neat pass into the path of midfielder Keron "Ball Pest" Cummings. And the North East Stars' attacker produced a cool finish.
It was the first time a Trinidad Pro League player had scored at the Gold Cup since St Ann's Rangers striker Errol McFarlane's item against Guatemala, eight years ago.
Vela should have restored Mexico's two-goal lead within seconds as he snuck away from Marshall and, clean through on goal, flicked over Phillip but wide of the far post.
From here on, the football fixture began to resemble a table tennis match.
The Warriors stole possession at the half-line in the 57th minute and cut through the Mexico side like a police car dissects traffic on the highway.
Hyland to Cummings wide to Cato back inside to Jones who steered the low cross past Ochoa before he somersaulted away to celebrate his first goal in seven international matches. Flipping brilliant!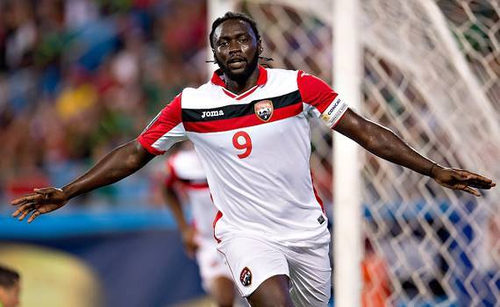 It got even better in the 67th minute as Cummings put the Warriors ahead with a thunderous, angled left footed strike into the far corner after Jones chested down a David throw for him in the area.
What a moment for Ball Pest! Five years ago, Cummings made his international debut under then coach Russell Latapy. Since then, he has played at more local clubs than soca star, Benjai, as his fondness for minor league football and poor training record saw him bounce all around the Pro League before he decided to buckle down at Stars.
Last night was only Cummings' eighth international appearance and even that owed much to the absences of the injured pair of Kevin Molino and Hughtun Hector and a disciplinary incident with Marcus Joseph.
But Hart will be hard pressed to leave him out now. Trinidad and Tobago, it seems, has still got talent.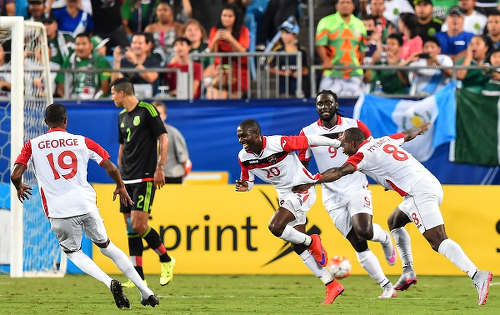 The Warriors might have gone two goals clear in the 78th minute as Jones roughed up opposing defender Diego Reyes before spanking a shot that ricocheted off the upright.
"We believe in one another," said Cummings. "We knew we (could) come back, once we dug deep."
But, for the final ten minutes, Trinidad and Tobago decided to drop deep and wait for the final whistle. And it was a nearly disastrous decision.
In the 88th minute, Mexico captain Andres Guardado spanked a speculative effort from outside of the area and Phillip, blinded by his own teammates, only saw the ball as it whizzed past him.
And, one minute into stoppage time, it got worse.
Mexico midfielder Hector Herrera wriggled free of his marker and drove a cross into Trinidad and Tobago's six yard box where Jones inadvertently sliced his clearance into the back of his own net.
He looked stunned as Mexican players celebrated what was surely the last goal of the game.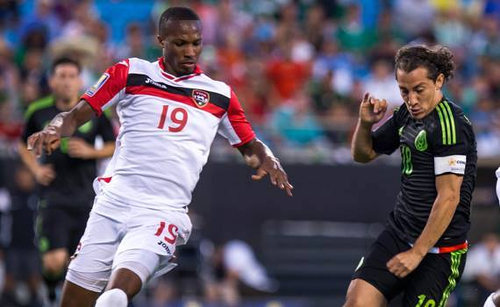 Presumably, Hart was being resuscitated on the touchline at the time. This was not about tactics anymore. Just guts and composure.
Four minutes into stoppage time, the Warriors won only their second corner kick of the match. As Joevin Jones prepared to take it, Mexican fans showered him with water bottles, beer cans and anything else they could get their hands on.
Jones (J) looked imploringly at United States referee Mark Geiger who waved impatiently at him to kick the bleeding thing and get it over with.
And Jones (J) marched bravely through falling objects to put a precise set piece on the head of Marshall who arched his back to steer his header into the far corner.
It was the most exhilarating escape from Mexican guards since "El Chapo."
Football, as former Manchester United manager Sir Alex Ferguson once famously remarked, bloody hell.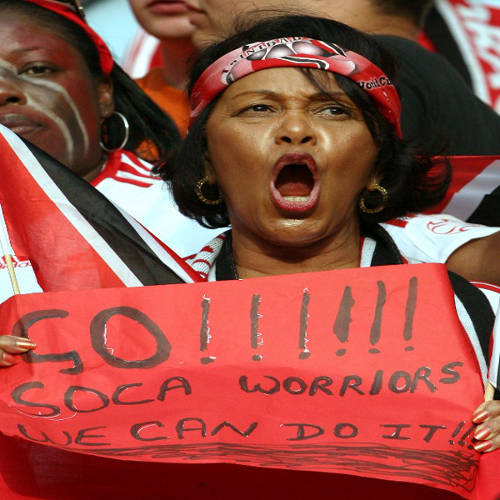 The Warriors had not scored in 470 minutes before they showed up in the United States. They now have nine goals in three matches.
Gomez should soon discover that the Warriors are not quite as poor opposition as he may have thought. Hopefully, he will appreciate the irony.
(Teams)
Trinidad and Tobago (4-1-4-1): 1.Marvin Phillip (GK); 2.Aubrey David, 18.Yohance Marshall, 4.Sheldon Bateau, 17.Mekeil Williams; 8.Khaleem Hyland (15.Dwane James 76); 13.Cordell Cato, 19.Kevan George, 20.Keron Cummings (10.Willis Plaza 89), 3.Joevin Jones; 9.Kenwyne Jones (captain).
Unused substitutes: 22.Adrian Foncette (GK), 5.Daneil Cyrus, 6.Radanfah Abu Bakr, 7.Jonathan Glenn, 11.Ataulla Guerra, 12.Kadeem Corbin, 16.Rundell Winchester, 23.Lester Peltier,
Injured: 21.Jan-Michael Williams (GK)
Suspended: 14.Andre Boucaud
Coach: Stephen Hart
Mexico (3-5-2): 13.Guillermo Ochoa (GK); 5.Diego Reyes, 2.Francisco Rodriguez, 3.Yasser Corona (21.Carlos Esquivel 77); 22.Paul Aguilar, 6.Hector Herrera, 8.Jonathan Dos Santos (9.Jesus Corona 67), 18.Andres Guardado (captain), 7.Miguel Layun; 10.Giovani Dos Santos (19.Oribe Peralta 46), 11.Carlos Vela.
Unused substitutes: 1.Moises Munoz Rodriguez GK), 12.Jonathan Orozco (GK), 4.Miguel Herrera, 14.Javier Orozco, 15.Oswaldo Alanis, 16.Antonio Rios, 17.Jorge Torres Nilo, 20.Jesus Duenas, 23.Jose Vasquez,
Coach: Miguel Herrera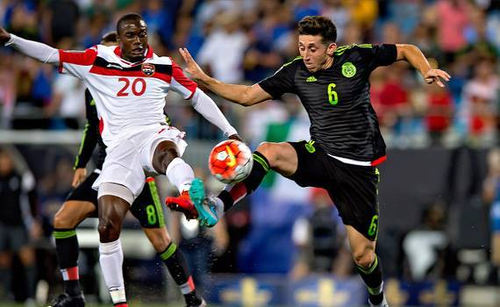 CONCACAF Gold Cup results
Group C
(Wed July 15)
Cuba 1 (Maikel Reyes 72), Guatemala 0 in Charlotte;
Mexico 4 (Paul Aguilar 31, Carlos Vela 50, Andre Gurdado 88, Kenwyne Jones 90+1 OG), Trinidad and Tobago 2 (Keron Cummings 54, 66, Kenwyne Jones 57, Yohance Marshall 90+4) in Charlotte.
Upcoming Fixture
(Sun July 19)
Trinidad and Tobago v Panama, 4.30 pm, New Jersey.