The Trinidad and Tobago Olympic Committee (TTOC) today revealed its list of over 100 athletes who will represent the country from 14 different sporting disciplines at the July 2015 Pan American Games in Toronto, Canada.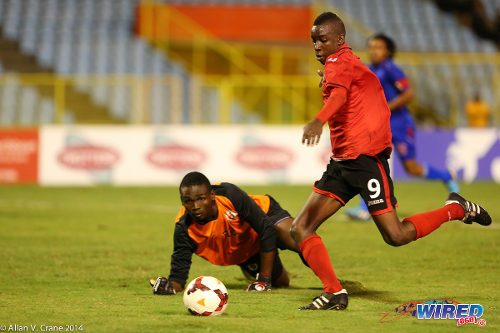 The Trinidad and Tobago National Under-23 Men's Team selected for the Pan Am competition comprises of: Javon Sample, Montell Joseph (goalkeepers), Shannon Gomez, Alvin Jones, Dario Holmes, Maurice Ford, Jesus Perez, Tristan Hodge, Jelani Felix (defenders), Aikim Andrews, Nathaniel Garcia, Neveal Hackshaw, Xavier Rajpaul, Jomal Williams, Kadeem Corbin (midfielders), Shackiel Henry, Dwight Quintero and Neil Benjamin Jr (forwards).
The "Soca Warriors" squad comprises mainly of players selected in coach Zoran Vranes' initial 20-man Olympic Games qualifying shortlist, which was eventually torn up due to US visa issues. Only 10 Pan Am-bound players were in the squad that was eliminated from the Olympic qualifiers on Saturday night after a 5-3 loss to St Vincent and the Grenadines in Puerto Rico.
Ironically, none of Trinidad and Tobago's goal scorers will travel to Panama.
Defence Force winger Akeem Roach, who scored a double against the "Vincey Heat", was a late addition to the squad and evidently did not force his way into the squad fast enough. While Rundell Winchester, who is loan from Central FC to the Portland Timbers reserve team, might have been excused due to a packed international schedule that includes the senior 2015 CONCACAF Gold Cup tournament in early July.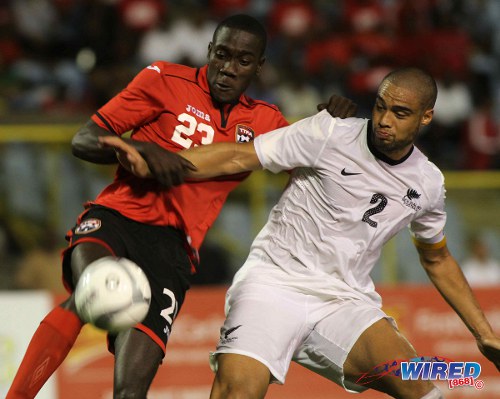 Sample, Gomez, Holmes, Ford, Hodge, Garcia and Quintero all missed the Olympic qualifiers due to their inability to secure the necessary travel documents while Benjamin was injured.
The Pan Am squad might be a blow to US-based students Adrian Welch and Keane McIvor who were both summoned to Puerto Rico by Warriors manager David Muhammad to represent their country.
They were deemed ineligible by Caribbean Football Union (CFU) officials and they won't get the chance in Toronto either.
Vranes hopes that the selected players take full advantage of the opportunity.
"Now we do not have any more games in the Olympic qualification to prepare for so it is important that we make full use of this opportunity in the Pan Am," Vranes told the TTFA Media, "and then get our players back into a program as they will now then have to look forward to being part of the senior team in the years ahead."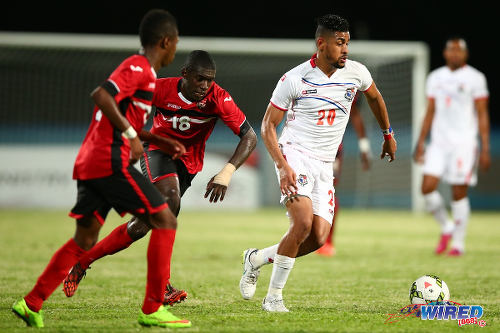 The Under-23 Warriors face Uruguay on July 13, Paraguay on July 17 and Mexico on July 21 in Group B at the Hamilton Pan American Soccer Stadium. The top two teams will advance to the Pan Am semifinals against representatives from Group A, which includes Brazil, Canada, Peru and Panama.
The "Women Soca Warriors" squad is a much more settled bunch, which leans heavily on the core players used in Trinidad and Tobago's 2015 Women's World Cup campaign.
The women's team consists of: Kimika Forbes, Shalette Alexander (goalkeepers), Brianna Ryce, Rhea Belgrave, Ayanna Russell, Arin King, Lauryn Hutchinson, Patrice Superville (defenders), Tasha St Louis, Karyn Forbes, Maylee Attin Johnson, Janine Francois, Dernelle Mascall (midfielders), Kennya Cordner, Ahkeela Mollon, Mariah Shade, Khadidra Debessette and Shenelle Henry (attackers).
However, coach Ross Russell omitted 20-year-old Petrotrin Oilers forward Kayla "Twinkle Toes" Taylor, who has been one of the Women's Premier League (WPL) stand-out players.
Taylor allegedly turned down the chance to represent the Women Warriors at the 2014 Caribbean Cup, as she had just joined Wiley College in Texas on an athletics scholarship. She was not invited to represent her country since, although she told Wired868 that she remains ready and willing to wear "red, black and white."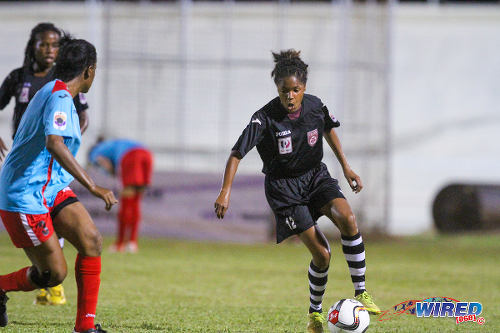 There was no room either for Wave defender Jenelle Cunningham and the Oilers pair of central defender Khadisha Debesette and midfielder Victoria Swift who have also acquitted themselves well.
"We are ready as can be," Russell told TTFA Media. "Right now the team is shaping up quite good. Most of the players are playing in the WPL. I have been to all of the games and they are all in good nick.
"It's just about sharpening up and finalizing the system we will play. The benefit is that the players are getting to play 90 minutes of football. It fits in okay into our preparations."
The Women Warriors open their tournament against Argentina on  July 11 at the Hamilton Pan American Soccer Stadium before facing Colombia on July 14 and Mexico on July 18 in Group A.
The top two teams advance to the Pan Am semifinals against the representatives from Group B, which includes Canada, Brazil, Costa Rica and Ecuador.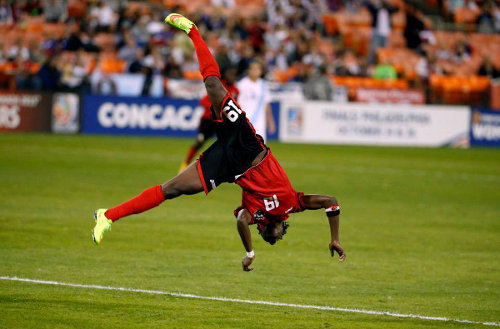 "The confidence level of our girls is high because they want to play these kind of teams," said Russell. "The only scare for me is that the teams we are playing are already in competition, some of them being at the World Cup and they will be well oiled. We are optimistic but we just have to be mindful of our opponents being a bit sharper at this time.
"The (girls) are very anxious to go out there and show the world that they belong to be up there with the better teams. The last game was a bit of a bitter sweet experience (against Ecuador) but they are putting that behind them and looking forward to doing well in the Pan Am Games."
The TTOC list did not include the final athletics team, which will be submitted by the National Association of Athletics Administration (NAAA) on July 3. The 2015 Pan American Games is scheduled from July 10 to July 26 in Toronto.
The rest of the Trinidad and Tobago team, which will be led by Chef de Mission Diane Henderson, is as follows:
Aquatics: George Richard Bovell III, Dylan Carter,Christian Marzden;
Badminton: Nicholas Bonkowsky;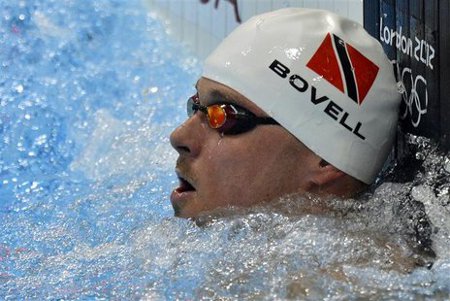 Beach Volleyball: Daneil Williams, Fabien Whitfield, Ayana Dyette, Malika Davidson;
Boxing: Chimere Taylor;
Cycling: Njisane Phillip, Quincy Alexander, Jude Codrington, Justin Roberts, Varun Maharajh, Emile Abraham;
Golf: Monifa Sealy, Christina Ferreira, Talin Rajendranath, Sachin Kumar;
Gymnastics: William Albert, Marisa Dick;
Hockey (Men): Darren Cowie, Solomon Eccles, Shaquille Daniel, Mickel Pierre, Akim Toussaint, Che Modeste, Christopher Scipio, Dillet Gilkes, Jordon Reyos, Aidan De Gannes, Kiel Murray, Stefan Mouttet, Tariq Marcano, Andrey Rocke, Kristien Emmanuel, Ishmael Campbell;
Judo: Christopher George;
Football (Men): Montell Joseph, Shannon Gomez, Maurice Ford, Alvin Jones, Jesus Perez, Neveal Hackshaw, Jomal Williams, Tristan Hodge, Nathaniel Garcia, Kadeem Corbin, Shackiel Henry, Xavier Rajpaul, Dwight Quintero, Jelani Felix, Neil Benjamin, Dario Holmes, Aikim Andrews, Jovan Sample;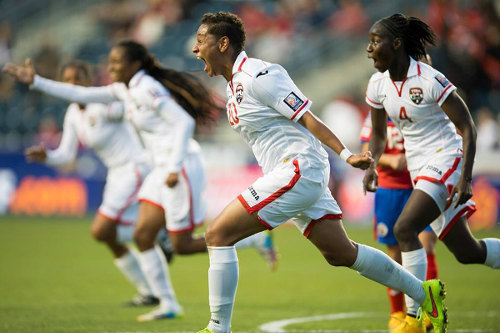 Football (Women): Kennya Cordner, Tasha St Louis, Karyn Forbes, Kimika Forbes, Maylee Attin-Johnson, Rhea Belgrave, Janine Francois, Arin King, Patrice Superville, Dernelle Mascall, Mariah Shade, Khadidra Debesette, Ayanna Russell, Ahkeela Mollon, Brianna Ryce, Shalette Alexander, Lauryn Hutchinson, Shenelle Henry;
Shooting: Marlon Moses, Anthony Maraj, Roger Daniel;
Taekwondo: Dorian Alexander;
Sailing: Andrew Lewis, Kelly-Ann Arrindell.