Legendary cricket batsman Brian Lara wore the number 10 jersey for Manchester United today while World Cup 2006 players Marvin Andrews and Cyd Gray and 2001 Under-17 World Cup midfielder Devon Leacock all made surprise appearances.
Here are the full squad rosters for the British Airways Tobago Legends Challenge: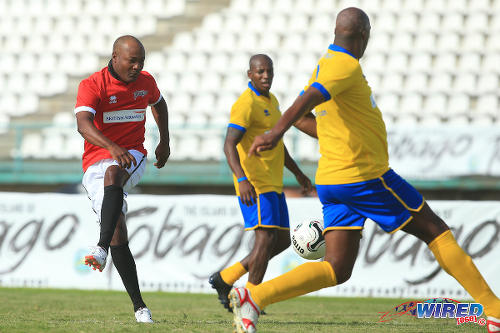 Arsenal FC: 1.Vince Bartram, 3.Ian Selley, 5.Jimmy Carter, 8.Stefan Schwarz, 4.Chris Whyte, 7.Luis Boa Morte, 2.Omer Riza, 6.Michael Thomas.
Aston Villa: 1.Gavin Ward, 3.Allan Wright, 4.Ugo Ehiogu, 9.Stefan Moore, 7.Mark Walters, 8.Darren Byfield, 10.Darius Vassell.
Guest player: 11.Huey Cadette. Absent: Graham Fenton.

Manchester United FC: 1.Raimond Van der Gouw, 2.Michael Clegg, 9.Dwight Yorke, 7.Quinton Fortune, 11.Bojan Djordic, 10.Brian Lara.
Guest players: 8.Danny Webber, 4.Ben Thornley. Missing: Ronny Johnsen, Louis Saha.
Chelsea FC: 8.Mark Stein, 6.David Lee, 4.Gareth Hall,  9.Sam Parkin, 11.Jody Morris.
Guest players: 2.Cyd Gray, 1.Richard Goddard, 7.Anthony Barness. Absent: Frank Sinclair, Ken Monkou.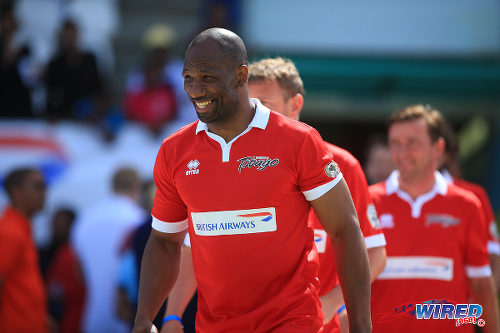 Liverpool FC: 1.Tony Warner, 6.Stephane Henchoz, 8.Patrick Berger, 7.Vlad Smicer, 9.Bjorn Kvarme, 10.Stan Collymore.
Guest players: 5.Marvin Andrews, 4.Shonneil McMillan. Absent: Steve Harkness, David Thompson.
PFA All Stars: 1.Shaka Hislop, 9.Michael Gray, 14.Michael Mols, 3.Paul Scharner, 7.Ian Goodison, 10.Matt Jansen, 11.Ricardo Gardner, 17.Pierre Van Hoojidonk.
Caribbean All Stars: 1.Clayton Ince, 2.Paul Hall, 4.Marcus Gayle, 2.Russell Latapy, 8.Dennis Lawrence, 6.Stern John, 5.Fitzroy Simpson, 9.Deon Burton.
Tottenham Hotspur: 1.Radek Cerny, 3.Chris Perry, 10.Paul McVeigh, 4.Mitchell Thomas, 7.Ruel Fox, 8.Andy Sinton.
Guest players: 6.Everton McKein, 9.Devon Leacock. Absent: Neale Fenn, Sean Davis.