It was a spanking new competition but some familiar faces hogged the opening credits.
Veteran Trinidad and Tobago internationals Maylee Attin-Johnson and Tasha St Louis produced the golden touches yesterday evening at the Police Barracks in St James as the Women's Premier League (WPL) got off to a rousing and entertaining start.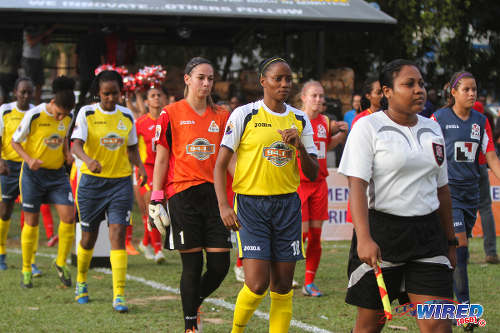 St Louis scored twice for Fuego in a 5-3 shootout win over Arin King's Dragons in the opening match of the inaugural competition while Attin Johnson also notched a double as the Angels shocked Kennya Cordner's Wave 3-0.
There is nothing like a bucketful of goals and entertaining football to soothe frayed nerves. Close to 400 spectators turned out to watch the WPL opener, which, packed around a tiny ground with three small bleachers, made for plenty of atmosphere.
It is early days but there was evidence yesterday that women's club football could serve up a product worth watching in Trinidad and Tobago.

The hiccups were still there, of course. Kick off was delayed for close to an hour as uniforms and sundry got to the ground late while some teams did not have a full eleven players until a day or two ago.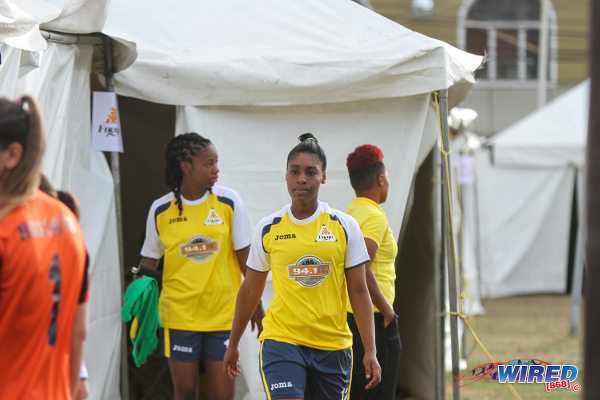 Yet, amidst the chaos, a special player stood up and made an early mark on the proceedings.
"It was a great start for us and me," Attin-Johnson told Wired868. "A lot of people were counting me out… A lot of people thought I should not be a franchise player, so I had a lot to prove."
Attin-Johnson, a silky and versatile playmaker, is just 29 years old. But she made her international debut at the age of 15; and familiarity breeds contempt.
Her longstanding international teammate, St Louis, was first to winners row, though. Although who would have thought she would end the night with a smile after the Dragons' storming start?
The WPL was only 57 seconds old when British striker Isabella Hayes ran on to a long kick by Venezuelan goalkeeper Maleike Pacheco to volley Dragons into the lead.
"Within the preparation for the game, there was a lot of confusion and the uniforms only came just before we got out there," said Fuego coach Richard Hood. "We were disorganised and I think that affected how we started…
"A bad start was kind of expected. But not that bad a start!"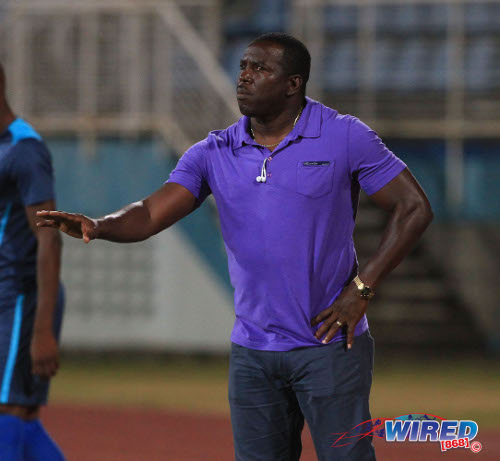 Some football pundits suggest that you should ignore anything that happens in the first five minutes of a match, which is before the pattern of play is properly established.
Hood might agree as Fuego gradually came into their own courtesy of the attacking trio of midfielders St Louis and Jo-Marie Lewis and burly striker Shanelle Warrick.
"We tried to convey to them that they needed to calm down and keep it simple and just keep the ball moving," said Hood. "And they started to do that and they took over the game."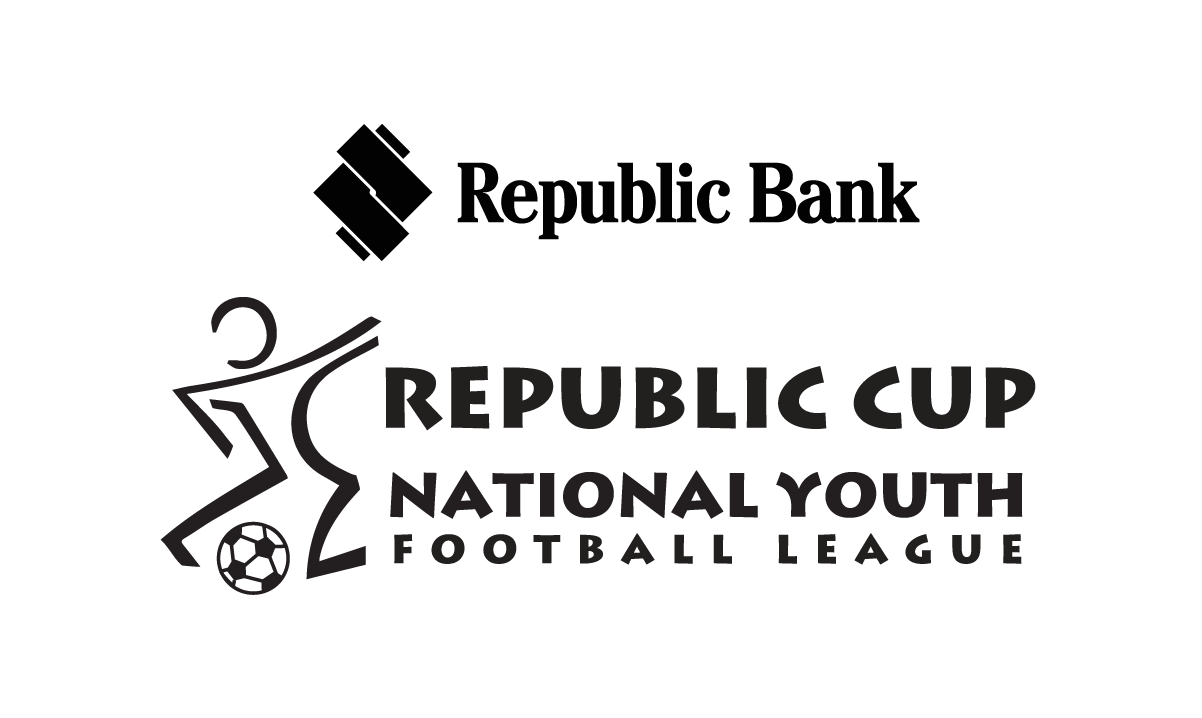 Warrick teed up St Louis for a shooting opportunity just inside the opposing penalty area in the 19th minute and, although Pacheco got a touch, the Dragon custodian could not keep it out of her net.
Ten minutes later, St Louis got her second item from the penalty spot after a handled ball by Dragons midfielder Alania Burgin. And Fuego substitute Saucedo made it 3-1 in the 52nd minute.
It could not have been the kind of scoreline that Dragons coach Karla Aleman expected when she made King the first pick of the WPL draft and then paired her with fellow "Women Soca Warrior" player Lauryn Hutchinson in central defence.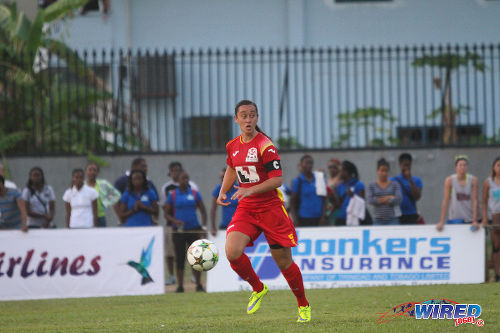 But, it is worth noting, the Dragons might have the biggest challenge in settling of all the teams with seven South American players in the squad plus two foreign coaches in Aleman (Costa Rica) and Joanne Daniel (UK).
Aleman said she was not disappointed with her squad or marquee players, King and Hutchinson.
"(King and Hutchinson) are heroines for the group," said Aleman. "They are my references. But they need a team.
"We have to fix things and I need time to put together a team and learn all my players."
The Dragons didn't go down without a fight though.
Fuego's Brazilian custodian, Leticia Bussato, produced a fine save to deny a Hayes penalty kick in the 42nd minute. But Hutchinson blasted in the game's third spot kick in the 57th minute to narrow the score to 3-2.
US Virgin Islands' Jessica Adams got the final item too with an audacious effort straight from the corner kick and in off the far post. But Lewis grabbed a clinical double in between the Dragons goals as Fuego emerged 5-3 victors.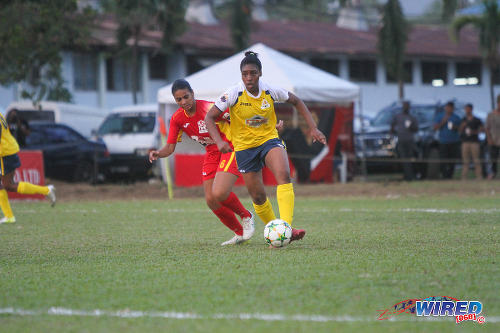 "I am proud of my team," King told Wired868. "It was our first time playing together and we fought them all the way… Our chemistry will get better."
The second match featured arguably the best team of the competition. Wave boasts of the Caribbean's top two strikers, T&T's Kennya "YaYa" Cordner and Jamaica's Shakira Duncan, with Kimika Forbes in goal and rugged, mobile Brazilian Josean Azvedo in defence.
Yet, they didn't stand a chance against the well-drilled Angels who might have again benefitted by avoiding the language barrier, with nine of their starting eleven from the English-speaking Caribbean.
"(Angels) deserved to win," said Wave coach Derek Arneaud. "I think we are the better team but we didn't come out to play tonight and they did."
There were quite a few outstanding players in white Angels kit last night. St Kitts and Nevis goalkeeper Tynetta McKoy, American central defender Jacqueline Poucel, Women's Warriors defender Ayanna Russell and Jamaican attacker Jodi Ann Mc Gregor all shone.
But, in the end, it was Attin-Johnson's quality that settled the affair, just as she scripted it.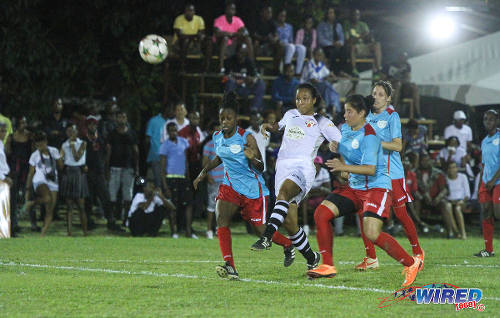 The W/Warrior is prone to use negativity as fuel and there has been enough of that about recently. Four coaches passed over the ageing captain with the heavily bandaged knee, at the WPL draft, in favour of younger, more mobile options.
And, like Uma Thurman's character in Kill Bill, Attin-Johnson made her death list.
Arneaud was first.
"It was great to show people what I can do and especially against this team," she said, with a grin. "Arneaud is the one who took me to high school (in the United States). But he passed up on me in the (WPL) draft…
"This was the payback."
After kick off, Attin-Johnson swapped places with McGregor to move upfront and showed she has not lost her finishing ability.
In the 31st minute, she beat Forbes with a clever lob. Nine minutes later, she doubled Angels' lead with a superb angled drive into the far corner after Poucel's surging charge through the centre of the field.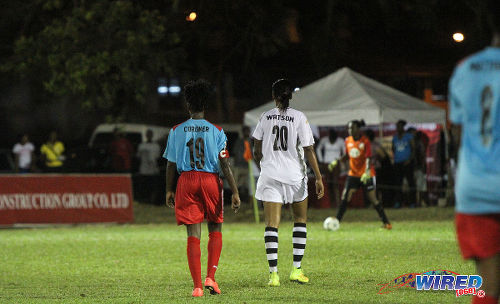 By then, Cordner and Duncan were virtually spectators as the Angels midfield trio of McGregor, Sharrain and Tamar Watson dominated the Wave pairing of Colombian Laura Becera and Brazilian Camilla Germano.
Arneaud tried to turn things around at halftime.
"We lost the midfield and conceded two goals and that was it," said Arneaud. "At halftime, Cordner said she would drop back into midfield to help out. We could have got back into the game or we could have conceded another goal.
"And we conceded another goal."
Poucel again initiated the third goal with a successful tackle and, on the break, Vincentian winger Kandace Franklin produced a clever low cross into space that Colombian Rafaela De Vargas squeezed past Forbes on her second try.
The Angels offered no charity either and McKoy produce a brilliant late save to keep out Wave substitute Emarie Holland, as the WPL's most potent strike force ended without a single goal.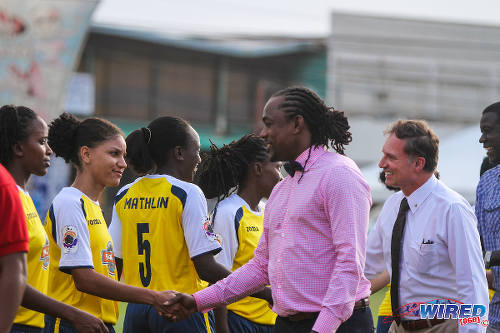 Women's football was the biggest winner on the night though.
During the double header, there was an announcement that the WPL would return to the Barracks next Friday when the Oilers tackle Rush from 6 pm. It was a different day, time and venue than what the Sport Ministry said just two days earlier. But such administrative swivels are unlikely to trouble the public if the games continue to provide this much entertainment.
"It was electric tonight," said King. "I loved the energy."
"It turned out better than I expected," said Arneaud. "Two exciting, competitive games."
"The Women's Premier League is a great idea," said Aleman. "It is a big opportunity for players and coaches."
And those gushing endorsements came from the opening day losers. For all the inherent issues of the competition, the WPL stood up for itself last night.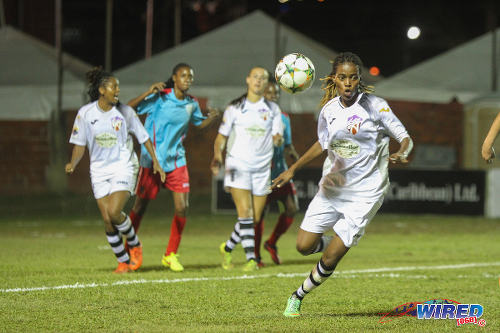 (Featured game)
Angels (4-2-1-3): 1.Tynetta McKoy (GK) (25.Beth Seaman GK 90); 7.Peta Gay Soman, 2.Ayanna Russell, 8.Jaclyn Poucel, 4.Jodie Redgrave; 17.Sharrain (6.Alyssa Budhoo 78), 20.Tamar Watson; 10.Jodi Ann McGregor; 15.Kandace Franklin, 9.Maylee Attin-Johnson (captain), 16.Rafaela De Vargas (13.Bruna Da Silva 86).
Coach: Anthony Creece
Wave (4-4-2): 25.Kimika Forbes (GK); 7.Shanice Stevenson, 5.Josean Azevedo, 4.Jenelle Cunningham, 17.Patrice Vincent (11.Emarie Holland 73); 8.Afiyah Matthias (3.Teneisha Copham 58), 20.Camilla Germano, 10.Laura Becera, 6.Natasha St Louis (14.Stephanie Beam 67); 19.Kennya Cordner (captain), 9.Shakira Duncan.
Unused substitutes: 21.Tenesha Palmer (GK), 2.Samantha Kissoon, 13.Tisha Lee Spicer, 16.Charissa Delzin.
Coach: Derek Arneaud
Referee: Cecile Hinds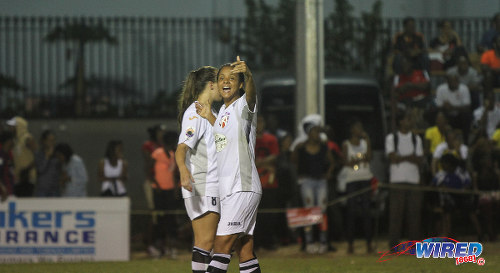 Women's Premier League results
Fuego 5 (Tasha St Louis 9, 29 pen, Saucedo 52, Jo-Marie Lewis 60, 62), Dragons 3 (Isabella Hayes 1, Lauryn Hutchinson 57 pen, Jessica Adams 70) at St James;
Player of the Match: Tasha St Louis (Fuego);
Angels 3 (Maylee Attin-Johnson 31, 40, Rafaela De Vargas 61), Wave 0 at St James;
Player of the Match: Maylee Attin-Johnson (Angels).