Spoiler alert: Sooner or later, Prime Minister Kamla Persad-Bissessar will be unable to keep a straight face. "Tanty Kamla" will just break down with uncontrollable laughter at a press conference or even in Parliament, while everyone stares at each other with confused expressions.
At that point, manned television cameras will emerge from neatly camouflaged hiding spots and we would finally know the truth.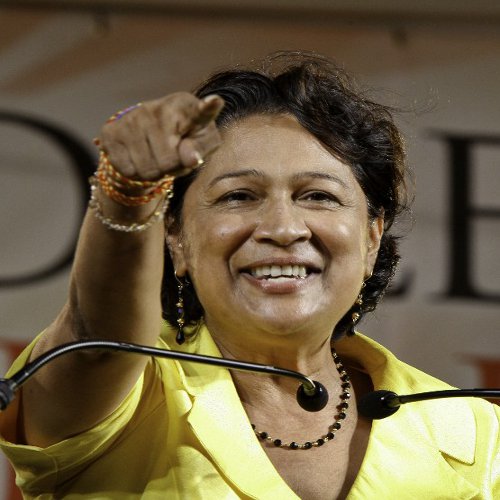 Trinidad and Tobago has been "punk'd" for the last five years. The People's Partnership's entire term was an elaborate hoax.
Sometime and somewhere, a television producer watched "How to lose a guy in 10 days" and figured "How to lose a country in five years" was potentially much more fun.
How else can you explain Persad-Bissessar's decision to try and remove deputy Director of Public Prosecutions Joan Honore-Paul for the same statement she claimed vindicated her, just five days ago?
Last week, Honore-Paul suggested that Persad-Bissessar could not be cleared from an investigation while it was still ongoing by the Integrity Commission and Trinidad and Tobago Police Service. And that it was unhelpful to both investigations for the Prime Minister to claim otherwise.
In the real world, we call that logic.
The Prime Minister's initial response was: "I am very happy. I feel vindica­ted by the statements made by the (deputy) Director of Public Prose­cutions… What more can I need?"
Yesterday, Persad-Bissessar addressed the same statement by the deputy DPP with: "My lawyers have told me that the deputy DPP in her media release trespassed against the constitutional remit of the Trinidad and Tobago Police Service and the Integrity Commission.
"Secondly my lawyers have told me that she has demonstrated bias and thirdly they have advised that we would call upon her to recuse herself from these investigations."
Mr Live Wire also has a few concerns, after reading that statement.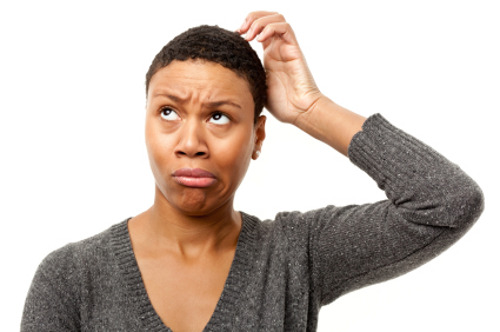 Is the Prime Minister now suggesting that "logic" is biased against her Government? If so, should we be alarmed or is that a positive first step?
And where did this legal advice come from?
Is the Prime Minister so allergic to responsibility that she is claiming lawyers approach her to offer unsolicited advice before going off to file their own motions in her name, rather than suggest that she sought counsel to vindictively eliminate a woman who embarrassed her politically?
Or are those legal opinions actually voices in her head?
Either sounds plausible at this stage.
Media houses are probably phoning the likes of Martin Daly SC, Ramesh Lawrence Maharaj SC and Reginald Armour SC for a response to the Prime Minister's latest salvo.
Mr Live Wire would have called Elder Associates and booked the PM a session on the couch. I mean saying that the Prime Minister's change of tone over the DPP is a bit odd is like describing a whale as a "kinda big fish."
And this is not to make fun of psychological illness. Far from it. It is starting to seem as though Persad-Bissessar's entire election campaign is a genuine plea for help.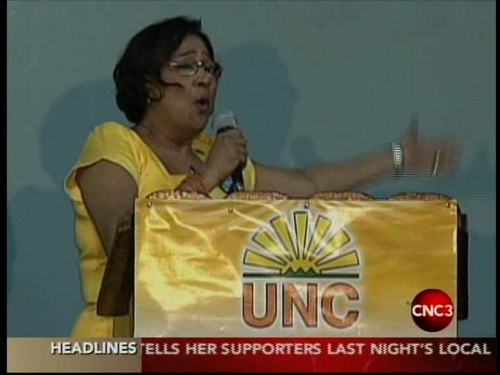 And, like Lady MacBeth desperately trying to perfume her tainted hands, Tanty Kamla is doing everything she can think of to be free of her post, short of scrawling the message "HELP ME" on a piece of paper and holding it up for the television cameras while Roodal Moonilal's back is turned.
Let us at least admit that taking on the DPP in an election year, after already aggravating the unions, accelerating the wastage of public funds and insulting the intelligence of right-thinking citizens, is like a horrible waiter telling you that you have ugly children, just before asking for a tip.
At this point, Opposition Leader Dr Keith Rowley can have political meetings that last for just five seconds. He only has to say: "I'm not Kamla…" drop the mic and walk off stage.
Maybe, though, we will find out that it was all a bizarre reality show where a middle aged woman tried to infuriate a sleepy, lackadaisical two island republic by pulling gags like: riding to work in a helicopter while asking public servants to ban their belly, refusing to appoint a permanent Police Commissioner in the face of rampant crime, appointing a man mired in financial scandals to run the Ministry of Finance and passing legislation capable of freeing persons charged with stealing billions of taxpayers' dollars on Independence Day.
Hahahahaha! You got us good there, Tanty Kamla.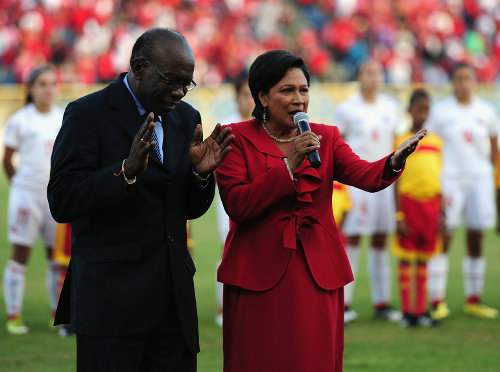 There is only nagging problem with that theory though.
Surely not even Stephen King could dream up characters as perverse and morally depraved as "Anil Roberts" and "Vernella Alleyne-Toppin."