"They lost because of individual errors," said CONCACAF technical study group member Keith Look Loy. "But, as a general statement, I cannot be satisfied with the statistical performance of the team. Seven goals in five games are not good enough…
"Five against Aruba and none against Panama, none against Guatemala and none against the United States… You're not going anywhere with that."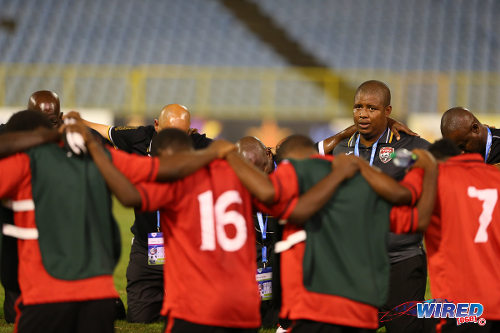 Look Loy, a former national player and coach at youth and senior level, covered the 2015 CONCACAF Under-20 Championship in Jamaica alongside Wired868 and was generous enough to give his insight on the tournament in general and Trinidad and Tobago's performance in particular.
The following is the first in a three-part interview that touches on the performance of the teenaged "Soca Warriors" but also goes on to discuss the merits of the local school and professional game, the Trinidad and Tobago Football Association's (TTFA) responsibility to football development, exactly what football fans should expect in the short and long-term future and a CONCACAF model for success:
Wired868: How long have you worked on the CONCACAF technical study group?

Keith Look Loy: That started with myself and Luis Hernandez, who is the president of the Cuba Football Association, and we started this work two years ago with the last (CONCACAF) Under-20 tournament in Puebla, Mexico. Since then we have multiplied the group and have well over a dozen people working as you saw in Jamaica.
We look at all the tournaments, male and female and all age groups, and by that I mean not only CONCACAF but CFU and UNCAF as well. We analyse the games and the technical capacity of the players and the tactical organisation of the teams and their strategy and, most importantly, their weaknesses and we look at the statistics as well. We issue reports based on that and have been doing that since two years ago. All of those reports are ultimately published on the CONCACAF website.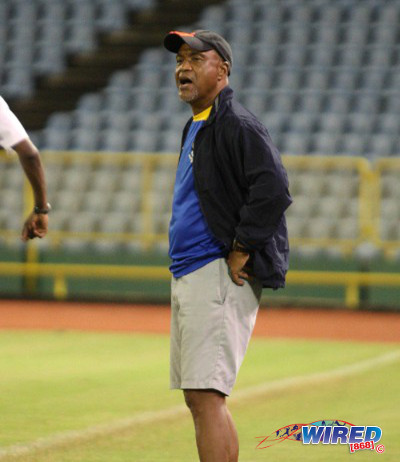 We make these analyses available to the national associations because we don't want this to be an exercise in criticism or an intellectual exercise. We want it to have practical consequences.
Wired868: What was your view on the recent CONCACAF Under-20 tournament?
Look Loy: This was an expanded tournament. We normally have eight teams with three group matches (instead there were 12 teams with five group matches each)… The concept here, mainly looking at the Caribbean and some of the Central American teams, (was that) they come to the tournament unprepared with a shortage of international tournaments and experience. So the thinking was to give them more matches. So this was novel…
The four teams that qualified and even some of the others like El Salvador and Trinidad and Tobago, I thought that we saw a good level from them. The level generally was good and I fully expect the four qualifiers will hold their own in New Zealand…
(He was particularly proud of tournament runner-up Panama's continued improvement at CONCACAF level).
Fifteen years ago, Panama were seen as a baseball and boxing country and they were not taken seriously. But they put in the work and you are seeing the results now.
Over half of their players at this tournament played at the last Under-17 World Cup. And what Panama has been able to do over the last decade or so is build up a reservoir of players who now have junior World Cup experience.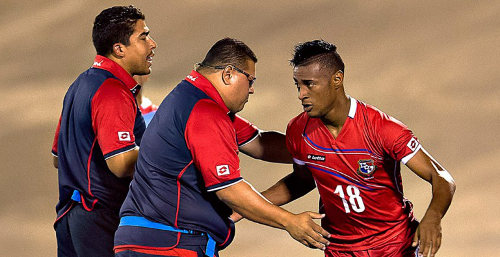 They have now qualified for their fourth junior World Cup in the last six (tournaments). And they have played in most of the recent Under-17 tournaments. So they now have a pool of players in senior football who have World Cup experience and that is why they have been in the last two Gold Cup finals and conceivably will be fighting for honours in the next one as well.
Consistent investment with thought guiding it pays dividends and they are seeing that…
Wired868: Trinidad and Tobago and the United States were both beaten quarterfinalists at CONCACAF Under-17 level two years ago but now the US is heading to the World Cup. What can we take from that?
Look Loy: This is one of the weakest United States teams we have seen in a junior tournament and they had their problems but in the end big fish know how to survive.
As we said in Jamaica, it is not a two year jump to under-20 football it is a three year jump. (Some players, like Duane Muckette and Neveal Hackshaw, who were too old for the under-17s two years ago were able to join them as under-20s now). So you would have the possibility of including players who were not in the last programme.
But, two, whereas our players went on playing school football, their footballers have gone on to the German Bundesliga, the English Premier Division, the Scottish Premier League, etcetera, etcetera. In those two years, they have left high school football behind. So the level and quality of their experience has added to their ability to come now, having failed two years ago, and qualify for a World Youth Cup. There are no secrets here and I know you know that full well.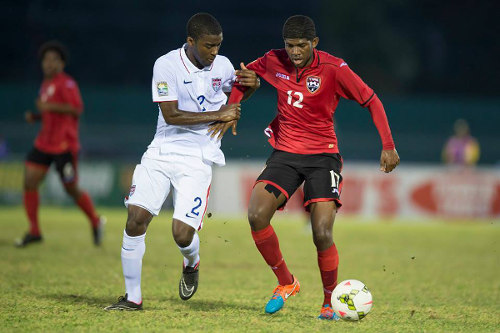 Wired868: What tactical trends or patterns did you notice at the tournament?
Look Loy: Most teams played with 4-4-2 with different variations… One team played with three defenders which was Jamaica and that didn't help them at all. (Coach Theodore Whitmore) never fielded the same line-up in any match, he changed the position of his players from match to match and even within the same matches. He was never at ease with his team. Never…
The best teams had a stable line-up. Panama for the duration of the tournament made only three changes to their starting line-up in six matches and those three starting positions were in regular rotation (between the same six players).
Mexico changed once when they rested players after they had already won the group, Honduras was stable and, after the second game, United States also became stable and that speaks to preparation.
(Trinidad and Tobago made 15 changes in four group matches after their opening 2-2 draw with Jamaica. Just four of those changes were due to either suspension or injury).
The coaches of these teams came knowing their best line-ups; they were not guessing… If there is a trend to be pointed out here, it is that the best teams came prepared and the Caribbean teams all came unprepared including Trinidad and Tobago and the host, Jamaica.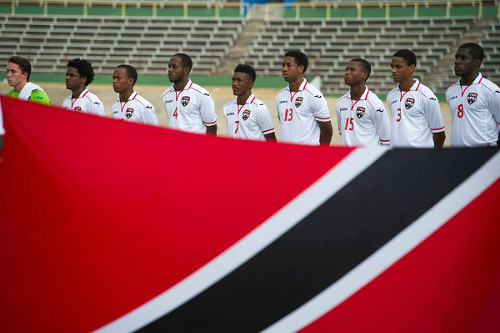 Wired868: What would you say Trinidad and Tobago added to the competition?
Look Loy: At an individual level, there was general consensus that Trinidad and Tobago had good players and, from a technical standpoint, it was one of the best teams that Trinidad and Tobago sent to a CONCACAF tournament for a while now.
The players have ability and not just physical ability but technical ability… We liked the tactical ability of Neveal Hackshaw from North East and the skipper (Shannon Gomez) who came to our attention immediately in the first match but then kind of faded during the tournament. But you could see the boy is a capable player.
We liked (Duane) Muckette who is my player. But he is coming off a serious injury and he didn't really impress himself upon the tournament as I really believe he could… But everybody recognised his importance to the team.
Akeem Garcia is a very tricky, dodgy guy and he has ability. Ricardo John is a useful player. We were very surprised not to see him appear at all against the United States. He played by himself upfront against Panama and did very well. I was personally shocked (not to see him against the US) because I thought as a lone forward he had a very good game upfront against Panama holding the ball and moving off the ball. He was physically strong and quick and so on. But the coaches would have their reasoning.
These were the outstanding players but we could see generally the pool (of Trinidad and Tobago players) was a good one on a technical level.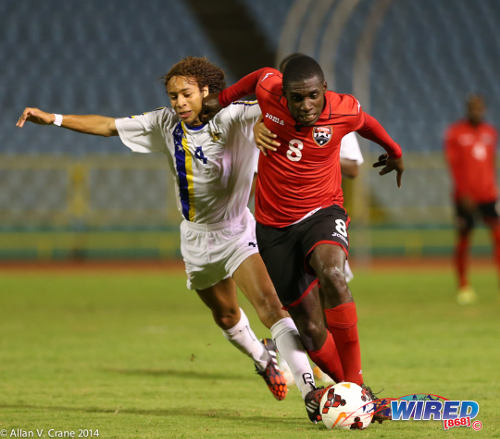 Wired868: And what did you think of Trinidad and Tobago's performances?
Look Loy: On a tactical level, we were impressed with the fact that they could hold their defensive organisation for 60 or 70 minutes. But the problem is the team lacked physical fitness, which has to do with preparation. Even within those minutes and especially after those minutes the team was very, very vulnerable and this is when they lost.
They lost because of individual errors. As a general statement, I cannot be satisfied with the statistical performance of the team. Seven goals in six games are not good enough.
Five (goals) against Aruba and none against Panama, none against Guatemala and none against the United States; that isn't good enough. You're not going anywhere with that. Extract Aruba from the equation, you can't score two goals in four games against your main rivals and go anywhere.
The team had real problems with goal scoring and the missed chances against Jamaica hurt them very, very badly. It was a match they should have won. And, despite good collective organisation in defence, you had a catalogue of defensive individual errors.
Look at the goal conceded by the goalkeeper (Johan Welch) against Guatemala, which was the second goal after an own goal to open the scoring. I don't want to point fingers at him but look at the goal that Panama scored. There is no collective training to address (errors like) that or to address the goalkeeper coming and looking to dribble a man 35 yards from his goal and giving away a goal. There is no training to deal with that.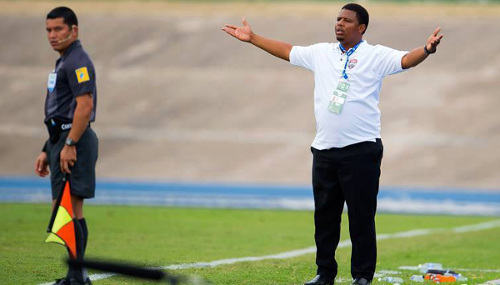 Yes, the players have individual ability and yes they were able to maintain some quality level and defensive organisation for most of the match. But then that faded and individual errors and errors of positioning and discipline cost them.
Look at the game against Panama. A match you are fighting for your life and then (Kadeem Corbin) makes a foolish tackle, which is a lack of due concern and care and you find yourself (sent off) and then an elbow to the face (by Akeem Humphrey). And then from being able to fight for a place for the World Cup, you are down to nine men.
These are individual errors of concentration. The coach can't cater for that… And then it fell apart and another opportunity fades away.
Wired868: Can you talk more about the preparation of the team?
Look Loy: The TTFA is consistently failing national teams in that regard and we can go back in time and say the TTFF as well. When the TTFF wanted to find the means to support a team, they did it you know whether it was Jack Warner's money or whoever else's.
Let us not forget the last Under-17 women's team that played in that very Catherine Hall Stadium was the worse team in the tournament. They didn't score a goal and didn't get a point and came home disgraced. And yet that was the successor to the National Under-17 team that Even Pellerud had that beat Chile in the World Cup and gave a good account of their selves.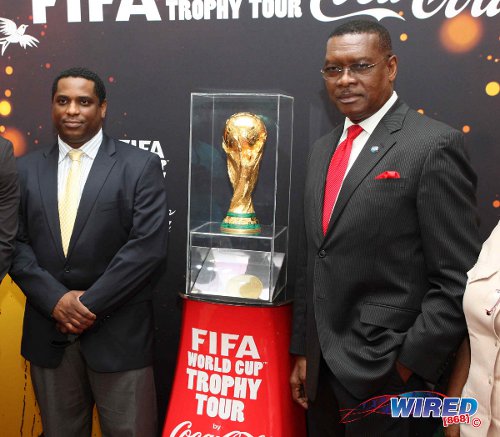 They found the means to prepare Pellerud's team but they didn't find the means to support the team Marlon Charles had and that is the kind of lackadaisical don't care attitude that transcends into the modern era with the TTFA.
That Under-20 team wasn't prepared. And if it had been prepared you cannot guarantee success in football but they would have been better able to fight for a World Cup place…
Preparation is not only about lasting 90 minutes. Panama and Mexico played six group matches in two weeks and were asked to play extra time and if you saw those Panamanians run you would think it was their first match. And why? Because they were mentally and physically prepared to play six games in two weeks. Trinidad couldn't do that…
(He speaks about a CONCACAF pre-tournament model he wrote for coaches on planning, physical preparation, tactical preparation and match analysis).
Part of your preparation is: okay, we are going into a tournament that has six games in two weeks, so let's do that. Let's play six games in two weeks. I don't care if you play against North East, south east, whatever you could get; but six games in two weeks. So (your players) have a mental experience of doing that. When they get to the tournament we have done that before…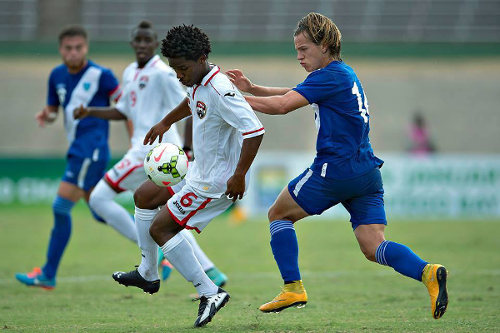 If you have the money to go through Central America and play Panama, Costa Rica and all of them in two weeks, then okay fine. It depends on your resources. But preparation includes dress rehearsal for the event and we don't do this…
That has nothing to do with money. That is planning, vision and foresight. But nobody in the TTFA is thinking like that.
Editor's Note: Click HERE to read the second of a three-part interview with CONCACAF technical study member Keith Look Loy on Sunday February 1.