The family of deceased former Trinidad and Tobago footballer Akeem Adams might finally be able to put aside any lingering ill-will over an unfulfilled Government pledge to meet the funeral costs for their son.
Acting Sportt Company CEO Adrian Raymond said today the lingering $98,000 debt to Adams' family will be met before the end of next week.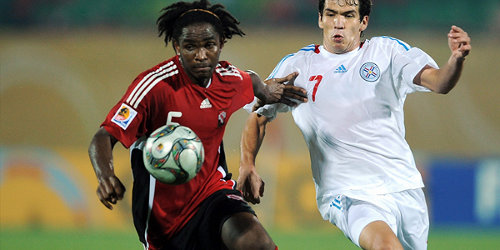 "Having had the discussions with the PS (Richard Oliver), (Adams' mother Ancilla Dick) can expect some relief before the end of the next week," Raymond told Wired868. "I think it is the mother mainly who was owed and, yes, we will meet the full amount."
The Ministry of Sport's decision came within a few hours of a Wired868 article which highlighted the extent of the lingering debt.
Former Sport Minister Anil Roberts promised to pick up all Adams' funeral expenses in January 2013. Adams, a two-time World Youth Cup player for Trinidad and Tobago, was employed by Hungarian club Ferencvaros at the time of his passing on 30 December 2013 after he failed to recover from a massive heart attack.
Raymond did not offer a direct explanation as to why it took this long for the Ministry of Sport to act upon its word.
"I can't speak to what caused the delay but I know the ministry was going through a lot of issues that might have distracted things," said Raymond, who did not hold his current post at the time of Adams' funeral. "But now that the issue has been highlighted, the main thing is to deal with it quickly. I don't know if the family has been contacted yet but the PS is treating it as urgent.
"We were working on other things to get the money to her before this but we are now going with the quickest possible solution."
Hopefully, it will be a case of better late than never for the Adams family.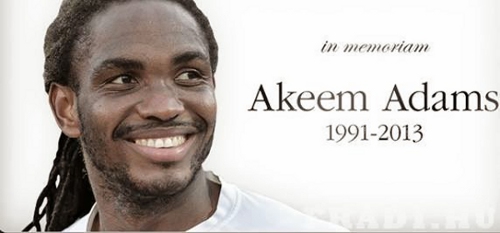 On Sunday January 4, friends and well wishers of the former football starlet will hold an inaugural memorial match in his honour from 3.30 pm at the Mahaica Oval in Point Fortin.
The match pits an Akeem Adams XI against local Pro League outfit, Point Fortin Civic, and all proceeds from the $20 entrance fee will go to a scholarship in Adams' name, which will help one Point Fortin student every year to offset costs—accommodation or otherwise—for his or her university education.
The event will be organised by Dion Sosa, Adams' former local agent, and former national football team administrators, Cheryl Abraham and Chris De Silva.
Players expected to take part are current senior Trinidad and Tobago internationals Aubrey David, Leston Paul and Marvin Phillip as well as Adams' former World Youth Cup teammates, Qian Grosvenor, Sean De Silva, Jean-Luc Rochford and Mekeil Williams and his brother, Akini Adams, who is a goalkeeper with Civic.