Wired868 covers the FIFA 2015 World Cup Play Off first leg from in Quito, Ecuador:
At one of the highest football stadiums in the world, the Trinidad and Tobago national senior women's team demonstrated the height of its ambition today with a goalless draw in the first of a two-legged FIFA World Cup Play Off contest played away to Ecuador at the Estadio Olimpico Atahualpa in Quito.
There are just 90 minutes left in Trinidad and Tobago's Canada 2015 Women's World Cup campaign and, whisper it, it is hard to see the "Women Soca Warriors" not completing the task from here.
Seven years ago, FIFA temporarily banned Ecuador from holding international matches in Quito due to the perceived unfair advantage of playing at 2,700 metres above sea level and the potential health risk to visitors.
But not even Quito's thin air could suffocate the Warriors' dream for a maiden World Cup senior place.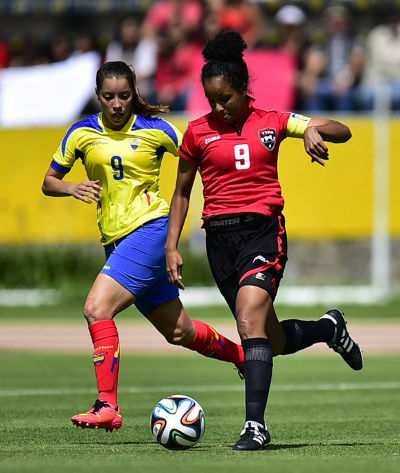 On Tuesday December 2, the Warriors will try to finish the job at sea level in Port of Spain and coach Randy Waldrum hopes to see the Hasely Crawford Stadium full to the brim.
"I think in the first half of the game, we were the better side," said Waldrum, after the match. "But as the game went on, with the altitude, we tried to site in and make sure we didn't concede and give away the game.
"So I think at home with our fans, which will be bigger and stronger hopefully than this contingency, I think we will have a great opportunity to finish it out at home."
The Hasely Crawford venue has not been sold out since October 2005 when a brilliant Stern John double helped the national men's team to a 2-1 win over Mexico en route to the 2006 World Cup.
Eight years on, the Women Warriors hope to join them with the distinction of qualifying for a senior FIFA tournament. And, surely, there could not be a better time for Kennya Cordner and Ahkeela Mollon to cut loose.
Once more, the Trinidad and Tobago ladies' best quality was their nerve, passion and willingness to sacrifice for each other.
Today's outing was only the second time in Ecuador's entire qualifying campaign that "La Tricolor" failed to win in Quito. Apart from Trinidad and Tobago, Brazil was the only nation to leave the Atahualpa Stadium with a result this year.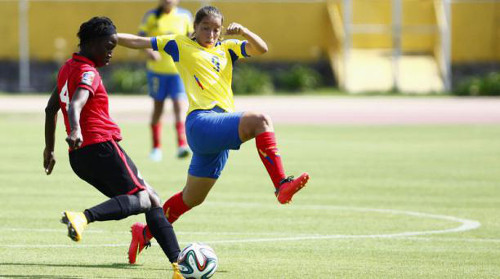 "Big teams struggle to get results here and we got a result," Trinidad and Tobago captain Maylee Attin-Johnson told Wired868. "I thought we should have come out with a win but we didn't. I'm super proud of my teammates for being able to maintain our composure with the high altitude."
In truth, there were times when Trinidad and Tobago's point looked in doubt; not least when substitute Dernelle Mascall left her feet to lunge at Ecuadorean attacker Elizabeth Caicedo inside the penalty area.
About 17,500 partisan patrons rose to their feet roaring for a penalty. German referee Bibian Steinhaus offered the small consolation of an Ecuador throw instead.
Ecuador attacked to the final whistle but that was the host team's best chance.
Waldrum suggested that the reason the Women Soca Warriors are still alive tonight had much to do with their week-long training camp in Mexico City, which helped prepare them for the altitude.
"I have to thank (TTFA president Raymond) Tim Kee and (general secretary) Sheldon Phillips and the Government or whoever was responsible for getting us to Mexico City," said Waldrum. "I don't know that we could have gotten this result had we not had that week to work in altitude…
"I don't think we would have made it."
The effects of altitude do not hit you at once and, as Trinidad and Tobago stroked the ball around in the first 15 minutes, it might have seemed like a myth. The sun was shining, the temperature was a cool 25 degrees Celsius and a gentle breeze waffled over the ground.
Attin-Johnson was strolling around the field stroking the ball around like a latter-day Socrates while winger Ahkeela Mollon was twisting Ecuador left back Angie Ponce into knots.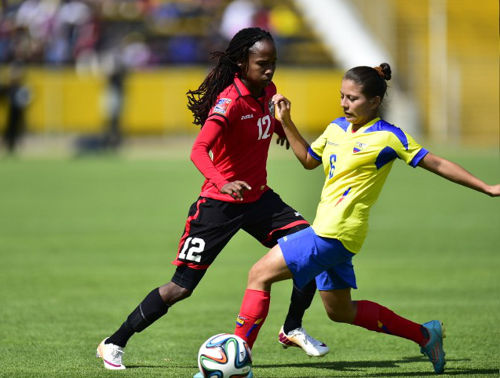 Rather than parking the bus, the Warriors were driving at Ecuador high up the field and the senoritas did not like it.
Forget a draw; maybe Trinidad and Tobago could win here!
But, as the halftime whistle loomed, Ecuador began to show signs of their hidden threat.
Trinidad and Tobago defender Arin King was alert to close down opposing attacker Ambar Torres on the edge of the area. And the German referee was sharp too when Ecuador winger Ingrid Rodriguez reacted to Patrice Superville's hand on her chest by theatrically flopping to the ground and demanding a penalty.
Ecuador fans jeered Steinhaus at the interval but, for the most part, the Warriors looked comfortable.
The second half was a different matter entirely.
Ecuador coach Vanessa Arauz replaced a holding midfielder, Adriana Barre, with speedy striker, Monica Quinteros, as La Tricolor went from a 4-2-3-1 to a 4-1-3-2 formation. The sun disappeared behind dark clouds and the temperature plunged from 25 to 13 degrees Celsius.
And Ecuador was totally transformed from a thoughtful and methodical team into a hard-running, aggressive machine.
On separate occasions, King, Superville and Kimika Forbes resorted to lunging challenges to deny Quinteros while Ecuador players rained crosses into the Trinidad and Tobago box from all angles.
In the thin air, once you lose your breath it takes a while for you to find it again.
Lauryn Hutchinson was struggling and, in the 65th minute, Waldrum had Karyn Forbes replace her at full back while Ayanna Russell came on in midfield.
Ponce, the meek Ecuador left back that Mollon repeatedly embarrassed in the first half, suddenly looked like Roberto Carlos as she tore down the flank and whipped balls into the Trinidad and Tobago penalty area.
Kimika Forbes punched away most of them; King got the rest. By then, Trinidad and Tobago's attackers all had defensive duties.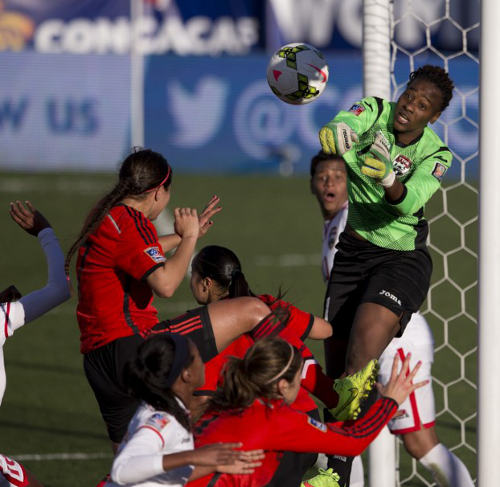 Waldrum sent Tasha St Louis on for Mariah Shade in a vain bid to regain some offensive shape and rhythm in the 66th minute while Mascall replaced midfielder Janine Francois who had run herself into the ground by the 75th minute.
There was a scary moment in the 73rd minute when Attin-Johnson tried to hurdle opposing right back Kerly Real and inadvertently caught the Ecuadorean with her boot. The Warrior captain had already been booked and the home team urged the referee to send her off.
Steinhaus felt a free kick to Ecuador was punishment enough.
Nine minutes from time, Mascall hit a tame strike from distance straight into the midriff of Ecuador goalkeeper Shirley Berruz. It was Trinidad and Tobago's first shot on target for the match.
As Ecuador pushed players forward, Mollon twice threatened to make them pay with dangerous right side crosses for the head of her favourite target, Cordner. The latter player just failed to make contact with the first cross and was ruled offside for the second, which she managed to head over the goalline.
But, by this stage, a goal would have flattered the two island republic.
A clash of heads between defenders Rhea Belgrave and Superville forced Trinidad and Tobago to temporarily go down to 10 players near the death while Torres went close with a dipping volley.
Then, in the 87th minute, Mascall made a loose pass near her own penalty area and sprinted back to try to make amends. Caicedo had already entered the Trinidad and Tobago box by the time Mascall caught up with her and, as the Warrior flew in with a tackle, the Atahualpa ground stood up and roared in protest.
Steinhaus shook her head and pointed for a throw.
Atahualpa was South America's last Inca Emperor who was captured and subsequently executed during the Spanish conquest of the 16th century. And another band of foreign invaders made a point at a venue named in his honour today.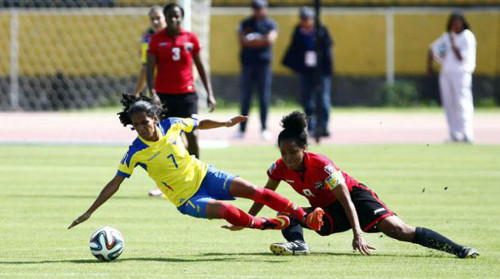 Ecuador's fate will not be decided by Spain; but in Port of Spain. And the South American nation should not expect mercy from Trinidad and Tobago's Women Soca Warriors on December 2.
"It's big times or no times come December 2, all or nothing," said Attin-Johnson. "We hope the stadium is packed to capacity and we will deliver."
(Teams)
Trinidad and Tobago (4-1-4-1): 1.Kimika Forbes (GK); 8.Patrice Superville, 4.Rhea Belgrave, 5.Arin King, 20.Lauryn Hutchinson (2.Ayanna Russell 65); 9.Maylee Attin-Johnson (captain); 12.Ahkeela Mollon, 14.Karyn Forbes, 11.Janine Francois (7.Dernelle Mascall 75), 19.Kennya Cordner; 3.Mariah Shade (10.Tasha St Louis 66).
Unused substitutes: 17.Sandra Baron (GK), 6.Khadidra Debessette, 13.Anique Walker, 16.Jasmine Sampson, 18.Khadisha Debessette.
Coach: Randy Waldrum
Ecuador (4-2-3-1): 1.Shirley Berruz (GK); 19.Kerly Real, 3.Lorena Aguilar, 16.Ligia Moreira, 6.Angie Ponce; 18.Adriana Barre (14.Monica Quinteros 46), 13.Madeline Riera (8.Erika Vasquez 56); 20.Andrea Pesantes, 10.Ambar Torres (11.Elizabeth Caicedo 81), 7.Ingrid Rodriguez; 9.Gianina Lattanzio.
Unused substitutes: 4.Merly Zambrano, 5.Mayre Olivera, 12.Irene Tobar, 17.Tamara Angulo.
Coach: Vanessa Arauz
Referee: Bibiana Steinhaus (Germany)
FIFA Play Off
First leg
(November 8)
Ecuador 0, Trinidad and Tobago 0 at Estadio Olimpico Atahualpa, Quito;
Second leg
(December 2)
Trinidad and Tobago v Ecuador at Hasely Crawford Stadium, Port of Spain.
Editor's Note: The recorded attendance at Quito for the FIFA 2015 World Cup Play Off first leg was 17,500 patrons.