Wired868 is in Quito for the Trinidad and Tobago women's FIFA Play Off first leg match away to Ecuador:
If Ecuador is gripped by women's football fever, the country certainly has not shown it yet.
Tomorrow afternoon from 2 pm in Quito (3 pm TT time), Ecuador and Trinidad and Tobago will meet at the Estadio Olimpico Atahualpa in the first of a two-legged FIFA Play Off contest. The early indications are that it will be not played before a passionate sold-out crowd.
Match tickets are available for just US$2 while US$5 and US$10 will get you VIP sitting. To put that into context, a bottle of still water at the airport cost US$3 while a meal in the Quito city centre ranged from US$3.50 to US$7.50.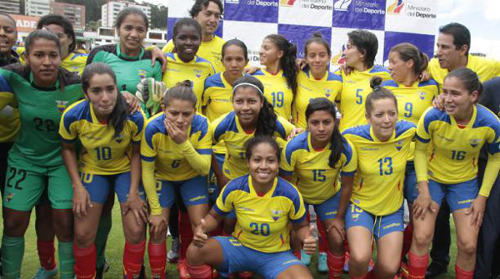 Yet, even at those economical ticket prices, Ecuador defender Ligia Moreira still felt it necessary to plead for free admission for women and children tomorrow. Thus far, the Ecuador Football Federation has not responded publicly to the request.

But, even if the Trinidad and Tobago women are spared from an angry cauldron of emotion, there is no escaping the pressures of playing at altitude.
The Atahualpa Stadium, which is located at 2,782 meters above sea level, has humbled some of the toughest characters in the game with the likes of Argentina and Barcelona star Javier Mascherano forced to slink to the touchline for relief from oxygen tanks.
FIFA banned Ecuador from playing international games in Quito due to the physical strain on visitors and the lengthy period necessary for acclimatisation. But the world governing body eventually suspended its decision under pressure from the South American football body.
Medical research suggests that visitors need four to six weeks to properly acclimatise and no less than 14 days to shake off the effects of altitude.
However, the FIFA draw meant the self-declared "Women Soca Warriors" had only 13 days between their CONCACAF Third Place defeat to Mexico and the first leg of their upcoming Play Off contest.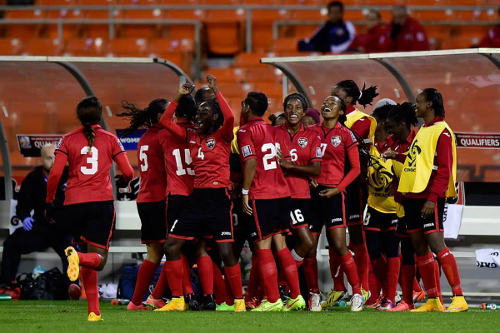 By the time the women returned to Trinidad to see their loved ones and sort out the logistics of their adventure, they were down to 10 days.
"When we didn't qualify, we immediately started going over plans for Ecuador and doing our research," Trinidad and Tobago head coach Randy Waldrum told Wired868. "We were looking at training in Mexico City for a few days and then getting back down to sea level for two days to recharge. And then we will fly up to Quito as close to the game as possible."
One medical opinion suggests that the human body does not immediately succumb to the effects of altitude, such as shortness of breath, and, therefore, teams can cheat the ill-effects by playing soon after their arrival.
The Trinidad and Tobago men's team tried that tactic for a trip to Mexico City in 2000. But a Mexico team that was humbled 1-0 in Port of Spain, just three months earlier, were unstoppable at altitude as it romped to a whopping 7-0 win.
"Nobody has figured it out yet," Waldrum admitted.
Even if the combination of altitude preparation followed by sea level training is the magical formula, it was not applied throughout Waldrum's squad.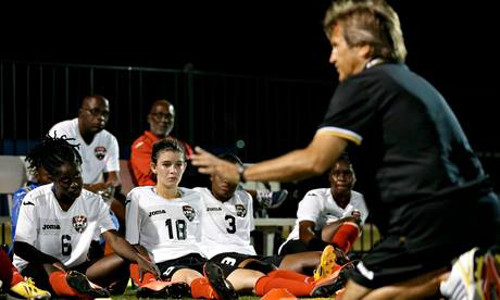 Trinidad and Tobago goalkeeper Kimika Forbes, central defender Rhea Belgrave and full backs Brianna Ryce and Liana Hinds, midfielder Karyn "Baby" Forbes and teenaged attacker Anique Walker all missed the training camp in Mexico City as they could not get time off from their US universities. Ryce and Hinds, who featured in every single match at the CONCACAF Championship, will miss the first leg of the Play Off after being denied time off by their universities.
"The US-based kids (weren't) able to miss that much school again," said Waldrum. "We will bring them in to Ecuador right before the game at sea level and put a roster at 20 together."
Yet again, the self-declared "Women Soca Warriors", through little fault of their own this time, are short of optimum preparation.
Ecuador striker Giannina Lattanzio told the La Hora Nacional newspaper that she expects Quito's thin air to nullify the pace of Trinidad and Tobago wingers Ahkeela Mollon and Kennya Cordner while the host team will pay close attention to Warrior captain Maylee Attin-Johnson.
That trio apart, Lattanzio believes the Warriors offer little beyond set pieces and Ecuador has worked hard on defending free kicks and corners as well as not conceding them in the first place.
"They are strong, fast girls but without much technique," said Lattanzio, who was Ecuador's leading scorer during their qualifiers. "This game will be key for us. The height will play in our favor and we should take advantage of it."
Ecuador has never qualified for a FIFA tournament before and just one year after the country had its first national women's league—which was sponsored by the Government—the South American women are dreaming about becoming trailblazers.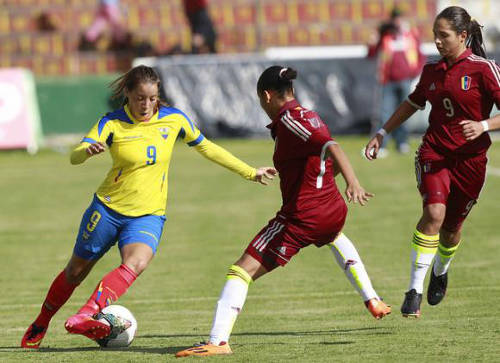 The challenge of combating altitude and facing an exotic host in a high stakes encounter adds a touch of unknown to tomorrow's contest. Who knows how the Warriors would respond to the occasion?
But, to borrow a cliché, if you see Attin-Johnson and her ladies fighting with a lion; then pray for the lion. Lattanzio might have missed a trick by failing to mention the Trinidad and Tobago players' near unshakeable belief in their feeling of destiny.
This campaign was over two decades in the making. Late coach Robbie Greenidge set a high bar when he steered Trinidad and Tobago's women to fourth place in the inaugural 1991 CONCACAF Championship.
Former women's football president Dr Iva Gloudon built on that promise to create a structure for the game. While coaches Jamaal Shabazz and Marlon Charles widened the talent pool and introduced many of the players in the present squad.
And former players like Izler Browne, Jinelle James, Ricarda Nelson and Sharon O' Brien remained in the game after their retirements to ensure the transfer of knowledge to the next generation.
Then Waldrum, an American native, added belief and know-how to the squad that Charles had kept together with little to no resources over the last two years.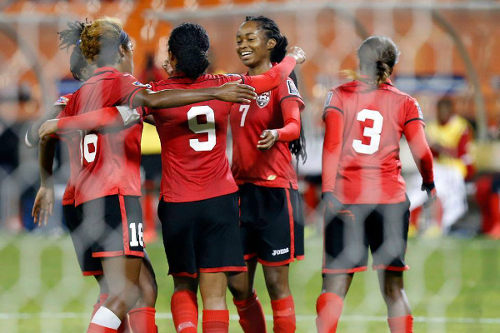 "I fell in love with Trinidad and Tobago when I came out there to work (for a brief stint) in 2008," said Waldrum. "The people have been incredibly warm to me and I genuinely feel for the girls and I want this so badly for them."
In the pre-tournament camp in Mexico City, veteran attacker Tasha St Louis gave strong hints that she could be returning to form after being hamstrung for much of the CONCACAF tournament.
If Karyn Forbes is also fit, Ecuador's scouting would be almost irrelevant. The Warriors are considerably stronger when those two are in shape.
The impending returns of versatile defender Ayanna Russell and industrious midfielder Janine Francois should also improve Waldrum's squad depth.
At Quito, the Warriors need only keep the two-legged series alive. Then, at sea level, Cordner and the gang can show Lattanzio what they are really made of; and put Ecuador's women's football revolution on hold.
"We will make a happy ending to this story," Attin-Johnson told Wired868, after her team's CONCACAF's elimination.
In the clouds of Quito, the Warriors can make a significant step towards heaven.
Editor's Note: Wired868 is in Quito for the Trinidad and Tobago women's FIFA Play Off first leg match away to Ecuador. Football fans can follow the action in Trinidad and Tobago live on DIRECTV channels 635 and 1635 (HD).
Brianna Ryce and Liana Hinds, who featured in every single match at the 2014 CONCACAF Championship, will miss the first leg of the Play Off against Ecuador after being denied time off by their universities.