The Secondary Schools Football League (SSFL) Coca Cola Intercol 2014 competition kicks off on Thursday with 53 schools competing for five zonal prizes and a national award in the boys' category.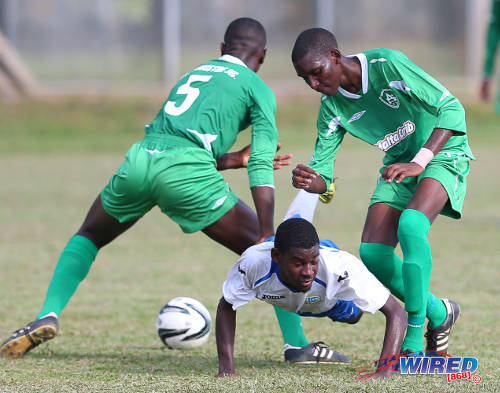 Couva East and Tabaquite will get the ball rolling in the preliminary round when they square off from 3 pm on Thursday November 6 at the Ato Boldon Stadium in Couva while Queen's Royal College (QRC) and Malick Secondary are among the schools in the championship division who will relish their opportunity in the spotlight.
Championship Big Eight winner, Fyzabad Secondary, runner-up, QRC, will participate in the 2015 SSFL Premier Division competition along with Trinity College who edged and Princes Town West Secondary on penalties in a play off.
QRC hosts Tranquility Secondary from 3.30 pm on Thursday while Success Laventille and Malick meet at the same time at a venue to be announced.
Defending champion team, St Augustine Secondary, will not get their feet dirty until Wednesday November 12 when the "Green Machine" tackles the winner between El Dorado East Secondary and North Eastern College from 2 pm in the first game of a Larry Gomes Stadium double header.

St Augustine will be hard-pressed to retain its East Intercol crown let alone the National title.
San Juan North Secondary, led by prolific striker Brent Sam and powerful national under-20 defender Josiah Trimmingham, finished second in the Premier Division and opens its Intercol charge on Monday November 10 from 4 pm at the Larry Gomes Stadium against either Toco Composite or Sangre Grande.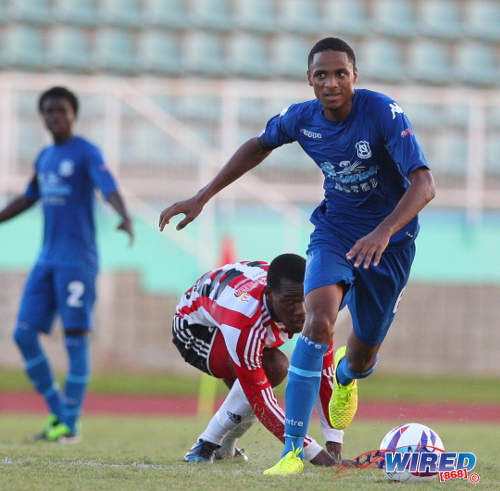 While Naparima College, the current Premier Division and Big Four winners, are favourites to take a third national title back to San Fernando. But first, "Naps" must hold off their southern rivals.
Naps' first Intercol assignment of the season is on Monday November 10 when national under-20 playmaker Jabari Mitchell and his team play either Princes Town West Secondary or Point Fortin East Secondary from 4 pm in the second game of a Mannie Ramjohn Stadium double header.
Elsewhere, St Anthony's College, the Big Four runner-up, will open its North Intercol challenge on Tuesday November 11 from 3.30 pm in Westmoorings against either QRC or Tranquility.
And, in Tobago, Speyside Secondary is already guaranteed a semi-final berth where it will meet either Roxborough or Goodwood from 5 pm on Wednesday November 12 in the second game of a Roxborough Ground double header.
See below for full Intercol fixtures: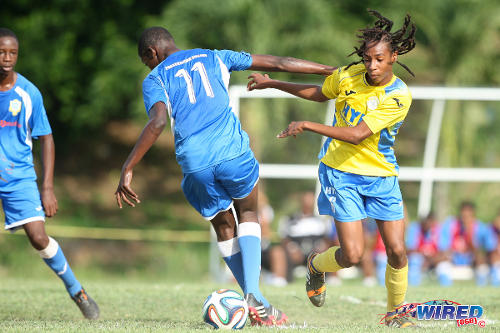 South Intercol
Preliminary round
(Fri Nov 7)
(A) Princes Town West v Point Fortin East, 3:30 pm, Princes Town;
(B) Pleasantville Secondary v Siparia West, 3:30 pm, Pleasantville;
(C) Presentation (San F'do) v Vessigny, 3:30 pm, Guaracara Park;
(D) Moruga Secondary v La Romaine, 3:30 pm, Skinner Park;
(E) Fyzabad Secondary v Ste Madeleine, 3:30 pm, Fyzabad;
Quarterfinal round
(Mon Nov 10)
(F) Shiva Boys HC v Winner of B, 2:00 pm, Mannie Ramjohn;
(G) Naparima College v Winner of A , 4:00 pm, Mannie Ramjohn;
(Wed Nov 12)
(H) Winner of C v Winner of D, 2:00 pm, Mannie Ramjohn;
(I) St. Benedict's College v Winner of E, 4:00 pm, Mannie Ramjohn;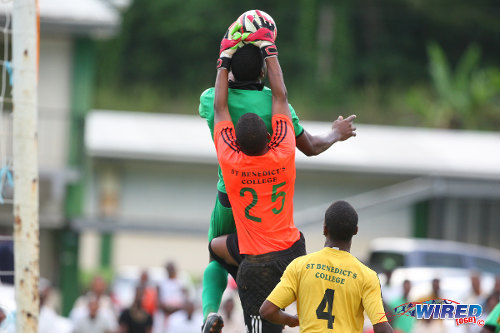 Semifinal round
(Fri Nov 14)
(J) Winner of F v Winner of G, 2:00 pm, Mannie Ramjohn;
(K) Winner of H v Winner of I, 4:00 pm, Mannie Ramjohn;
Final
(Thu Nov 20)
Winner of J v Winner of K, 4:15pm, Mannie Ramjohn;
North Intercol
Preliminary round
(Thu Nov 6)
(A) Queen's Royal College v Tranquility, 3:30 pm, QRC;
(B) Success Laventille v Malick Secondary, 3:30 pm, TBA;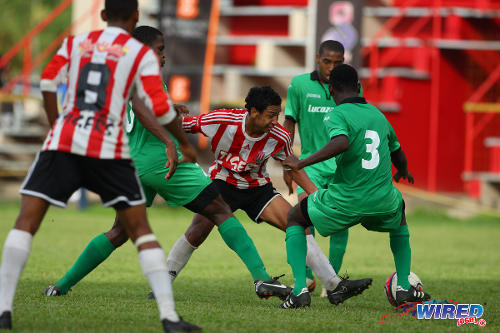 Quarterfinal round
(Tue Nov 11)
(C) St Anthony's College v Winner of A, 3:30 pm, St. Anthony's;
(D) East Mucurapo v Diego Martin Central, 3:30 pm, Diego Martin;
(Thu Nov 13)
(E) Fatima College v Trinity College, 3:30 pm, Fatima;
(F) St Mary's College v Winner of B, 3:30 pm, St Mary's;
Semifinal round
(Tue Nov 18)
(G) Winner of C v Winner of D, 3:30 pm, TBA;
(H) Winner of E v Winner of F, 3:30 pm, TBA;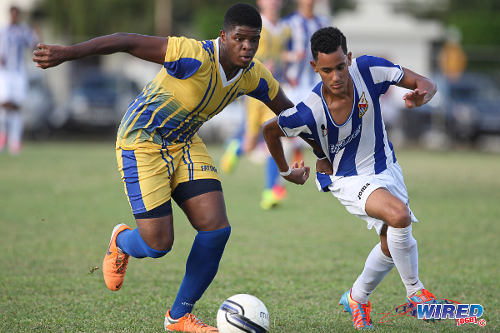 Final
(Fri Nov 21)
(I) Winner of G v Winner of H, 4:15 pm, TBA;
East Intercol
Preliminary round
(Fri Nov 7)
(A) Toco v Sangre Grande Secondary, 3:30 pm, Arima North;
(B) Five Rivers v Hillview College, 3:30 pm, Five Rivers;
(C) El Dorado East v North Eastern, 3:30 pm, El Dorado;
(D) Barataria South v Valencia, 3:30 pm, Barataria;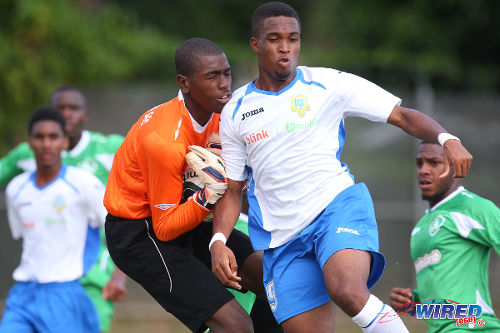 Quarterfinal round
(Mon Nov 10)
(F) Arima North Secondary v Winner of B, 2:00 pm, Larry Gomes;
(G) San Juan North Secondary v Winner of A, 4:00 pm, Larry Gomes;
(Wed Nov 12)
(I) Trinity College East v Winner of D, 4:00 pm, Larry Gomes;
(H) St Augustine Secondary v Winner of C, 2:00 pm, Larry Gomes;
Semifinal round
(Fri Nov 14)
(J) Winner of F v Winner of G, 2:00 pm, Larry Gomes;
(K) Winner of H v Winner of I, 4:00 pm, Larry Gomes;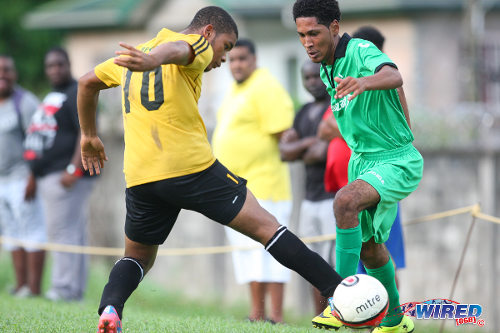 Final
(Wed Nov 19)
(L) Winner of J v Winner of K, 4:15 pm, TBA;
Central Intercol
Preliminary Round
(Thu Nov 6)
(A) Couva East v Tabaquite Secondary, 3:00 pm, Ato Boldon;
(B) Couva West v Waterloo Secondary, 5:00 pm, Ato Boldon;
(C) Preysal Secondary v Vishnu Boys, 3:30 pm, Carapichima;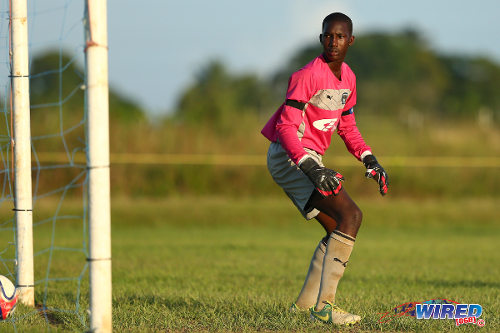 Quarterfinal round
(Mon Nov 10)
(D) Presentation (Chag) v Winner of B, 3:00 pm, Ato Boldon;
(E) Carapichima East v Winner of A, 5:00 pm, Ato Boldon;
(Thu Nov 13)
(F) ASJA Boys v Miracle Ministries, 3:00 pm, Ato Boldon;
(G) Chaguanas North v Winner of C, 5:00 pm, Ato Boldon;
Semifinal round
(Mon Nov 17)
(H) Winner of D v Winner of E, 3:00 pm, Ato Boldon;
(I) Winner of F v Winner of G, 5:00 pm, Ato Boldon;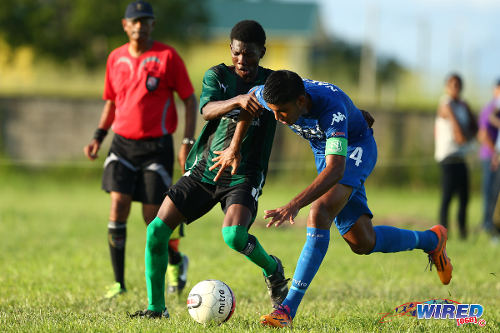 Final round
(Thu Nov 20)
(J) Winner of H v Winner of I, 4:15 pm, Ato Boldon;
Tobago Intercol
Preliminary round
(Fri Nov 07)
(A) Signal Hill v Bishop's, 3:30pm, Signal Hill;
(B) Pentecostal L&L v Scarborough, 3:30 pm, TBA;
(C) Roxborough v Goodwood, 3:30 pm, Roxborough;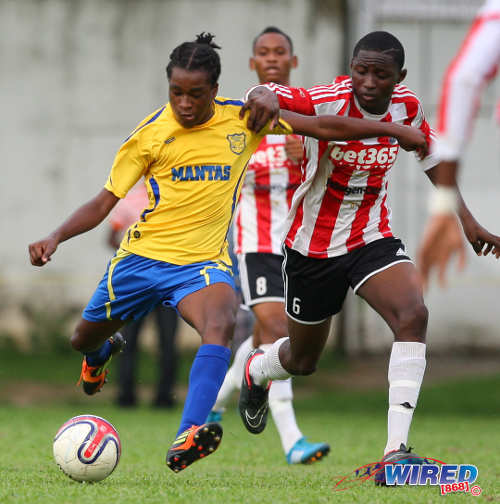 Semifinal round
(Wed Nov 12)
(D) Winner of A v Winner of B, 3:00 pm, Roxborough;
(E) Speyside Secondary v Winner of C, 5:00 pm, Roxborough;
Final round
(Mon Nov 17)
(F) Winner of D v Winner of E, 4:15 pm, TBA;
National Intercol
Quarterfinal round
(Tue Nov 25)
(A) Tobago vs North, TBA;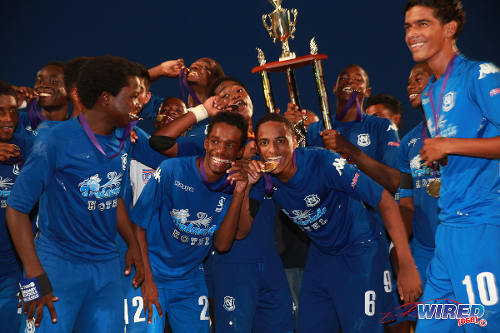 Semifinal round
(Thu Nov 27)
(B) South v Central, Mannie Ramjohn;
(Fri Nov 28)
(C) East v Winner of A, Larry Gomes;
Final
(Tue Dec 2)
Winner of B v Winner of C, TBA;